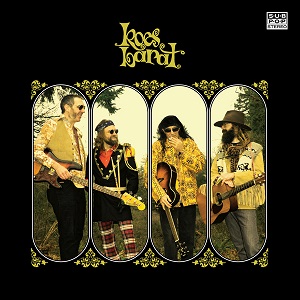 22 April 2015
Alan Bishop is a force in the underground rock world, known for being the uninhibited vocalist and bassist in the influential trio Sun City Girls. He's also recorded under the names Alvarius B., Uncle Jim and more recently as The Invisible Hands and is additionally responsible for the Sublime Frequencies label. The imprint has single handedly unearthed ethnic treasures from all over the world including albums by Bombino, Group Inerane, and Omar Souleyman.
Given Bishop's knack for pushing the envelope and his lifelong interests in global music, it's only natural that he create a psychedelic Indonesian rock tribute band called Koes Barat. On their self titled debut, Koes Barat, the band looks to honor the music of a band made of up entirely of Indonesian brothers called Koes Plus. Bishop re-released their 1969 album Dheg Dheg Plas on his SF label in 2010 and was so continually enchanted with the music that he's created a faithful tribute in Koes Barat.
"Kelelewar" and "Kisah Sedih di Hari Minggu" burst with late 60's buzz. Both tracks frequently recalling the charm found on the original recordings. "Pent Juri Hati" brings some much needed heat to the record. Fuzz riffs fly, Bishop is ferocious, and the band barely keeps it on the tracks. "Mister Time" comes off as the well recorded pop track the Sun City Girls forgot to release on Sumatran Electric Chair starring Bishop's precarious alter ego, Uncle Jim. "Land of Evergreen" finds Bishop and band letting the sunshine in, allowing for some serious joy to inhabit the speakers for just under two wonderful minutes.
Koes Barat is a record that is special in the sense that you really feel Bishop's affection for the songs. It's as gratifying to the listener as it's been for Bishop to re-create.