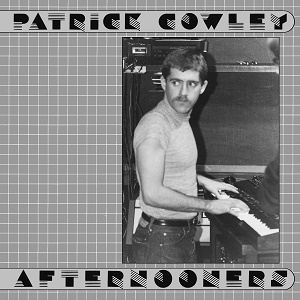 25 October 2017
In celebration of what would have been his sixty-seventh birthday, a third volume of Patrick Cowley's unreleased electronic compositions pairs his famed gay porn soundtracks with demos for his seminal 1982 album Mind Warp (Megatone), plus a few archival recordings, into what is probably his most coherent posthumous collection to date.
Afternooners features some of Cowley's most driving beats. Though not the hi-nrg he was known for, his drumming takes hard rock, funk and even heavy metal out of their elements to provide propulsion to his synthesizers, which deliver both memorable melodies and spacey sounds. Hypnotic Kraftwerk-ian sequences become Tomita-like flourishes within a framework of ESG minimalism. The robotic origins of early hip-hop emerge, along with synth-pop explorations and electropunk leanings that point to modern artists like Digital Leather and Useless Eaters. It's entirely futuristic without sounding dated, i.e., we still haven't caught up to whichever dimension these songs reside in.
Though Patrick Cowley tragically left us in 1982, compilations of his unheard recordings continue to surface, including collaborations with adult producer/actress Candida Royalle and Indoor Life's Jorge Socarras. Hopefully our future reveals more of what we never got to know.
comments powered by