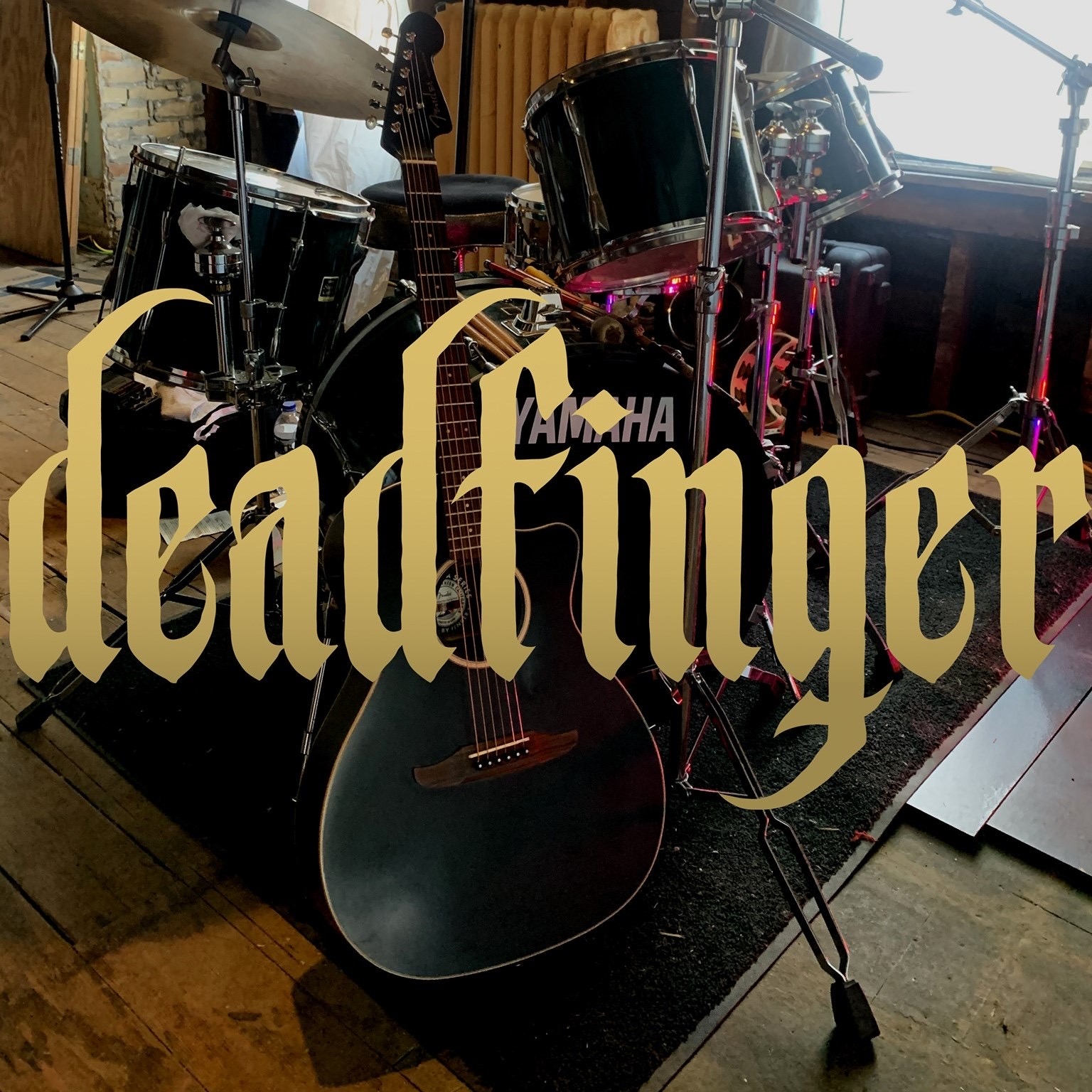 3 August 2022
DeadFinger is a newish project but you have been friends and musical colleagues for a long time. Can you tell me a bit about the musical paths that got you to the formation of the band?
Many years ago Dwain (Flowers) and I were the original drum core of the Milwaukee band, FuckFace. We became good friends through the band and played many gigs together. Sometime in the early 90s Dwain left the band and moved to Atlanta where I would see him on my travels and we'd speak on the phone every so often. On one trip to Atlanta I spoke with Dwain and we talked about him coming back to Milwaukee, he wanted to be closer to his family again and if he was coming back I wanted to start a band with him. It wouldn't be until the pandemic happened that we bumped into one another in Milwaukee and we talked for a while outside a grocery store.
We talked of getting together and jamming even if it was just the two of us. "Let's get together and write some songs" I suggested. "I have a place where you can set up your drums and we can make noise to pass the boredoms of the lockdowns", Dwain agreed. So we got together, I lowered the tuning on my guitar to a drop C and we began writing. We came up with nine songs in total over a few months, it was very easy for me to simply jam with Dwain and let the ideas and creativity flow. We were calling ourselves The F/K Project taking the letters from our last names: Flowers and Kubinski. We intended on adding a bass player or a keyboard player and possibly even a singer. One night as we were taking a break I received a phone call from a friend. My friend wanted to know if I could put together a little "pop-up band" and play a surprise party for a mutual friend. I had ideas immediately about what we could do, I could play acoustic guitar and Dwain could accompany me on drums. I had learned a bunch of songs that have been some of my faves over the course of my life and I asked Dwain if he'd care to sit in, learn some cover tunes that I knew and play this surprise party.
He agreed to do it if we could be safe as we were still in the early stages of the Covid 19 pandemic. I assured him we would be safe, there would only be two other people at the party and we were all being extremely careful at that point (we still are careful as the pandemic is not over). Anyway, we played 10 or 12 cover songs at the party and during our set, a short video was shot of us doing "Moonage Daydream" by David Bowie. I/we received tons of great feedback and "Likes" for the video and people said we should keep on doing it. So we jammed some more and during the course of jamming, we naturally fell into writing. We wrote and finished one song and had parts for many more. This is all acoustic guitar and drums now, we put F/K on hold. After writing started I thought that we should document our efforts so we recorded about 16 songs which would turn out to be what the DeadFinger LP/CD is. I used to jam acoustic guitar with a dear friend, Sandra and during one of our afternoons jamming she said she had a "dead finger" that wouldn't move as quickly as she needed to make the chord changes. I smiled and said that dead finger was a great name for a band, and she agreed. After Dwain and I recorded I phoned Sandra and asked if I could take the name of our nonexistent band and use it for a band not unlike what we had been doing, she agreed that I should take the name. So with a name and a recording we did a few gigs, opened for Wreckless Eric and a few other local Milwaukee bands, and had fun and people seemed to enjoy what we were doing, especially the lone original tune "Ghosts" It was then that I decided to put the recording on wax and make it official, so here we are two years later.
Putting a band together and trying to collaborate during lockdown must have been difficult, what were the main obstacles?
The main obstacle was getting together but trying to stay separated from one another, to not share the same air. We accomplished this by dividing our rehearsal spot into two sections with a sheet of clear plastic firmly and 100% attached to the walls, ceiling, and floor. We put a construction zipper in the center of the plastic so that I could get into my half with all my gear and PA on my side and Dwain and his drums on the other side. I'd get to the rehearsal spot early and zip myself in and Dwain would show up 15/20 mins later and we'd get to work. He would leave first when the jam was over and he'd open a window before he left to let fresh air in. I'd wait another 15 or 20 mins for the air to clear, unzip my half of the room and leave. It worked very well and we got a ton of work done that entire time for both The F/K Project and then DeadFinger without either of us getting sick.
Q3: And the debut album is mainly covers, why did you choose to kick off playing other people's songs and do you see a more original route going forward?
It's just my nature to document things, everything. Either by recording or writing words or taking photos. We spent a few weeks (I think it was six weeks) learning the covers for the party and the people who saw the video of us playing the party seemed to really like it and they encouraged us. So me being me I wanted to record or document our time spent learning the cover songs and the recording turned out so well we decided to release it via a vinyl LP and CD.
When Dwain and I were done recording the one original (Ghosts) turned out so nicely that we decided to continue writing and writing in that vein seems to come natural to us. I don't want to try and force things, I just want to let my ideas flow, show them to Dwain and then we can create together. So yeah, we have many more originals now and the 2nd LP will most definitely be all original, maybe one cover, we'll see. The stuff we're coming up with though is of the same ilk as "Ghosts", dark and so very stark with just the two of us playing. I totally dig it. I personally feel like we have a lot of songs to write together, I feel as if we could do this for the rest of our lives. It's just the two of us and we work well together. I can see us [playing some crazy, dark acoustic numbers well into our 60s and beyond, but thats just me, Im a dreamer but this is a very good dream!
The songs on the album are both iconic and fairly underground, how did you select them and are any particularly special to you?
Well, they are all special to me, some I learned with my friend Sandra, others we learned, like the Husker Du song "Dont Want to Know if You are Lonely" to be part of Grant Hart Appreciation Day a few years back and we learned Drivin N Cryin's "Scarred but Smarter" so that we could be part of the Kevn Kinney Tribute LP due sometime in 2023. I loved the Walker Brothers' version of "The Sun Aint Gonna Shine Anymore" for instance since I was a little kid, the Ramones "I'm Affected" has been an all-time fave from my high school years, as is the Sex Pistols "Pretty Vacant". I saw Patti Smith for the first time a few years back and damn if she and her band didn't hit me hard, I'm a big fan now. I want and need to do songs that have impacted me in one way or another and all of the songs that appear on the LP are just that. They all come from my past and all have significant meaning to me.
The album release coincides with your own track "Ghosts" dropping, what can we expect from that, and is it representative of your sound?
Yes! We have 7 original songs in some working order or another and need to write a couple more. I have a million parts for songs floating around on my MP3 recorder. Usually, I will simply show Dwain some guitar parts most likely two parts that to my ear go together, what I hear as a verse and another part as a chorus. We'll work them up, change them around, and make them longer and shorter as I begin to add vocals and find melodies, it's really a lot of fun for me, I'm kind of hooked on songwriting at the moment. When Dwain adds his drumming it always elevates my idea or takes it to a place I hadn't thought of. He is such a talented drummer, he is very inspiring to me. When I have a new idea I simply can't wait to show it to him and see what he comes up with. One of our newest is called "Metaflextion" and his drumming is fucking incredible, so cool, so inspiring and so perfect for the song and its lyrics! I think we have already found our "sound" so to speak as most of what we're doing has a bluesy, dark, and gritty feel to it. If you like "Ghosts" you'll probably like the other tunes we've written. We are both pretty excited about recording a fully original record and seeing where the next batch of songs takes us.
Is there an established working process when it comes to writing and recording or is it different every time?
Usually, I come up with a few parts to show Dwain, but "Ghosts" happened purely by accident. We were just working on our covers for the party and during a short break in our jams I let a few chords fly, Dwain got some drums going and I started singing freestyle over the top. My MP3 recorder was recording and when we listened back to the rough jam/idea there was an entire song there. We just had to tighten it up a bit but I even used most if not all of the lyrics that I had used during the jam, the entire song was pretty much done. From there though I have been writing the parts and coming to Dwain with loose ideas for songs and together we work on their structure. As I stated before, when he starts adding his drums it always takes it to another level or another place that I hadn't considered or thought of, and that makes me change my parts up a bit, it always takes us to what I call "pure DeadFinger". His creativity in turn inspires my creativity and suddenly the possibilities are endless and boundless. Such a great feeling!
Are there plans to take the band out onto the live circuit in the future?
Absolutely! We have done a few shows around Milwaukee, we did a record-release show last Saturday and the attendees loved our originals as well as our covers. I haven't gotten into booking out of town yet but with the vinyl/CD getting attention now I'm sure I will be reaching out to book more and more shows as we move forward. At the moment we would like to get the second LP written and then play as many gigs as possible until its time to record which I hope and foresee being this coming spring
And where next for DeadFinger as a band and for you guys personally?
Gigs far and wide, we'd love to go to Europe and travel the States, anywhere that people would like to see and hear us. More recording, more videos, more of doing the things that working bands do. I am so happy at the moment with writing lyrics and playing my acoustic that it's hard to think of anything else that I want to do but I suppose that's true of all creative souls. I think we would both also like to finish up the F/K Project songs as well and get that third and/or fourth band member to round out the group. More songs, more live gigs, traveling, and definitely more recording, all good things and all coming our way, and then to all of you!
BigCartel
Bandcamp
Ghosts single