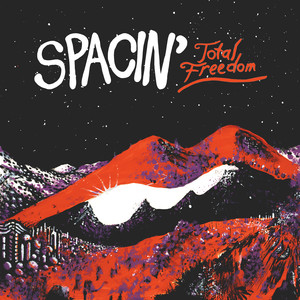 10 March 2016
One can argue that the intense access one has to genres and periods of music, any music, from anywhere in the world, has now got contemporary music stalling in a place of niche and sub-genre categorization. It could also be argued that this ability to pick and choose from the past has done much to confuse art in the 21st century.
But, it can also be argued that the confusion caused by the disease of nostalgia can create new and lasting art. The alchemist called it Ouroboros and depicted it as a serpent eating it's own tail. It represented the the cyclical nature of renewal. Applied to Rock and Roll, Philadelphia band Spacin' is a prime example of this phenomena.
Their newest album Total Freedom brilliantly taps into the daring and exploratory chaos of the 60's, the careless damage of the 70's, and the self-aware ambiguousness of today. From the blown out quaalude rock of opener "Over Uneasy" to the lo-fi spiritual that is "Stopping Man," this LP is so saturated with references to seminal Rock and Roll that by the time the listener gets to the zenith known as "U.S. Ruse," the cycle has been renewed and something radical has been made out of the destruction of those that have influenced.
Total Freedom is one of those records someone could get lost in. It not only interprets the deeper corners of the Rock genre, but also throws out the idea of referencing as an artistic crutch. In it's own beer-soaked way, Total Freedom is as cutting-edge as Rock has gotten in a long while.