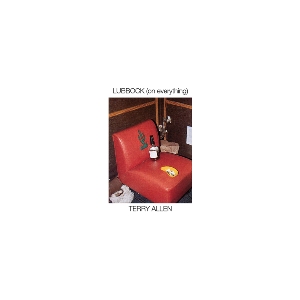 11 October 2016
As I've mentioned in a previous review, Terry Allen is a Texas legend and a fucking genius. His masterpiece Lubbock (On Everything) was/is a towering statement of both the affection and disillusion he felt toward his hometown of Lubbock, Texas. Since it's release in 1979 on Fate Records, the double LP brimming with originality and first wave alt-country/americana has garnered accolades amongst musicians and collectors worldwide.
Opener "Amarillo Highway (for Dave Hickey)" finds Allen's character bragging about being a bigger Texan than just about anybody above Allen's trademark percussive piano and Lloyd Maines' elegant steel. Watershed track "The Wolfman of Del Rio" is all bloody knuckle piano and pure poetry with lines like "She's all made-up for the need/To trade in some emptied out places/For some speeeeeeed/An that good ol' American Dream."
"Rendezvous USA" brings the West Texas cantina straight through the speakers and "The Beautiful Waitress" is worth it for Allen's story at the end. "New Delhi Freight Train" is one of Allen's finest songs. Made famous by Little Feat, this tune is classic late 70's fringe country made all the better by Allen's ass-shakin' piano. "Flatland Farmer" is a personal fav and a raunchy slice of lo-fi country funk.
Terry Allen is an artist everyone should know. He simply defies gravity on this record.
Lubbock (On Everything) is a classic.