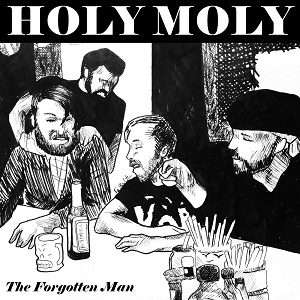 15 February 2017
Nomadic songwriter Wilson Getchell (Wall-Eyed) lands in North Carolina to form the perfect band for his eclectic talent.
Holy Moly not only stands out as Getchell's best songsmithing to date, but also his best sounding recording. Right away, "Ooh Rah Rah" kicks things off with a stomping ferocity featuring the gritty lead guitar of Kelley Otwell, whose virtuosity clearly marks the entire album, especially in the following "War to Wage" where his strings become heavy psychedelic bliss. The songs progress, marking bassist Keebler and drummer Tradd Yancey as extremely versatile musicians while exploring the various elements of Americana that clearly mark Getchell's passionate, emotional sound. It's the album he's been waiting to make his entire career.
In this age of anxiety and distrust, it's nice to sit back with a beer and just sink into music. The Forgotten Man have provided just that.
comments powered by