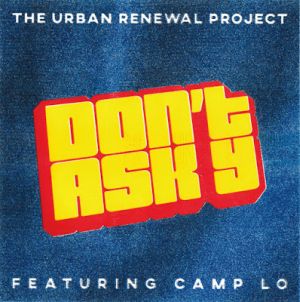 19 September 2016
LA-based 13-piece musical collective The Urban Renewal Project has joined forces with renowned hip-hop duo Camp Lo on a new single titled "Don't Ask Y". The fresh tune mixes old-school hip-hop with funk beats and a 10-piece horn section for something that breaks the usual hip-hop mold.
The Urban Renewal Project uses instruments from vintage eras to bring the past into the present with a bold and dynamic sound that deftly segues between rock, pop, jazz, and hip-hop. The Urban Renewal Project will be releasing its next album, 21st Century Ghost, in December and it boasts a slew of guest artists and was produced by Neil Wogensen.
On "Don't Ask Y", Geechi Suede and Sonny Cheeba of Camp Lo put their own twist on the mix, resulting in a laid-back, but swingin' single written by Camp Lo and The Urban Renewal Project's lead songwriter and multi-instrumentalist, R.W. Enoch.
The vibe is warm and relaxed as the Camp Lo duo rolls through its on-the-casual-tip vocal delivery that masks jaded (or at least sharply astute) lyrics like, "Play the game / Just do it / and don't ask why." and "Don't hate the playa / Know the game." The lyrics fit in with the overarching themes of 21st Century Ghost; that of disconnection, isolation, and going-through-the-accepted-motions to succeed in a modern, power- and technology-driven society.
Pointed lyrics aside, The Urban Renewal Project provides hand clap percussion and a mellow, swaying drum beat which forms the sonic bed for a multitude of instruments to float in and out of the mix. Guitar reverb, supple bass, smoky saxophones (3 different types!), the bright blast of trumpet and trombone, and even the waver of flute notes make the message go down with a copacetic flow.
The Urban Renewal Project official site
Facebook
Twitter
Instagram
Camp Lo official site
Facebook