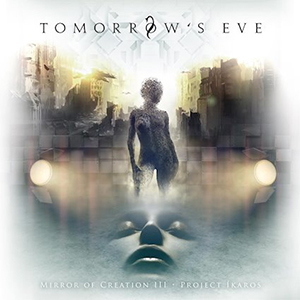 29 March 2018
After nearly a decade, Germany's progressive metal veterans Tomorrow's Eve are back with a long-awaited new album. Entitled Mirror Of Creation III – Project Ikaros, the album is further proof that the band have been determinedly carving their own musical path ever since their 1999 debut, The Unexpected World. As always, Tomorrow's Eve's music exists ideologically in its own universe, but if it is a mythology of their own creation, it also borrows from other mythologies as well. Project Ikaros in turn is influenced by the works of Edgar Allen Poe, and the album is full of the anxiety and nightmarish inner turmoil which characterize the author's work.
Placed at the beginning of the record, "Welcome to the Show" is fairly self-explanatory and serves the purpose of setting the scene for the rest of what follows. Some of the heaviest songs like the relentlessly ghoulish "Morpheus" are literally about nightmares whereas others including "Bread and Circuses" are nightmarish in their depiction of the future of our society. The band temporarily slows things down, at least comparatively speaking, on "Dream Within a Dream" and elsewhere, but Tomorrow's Eve is truly as proficient as ever when they are diving white-knuckled into Hell at breakneck speed.
Mirror Of Creation III is out May 25th on Baze Records, and it proves the band still has a lot to give to the genre.