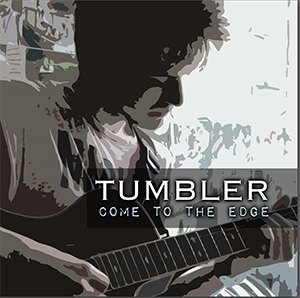 7 August 2016
Located in Epsom, England, Tumbler is the collective efforts of father and son combo, Harry and Richard Grace, along with keyboardist and producer Dave Needham. Their just released second album, Come to the Edge, was in the embryonic stages before their first album, You Said, was even released. Yet rather than a collection of leftovers, Come to the Edge feels like a natural growth and extenuation of the ideas from the previous album. In a way, You Said retrospectively plays now like a warm up for this.
Inspired by a wide range of influences, including The Kinks and The Cure, the record is a folky, power pop trip that is quintessential Englishness at its most wistful. There's a classic pop sensibility to songs like "Nothing To Hold You," and "Don't Take Much," but it's infused with the bite of a somewhat harder edge—undoubtedly the byproduct of a father and son musical partnership. On songs like "Sweetest Thing," the record is at its sunniest and its finest when the band gives themselves fully to catchy pop idealism, and the rewards are bountiful in return.
Come to the Edge finds Tumbler more assured and confident than ever; it also happens to contain some of their best songs yet.
comments powered by