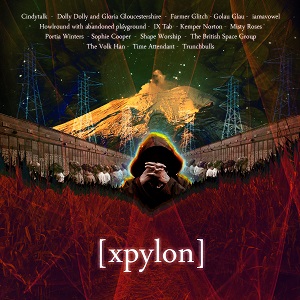 28 July 2015
For three years, London's Exotic Pylon Records documented England's experimental underground with a passion for art rarely seen from the business end of the music industry. It was that special place where The Band of Holy Joy, The Lowland Hundred and The House in the Woods could break bread with Turkey's Ekin Fil, Louisiana's Isobel Ccircle~ and New York City's Joseph Nanner, yet, somehow, remain a cohesive unit with each release complementing the one before it. Sadly, the label folded at the end of 2014, but now, driven by all they had achieved together, sixteen artists from the Exotic Pylon roster come together on an excellent compilation that perfectly captures the eccentricity and variety of the imprint.
Xpylon morphs, expands and pulses with the unpredictability that made the label so exciting. Electronic experiments from Kemper Norton, Time Attendant, iamavowel and Shape Worship flow perfectly into spoken word soundscapes by Cindy Talk, The Trunchbulls and Dolly Dolly & Gloria Gloucestershire. Unusual vocalist Portia Winters resides beside Northern England's queen of outré folk, Sophie Cooper and The British Space Group's minimalist Berlin school meanderings. IX Tab offers an expansive fifteen-minute composition of madness and horror, while The Volk Han delivers heartfelt folk from the bottom of a well, with Misty Roses coming across as a male-fronted Portishead stuck in an LSD-saturated show tune. Golau Glau, Howlround with abandoned playground and Farmer Glitch round out the release with their twisted, sample-based forays into darkest reaches of psychosis. It's the perfect celebratory wake for an entity that will be sorely missed by all who collaborated, performed and listened.
All proceeds from Xpylon will go to Mind, the mental health charity, truly making this a labor of love for all involved. Discover the secret English underground and all that has eluded you.
comments powered by