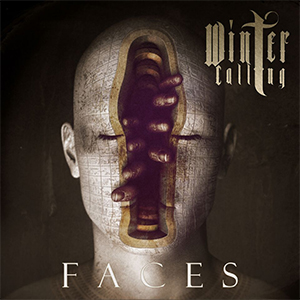 23 August 2016
Winter Calling, a progressive metal band from Florida, have just released their sophomore album, FACES, a follow up to 2015's As Darkness Falls. Featuring artwork from David Ho as well as a guest appearance from fellow Floridian musician John Wesley of Fish and Porcupine Tree, the band has effectively pulled out all the stops, and recorded a grand, thematic vision.
A concept, mini opera of sorts, the concept itself is not always immediately clear, which in itself adds to the album's listen-ability,but like Quadrophenia by The Who, the album seems to be about multiple personality disorder. It's a concept that can be a deceivingly large undertaking, and like The Who's attempt, it occasionally gets away from the band, simply because of the sheer scope of the topic. Nevertheless, it doesn't detract at all from the album which proves to be a highly theatrical listen.
Every second of this record is filled to the max with emotion and dramatics. Songs like "Not Like You" and "Follow Me Down" feel tremendously heavy just from the sheer weight of the expression and force felt. It's obviously an extremely heartfelt roller coaster ride and the honesty communicated make FACES one of the year's more compelling records.
comments powered by