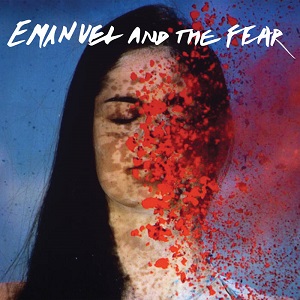 23 August 2016
Founded in 2008 and led by guitarist/pianist/vocalist Emanuel Ayvas, Emanuel and the Fear is easily one of the most striving and extraordinary bands in the New York music scene. The sextet—which also includes a flautist, violinist, and violist—labels its sound as "a rocky, psychedelic, folky mess with strings and analog synths and stuff," and that's a pretty accurate assessment, as the members' collective backgrounds in "classical, metal, jazz, and folk music" yield a blend of contemporary pop/rock, chamber music, and progressive rock matched only by a few contemporaries (like The Dear Hunter and Bent Knee). Both of their prior LPs—2010's Listen (a nineteen-track suite) and 2012's The Janus Mirror—were exceptionally engaging, intricate, imaginative, and varied masterworks, and fortunately, their third outing, Primitive Smile, fits well alongside them. Although it's a bit more straightforward and accessible (and thus, a bit less experimental and challenging) than its predecessors, it's nonetheless another remarkably engrossing and dense sequence that proves once again why the band is so singular.
The group describes Primitive Smile as "a collection of songs that soften the edge of their past work by drawing inspiration from indisputable songwriting icons such as Harry Nilsson, Paul McCartney, and Fleetwood Mac." This stylistic shift is evident from the start, as opener "Some May Fall Asleep" allows a "Tomorrow Never Knows"-esque drumbeat to introduce a cascade of luscious sounds, including fuzzy guitar chords, piano chords, strings, and harmonics. Of course, Ayvas' distinctively forceful resonance makes his characteristic winding melodies and poetic, philosophical lyrics even more gripping, too. Female vocals (courtesy of either Liz Hanley or Sarah Haines) accompany him well during a brief, sparser passage (which showcases Emanuel and the Fear's trademark dynamic shifts) and remain as the arrangement erupts again. It's an exciting way to begin, and it exemplifies perfectly how Primitive Smile more or less condenses all of the ensemble's specialties into a more radio-friendly package.
"State of Violet" is more orchestral and sentimental, with a wonderful sense of narrative introspection and growth. Specifically, Ayvas' repeated rebellious declaration of "I'm not so primitive / The city kid I was back then is gone / Like the falling of the leaves in the autumn" is among his most riveting performances yet because it carries such powerful conviction; likewise, the surrounding symphonic musicianship is fittingly gorgeous. In contrast, "Holding On" carries more attitude and vigor, complete with a funky electronic vibe and a bit of '50s-style choral chants, while "I Believe" is led by a combination of biting guitar riffs, punchy percussion, twisting melodies, and subtle classical influence that recalls the boyish charm of Listen. (Rhythmically, it evokes a bit of McCartney's "Getting Better" as well.)
Likely the most atypical track here is the record's first single, "Meredith," whose synth timbres and programmed beats are drastically different from what the band is known for. That said, there are also clips of reversed instrumentation throughout, as well bittersweet songwriting, emotive strings, and an all-encompassing multilayered construction, so there's still plenty of adventurous intricacy in the mix. In other words, once you get used to its changes, you start to see how it fits into the band's overarching aesthetic. Afterward, "Sheffield" juxtaposes poppy vocals and momentum with bursts of frenzy, whereas "The Unwinding (Sparrow Song)" peppers its authoritative storytelling with acoustic guitar strums, starry percussion, more orchestral polish, and ingenious buildup; it evolves gracefully from gentle caution to full-bodied heavenly majesty.
The penultimate "I Would Love to Be Forgotten" is expectedly whimsical and self-reflective, with a playful yet dramatic score complementing Ayvas' wise realizations. As for closer "Goodbye," it starts as a lonesome piano ode before ethereal sound effects provide the passageway through which staccato tones bleed into an avant-garde collage of dissonant beats and notes, introducing a significantly skewed second half. By the end of it, Ayvas' raucous cheers—"Goodbye / I must be leaving / This will be the last time anyone will see me"—are met with jovial explosions of syncopation, strings, and harmonies, creating a lovingly colorful and celebratory farewell. It's a superb finale to an outstanding third album that, while a tad more commercial than its predecessors, is really no less enthralling, vibrant, or imaginative. Primitive Smile, like Listen and The Janus Mirror before it, is a brilliant gem of fused styles and limitless ambition, and it further demonstrates why Emanuel and the Fear deserves your unadulterated attention.