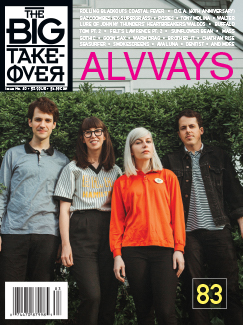 Shop our Big Takeover store for back issues, t-shirts & CDs
---
Facebook
Follow us on Tumblr
Follow us on Google+
Follow The Big Takeover
Dum Dum Girls – Too True (Sub Pop)
Please see my full review here.
La Sera – Hour of the Dawn (Hardly Art)
Please see my full review here.
Bob Mould – Beauty and Ruin (Merge)
Please see my full review here.
Stiff Little Fingers – No Going Back (Rigid Digits)
Please see my full review here.
Ryan Adams – Ryan Adams (Pax Am)
If you would have told me at the beginning of the year that not only would Ryan Adams make a full-length album that would slide easily into my top 10 for the year, but that he would also release an EP that I played more than anything else this year, including the first 5 records on this list, I wouldn't have believed you. Yet here we are and that is actually what Ryan has done. Truth be told, until this year I hadn't really kept up with his career after 2001's excellent Gold, but I'm glad I got back on the train because this Lp has it all. There are very heavy '80s

AOR

vibes here (in interviews he says he was listening to Bruce Hornsby deep cuts and the like), but his vocal similarity to Paul Westerberg and predilection for lyrics that reveal a damaged psyche and longing heart still prevail, giving it a more modern edge. These are just well-written songs that, along with the aforementioned (and incredible) 1984 EP, managed to convey my mood towards the end of the year more than anything else.
The Pains of Being Pure at Heart – Days of Abandon (Yebo Music)
Their 3rd album, 3 years in the making, deviates substantially from both their fuzz-pop classic self-titled 2009 debut and 2011's also excellent but very different Belong (an album that came off like a love letter to early '90s shoegaze and '90s alternative radio in general). Instead, what we have here is the most ornate, mannered, prettiest and perhaps even catchiest pop music they have ever made. They are also helped tremendously by the addition of vocalist Jen Goma, who shines spectacularly on several songs here. For more on this album, check out my fellow writer Geoffrey Stueven's excellent review here.
Popstrangers – Fortuna (Carpark)
I liked 2013's Antipodes, this New Zealand band's debut. Now based in London, they deliver a 2nd Lp which betters its predecessor in every possible way. Instead of early '90s grunge and '80s U.S. indie rock ala Sonic Youth, the main inspiration here seems to early '80s post-punk and at times, this even reminds me of under-appreciated early '00s New York band Longwave. More importantly, though, the songwriting has improved by leaps and bounds. I just couldn't conceive of this band being as capable of something as great as "Country Kills" just a few years ago.
Ty Segall – Manipulator (Drag City)
Before this album, I liked Ty Segall, but wasn't completely sold on him. I liked 2012's Slaughterhouse and that year's also fine Twins, but neither got anywhere near the kind of play time that this has gotten from me this year. Simply put, this distills all of Ty's strength's into one sprawling double album package. Fans of some of the earlier records should note that while there is plenty of "fuzz" here, this album leans heavier towards the melodic, mostly but not entirely early '70s glam-influenced instincts he has. While "The Singer" could pass for a Mott the Hoople track while the opening title track recalls '80s Flying Nun stalwarts The Chills .Elsewhere, "The Connection Man" most resembles his past glories while the descending riff in "The Clock" will have you playing it over and over again. Bravo!
Priests – Bodies and Money and Control and Power (Don Giovanni)
I loved Priests' 2013 7" ("Radiation" b/w "Personal Plane"), but this, their debut 12", may be even more powerful. Angry, political and absolutely boiling over with righteous fury in the best ways possible, they provide some of the most provocative lyrics of the year in songs like "Right Wing." I can't wait to hear what they do next. And catch them live if you have a chance. They destroy!
Real Estate – Atlas (Domino)
I was torn about whether to include this, the 3rd Real Estate Lp, or fellow Ridgewood, NJ native Cassie Ramone's also stellar solo debut in the final slot here, but went with this. While I don't like this one quite as much as 2011's excellent Days (one of my favorites of this decade so far), this is another excellent effort. There is lyrical maturity to be found, with Martin Courtney musing about impending fatherhood and other pursuits far removed from the suburban beverages and drives down I-95 of the past, and the record boasts their cleanest production to date. The real star could be Matt Mondanile's excellent guitar playing, though, reminding me of any number of excellent '80s jangle-pop stars.
comments powered by