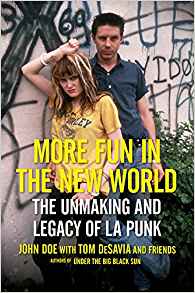 17 June 2019
John Doe with Tom DeSavia and Friends
In their new book John Doe and Tom DeSavia continue their history of the L.A. punk movement they began to chronicle in 2017's Under the Big Black Sun, this time focusing on the years where Cali punk went on the road, 1982 to 1987. They are joined by fellow L.A. punkers and artists including Dave Alvin (The Blasters, The Knitters, Flesh Eaters), Jane Wiedlin and Charlotte Caffey from The Go-Gos, Social Distortion's Mike Ness and dozens more.
Their accounts are both illuminating and horrifying in equal measure, from Pheasant Gehman's sordid tale of life at "Disgraceland", the run-down hovel that hosted every band that seemingly played Los Angeles to the trials and tribulations of Chip Kinman (The Dils, Rank and File), who suffered mightily for daring to play country music to punks. The L.A. scene wasn't all punk rockers, as moments from actor Tim Robbins and artist Shepard Fairey show.
What tied these artists together was a deep desire for something more, something new – and they created it. From looks at major bands such as X and Los Lobos to lesser-knowns such as Top Jimmy, whose whiskey blues made his Rhythm Pigs a local legend (and led to an homage on a Van Halen album), this tome will be welcomed by all who lived thru those crazy, groundbreaking times…even if you don't recall much of it at all.