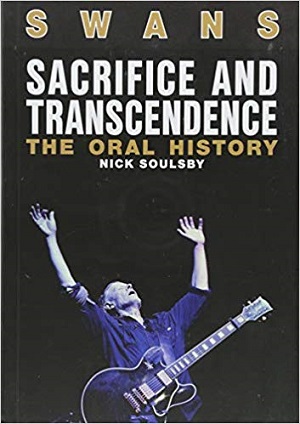 28 November 2018
When it comes to a band like Swans, certain clichés are bound to get thrown around: catharsis, overwhelming, obsession. And it's hard to argue with any of them – with a band this intense, you have to assume there's some something burning under the hood. In Swans: Sacrifice and Transcendence, British journalist Nick Soulsby attempts to find out using the oral history format. Soulsby had access to not only bandleader Michael Gira but also nearly every member, past and present of Swans, plus crew, managers, adjunct musicians, side project members, graphic designers, club owners – anyone who might have had an impact on the band's development over its nearly four decades of existence. There's little direct insight – no passages where the author analyzes at length the information his subjects have given him, telling the reader what he thinks the artist he's examining means. Instead, Soulsby lets the words of his interviewees flow unedited and uninterrupted, so the sometimes clashing, sometimes complimentary testimony can illuminate the creative process behind one of rock's most enigmatic bands.
Those looking for deep dives into the meanings of the songs may be disappointed – Gira is not the type to bare his soul for a song, and there's little description of a tune's initial creation. If you want a look into the inner workings of a group this distinctive, however, you'll get an eyeful. Unsurprisingly, being in a band with a leader as creatively restless and driven as Gira is just as exhilarating, frustrating, exciting and exhausting as you probably imagine. Whether in the studio or onstage, Gira suffers no fools nor, frankly, feelings once he's in the grip of the muse – no amount of pushing, pleading or even, sometimes, abuse is too extreme to get the performances he wants. It's an approach that's led to some remarkable music, from the band's early eighties postpunk beginnings all the way up to its present symphonic dissonance. But it's also led to some shortened tenures by equally remarkable musicians. Gira is a true bandleader, able to apply a player's unique gifts to his own vision. But he's also a harsh taskmaster, and even the members with the longest tenures (guitarist Norman Westberg being the most obvious) need breaks, sometimes long ones, in order to find some relief.
And yet, it's a rare Swan that regrets his or her time in the band. Nearly all of them feel like they touched genius, even if that touch ended up leaving a scar, and that's a hard thing to wish had never happened. There's a discussion worth having about whether getting to create art on the par of Swans' best work is worth the aggravation of working with such a mercurial leader – a debate this book could very well spark, at least in the world of rock.