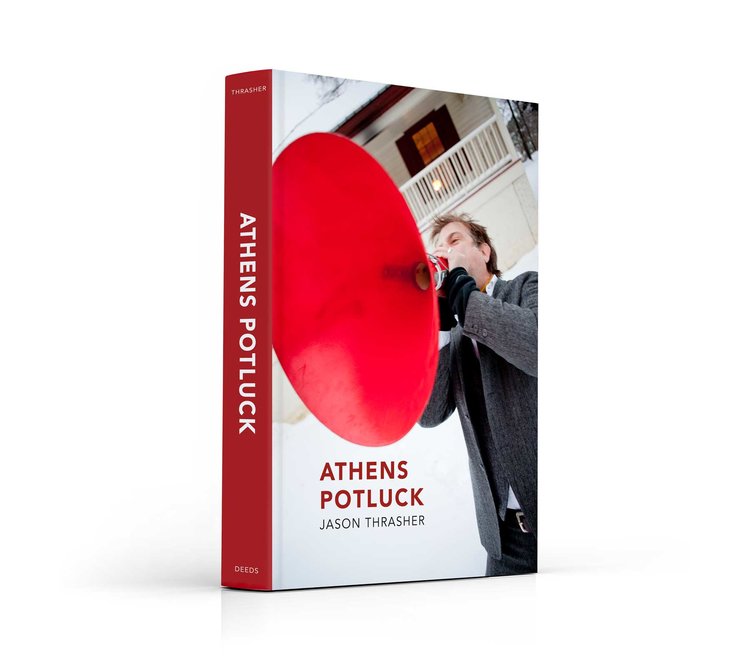 6 December 2017
Jason Thrasher
www.deedspublishing.com
I live about 60 miles from Athens, and "back in the day" (say, 30 years ago) I'd hop a Greyhound bus and endure the 3 hour drive up Highway 316, which should have taken an hour, but you stopped at every crossroad between Atlanta and Athens. Once there, I would spend the weekends with friends going to school there, soaking up music and relying on "the kindness of strangers" for a place to crash and another beer. Reading Jason Thrasher's magnificent Athens Potluck brings this all back. Granted, the bands are largely different, but the ambiance and the good-hearted residents of "the Classic City" haven't changed a bit.
Thrasher has been an Athens-based photographer for over 20 years, and his newest book is a look at the people who inhabit this unique college town. He set up the book in an intriguing fashion – he picked the first subject, and then the musician would select his next artist and write them a list of questions. His first subject was Laura Carter of Elf Power, Neutral Milk Hotel and more. In turn, she picked W. Cullen Hart of Oliva Tremor Control, and so it began.
This mammoth tome (over 400 pages and easily 20 lbs) showcases Thrasher's vivid photography, which captures both the artists and they places they call home. From Michael Stipe to Pylon's Vanessa Briscoe Hay, old-time artists such as Art Rosenbaum to the leader of the Drive-By Truckers Patterson Hood (who also wrote the foreword to the book), all the artists portrayed share a common viewpoint. They all love the town, from the restaurant "The Grit" to Vernon Thornsberry of "Jittery Joes" coffee, and acknowledge the singular "something" that Athens gives, that sense of community and almost incestuous inbreeding of bands that has made the city a music mecca, long before R.E.M. and the B-52s ever did their first tiny shows. This book is an invaluable look at the musical history of the area, and captures, in Thrasher's glorious photographs, a moment in time. Exceptional.