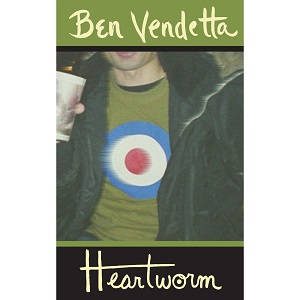 17 November 2015
In the sequel to his 2014 debut novel Wivenhoe Park, Ben Vendetta has outdone himself. The story follows Drew, the protagonist of Wivenhoe Park, and forwards the action from the mid '80s when he is 20 and hanging out as an exchange student in England while discovering then-emerging bands like The Jesus and Mary Chain and Spacemen 3 to some point in the mid '90s.
Here, he is age 30 and his marriage has just collapsed when his wife takes up with a cult leader, so he moves from Dublin to his brother's condo in Boston. He is lonely, adrift, a bit desperate, making poor decisions in the process and struggling to find where he stands in the adult world. He escapes, as always, through music, and particularly Whipping Boy's classic 1995 album Heartworm, for which the book is named. The album serves as a kind of character in and of itself, providing consolation, comfort, commentary and even defiance when needed. It's no wonder that Heartworm started out as a 33 1/3 series book on the aforementioned album.
Without giving away too much, that's the very basic plot description. There's so much more going on here, though. Vendetta's strengths as a writer don't just include an encyclopaedic knowledge of '80s and '90s UK indie/shoegaze/Britpop, but also an ability to cultivate sentences and paragraphs that make it almost impossible to put this book down.
At its core, this is less a book about music than it is about growing up, just like Wivehoe Park is a coming-of-tale with an amazing soundtrack. Anyone, and I include myself in this, who has ever felt out of place in the adult world, has been told to give up or curtail their obsession with rock and roll and has been made to feel like they're not good enough because their life's path takes them away from success in the straight world will immediately relate to this book. My guess is that it'll do the same for many others who'll read it as well.
I can't wait for the 3rd and final installment of the "Drew trilogy," which Vendetta is already working on (wow does he hammer them out).