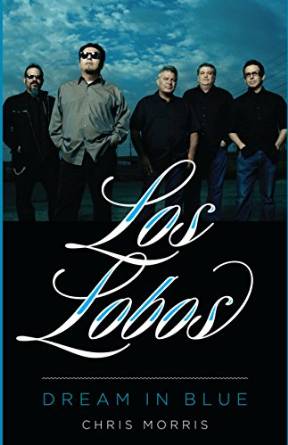 12 October 2015
Chris Morris
University of Texas Press
http://utpress.utexas.edu/index.php/books/morris-los-lobos
Finally, one of America's greatest bands has gotten a long overdue look with Los Lobos: Dream In Blue by Chris Morris. Los Lobos began their career in East Los Angeles in 1973, plying their mixture of Latino folk music, Tex Mex and Mexican Pachuco (mixed with a love of Canned Heat and Cream) at weddings around the city, but it wasn't until they took their unique hybrid sound to punk shows at The Whiskey that their career began to reach beyond their immediate area. Suddenly they were amid bands such as X and The Blasters, and their sound began to encompass more strains of rockabilly and roots rock. Their 1983 EP, …And A Time to Dance won the band wide critical acclaim and their first Grammy, but it wasn't until 1987 and their rendition of Richie Valen's "La Bamba" from the movie soundtrack that the world took notice.
Morris relies on a long history with the band to help shape his narrative, and the result is both informative and engrossing, and puts Los Lobos in proper context for their times. Not just Another Band From East L.A. as one of their compilations dubbed them, the band- Cesar Rosas, Conrad Lozano, Louie Perez, Steve Berlin and the master of the strings David Hidalgo- are not only one of America's longest-lived musical institutions, but one of our most indispensable, always challenging their audience- and themselves- with new avenues of song, while never turning their back on their Chicano roots and traditional folk music that formed their early sound.
From their groundbreaking Kiko from 1992 to the bands various offshoots such as the Latin Playboys, Los Lobos are America's "melting pot" personified- a mixture of cultures, sounds and influences that make up the wildly inventive band. Chris Morris is to be commended for putting the story of this most American of bands to paper, and Dream In Blue will satisfy the most ardent of fans. Highly recommended.