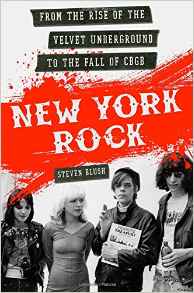 17 October 2016
St. Martin's Griffin
Steven Blush
www.stmartins.com
There has been a plethora of books about this subject, but few, if any, can boast of being as encyclopedic as New York Rock: From The Rise of the Velvet Underground to the Fall of CBGB. Author Steven Blush (American Hardcore, Seconds magazine) has brought together a wealth of history charting the rise of rock and roll in the Big Apple, from the early days of the Velvet Underground to the changes that resulted from the reign of Rudy Giuliani. Based on hundreds of interviews, Blush tracks everything from punk to no wave, noise rock to anti-folk, jam bands to hardcore. In fact, if you lived in the city during '70s to the aughts, and were either in a band- or even just saw a show- you're probably in here.
This is an oral history, and it reads like a novel. Somewhat chronological, you watch as the music evolves alongside the city. The days of the New York Dolls and the Velvet Underground are marked by cheap rent, cheaper drugs and a real sense of the "outsider" aspect of trying to create something new. Later, as the scene began to splinter into a thousand different directions- the Dolls begat The Ramones and Suicide who led to the Lydia Lunch and the "No Wave" artists.
By the time the book concludes with the sad saga of Hilly Kristal and the demise of CBGB, Giuliani and gentrification have transformed the city into an altogether different experience- "Times Square ala Disney"- and rising rents and lack of employment means the atmosphere that allowed young, broke kids to create a revolution is gone, never to return. Now everyone makes records in their bedroom and CBGBs is a tourist trap in the Newark airport. But as Blush and New York Rock vividly show, it ain't always been that way. Gabba gabba hey!