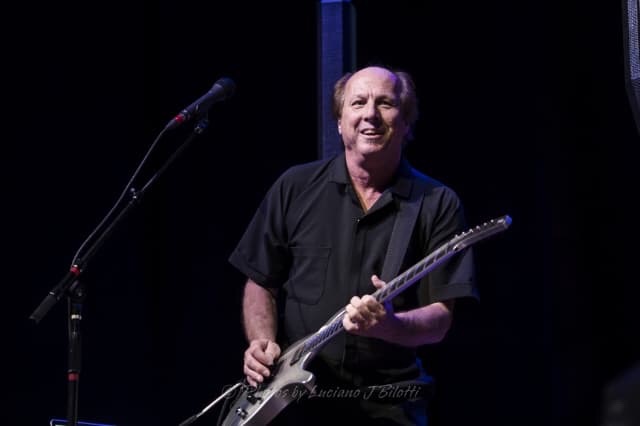 3 October 2019
Photos by Lou Bilotti.
Avant-rock trailblazer Adrian Belew brought his quartet to the Arcada Theatre with fresh material from 2019's Pop-Sided album. Featuring songs like "Everybody's Sitting" and its tuneful critique of modern inertia, the collection is Belew's first conventional solo outing in a decade outside of his experimental Flux series – although the word "conventional" is dubious descriptor for this artist. The concert topped two hours and spanned Belew's four decades as a frontman. Songs representing stints with psychedelic pop heroes the Bears, prog-rock titans King Crimson, and early days with uncategorizable legend Frank Zappa rubbed shoulders with Belew's solo favorites like "Beat Box Guitar."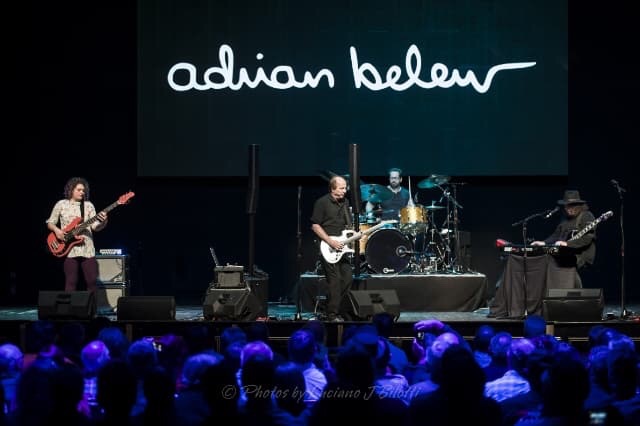 In addition to the inimitable twang bar heroics of songs like "Ampersand" and "Young Lions," Belew was also in fine voice during songs like the expressive and emotive "Matte Kudasai," the bouncy "Big Blue Sun," manic "Fish Head," and the persistently relevant environmental polemic "Men in Helicopters."
Belew introduced his new songs with relatable stories. "I've noticed through my brief life that I worry about things, and most of them never happen," said Belew while setting up "Wait to Worry." "My new mantra is the name of this song."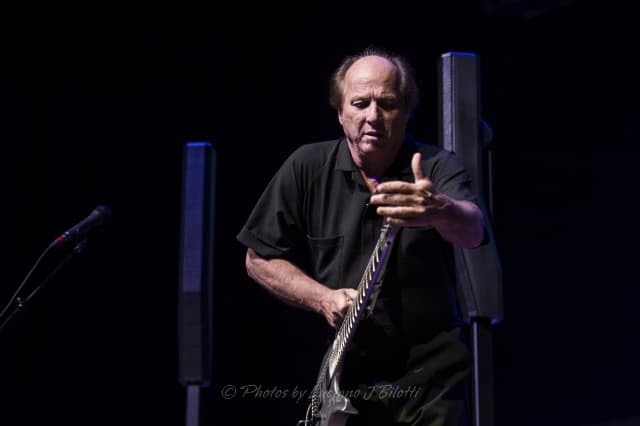 The guitarist was good-natured and at ease with the crowd, even when levying a humorous threat – Belew promised to slay everyone with sonic overload, "in the nicest way possible." He took time to show off his wardrobe, too. "So, I was walking past a yard sale in Las Vegas for Liberace's stuff," he said, modeling a fresh pair of trim and sparkly black loafers, ideally suited for triggering the multitude of sonic treatments and effects pedals at his feet.
Belew's band included frequent associate and Crash Test Dummies veteran Saul Zonana. Zonana's support on creative rhythm guitar, keyboard, percussion and vocal allowed Belew to play demented guitar solos unfettered during songs like "Incompetence Indifference," "Of Bow and Drum," and Zappa's "City of Tiny Lights."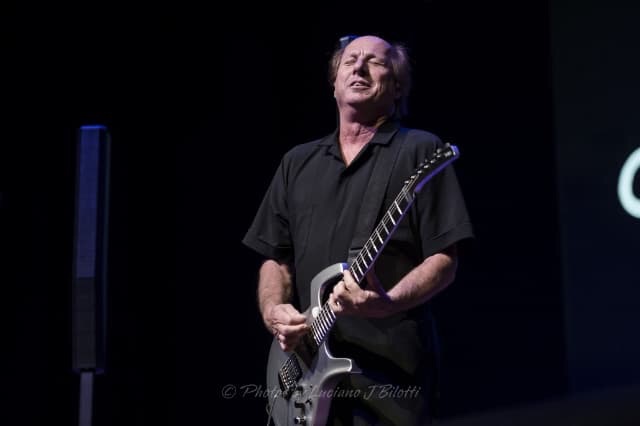 Belew wasn't the only virtuoso presenting a master class in rock technique. Longtime bassist Julie Slick was a savvy foil who filled the sound more that capably on challenging Adrian Belew Power Trio originals from 2009's adventurous instrumental album e, and even when covering for influential bassist Tony Levin on King Crimson fare including the heavy weather of "Happy with What You Have to Be Happy With."
A generous buy tightly-paced second set blended song to song in a delirious medley, suggesting the influence of the ever-changing sound of Belew's own innovative Flux app. The Bears' debut composition "Superboy" was a cathartic highlight that unfolded with youthful energy and optimism. Drummer Jordan Perlson deftly anchored the tribal thunder of "Big Electric Cat" and a string of time-twisting King Crimson favorites including "Three of a Perfect Pair," "Frame by Frame," "Sleepless," and "Neal and Jack and Me."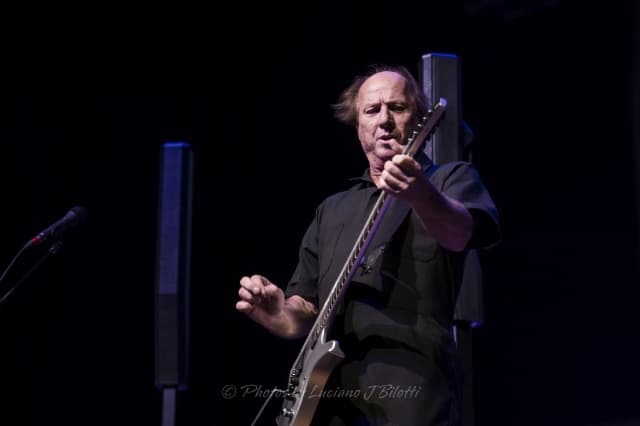 Belew performed surrounded by high-tech guitar paraphernalia and computer processing, which mostly behaved. In the rare moments when it acted up, as in show-closer "e2," Belew adapted with good humor and summoned his technician for a digital rescue and special introduction. The quick fix and averted disaster spurred the band into even higher energy. Slick dug in for flurries of frenetic fretwork. Belew celebrated the ensuing and successful tightrope act with a joyful whoop.
The band encored with brain-bending King Crimson thrasher "Thela Hun Ginjeet." Belew said that he has been closing shows with the song and its first-person account of urban paranoia for 20 years.
Zonana opened the concert with a solo set of new songs including the off-kilter guitar pop of "Come Back" and Beatlesque piano ballad "You Against the World." Zonana introduced his new album In the Meantime by giving a copy to the youngest Belew fan he saw in the room. "It warms my heart to see the young ones," he said, exchanging a fist bump with the boy. "You've got a good dad, kid." "One Life" echoed the sinewy descent of Abbey Road's "She's So Heavy." "Music is alive and well, isn't it?," Zonana asked afterward, receiving enthusiastic response.