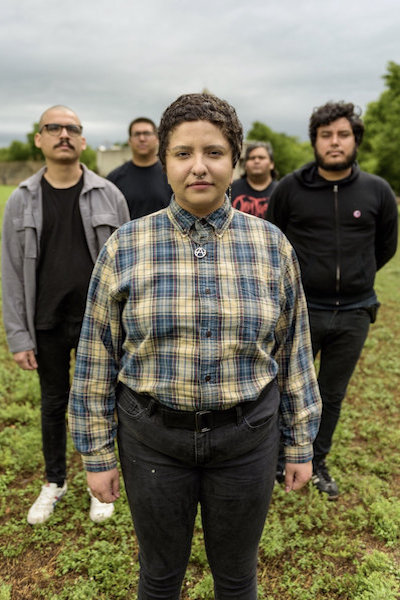 10 June 2019
Photo by Prosthetic Records
The tackiest way to lead off an article about a rock band is by defining their name. So, here goes … "Amygdala" refers to a part of the limbic system that consists of gray matter and helps process fear, anxiety and aggression.
It's a fitting moniker for a hardcore-punk band that hits extreme levels of those emotions in their songs, whether they be 90-second hardcore blitzkriegs or six-minute excursions into sludgy doom. But Amygdala simply refer to themselves as "a collective of individuals expressing ourselves through punk."
The San Antonio ragers swung through Boise on Sunday night on their way from Chicago to Berkeley, playing gigs in support of their newly released album Our Voices Will Soar Forever. More expansive and well-produced (courtesy of Clifton Miles at Stone Creek Sound) than 2016's Population Control, their Prosthetic Records debut is fueling a lengthy summer tour for Amygdala.
More specifically, the album finds screamer Bianca Quiñones sharing her raw feelings about mental health, nihilism, and her personal experiences as a victim of rape and abuse. She is accompanied by bassist Yole Centeno, guitarists Carlos Zamora and Cesar Bernal, and drummer Alex Vazquez, whose music runs the gamut from melodic hardcore to d-beat to black metal.
A band with such an ambitious, sprawling sound — and modus operandi — may have seemed an unlikely fit for Boise's tiny High Note Cafe, which can only hold a few dozen people. But the intensity of the performance inspired the tightly packed crowd to mosh, marvel and mentally connect with the band's affecting themes throughout the set.
"The show was fun, we had fun playing," Amygdala told the Big Takeover after the show. "But some things made it difficult. One was arriving to the venue and everyone acting strange, like they never seen people of color before."
Welcome to Boise. It was Amygdala's first time playing the city, whose demographic makeup is just shy of 90 percent white.
"We're used to playing tight spaces, but the atmosphere was just so off-putting, it wasn't until we played we felt better," they continued. "[It wasn't] the first [time] we experienced this [treatment] on this tour or any tour we've ever done, but Boise felt like we were gonna fight someone, haha."
To be fair, the High Note Cafe — which recently went all-vegan — is trying to bring in more bands featuring marginalized groups including POC and LGBTQ+, according to Robbie, who booked the show for the venue.
"This has always been a goal of mine, 'cause I've always felt that these ideas are the backbone of punk rock DIY ethics [in the underground community]," he told the Big Takeover. "Implementing these ideas organically without appropriating other voices can be tricky, but it's always been [one of] my goal[s] (among many)."
Indeed, the relatively conservative city of Boise has a long way to go before it can be considered a truly inclusive place. But it is making strides. After all, it's at least hot enough to draw a cutting-edge band like Amygdala to play a show there.
Prior to their set, multi-instrumentalist Nicodxmvs warmed up the stage behind a laptop and other gadgets. He goes way back with Amygdala, as two members of the band previously played with him in another group called Illustrations.
When asked if the musicians might collaborate again, Amygdala said: "It may lead to that in some point on this tour. And we will be working together in the future, as Nicodxmvs has part in directing our past music videos and will be engineering on our next record."
Already making plans for another album after just releasing one last month? Now that's forward thinking.