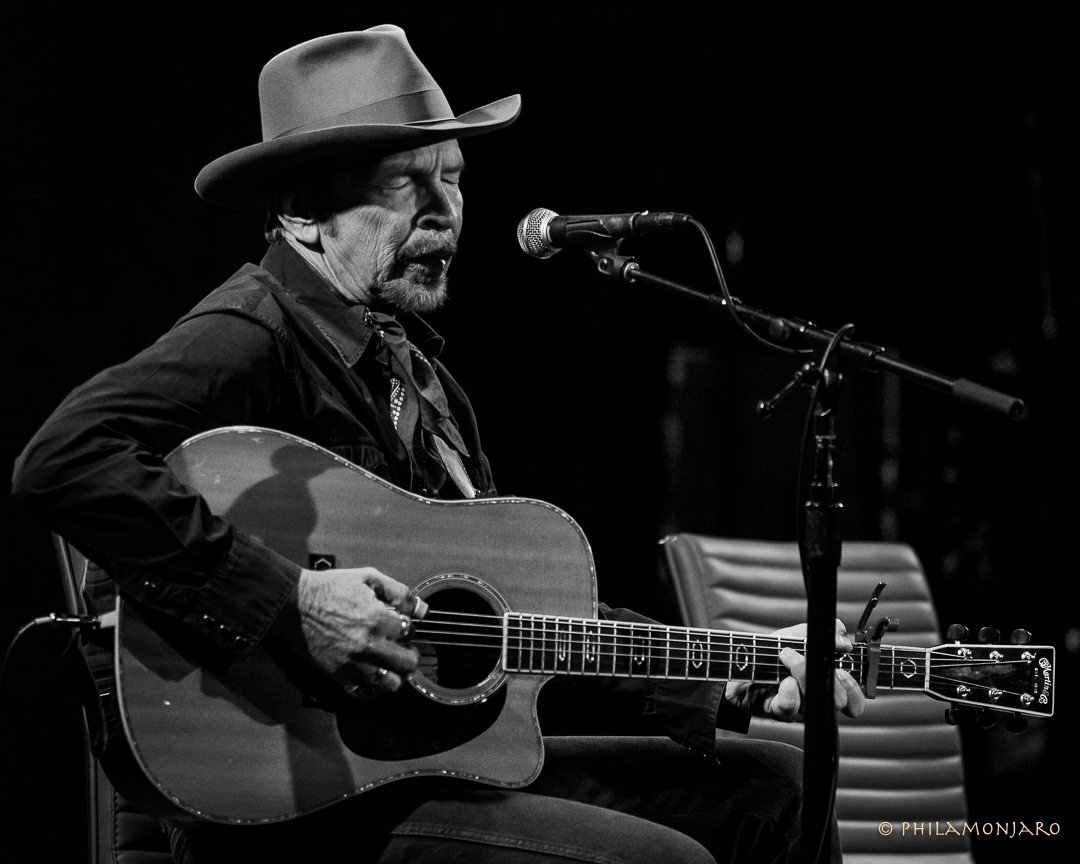 13 July 2019
Photos by Philamonjaro
Dave Alvin may not have become a household name in the '80s or '90s, but he spent those decades (and the years since) shaping the landscape of American roots music. His white-hot fretwork and salt-of-the-earth songwriting for the Blasters are justifiably celebrated, but the impact of his solo work as a soulful songsmith may arguably have the deeper impact among those who follow in his footsteps. Alvin's influential 1994 masterpiece King of California stands as a testament to this craft.
Alvin visited City Winery in Chicago on a Thursday night to play the entire King of California album in honor of its 25th birthday. The songs didn't require much embellishment, springing to vivid life with acoustic picking and vocal by Alvin, electric guitar by Guilty Ones guitarist Chris Miller (sporting a black cowboy hat and long braids a la Willie Nelson), and occasional duet by Cindy Wasserman from opening act Dead Rock West.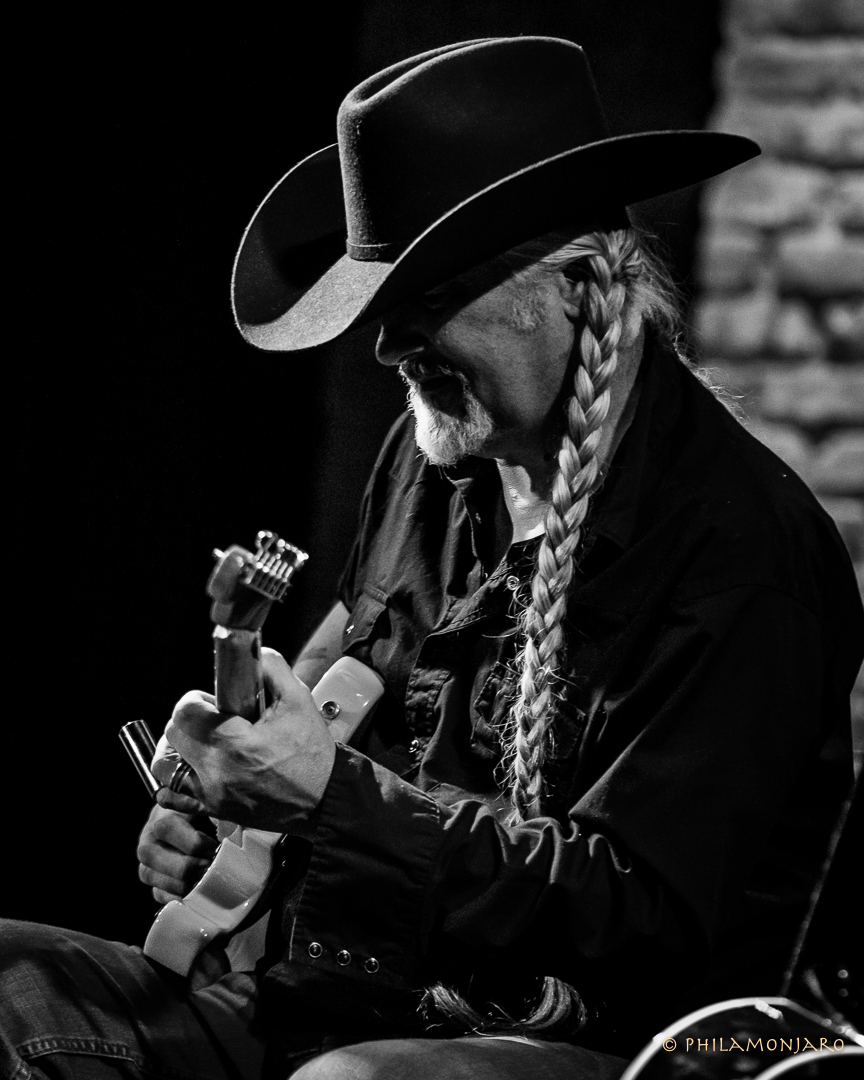 The album songs were played in sequence, so the show began with the tumbling arpeggios of "King of California." The heartsick but determined character in the tragic song was revealed with cinematic scope, evoking images of the wide-open vistas of the bygone American southwest.
Affection and deep knowledge of country blues was evident in the grim tidings of "Barn Burning." Miller played bottleneck slide on his Telecaster while Alvin sang prescient lyrics about the class divide. "The rich get richer, and the poor, well, they just stay poor."
"Chris and I are a couple of distinguished-looking gentlemen, but we could use some beauty up here," said Alvin, welcoming Wasserman to the stage. Alvin's best-known track "Fourth of July" revealed a frayed relationship and suggested troubles and hopes more deeply than the nonetheless bracing and anthemic version by X. "It's always weird to be doing this song a few days late, but I'd rather think of it as a few months early," quipped Alvin.
Alvin, as ever, was an amiable raconteur who filled the evening with humorous and bittersweet stories that deepened listeners' connections to the songs.
Before playing the breakup duet "Goodbye Again," Alvin described younger days driving around Downey, California in a hand-painted '66 Toyota, listening to country greats like Guy Clark and Mickey Newbury on the AM radio. "I was fascinated with Conway Twitty and Loretta Lynn records," said Alvin. "I wrote this as a Conway and Loretta song for Rosie Flores and I to sing."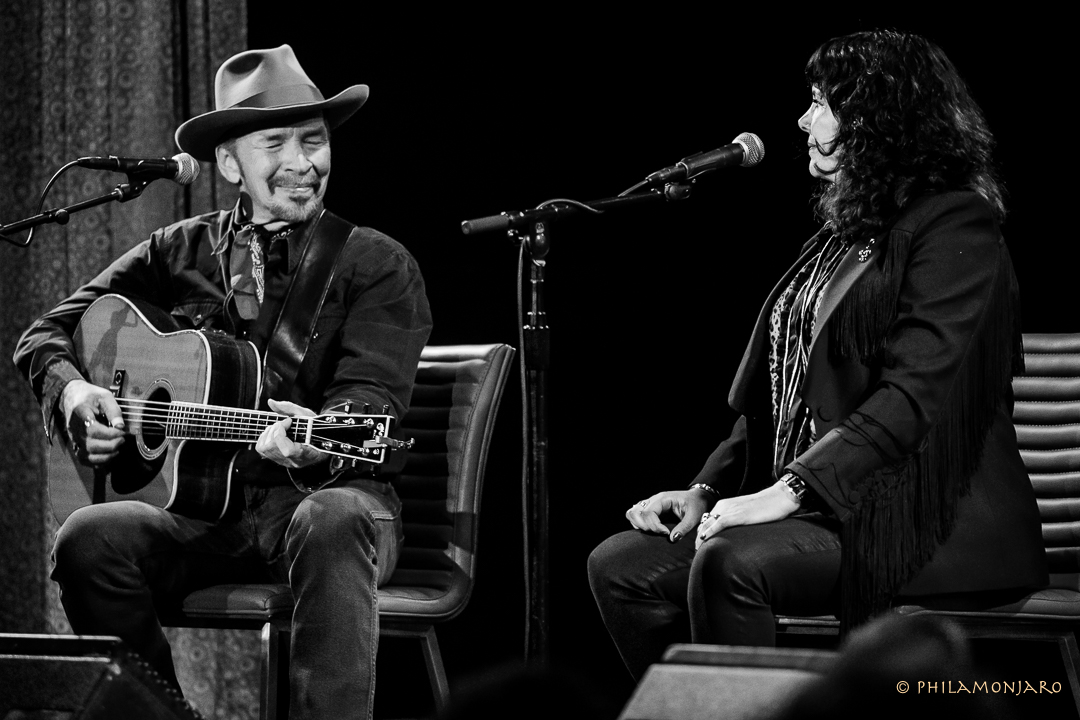 Alvin played sharp acoustic guitar for Whistlin' Alex Moore's "East Texas Blues," covering the steady-chugging rhythm and sinewy solo simultaneously.
"If I've done anything in my life, I've written a song that was too country for George Jones," quipped Alvin when introducing the country heartbreaker "Every Night About This Time."
Alvin dubbed his B-side "Riverbed Rag" as an "East San Gabriel River-style" number, originally recorded with King of California producer Greg Liesz. Alvin and Miller clearly relished their intertwining musical interaction on the instrumental ragtime blues number.
"Bus Station" arrived with a nod to the Blasters, who recorded the song on 1983's Non Fiction. "Yeah, they were okay," said Alvin in jest. "Temperamental bunch." The song was rendered as a tale of hard luck and self-sabotage along dead-end paths.
Although not prone to overt political pronouncements, Alvin claimed that Memphis Slim had spoken for him through the song "Mother Earth." "This song says pretty much how I feel about everything." The lyric professed the belief that people of all stations are formed from the same clay.
Deep admiration and respect was given to Tom Russell before performing his tale of prison and poverty-stricken tragedy "Blue Wing." "If I'd written it, I'd have quit," said Alvin. "That's it for songwriting!"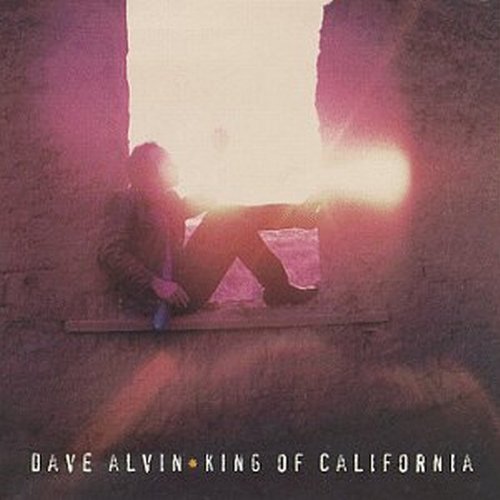 Alvin paid tribute to a local hero when introducing "(I Won't Be) Leaving." "Right here is Chicago, you have one of the greatest voices ever," he said. "I am a big fan of Jerry Butler, especially the stuff that he did with Curtis Mayfield. I you see Jerry around town, tell him I said hello."
Setting up "What Am I Worth" as another duet with Wasserman, Alvin steeled his courage. "I'm gonna get emotionally naked," he said. "It's okay. I've been emotionally working out. I've got some great emotional abs."
The main set closed with "Border Radio," originally recorded as a rollicking rockabilly cut by the Blasters and featuring brother Phil Alvin's mountain-shaking voice. Dave's version as recorded for King of California and performed at City Winery was intimate, haunted and bereft.
Alvin returned for an encore and answered requests from the crowd for "Abilene." "I learned a lesson," he said. "Never write songs about your friends that are true." The show closed with another of the newly reissued King of California's bonus cuts, Merle Haggard's "Kern River."
The evening encapsulated Alvin's breakthrough as a songwriter and solo voice, and served as a calling card to draw people back for the new songs and stories he continues to tell.