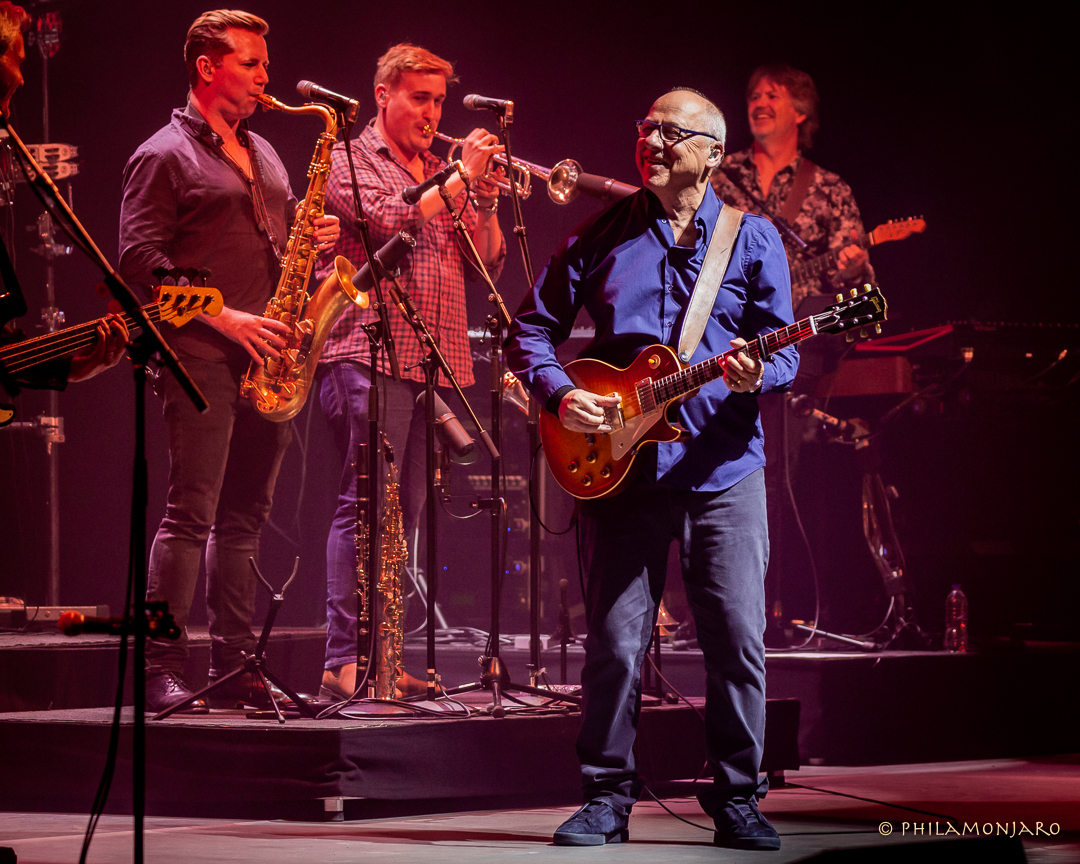 2 September 2019
Photos by Philamonjaro.
Fans who made Saturday's concert by Mark Knopfler an early sell-out had waited months to experience a master class from a fine craftsman and his top-flight musical companions. The show at the ornate Chicago Theatre delivered upon every promise. With modest fanfare, Knopfler stepped onto the stage with his Gibson Les Paul guitar and began a string of story-songs that rendered everyday scenes as romantic epics. All were colored by the effortless precision of his unique playing style.
"Why Aye Man" from 2002's The Ragpicker's Dream presented the first of Knopfler's relatable characters. The lyric described a tradesman from Knopfler's home territory in northeast England during the lean years under Thatcher, going abroad for work in Germany. The Euro-cultural melting pot described in the song was echoed by the band, a skilled rock combo steeped in folk traditions. Knopfler was joined by John McCusker's fiddle, Graeme Blevins' saxophone and Tom Walsh's trumpet as the four synchronized for a Celtic melody.
The band followed with the rowdy pop of "Corned Beef City," flashing smiles at each other and spinning sonic bliss while Knopfler played growling slide guitar. From the audience's perspective, the 11 musicians seemed like a band of brothers and best mates with complete trust in their collective intuition. That impression was cemented later when Knopfler introduced each member with wisecracks and heaps of praise.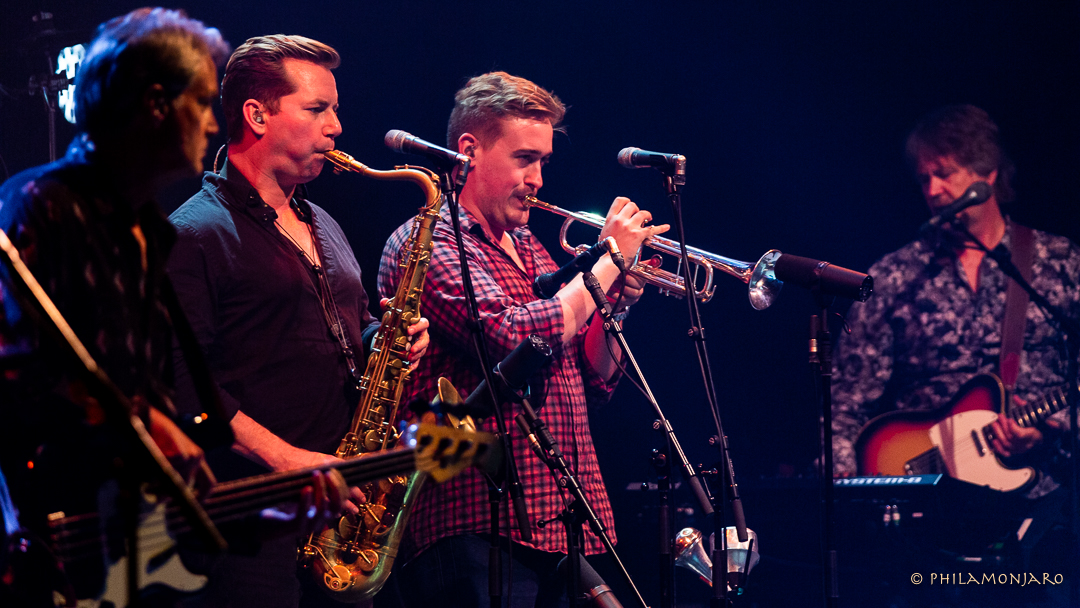 Since releasing the first of his nine solo albums in 1996, Knopfler hasn't leaned too heavily upon his formidable legacy with Dire Straits. He nonetheless presented treats for fans of the outfit that put him on the map, while eschewing the most popular tracks that casual listeners might have picked. The first of these was a moody "Once Upon a Time in the West," propelled by drummer Ian Thomas' deft and subtle reggae pocket. A charming "Romeo and Juliet" followed, with Knopfler playing a gleaming National guitar similar to the (if not the actual) one depicted on the cover of Brothers in Arms. Longtime sideman and Neil Diamond veteran Richard Bennett traded graceful solos with Knopfler during the song's extended coda.
Knopfler, who recently celebrated his 70th birthday, paused to reflect on his long road since first playing in Chicago. "I remember the first time I came. I was a young dude. Now, I'm just thinking I've got to retire," he said, prompting howls from the room. "Then I think, what could beat this?," he added with a grin.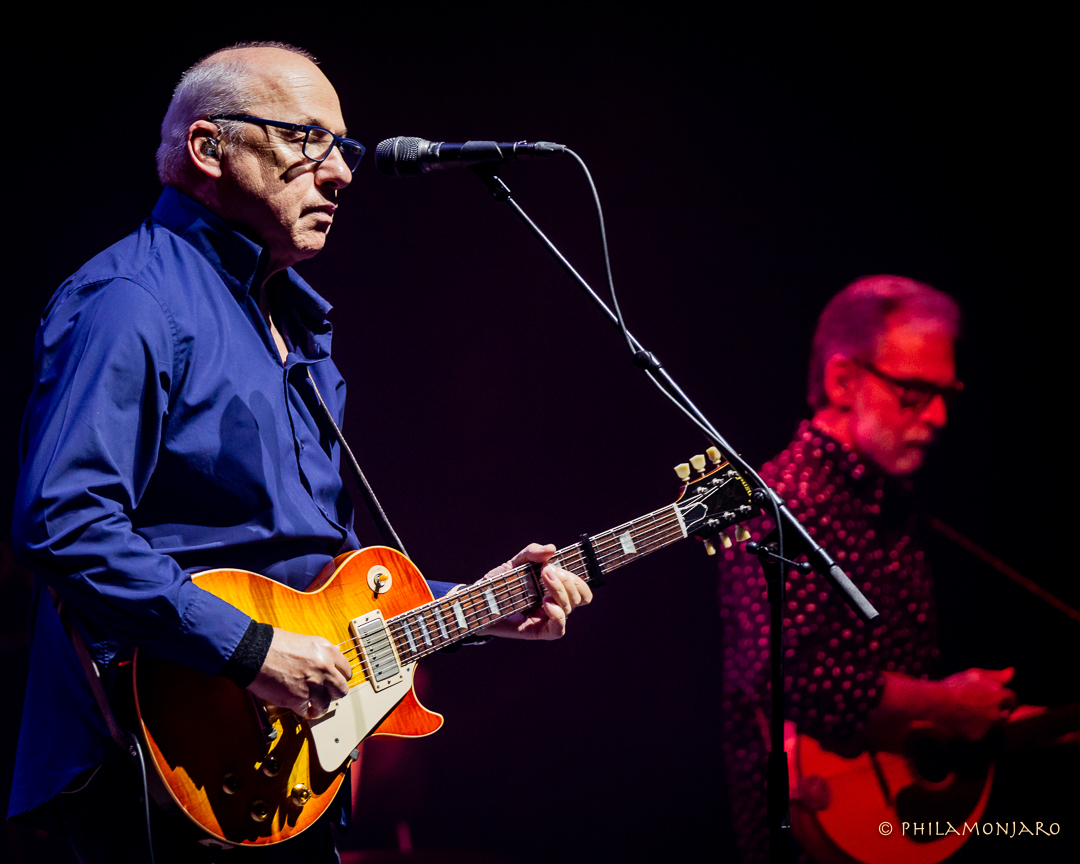 Next were the songs that brought Knopfler to town – worthy new fare from Down the Road Wherever. "My Bacon Roll" sketched a lost soul who had found himself ill-fitted for the workaday world of corporate team-building exercises, whiling away his fading years at the local diner.
Knopfler told the personal memory that shaped "Matchstick Man." "When I was a kid, I used to hitchhike everywhere," he said. "It seems lunatic now." Knopfler described his dubious decision to hitchhike home from a gig with an early band in the far south of England to his hometown of Newcastle in the north. "I didn't realize then it was 500 miles," he said. "But I didn't realize much at that age."
Knopfler remembered being dropped in the Midlands by a truck driver, and finding himself under a bright blue sky on Christmas day with nothing but a blanket of fresh snow visible in all directions. "There's not a car. There's not a truck. There's not a bus. There's not a rabbit," he said. "There's just the three stupids. There's my stupid bag, my stupid guitar, and me in the middle." The song's title was drawn from imagining the bird's eye view of a minuscule stick figure in such a setting. Despite the bewildering scenario, Knopfler recalled being sufficiently emboldened by his youthful ambitions that it bother him much. 40 years later, he said, he had finally written a little song about it.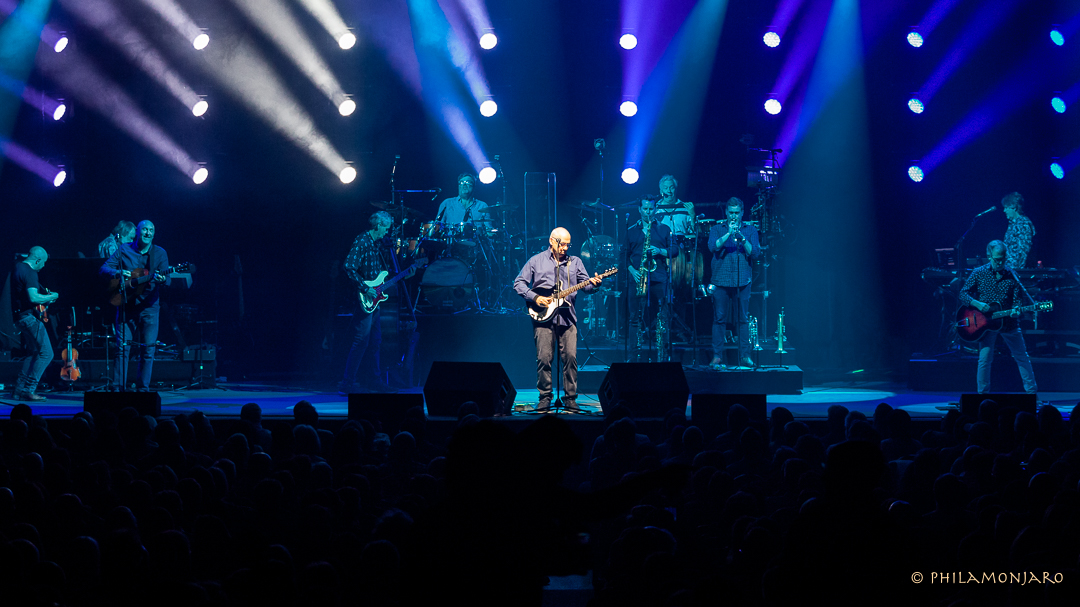 Mike McGoldrick's pipes and flutes were featured on many songs including the lovely "Heart Full of Holes," a song from Kill to Get Crimson sung from the perspective of an aging pawnbroker and Holocaust survivor. "He could get a tune out of an old watering can in your garden," said Knopfler of his bandmate.
The concert included a parade of enviable guitars with both modern and classic designs (including Knopfler's familiar red Stratocaster), all of which served to prove that any magic was really produced by Knopfler's own fingers. "When I was a kid, all I wanted was one guitar," said Knopfler, recalling how he pestered his father. "Now they're everywhere."
Dire Straits' "Your Latest Trick" was a showcase for Blevins on saxophone. "Postcards from Paraguay" featured exotic flights of South American-styled trumpet before yielding to a raucous timbale solo from Danny Cummings. Wisconsin bassist Glenn Worf anchored the explosive coda of "On Every Street" and its sepia-toned tale of a hapless gumshoe searching for his elusive femme fatale. Knopfler explained that "Done with Bonaparte" was about a lowly footsoldier in Napoleon's army trying to get the hell out of Russia.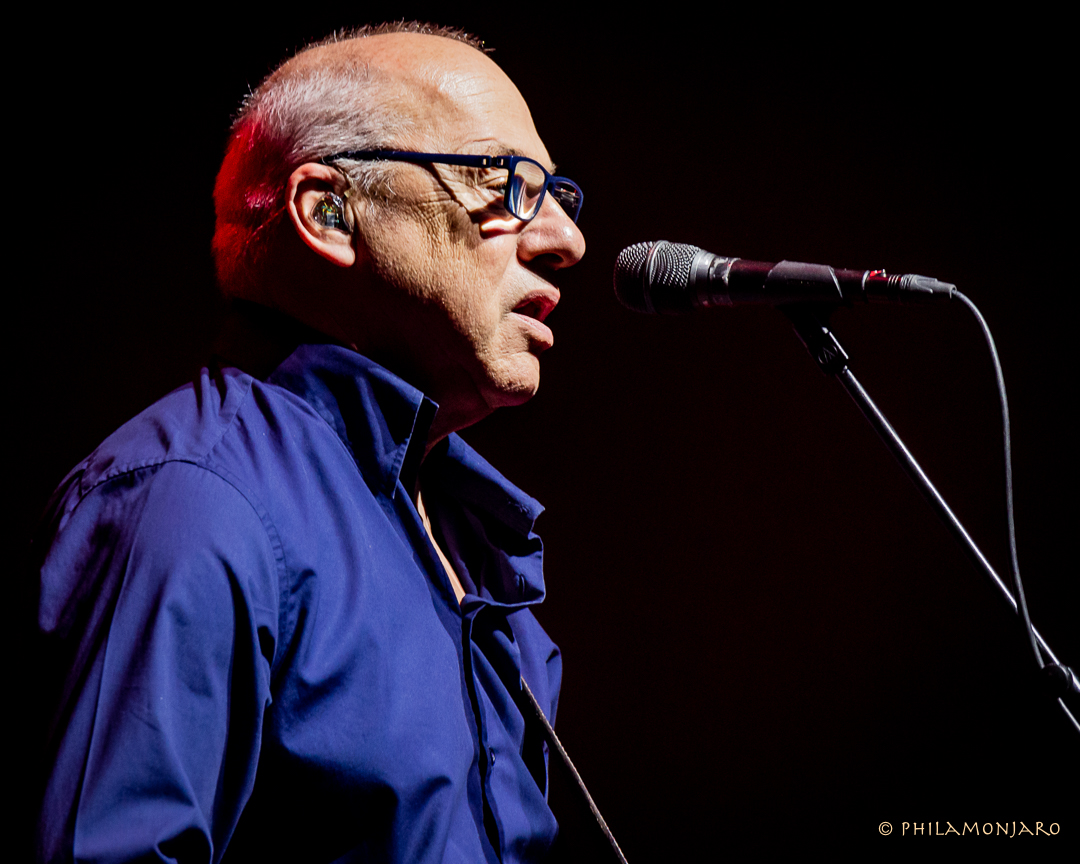 The main set concluded with "Speedway at Nazareth" and one more display of Knopfler's biting but fluid, banjo-picked guitar melodies and his deep, gravel-etched vocal. The song climaxed with a shimmering Hammond organ solo from Jim Cox. Chart-topper "Money for Nothing" in the encore was a chance to spotlight right-hand man and Dire Straits veteran Guy Fletcher, who played synthesizers and substituted his own vocal for Sting's.
Scattered calls for "Sultans of Swing" went unanswered, but the band returned for a second encore with the elegant and majestic instrumental "Going Home: Theme of Local Hero." It was an understated yet glorious conclusion from an artist who has consistently defied the conventional definitions of guitar hero and rock star – while earning his reputation at the top of the heap.