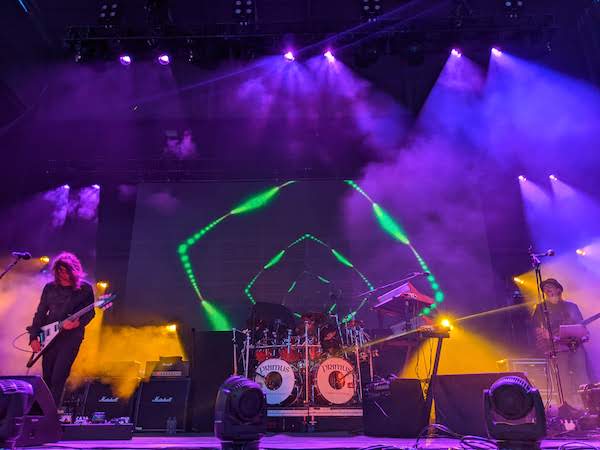 11 August 2021
Primus – live – Photo Credit: Jason Rice
"Finally!" Les Claypool shouted at an outdoor crowd of a few thousand who had congregated to see Primus play their first concert in 21 months. "Am I allowed to say Jesus fucking Christ?"
The bassist's exclamation of relief is surely being echoed across the U.S. as bands finally resume live performances — even if the Delta variant of COVID-19 is dampening crowd turnouts. But for long-running, genre-defining Primus, the comment by Claypool — who, whether playing with Primus or another configuration, rarely rests from touring — carried even more weight. At long last, Claypool, guitarist Larry "Lee" LaLonde and percussionist Tim "Herb" Alexander were ready to perform their rendition of Rush's A Farewell to Kings, a special event they had announced in February 2020. In addition to COVID, Primus also postponed the tour after Slayer invited their friends to play on the last leg of the band's final performances. (Fuckin' Slayer.)
If Primus had a prime candidate to salute, it would undoubtedly be Rush — another in-a-class-of-their-own trio fronted by one of rock's most revered bassists (Geddy Lee). The now-defunct Rush delved deep into fantastical, interstellar, esoteric worlds; Primus' most popular songs revolve around warped cartoons, drug-induced fever dreams and esoteric concepts. Claypool and Lee have publicly praised each other's musicianship, with the former performing covering "The Spirit of Radio" at Lee's induction ceremony into the Canadian Songwriters Hall of Fame.
Claypool reminisced to the Idaho crowd about how Rush's 1977 album opened his mind to new possibilities in music when he first heard it as a teen. His first concert was a Rush show. He also tipped his trademark fedora to Rush's incomparable drummer Neal Peart, who died in January 2020 and was a friend of Primus, according to Claypool. To that end, the hourlong tribute to the 37-minute Rush album was all about celebrating those prog masters; Primus played on a mostly darkened stage, deferring attention to the same trippy video footage that screened during Rush's live renditions of Kings songs.
Primus replicated the record almost to a T, with Alexander buried beneath drums, cymbals, chimes and bells a la Peart. The only noticeable shortcoming was Claypool's inability to match Lee's falsettos on "Closer to the Heart" — but, to his credit, he had prefaced that performance by asking the audience to help sing the lyrics.
The Rush tribute aside, Primus opened and closed their 2:15 show with most of their own best-known songs, pleasing their odd cross-cut of fans that range from Dead-heads to metalheads. Some concertgoers looked quizzically at a massive circle pit that ensued during Primus' two-song encore, but there was little tension in a crowd that reveled in finally witnessing live music again.
Indeed, both the audience and Primus lucked out with the outdoor show, savoring a pleasant, warm evening that deviated from the many recent days plagued by wildfire smoke and triple-digit temperatures. A beautiful pink sunset around 9 p.m. gave extra pop to Primus' purple-colored set decorations.
Opening the show was Battles, an experimental duo that wouldn't seem like Primus' most obvious choice, given the indie-rock credentials of guitarist/singer/keyboardist Ian Williams and percussionist John Stanier. But the audience warmly embraced their stilted robot-sounding musical phrasing and bleep-and-bloop effects. What began as something of an awkward first date for crowdgoers and performers alike soon turned into an amicable affair, with everyone collectively shaking off the rust that had accumulated during the pandemic. There was a sense in the air that concerts might go away again if COVID variants continue to escalate, which gave even more urgency for everyone to enjoy what turned out to be a highly satisfying evening of far-out performances.
Primus setlist:
• "Those Damned Blue-Collar Tweekers"
• "Mr. Knowitall"
• "Groundhog's Day"
• "Fisticuffs"
• "Seas of Cheese"
• "Frizzle Fry"
• "My Name Is Mud"
• "Over the Electric Grapevine"
• "A Farewell to Kings" (Rush cover)
• "Xanadu" (Rush cover)
• "Closer to the Heart" (Rush cover)
• "Cinderella Man" (Rush cover)
• "Madrigal" (Rush cover)
• "Cygnus X-1" (Rush cover)
Encore:
• "Wynona's Big Brown Beaver"
• "Southbound Pachyderm"