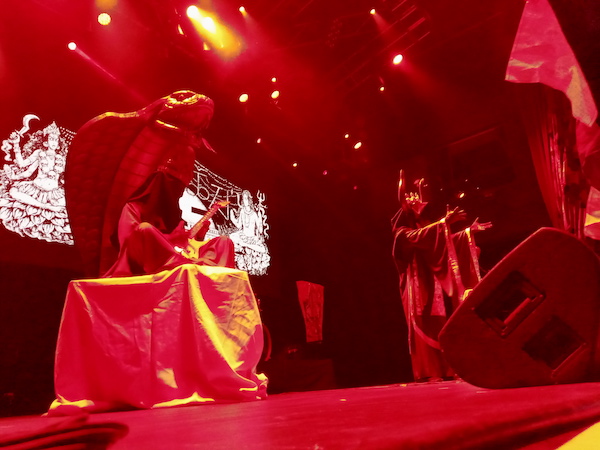 24 August 2021
Cult of Fire – live – Photo Credit: Kurt Orzeck
Each year, Psycho Las Vegas distinguishes itself from other heavy-music festivals by summoning hell-freezes-over band reunions, niche international acts that rarely play Stateside and — for good measure — a batch of seemingly incongruent indie-rock, hip-hop and electronic-music acts.
This year, what made Psycho Las Vegas special was that it even happened at all.
As with music festivals far and wide, COVID-19 threw Psycho Las Vegas into chaos multiple times — but not the kind of debauched, celebratory chaos encouraged by "America's Rock n' Roll Bacchanal."
Initially set to take place in August last year, the loaded bill originally included Mayhem, Ulver, Blonde Redhead, Ty Segall & the Freedom Band, Windhand, Kaelan Mikla and Mephistofeles. All those artists stuck with the festival when organizers bumped it to August 2021 and tacked on a horde of additional participants, including Mercyful Fate, Emperor, Blue Öyster Cult, Danzig, the Flaming Lips and Down.
But of all the aforementioned acts, only the last three — and Segall — actually appeared at this year's installment of Psycho Las Vegas, held from August 20 to 22 at Mandalay Bay Resort and Casino. Virtually every international artist (At the Gates, Satyricon, Mgla, Watain, Katatonia, Boris and more) were thwarted by visa and pandemic-related issues, stripping a critical part of Psycho's appeal while simultaneously diluting what was poised to be the festival's most extensive black-metal edition to date.
A smattering of American bands cancelled as well, among them Warpaint, Wolves in the Throne Room, Thursday, Intronaut and This Will Destroy You. Many of the tabled bands didn't issue statements, perhaps because their cancellations were obvious amid the pandemic's summer resurgence. But Rob Crow of Pinback, another band that bailed, described the debacle in stark terms on Facebook: "Woulda been nice, but too many idiots out there not getting the vax and not wearing masks. If you are one of these people and are offended that I called you an idiot, I ask you to kindly go fuck yourself. -Rob"
Cancellations, especially by international artists, are nothing new at Psycho Las Vegas. Dopethrone, Venom Inc. and Witchcraft no-showed in 2018 due to visa issues. Ahead of the 2019 edition, headliner Megadeth dropped off due to frontman Dave Mustaine's throat cancer diagnosis.
But the sheer number of cancellations ahead of Psycho Las Vegas 2021 alarmed fans that it might not happen at all — especially in the wake of Coachella, Boston Calling and Stagecoach scuttling their plans for this year. Suddenly, it appeared that if Psycho were to take place, it would be a COVID-era test flight of sorts, since Lollapalooza was the only major U.S. music festival that preceded Psycho this year.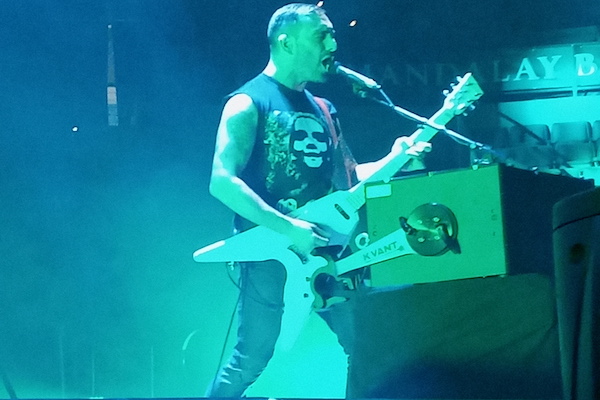 Mutoid Man – live – Photo Credit: Kurt Orzeck
And then, a funny thing happened. With fans biting their black-painted fingernails, Psycho organizers announced less than two weeks before the festival's start date that a new fleet of substitute bands had charted course for Sin City: Mastodon, which filled in one of the vacant headline spots, along with Deafheaven, Goatwhore, Knocked Loose, Mutoid Man, Stoner and Vio-lence. The "musician's musician" festival had tapped the goodwill it built over the previous five years and pulled the proverbial rabbit out of its hat.
With that deus ex machina turn of events, it became more apparent than ever why Psycho now firmly holds the torch as the most beloved (and fan-friendly) heavy-rock festival in the U.S.: Bands don't just play at the festival for a paycheck; they do it because Psycho is an impeccably managed event that features artists of the highest quality and draws devoted music lovers who aren't there just to get smashed or stare at their phones instead of the stage.
Along those same lines, while other festivals have turned into bloated affairs with amusement park rides, craft-brew tents, art installations and other extravagances mostly unrelated to music (instead of, say, lowering ticket prices for fans), Psycho continues to remain laser-focused on giving discriminating musos the biggest bang for their buck by packing each of its four stages with all-killer, no-filler lineups.
That's not to say it was all hunky-dory at the festival. In probably the most tragic development in Psycho's history, doom-metal legend Eric Wagner — whose band the Skull had been set to perform there — died in Vegas on the last day of the festival due to COVID-related pneumonia.
In a bizarre twist, Wagner colleague Wino retreated from his planned acoustic set at the festival because of its (very loosely enforced) mask requirements. Wino, whose band the Obsessed had toured with the Skull earlier in the summer, issued a statement calling COVID a "depopulation tool." After Wagner's death, he doubled down in a Facebook post, saying his "beliefs are rooted in science." Meanwhile, at least four musicians slated to perform at Psycho were hospitalized with COVID, along with an undetermined number who may have carried the disease but weren't in critical condition.
Also chilling was bands dedicating their sets to the litany of musicians who died in recent years. Deafheaven vocalist George Clarke dedicated their set to Power Trip frontman Riley Gale, while Mastodon's Brann Dailor honored Slipknot's Joey Jordison.
"Keep it icy up there," Dailor said, pointing upward.
(Another revered musician remembered at the festival was Motörhead leader Lemmy. For the first time, Psycho's founders cleverly set up a studio at Mandalay where bands could record covers of Motörhead songs for the upcoming compilation record Löve Me Förever: A Tribute To Motörhead. Due next summer, it will mark the inaugural release by Psycho Waxx, a new label created by Psycho's founders.)
Beginning with Psycho's well-attended but relatively somber pool party kickoff on Thursday night featuring Old Man Gloom, Bongzilla, Death Valley Girls and other bands, the festival's aura was palpably different from previous years. While many concertgoers seemed relieved they had made it to Vegas and that Psycho was actually still happening, the festival felt more like a nervous first date than a freewheeling rapprochement.
"We were on this bill, then off this bill, then back on this bill," Death Valley Girls frontwoman Bonnie Bloomgarden acknowledged, summing up the whiplash experienced by this year's slate of bands. "But it feels good to be back at work."
Musicians seemed alternately anxious and excited to return to the stage and admitted as such during their between-song banter. It was almost like the bands were losing their virginity for a second time, as the vast majority of them hadn't played for 18 to 24 months — their longest-ever break from touring in their career, in many cases.
One of the exceptions was Psycho linchpin High on Fire, who had played a couple of warmup shows with new drummer Coady Willis of Big Business prior to the festival. His expert musicianship helped erase memories of High on Fire's disastrous 2019 set, which was marred by a series of technical issues and a new drummer who wasn't up to speed on frontman Matt Pike's material.
King Dude – live – Photo Credit: Kurt Orzeck
What also made this year's Psycho fest distinct is that young bands like Knocked Loose and seasoned acts such as King Dude were on equal footing due to the lengthy hiatus and could commiserate with each other. It wasn't uncommon for a band, even if they had a lot of years under their belt, to stop and restart a song. And some performances were a bit rusty (Obituary, Midnight) — but that was to be expected. Most were rousing because — as the musicians continuously reminded crowds — they were stoked and felt fortunate to play live again.
Of particular note was Friday headliner Mastodon, who played with such gusto that it seemed they realized another lockdown could happen at any moment. With many of their songs documenting the deaths of their loved ones and other personal tragedies, Mastodon were a perfect fit for an audience trying to process grief. Making their set even more special, Mastodon played a song live for the first time: "Fallen Torches," from their 2020 compilation, Medium Rarities. They dedicated that particular song to Neurosis cofounder Scott Kelly, who has contributed to six Mastodon records.
Another late addition to Psycho's Saturday lineup, Deafheaven, played one of the weekend's most impassioned sets, with vocalist Clarke so overcome with joy that it appeared he choked up. They concentrated their entire set on selections from their December release, Ten Years Gone, which features reworked versions of songs by the shoe-gazing black-metallers. It was a bold move, as the band didn't tap at all into their new studio album, Infinite Granite, which dropped the same day Psycho started.
Other full-album performances included Wu-Tang Clan member GZA celebrating the 25th anniversary of Liquid Swords, considered to be one of the best rap LPs ever, with a live band; Sunday headliners Down revisiting their 1995 classic debut, NOLA; New Orleans thrashers Exhorder tackling their 1990 debut, Slaughter in the Vatican; and Saturday headliner Danzig playing his record from that same year, Danzig II: Lucifuge.
Psycho attendees would be forgiven for kvetching about Danzig headlining Psycho again, as he did so in 2018 (and his Misfits did the following year). But with 66-year-old's singing chops still very much intact, and his showmanship topping just about any other frontman at Psycho, few concertgoers griped about his 18-song set (which included six songs Danzig hadn't performed for at least seven years). That's not to mention that Danzig only played seven times between Psycho 2018 and Psycho 2021, so his appearances still have value.
Ever the tough guy, Danzig snickered at the start of his set that he couldn't fathom putting on a mask.
"Imagine me wearing a mask while I'm singing. How fucking stupid would that be?" he quipped.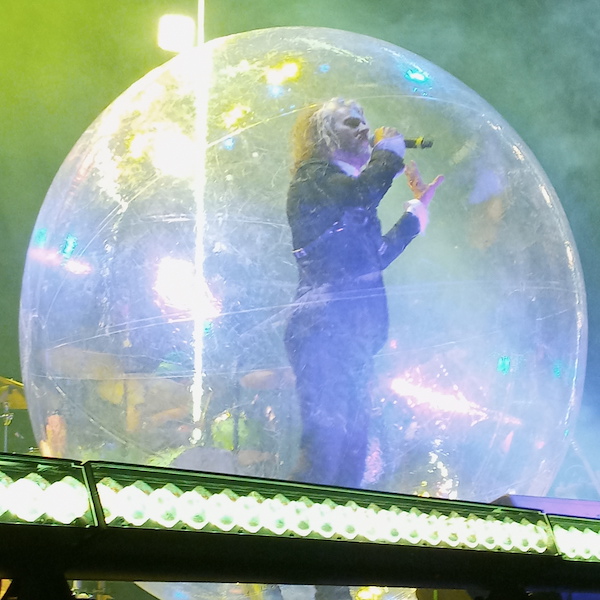 The Flaming Lips – live – Photo Credit: Kurt Orzeck
On the opposite end of the spectrum, the Flaming Lips took the most safety precautions of any band at Psycho: Frontman Wayne Coyne not only donned a mask but sang "Yoshimi Battles the Pink Robots," "Race for the Prize" and other well-known Flaming Lips songs from inside a large plastic bubble.
Coyne, without sounding preachy, made a valid point to the crowd: If fans don't abide by safety measures at concerts, concert-going during COVID might lead to bad optics, and the tour circuit could come to a halt again.
"Do whatever you fucking want, but take care of each other," he intoned.
It was evident over the duration of the festival that most bands still don't know how to conduct themselves at concerts during a pandemic, and that safety measures are ignored by a large swath of the concert-going populace. Deafheaven's Clarke — now sporting a tight buzz cut — concluded their set by hurtling himself into the crowd and surfing atop dozens of hands. Down singer Phil Anselmo liberally tossed bottled waters into the crowd. Midnight gave an unopened bottle of Jack Daniel's to a lucky fan.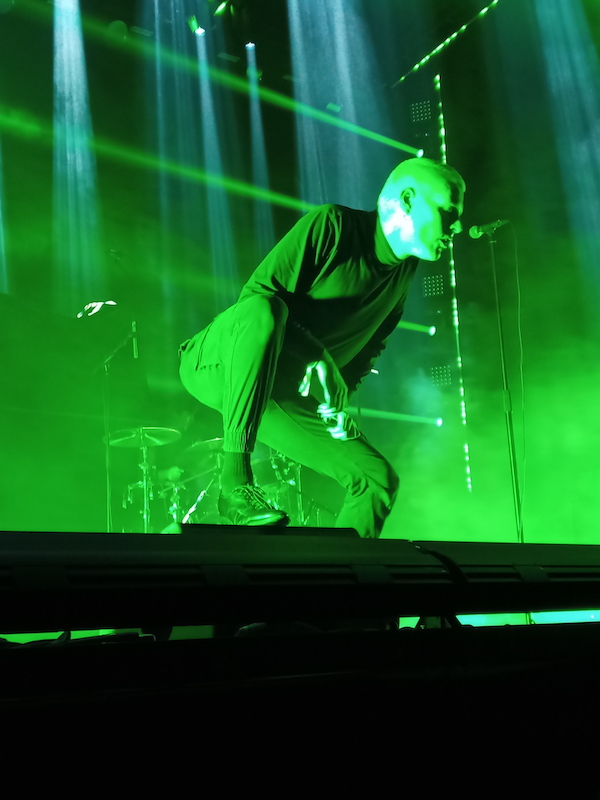 Deafheaven – live – Photo Credit: Kurt Orzeck
Masks were a nonissue for Cult of Fire, who — like so many of their black-metal brethren — performed wearing black hoods at the House of Blues. Even more spectacular were two massive sculptures of king cobras upon which the band's guitarists sat and performed cross-legged for 90 minutes (the longest set of the weekend).
The Prague band was one of the only international acts and black-metal bands to play the festival, and their dominating performance — which an agog crowd stayed to watch until the wee hours of the morning — was the sleeper hit of this year's Psycho festival. (Dvne deserved that distinction at 2018's Psycho, and Amenra at the 2019 edition.) Cult of Fire's Hinduism-centric performance — during which frontman Vojtěch Holub eerily tinkered with religious-looking artifacts, as if he were beckoning evil spirits — also resembled the elaborate black-mass ceremony that Poland's Batushka staged at Psycho 2018.
While masks were supposedly required at Mandalay's indoor venues, there was no such restriction for onlookers at the Mandalay Bay Beach stage. Perhaps with tongue in cheek, organizers arranged an all-death-metal roster for that stage on Saturday: Primitive Man, Pig Destroyer, Dying Fetus and Cannibal Corpse.
The latter band, which formed in 1988 but is more popular now than ever, earned one of the strongest crowd responses of the weekend. Many showed up to witness guitar virtuoso and Hate Eternal frontman Erik Rutan, who previously played on Cannibal Corpse tours but became an official member of the band earlier this year.
A massive circle pit formed in the pool — resembling water circling down a drain — as soon as Cannibal Corpse kicked off their hour-long set with "Evisceration Plague," splashing water toward frontman Corpsegrinder the entire time. It was a fitting initiation for one of the biggest metal bands playing Psycho for the first time (and Vegas for the first time in five years).
Following their stunning set at the Thursday pool party two years ago, Unto Others (formerly Idle Hands) impressively packed the House of Blues at noon on Saturday. Playing for the first time with that moniker, frontman Gabriel Franco — who sounds like Ian Curtis singing over '80s sad rock — graciously accepted the heaps of praise that the room generated for one of Psycho's non-metal entries.
Playing indoors instead of at the beach stage likely would have benefited the performances by critically lauded bands Pig Destroyer and Full of Hell. Both groups fell victim to light winds that washed away much of their sound — and any lasting impressions they could have made at the festival.
Also unfortunate, especially in light of all the cancellations, is that Megadeth didn't join this year's Psycho lineup after cancelling their planned performance in 2019. Instead, they kicked off their Metal Tour of the Year with Lamb of God on the same day Psycho began.
Promoters implausibly called this year's festival "the most anticipated Psycho Las Vegas ever." That honor would probably go to the 2019 edition, when the lineup featured the Misfits, whose performance still stands as the wildest in Psycho's history; the elusive Godspeed You! Black Emperor and Amenra; a reunited Triumph of Death; and stellar sets from Electric Wizard, Monk, Uncle Acid and the Deadbeats, Beach House, Deafheaven and Opeth.
Moreover, if Psycho Las Vegas 2021 was the most anticipated edition, organizers probably wouldn't have begun hyping next year's gala before the 2021 installment had even ended. In contrast, organizers waited three months after the 2019 festival to announce the first wave of artists for the following year's planned festival.
A banner posted on a wall near the festival's largest venue confirmed that Mercyful Fate, Emperor, Satyricon, Watain, Boris, Mgla, Wolves in the Throne Room and other bands previously booked for this year's Psycho were already onboard for next year. It was almost as if organizers were apologizing to the crowd for so many bands canceling or postponing their appearances this time around.
Thing is, an apology wasn't necessary, given the formidability of Psycho's final lineup. Whatever spells Psycho organizers cast or black magic they practice, each year, they inexplicably manage to coax dozens of the hottest heavy-music bands to swelter in Vegas. After five editions of Psycho offering stunningly potent lineups, organizers can rest assured they've earned the trust of even the most discerning of music lovers.
Even a pandemic can't change that.