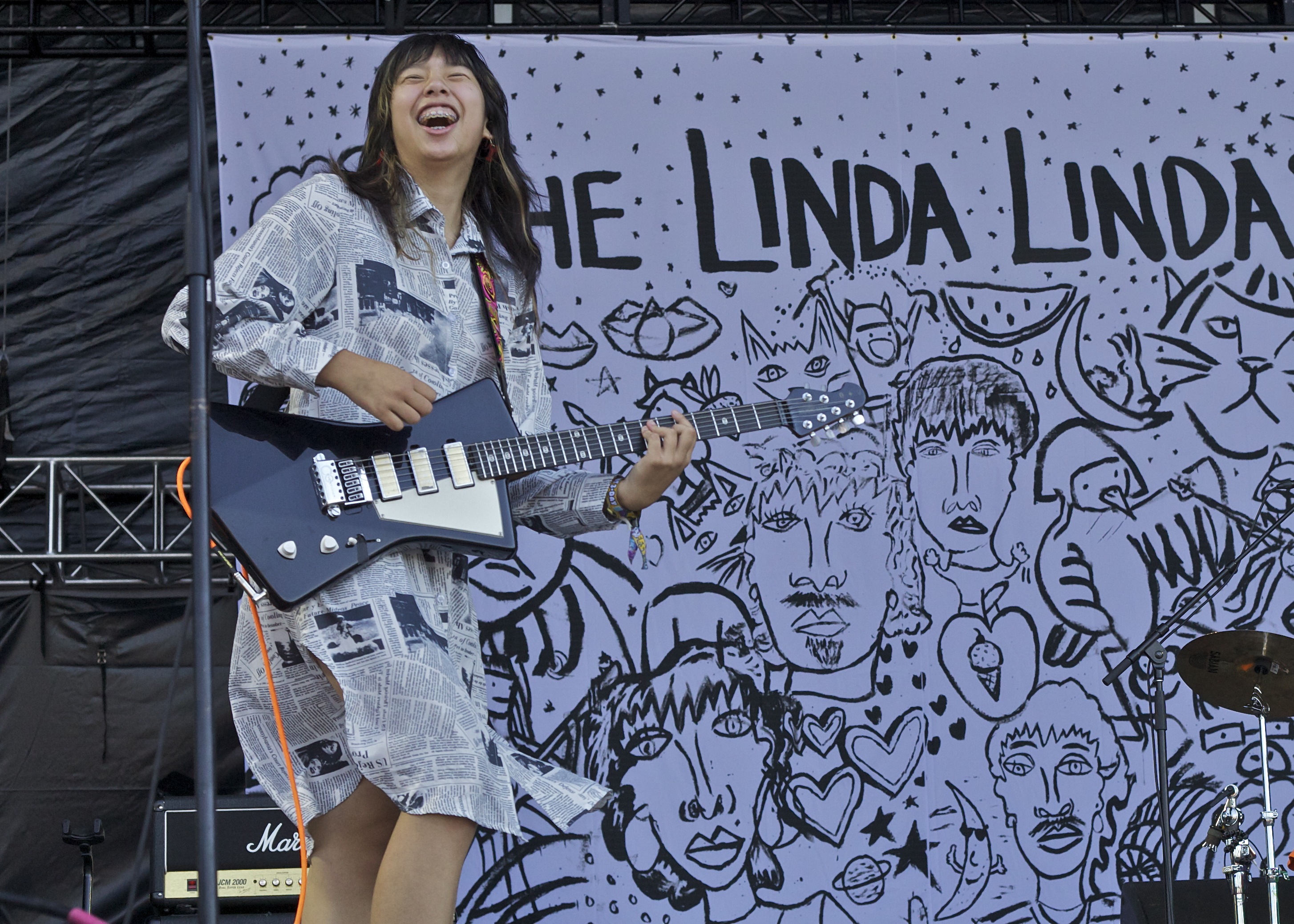 19 September 2022
Photos of the Linda Lindas by Melody Elbel.

Despite forecasts of an inbound storm that threatened to disrupt Nine Inch Nails' headlining set, Chicago received sunny end-of-summer weather during most of the final day at Riot Fest. There was scarcely a cloud to be seen for much of the afternoon, and temperatures peaked near 90 degrees Fahrenheit. The artists performing on the West-facing Roots and Riot stages therefore spent a lot of time staring into the sun and roasting. Jim Adkins of Jimmy Eat World may have been relatively accustomed to the sunshine and heat from his home state of Arizona, but he and his black attire were rapidly drenched in glistening sweat. Although the oppressive temperature broke around the time of Sleater-Kinney's 7PM set, the evening's bombastic electrical storm held off until the music had concluded and most attendees had exited the park.
The Linda Lindas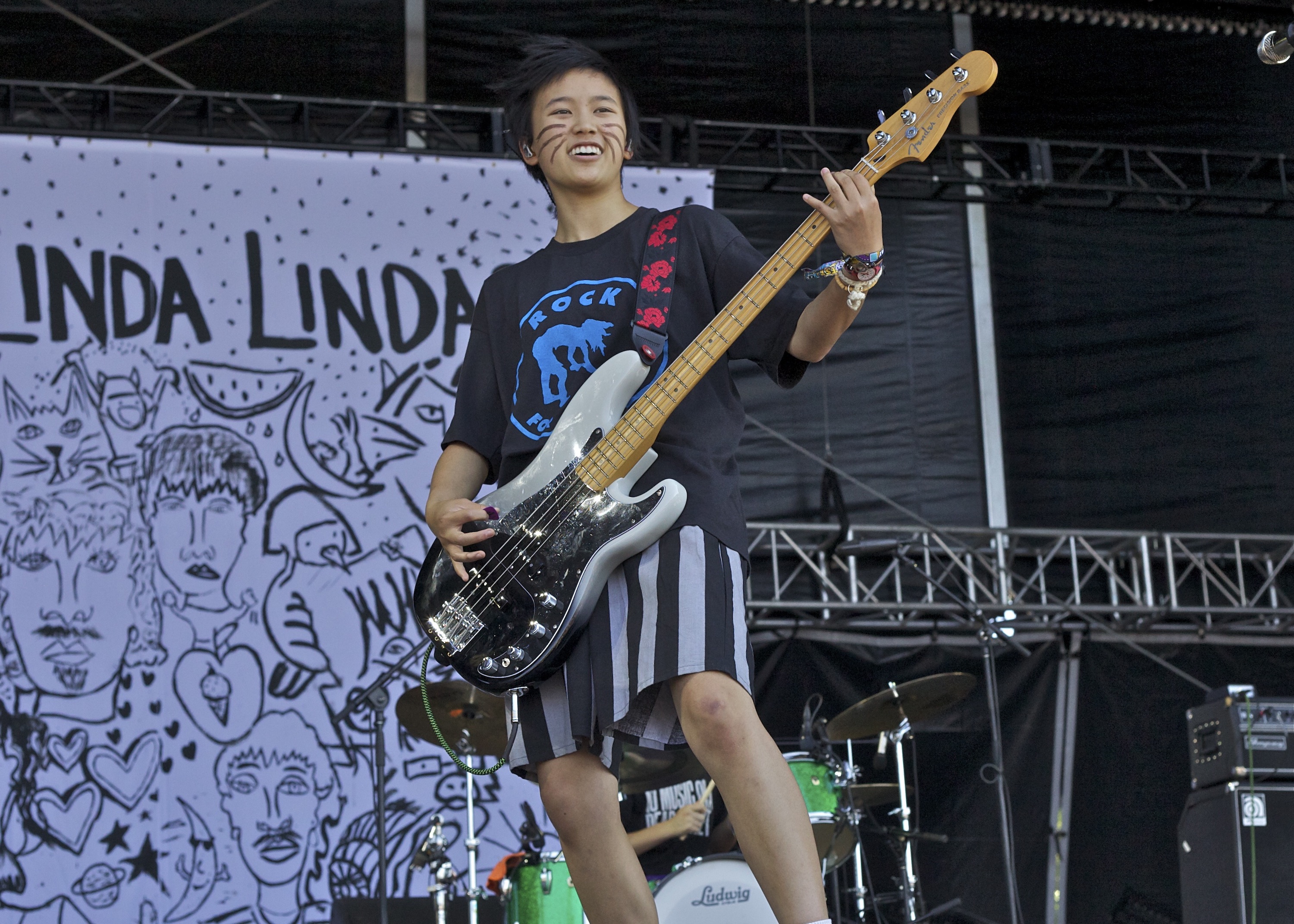 Following a noontime set by *The Bombpops*, the Linda Lindas brought a youthful blast of enthusiasm and energy to the Roots stage in the early afternoon. The Los Angeles-based quartet featured material from 2022 album _Growing Up_, including viral sensation "Racist, Sexist Boy" sung by 12-year old drummer *Mila de la Garza*. All four players took turns singing lead vocal throughout the set. Guitarist *Bela Salazar* announced each of her bandmates' ages when making introductions, ranking as the band's oldest player and having just turned 18 on the first day of Riot Fest. Although three-fourths of the band are too young to vote in November, bassist *Eloise Wong* had her say with the live debut of new song "Vote!" Guitarist *Lucia de la Garza* sang title track "Growing Up," as her father and guitar tech *Carlos de la Garza* stood just off stage. Salazar dedicated "Nino" and 2020 self-titled EP track "Monica" to her beloved cats waiting back home. She also paused between songs to lead the crowd in a communal freak-out, in order to "get out all the bad energy before going back to school and work on Monday." The band members thanked fans for welcoming them back for their second trip to Chicago, during which they reported taking time explore. Significant sights included Cloud Gate (aka the Bean), a "guy painted all in silver," and the "big lion statues" at the Art Institute of Chicago. Mila de la Garza noted the fact that the band's hand-painted backdrop was featured in the video for crowd singalong favorite "Oh!," and was making its public debut appearance at Riot Fest. The band then played the grinding riff rocker, with a sound recalling pop-punk acts both female and otherwise. Touchstones included the Runaways (although the Linda Lindas are certainly more wholesome), Ramones, the Donnas, and the *Go-Go's*. The Linda Lindas paid tribute to their heroes with a pair of covers. All four musicians joined vocals for the Go-Go's "Tonite." After closing with *Bikini Kill*'s portrait of punk-spirited admiration "Rebel Girl," the Linda Lindas took photos with the sizable festival crowd as a backdrop. Salazar threw picks to fans, and Wong balled up her setlist and tossed it deep into the crowd.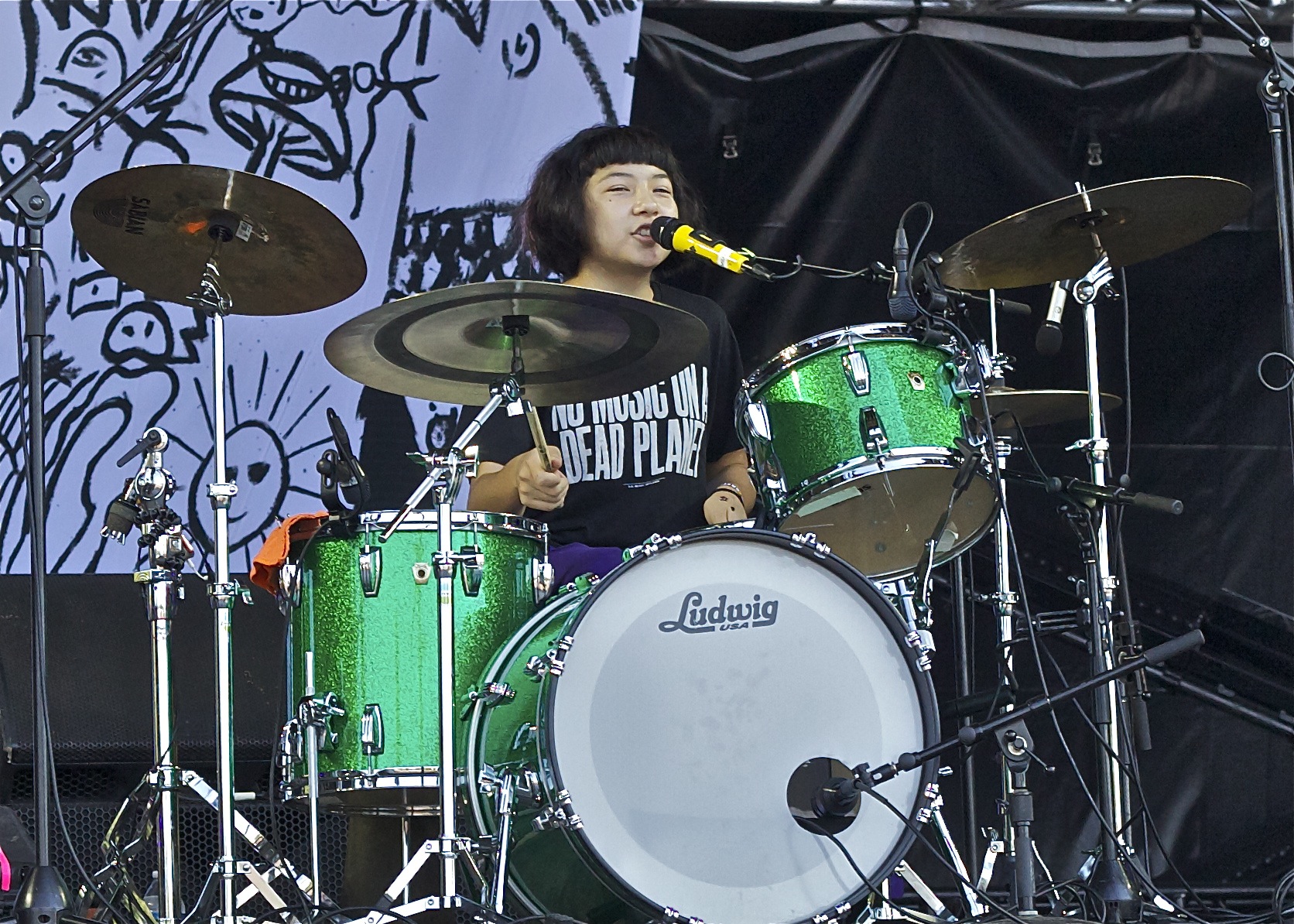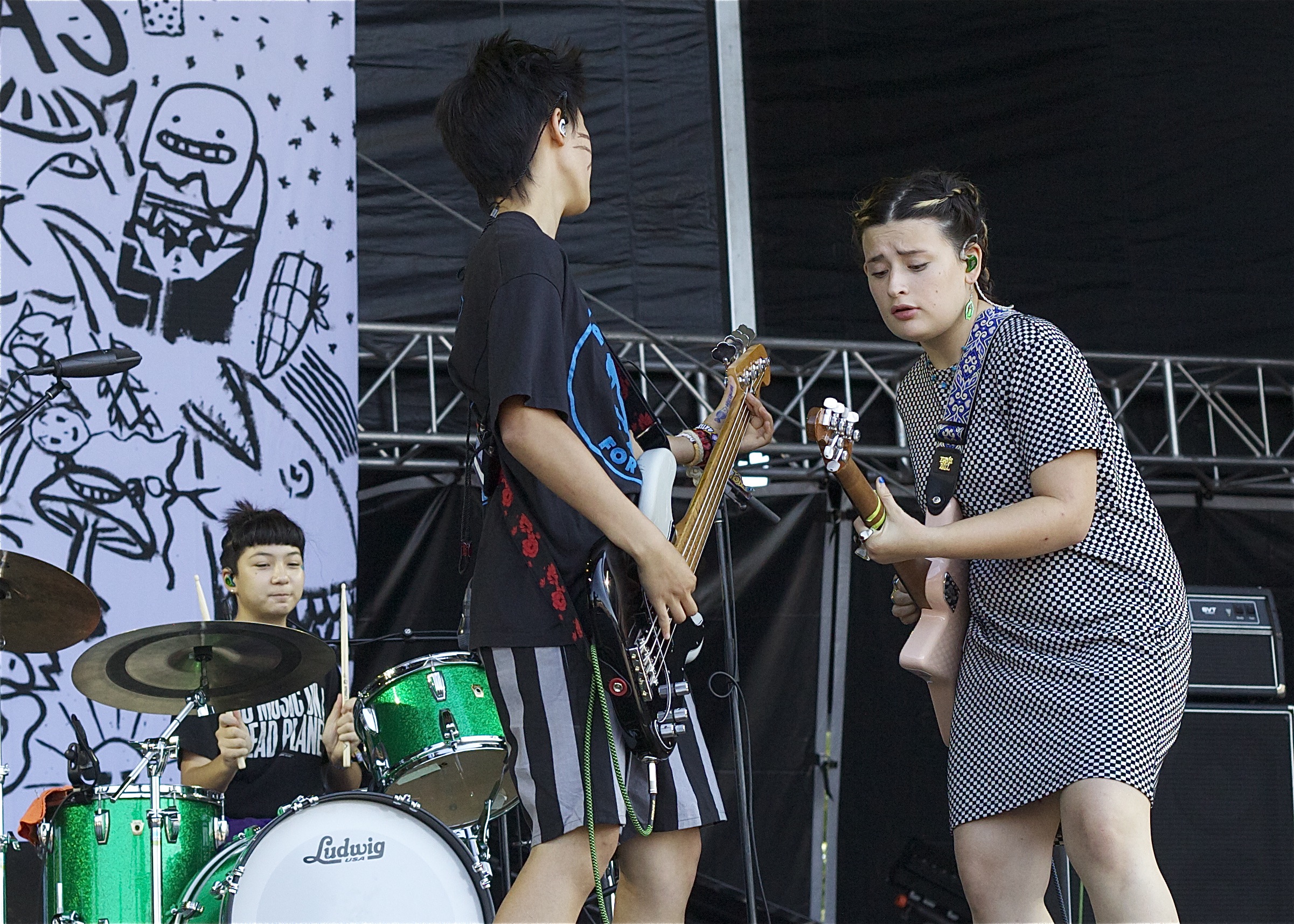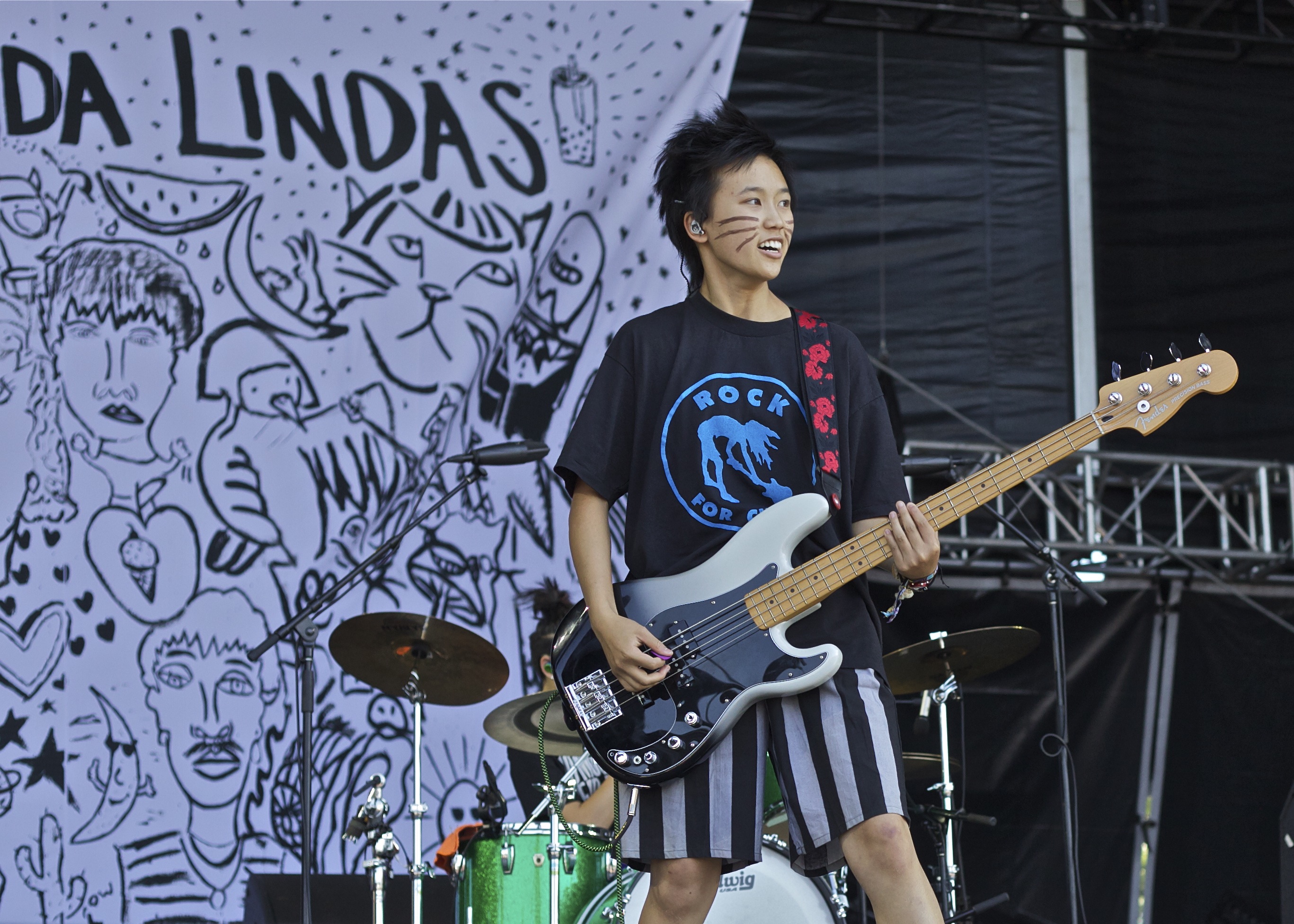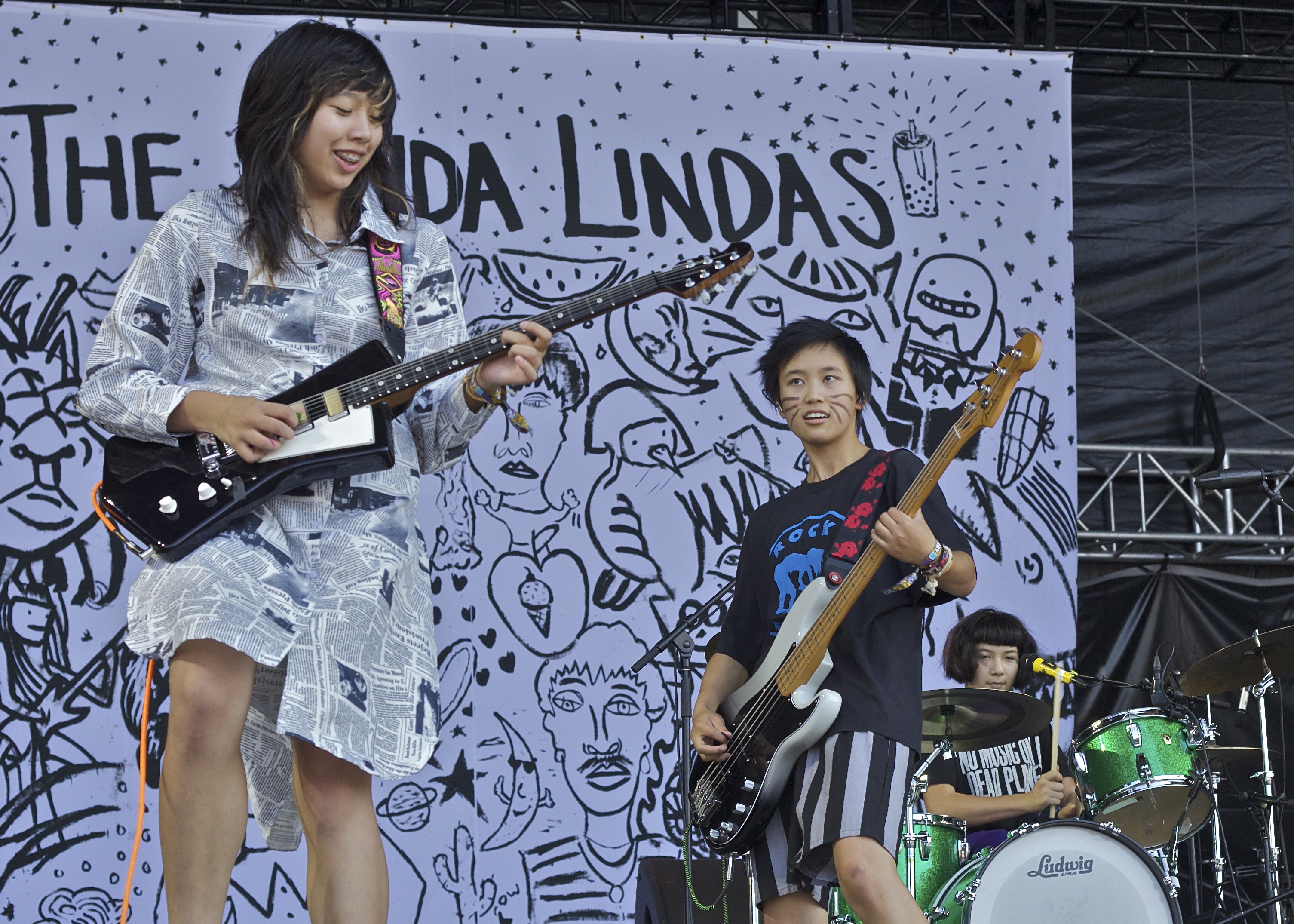 Jawbox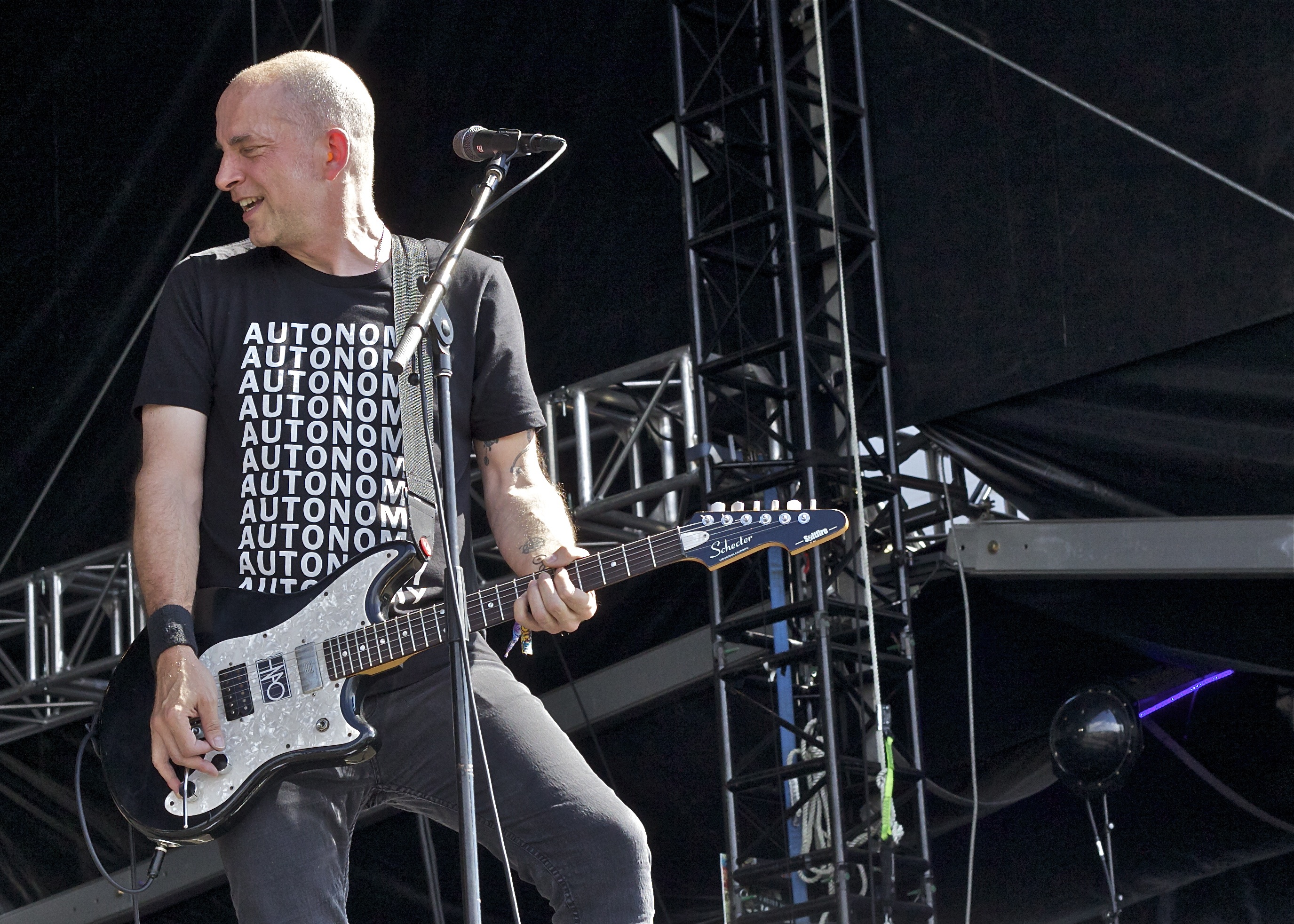 *J. Robbins* faced brilliant blue skies when he took the stage alongside his bandmates in Washington, D.C.-based '90s mainstays Jawbox. Taking in the scene and appreciating the welcoming crowd, he declared, "What a beautiful day." Post-punk material including "Mirrorful" and math-rocker "Nickel Nickel Millionaire" brimmed with energy, precision, and conviction. "This is a song for anyone who ever wanted to wander off into the desert and never return," said Robbins when introducing the brooding "Desert Sea." Robbins announced that the band had broken its long absence from the studio with a new recording, referring to EP _The Revisionist_. "This song is on it," he said. "It's older than us." Jawbox then played its cover of chestnut "Lowdown" from *Wire*'s classic 1977 album _Pink Flag_. Afterward, the band dusted off its own vintage "Static" from 1992's _Novelty_. Robbins introduced "Motorist" as a song set in Chicago, depicting a catastrophic car wreck along Division Street. The song was underpinned by *Kim Coletta*'s guttural bass. After playing the intense rocker, guitarist *Brooks Harlan* spotted some die-hards up front who had been at the prior night's Cobra Lounge performance. "Did you guys even sleep last night?," he said. "Thanks you guys," said Robbins to the audience at large after the band played its cover of *Tori Amos*' "Cornflake Girl." "You really are a delightful bunch." Coletta bounded with ecstatic energy as drummer *Zach Barocas* drove a bruising rhythm during set closer "Savory."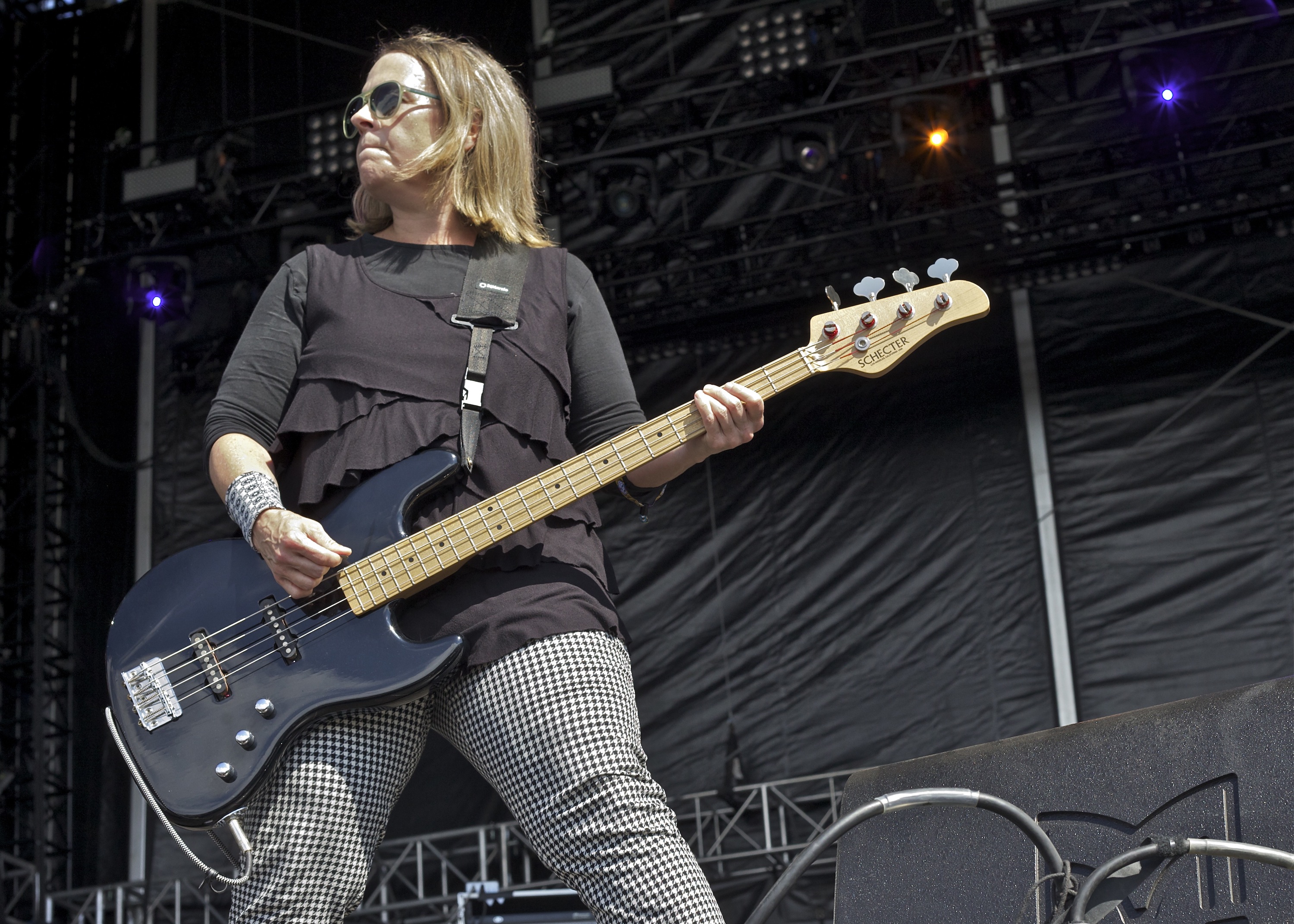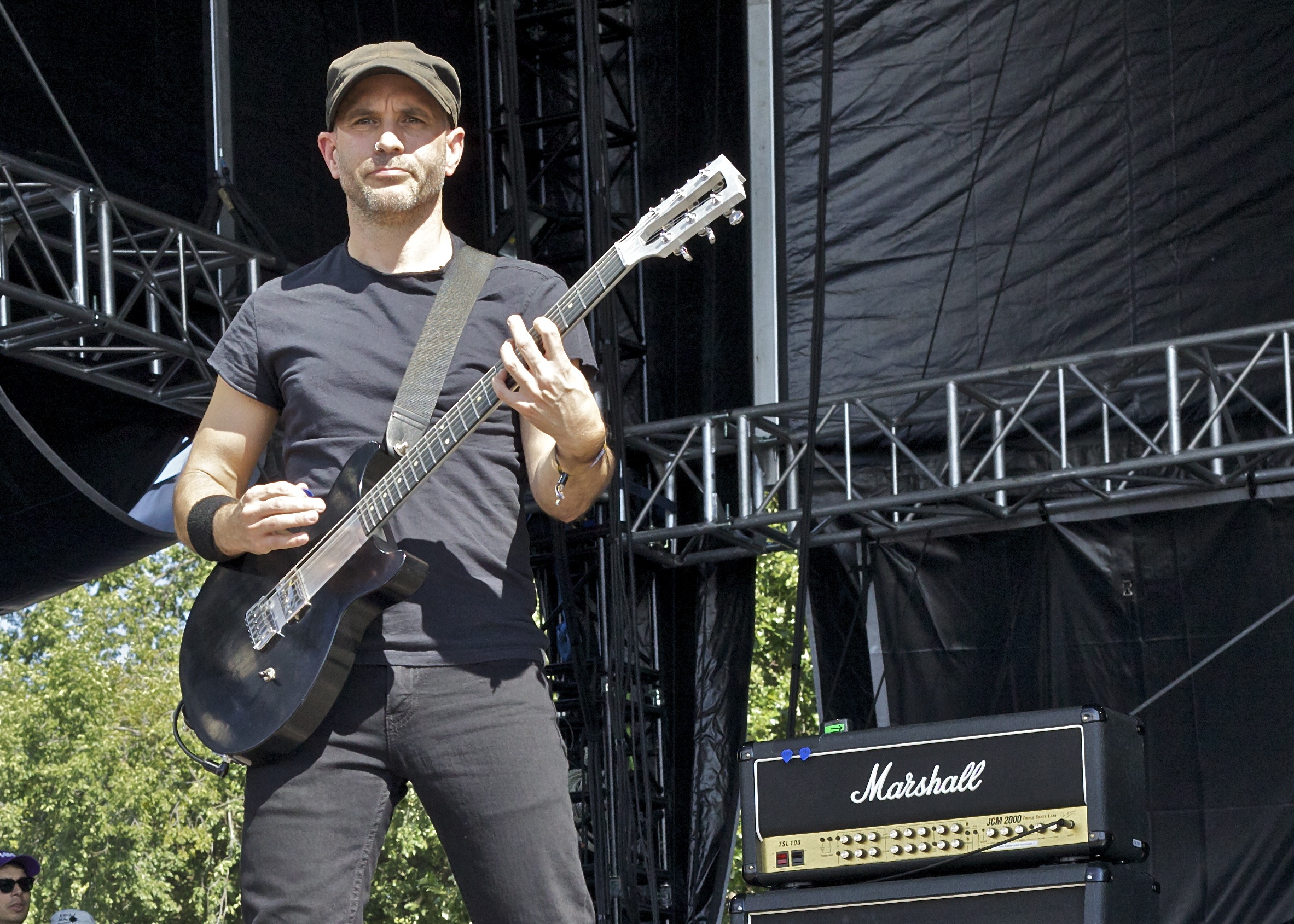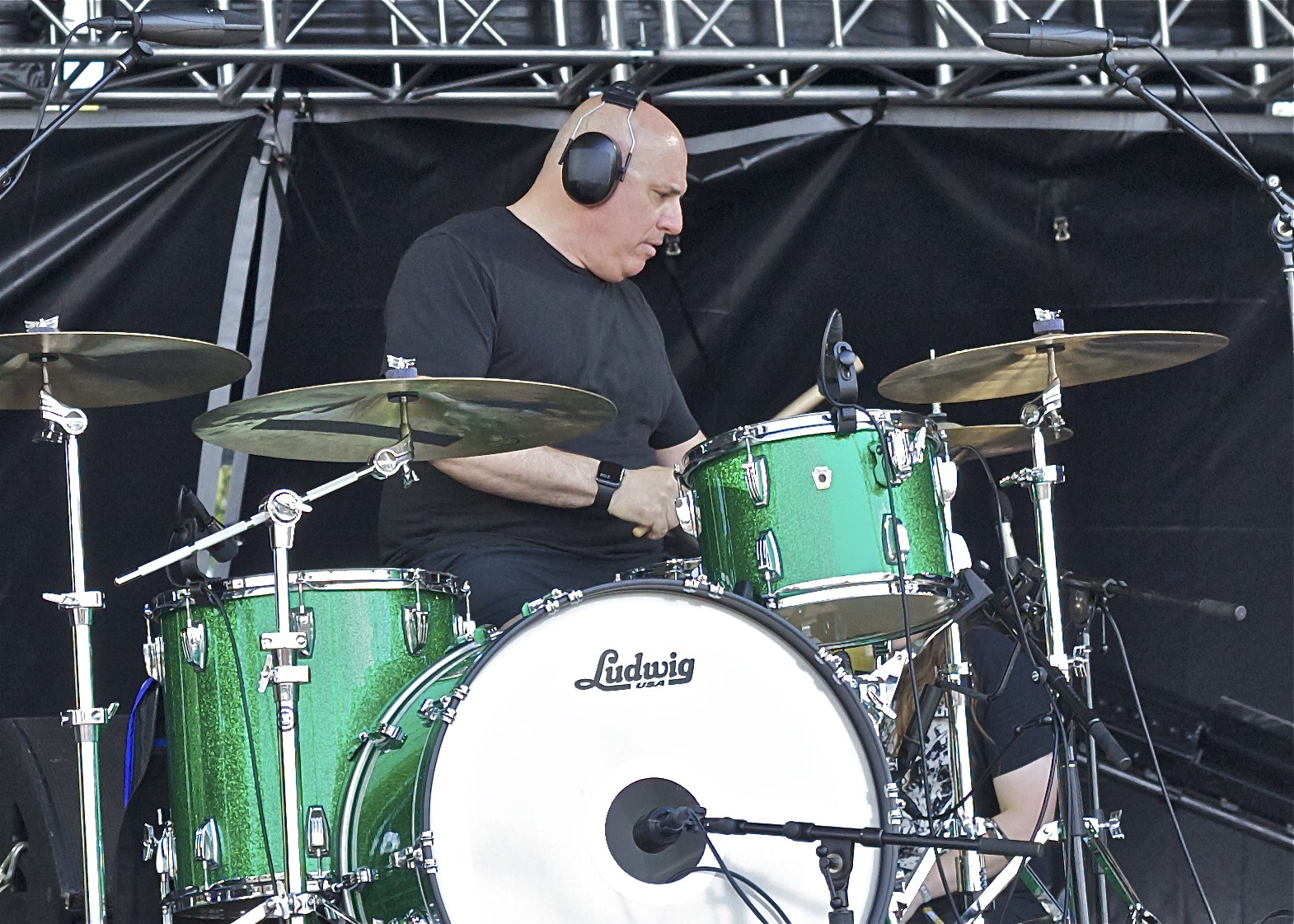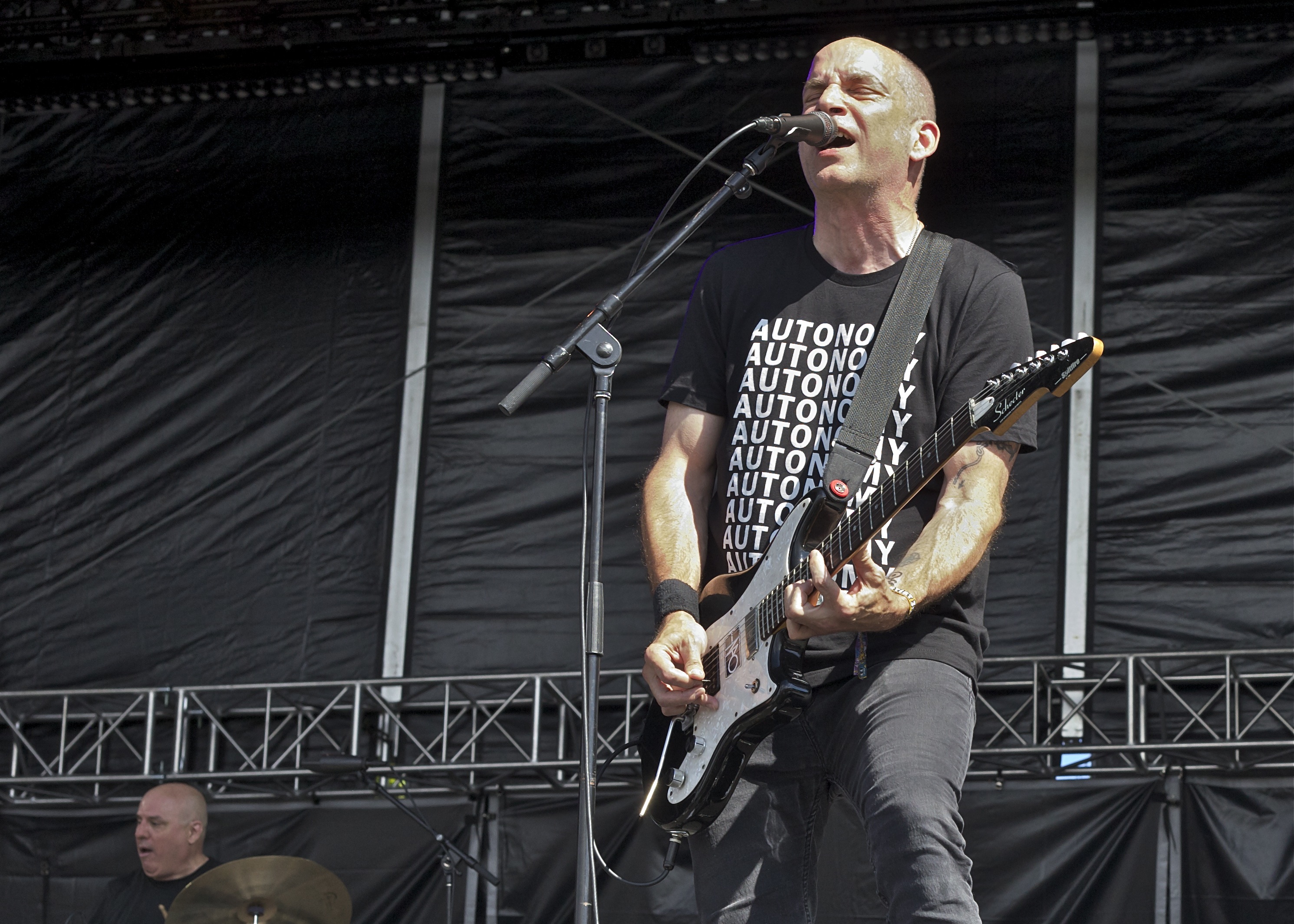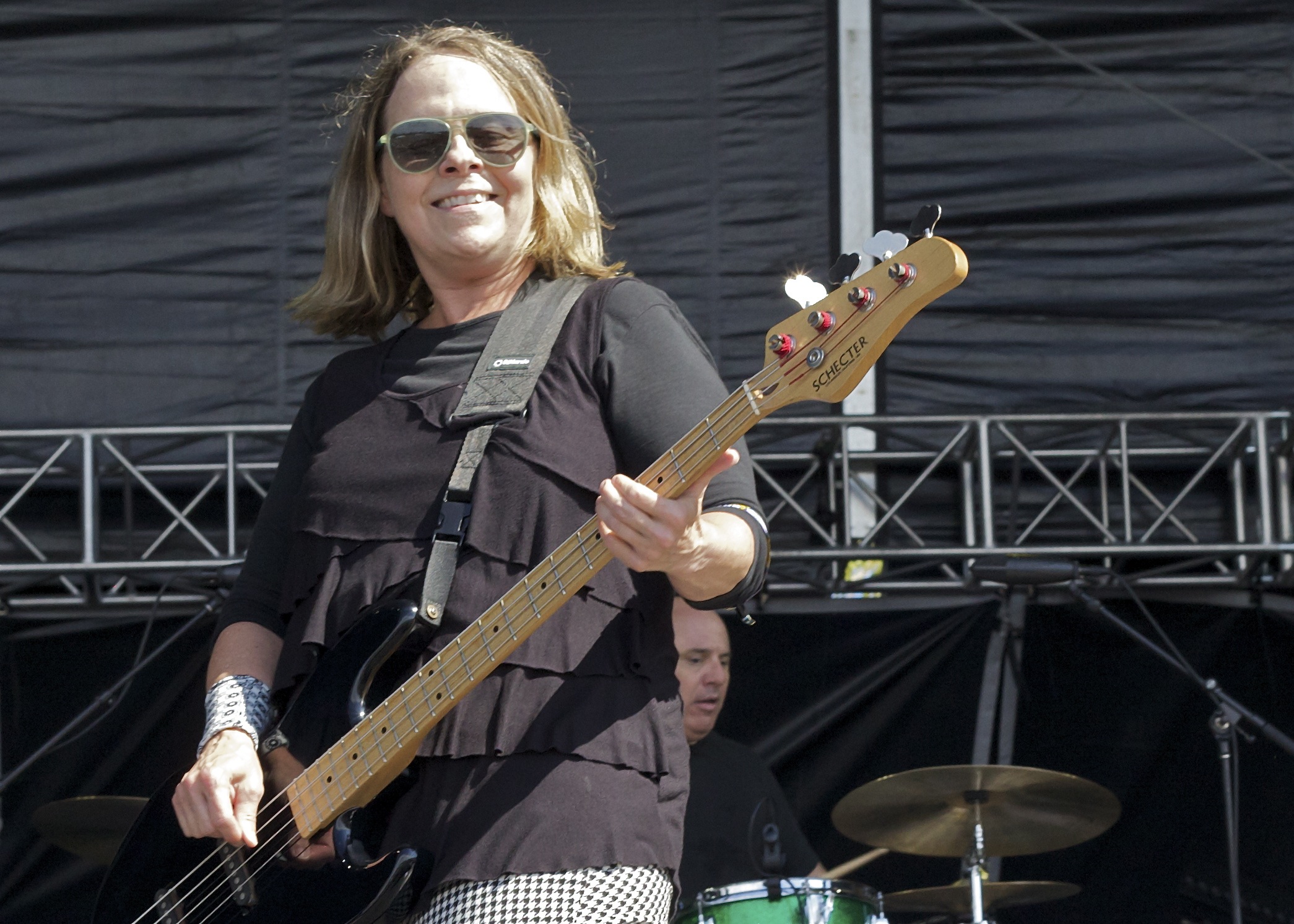 Lunachicks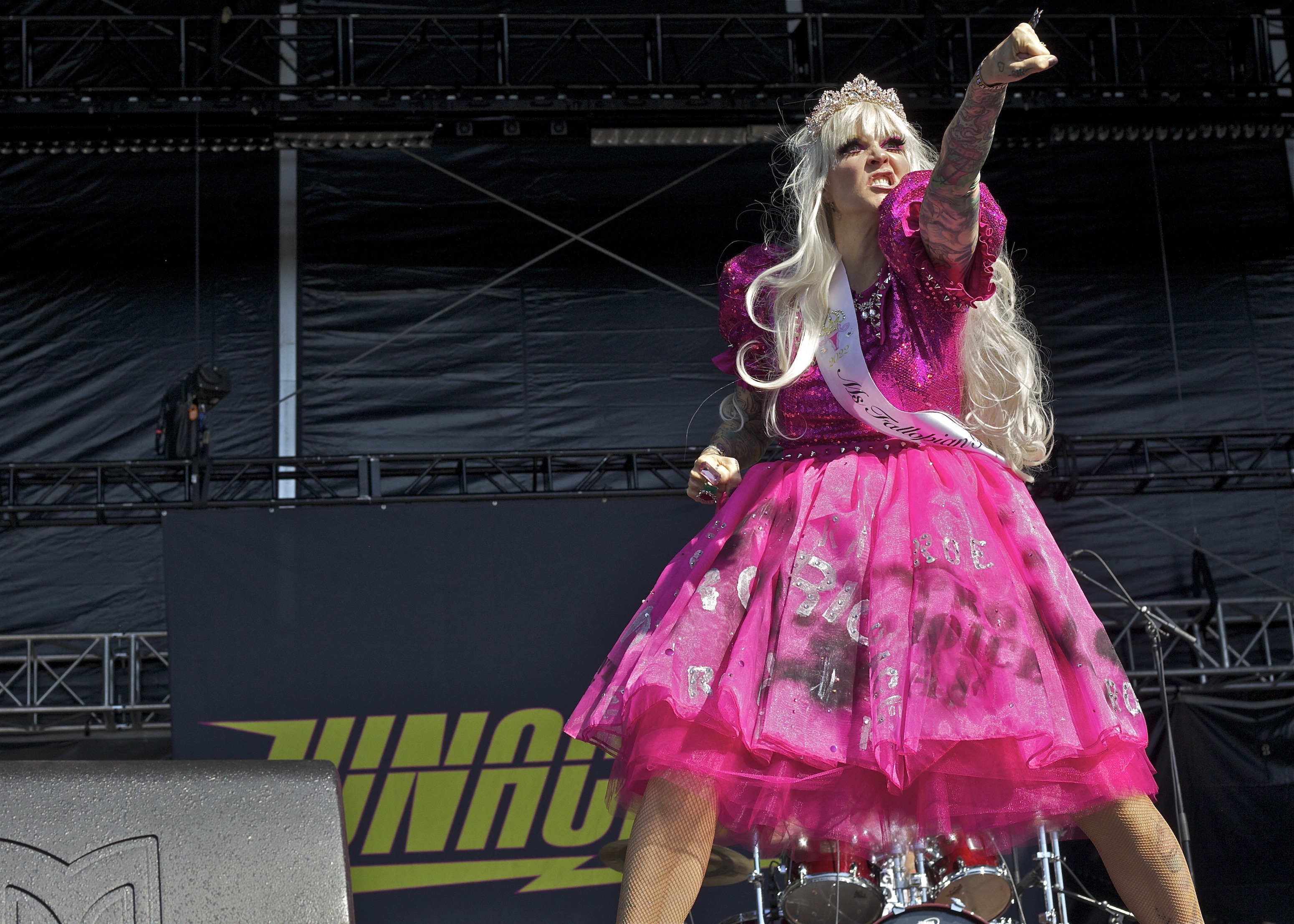 If any band on Sunday embodied the punk rock essence of Riot Fest, it was New York City's Lunachicks (another notable '90s act). The quartet took the stage ready for action and agitation. Guitarist *Gina Volpe* and bassist *Sydney "Squid" Silver* appeared in white jumpsuits painted with pro-choice slogans. Singer *Theo Kogan* arrived as a trampled beauty queen, wearing a sparkling pink dress defaced with spray-painted graffiti, as well as pink combat boots and blonde hair piled to the heavens. Kogan began by throwing her tiara to the crowd. After performing "Bad Ass B----," Kogan demanding that the crown be given to a woman a non-binary member of the audience. "Are we blinding you at least with our sparkling personality?," she asked after the band sand-blasted its way through "Say What You Mean."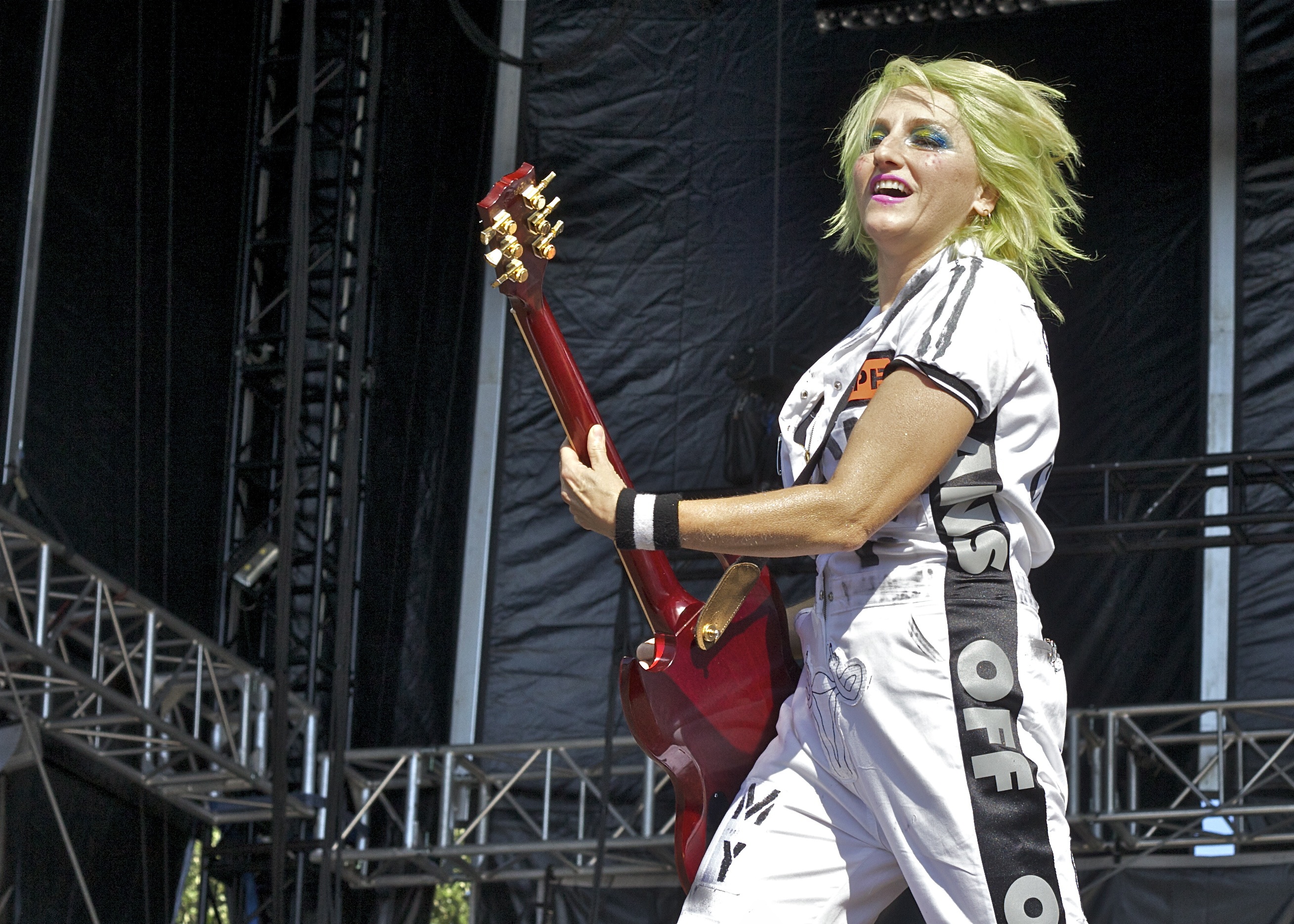 "Sometimes love doesn't work out," said Kogan sardonically. "Sometimes it does, but when it doesn't, it really doesn't." The band then played the bouncing and blistering "Don't Want You" from 1997's _Pretty Ugly_. Kogan celebrated her attire and declared herself to be Ms. Fallopian Rhapsody 2022, and then treated the audience to "one of my many talents – a mouth trumpet." Kogan intoned the familiar melody of the "William Tell Overture," introducing the volatile "Jerk of All Trades." During the rowdy display, cables were crossed. "Gin-err, we're tangled," said Kogan. "You got chocolate in my peanut butter," responded Volpe. After "Light as a Feather," Kogan found her pair of massive wigs to be oppressive in the heat and elected to remove one. She threw bobby pins into the crowd as nigh-invisible souvenirs. The band played the point-blank punk of "Drop Dead" before pausing for a statement. "Roe v. Wade," said Kogan. "This is a public service announcement. Get to the f---ing polls in November because they're going to take everything away from us bit by bit. Hands off our bodies!" "The Day Squid's Gerbil Died" was announced forlornly. "Oh, another song about death," said Kogan. The performance concluded with a potent 1-2-3 punch, launching with "Luxury Problems" followed by the unfiltered venom of "Shut You Out." "And now for our hit song," said Kogan wrly, as the band dove into set-closer "Less Teeth, More T---."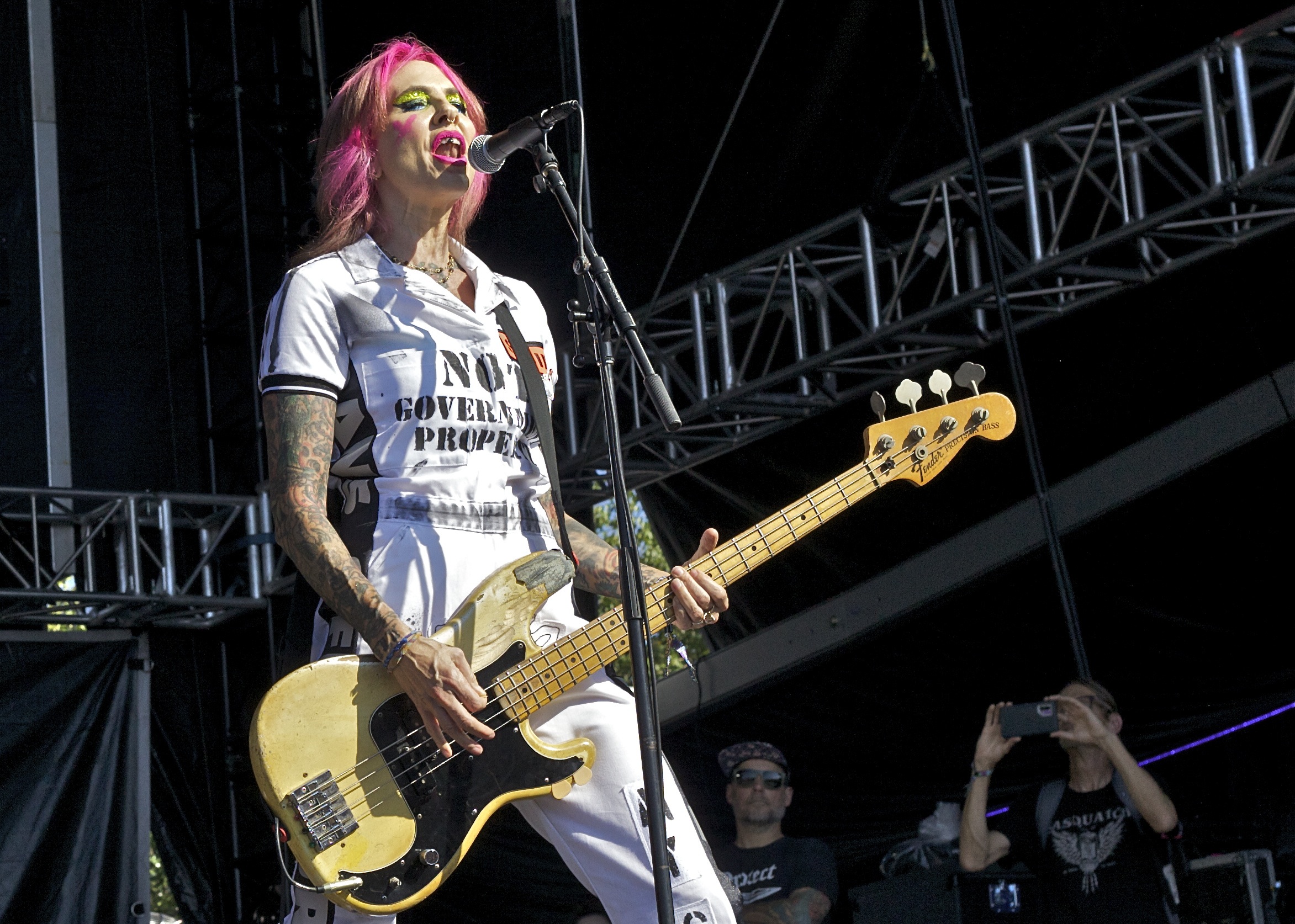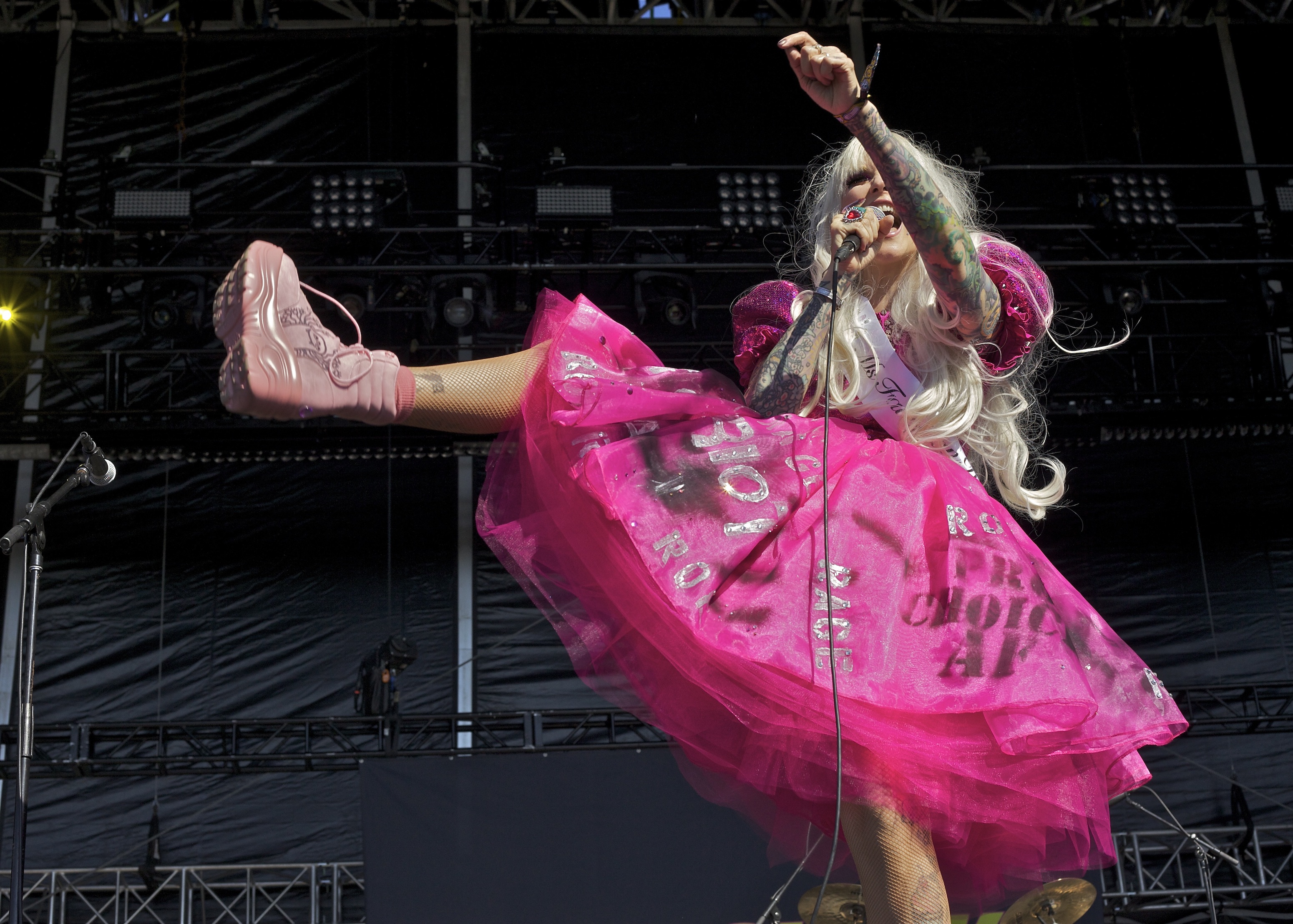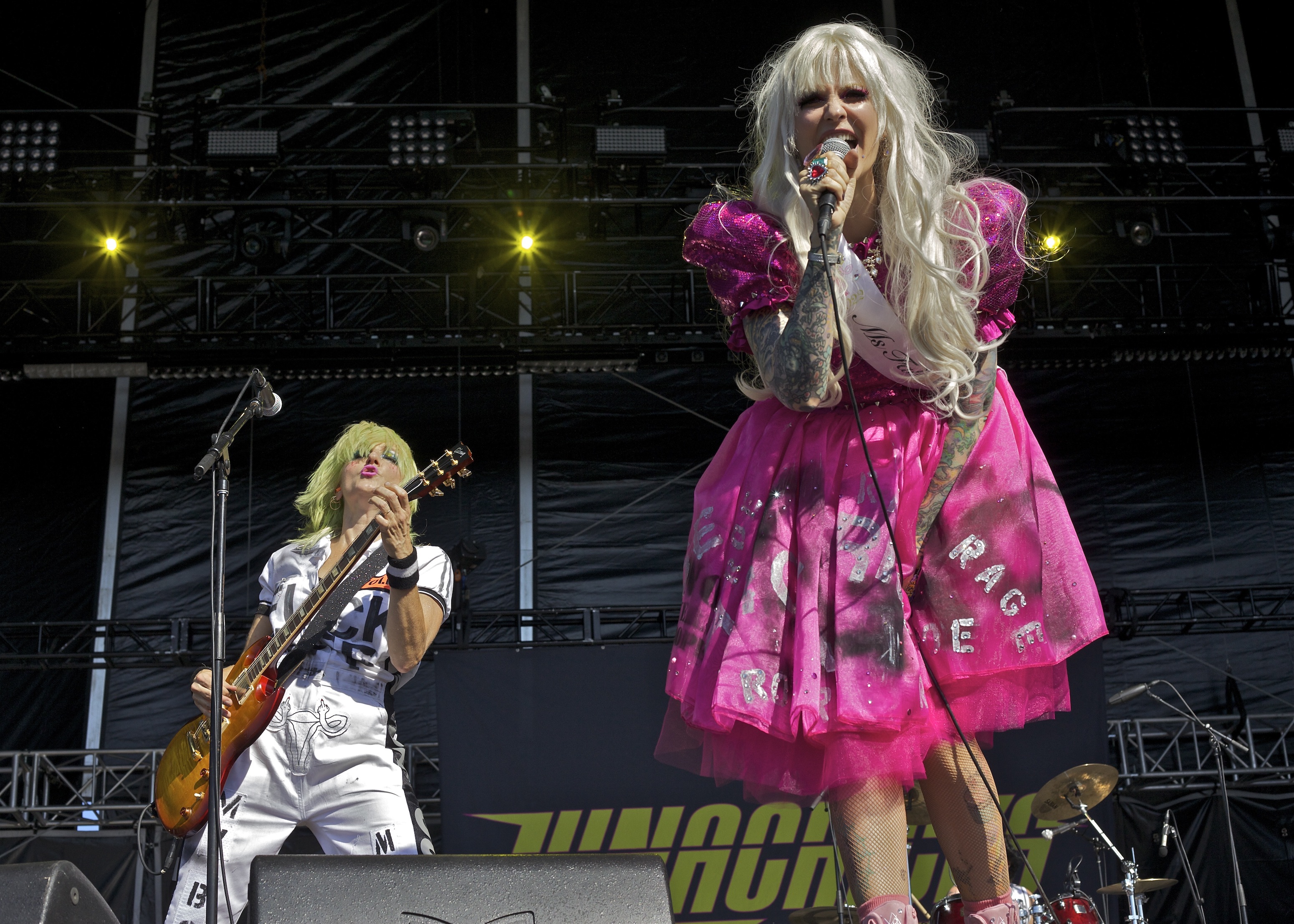 Jimmy Eat World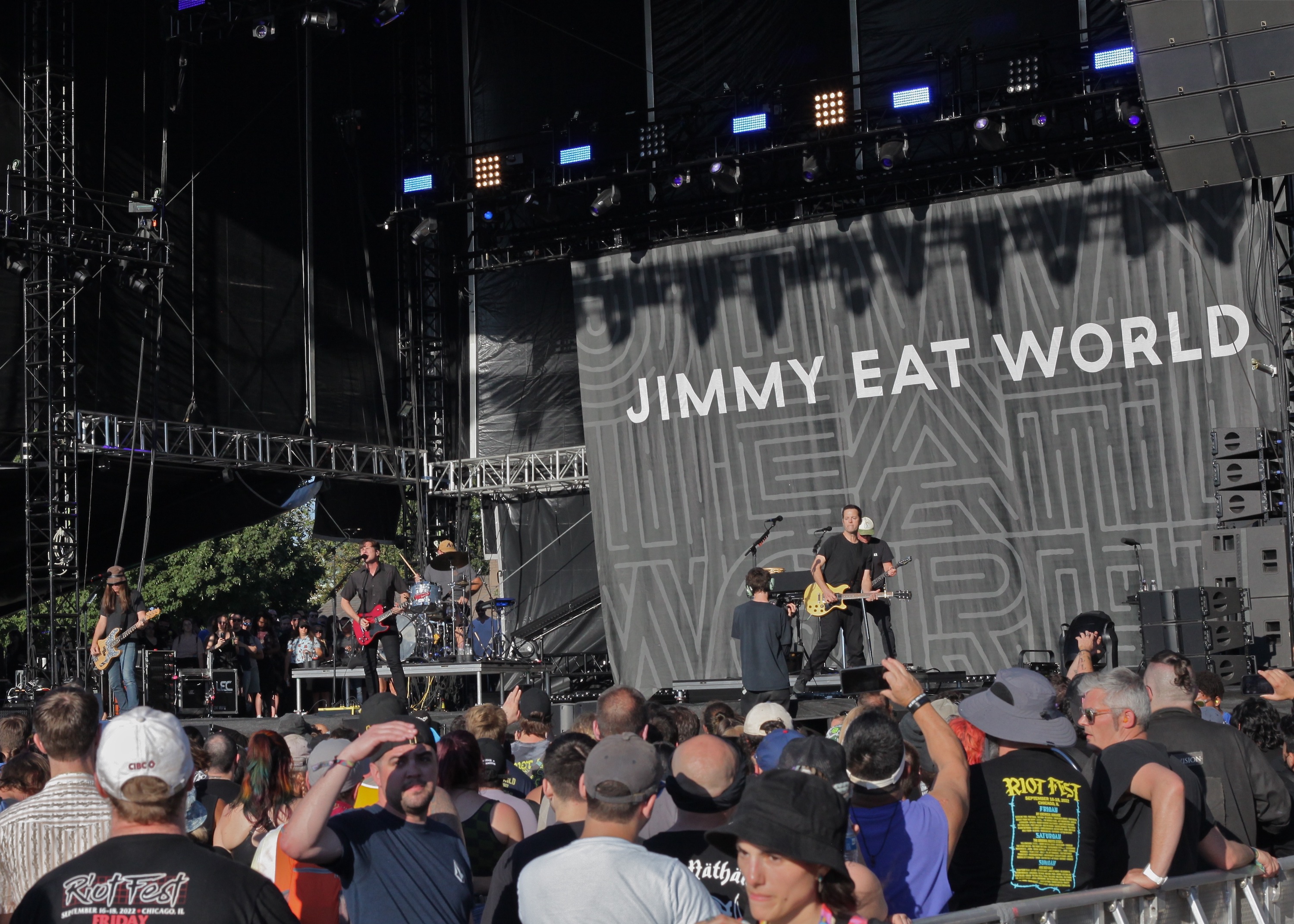 Jimmy Eat World frontman *Jim Adkins* may hail from Arizona, but he picked a tough day to perform outdoors in Chicago wearing all-black attire. The band's 5PM set faced directly into the setting sun, pouring blinding light and merciless heat onto the stage. Nonetheless, Adkins and his trusty bandmates were an energetic presence that almost instantly had the audience joining gang shouts and hand claps, not to mention ample displays of moshing and body surfing, to the band's crowd-pleasing blend of pop, punk, rock and emo. Singalong staples included favorites from 2001 breakthrough album _Bleed American_, such as the album's title cut alongside "A Praise Chorus" and showstoppers "Sweetness" and "The Middle." 2004 Gold-seller _Futures_ was also well represented with familiar songs including its own title cut as well "Pain," "Work," and the brooding "Kill" featuring drummer *Zach Lind*'s heavy tom-tom beat. "All the Way (Stay)" was a crunchy, classic rock-styled offering from 2019's _Surviving_. Following "Let it Happen," Adkins commended the crowd for taking care of each other while having a good time. He made a firm warning against taking advantage of (i.e., groping) any women during the body-surfing escapades. "I don't care if it's the middle of a solo, I'll stop the show and I will point you out," he said. "And that'll be just about the end of that." Lead guitarist *Tom Linton* sang "Blister," the first of two songs drawn from influential 1999 album _Clarity_. "Lucky Denver Mint" was a highlight for seasoned fans and the second _Clarity_ song in the set list. "This is a song about finding yourself in rock and roll," said Adkins when introducing the band's new single "Something Loud." "We've been coming to Chicago to play for a long time now," said Adkins with gratitude. "Each and every time has been special."
Sleater-Kinney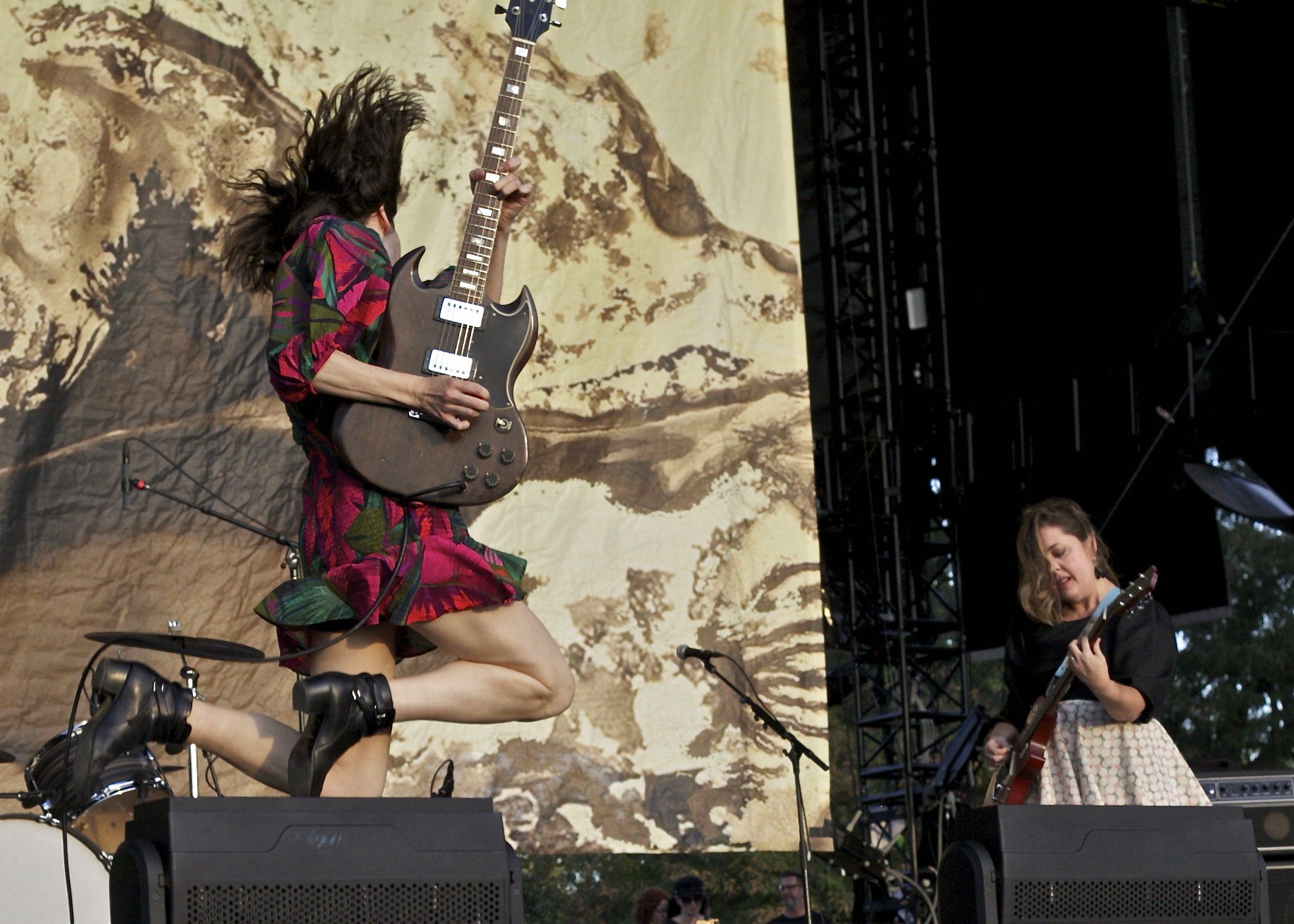 The day's feverish temperatures broke as the sun drifted below the Riot Fest midway's Ferris wheel. Sleater-Kinney bandleaders *Carrie Brownstein* and *Corin Tucker* walked on stage to enthusiastic response and began with "High in the Grass" from 2021's acclaimed _Path of Wellness_ album. Brownstein bobbed and weaved along with her taut guitar lines, while Tucker poured herself into a tremulous melody. "Jumpers" began with a restrained verse and vocal duet that erupted into a siren chorus in Tucker's powerful upper range. Brownstein's feral vocal intoned "you're not the only one" as the song approached its crashing crescendo, painting the fevered portrait of a suicide jumper at San Francisco's Golden Gate bridge. The clattering "Worry With You" spoke of love and trusted companionship, and the value of having a partner to make mistakes with while improvising one's way through life. "Let's get lost, baby, and take a wrong turn," sang Brownstein and Tucker. The descending riff introducing "Surface Envy" sparked immediate recognition from the audience. The song's punk beat and slashing guitars pushed the spirit to ecstatic pitch. Brownstein and Tucker faced off at center stage with broad smiles. Brownstein bounced and leaped with energy. The title track from 2000 album _All Hands on the Bad One_ was a mid-set highlight, and a caustic call-out against hypocrisy. "You can't get to heaven in your Sunday best, when the night before they were calling it your cocktail dress," sang Brownstein. Brownstein and Tucker's guitars intertwined in sinewy figures. Brownstein knocked her head in time to drummer *Angie Boylan*'s beat during "Hurry on Home." The song's heavy metal howl hid a tender sentiment. "You've got me used to loving you," sang Tucker. The set's deepest cut was the frenetic riot grrrl anthem and title cut to 1997's _Dig Me Out_. "Modern Girl" began with an intimate vocal and minimal adornment. The crowd sang and waved hands to the chorus "my whole life was like a picture of a sunny day." Sleater-Kinney neared the finish line with a blast of righteous fury with "Entertain." The song was a powerful reminder of the combined power of Brownstein and Tucker, with Brownstein's indignant verses sent soaring by Tucker's keening singalong chorus. "Whose side are you on?," the pair sang at an invisible adversary. Following a dystopian introduction and Brownstein's unsettling verses, final song "The Center Won't Hold" built toward Tucker's explosive coda.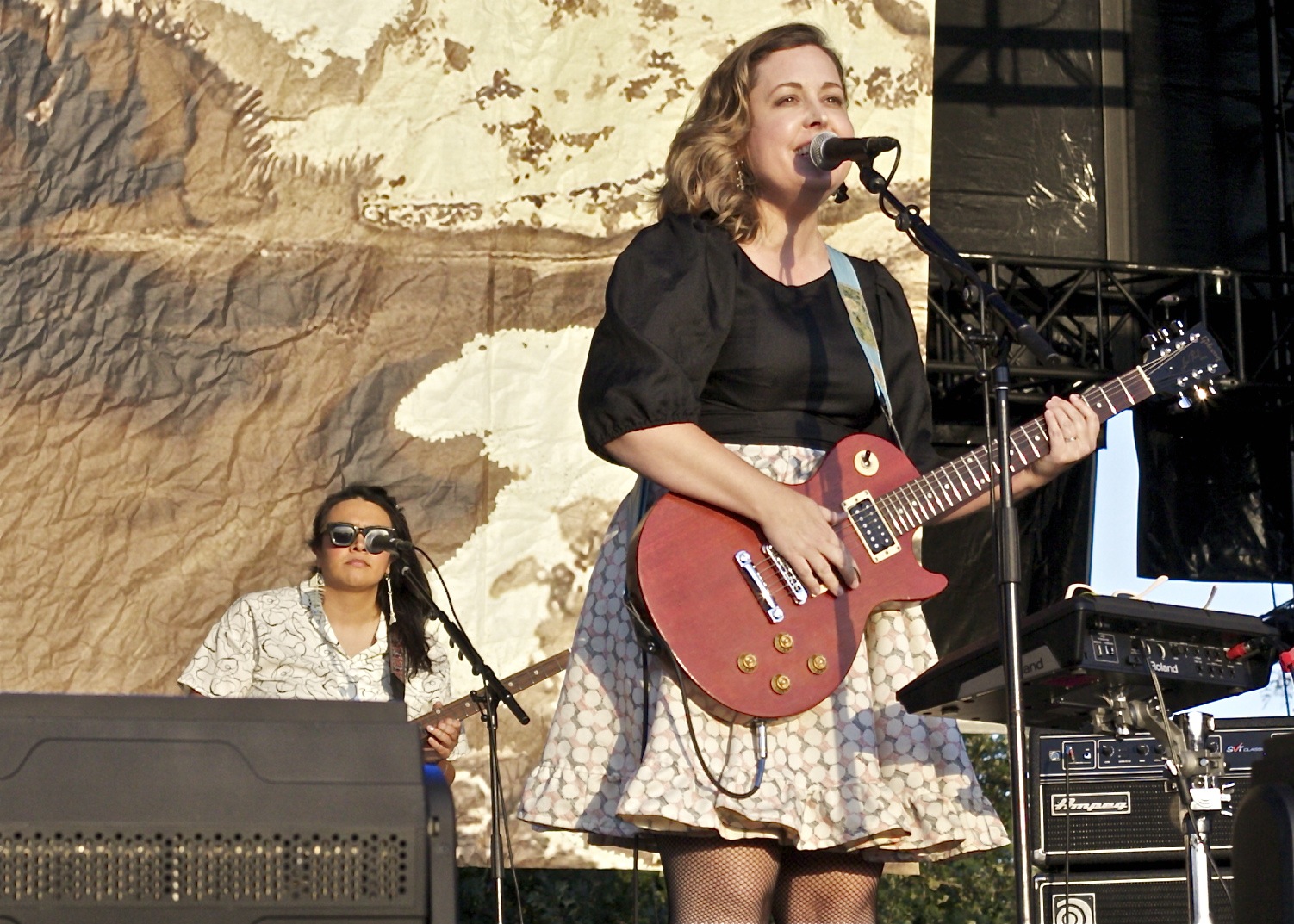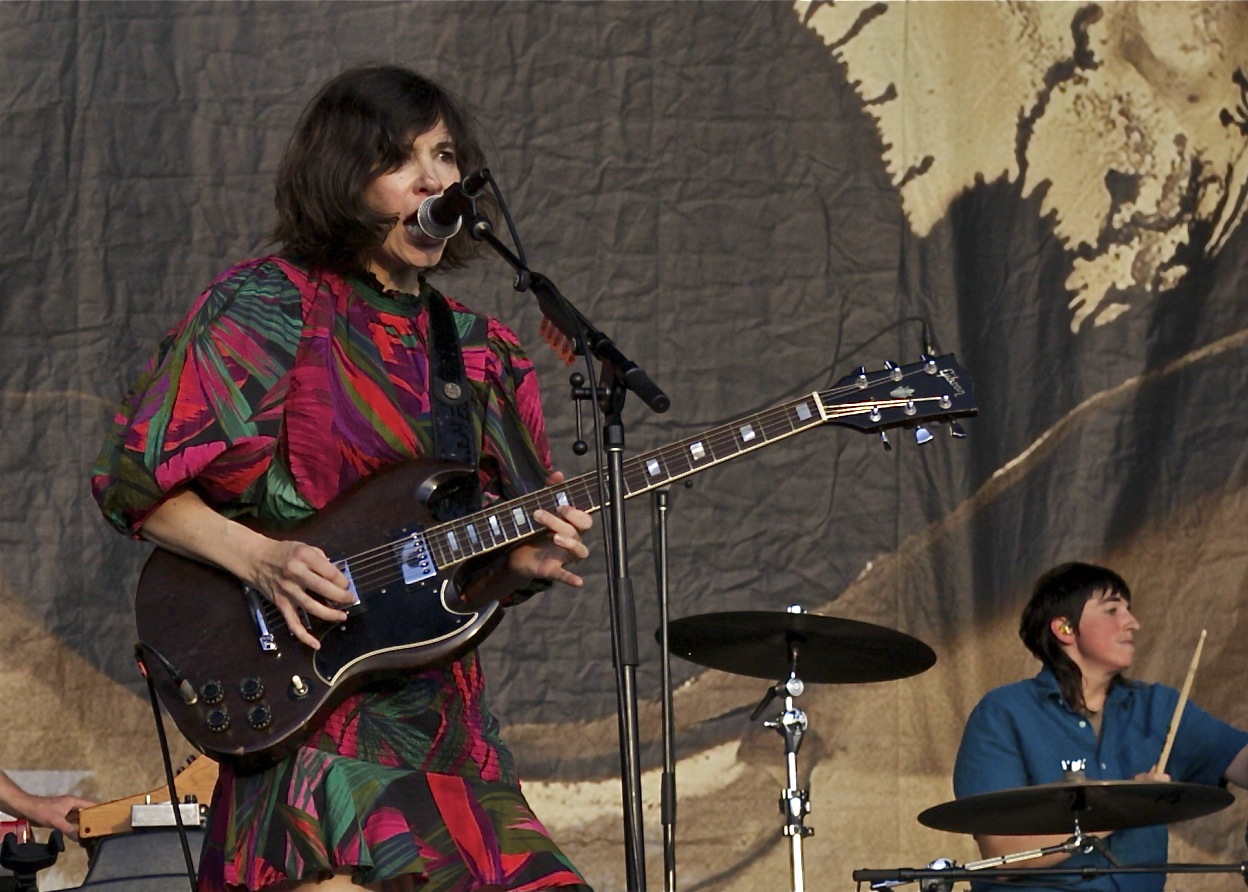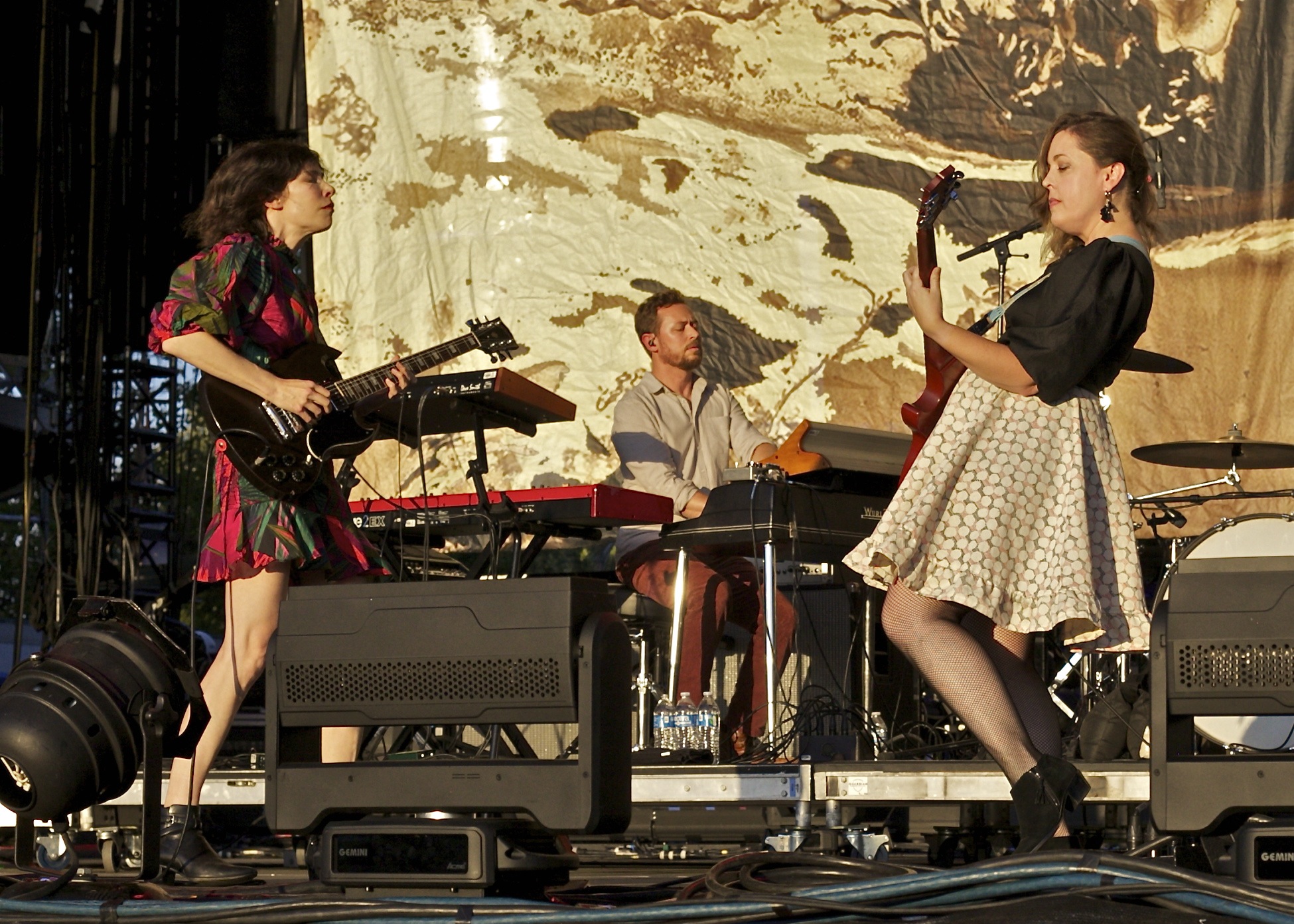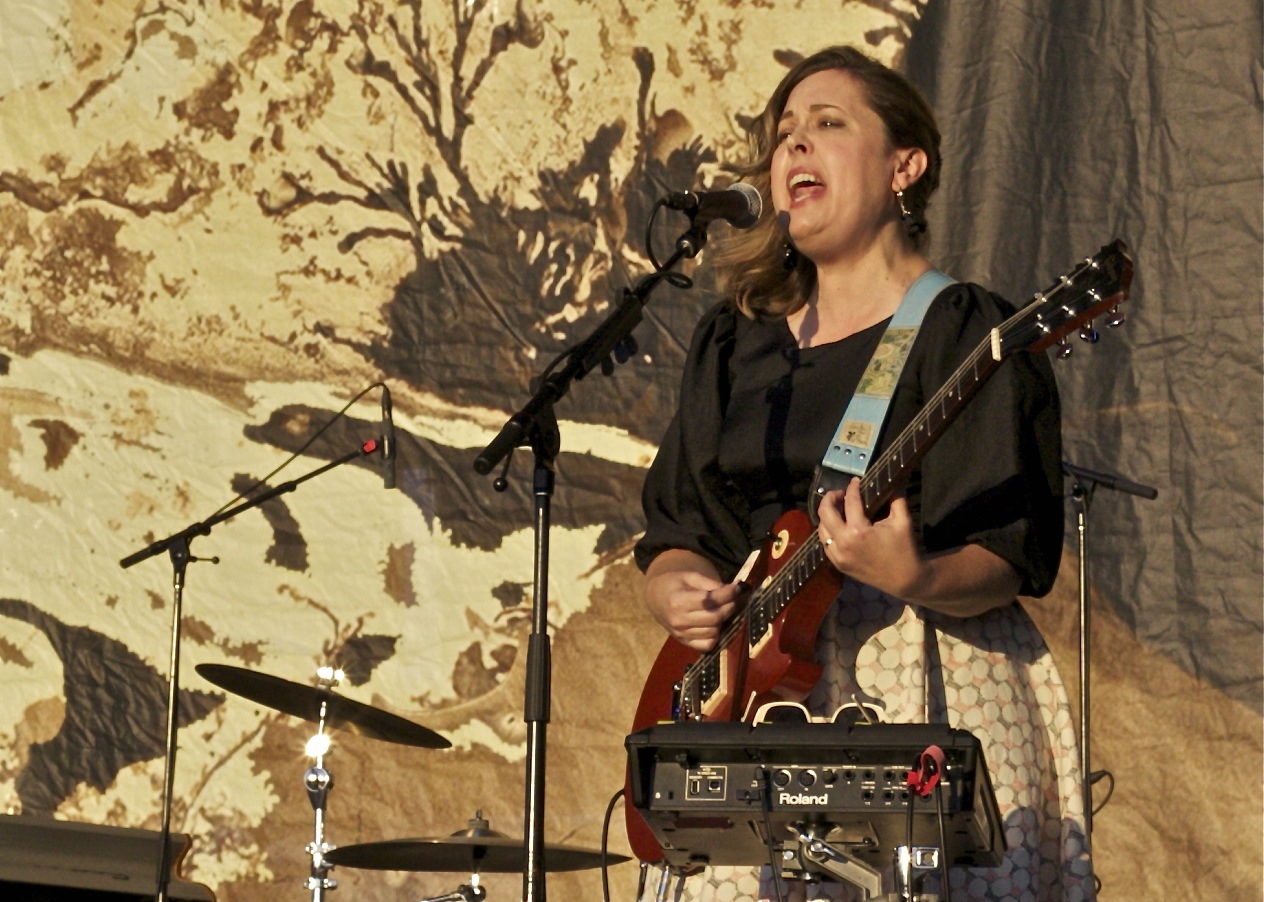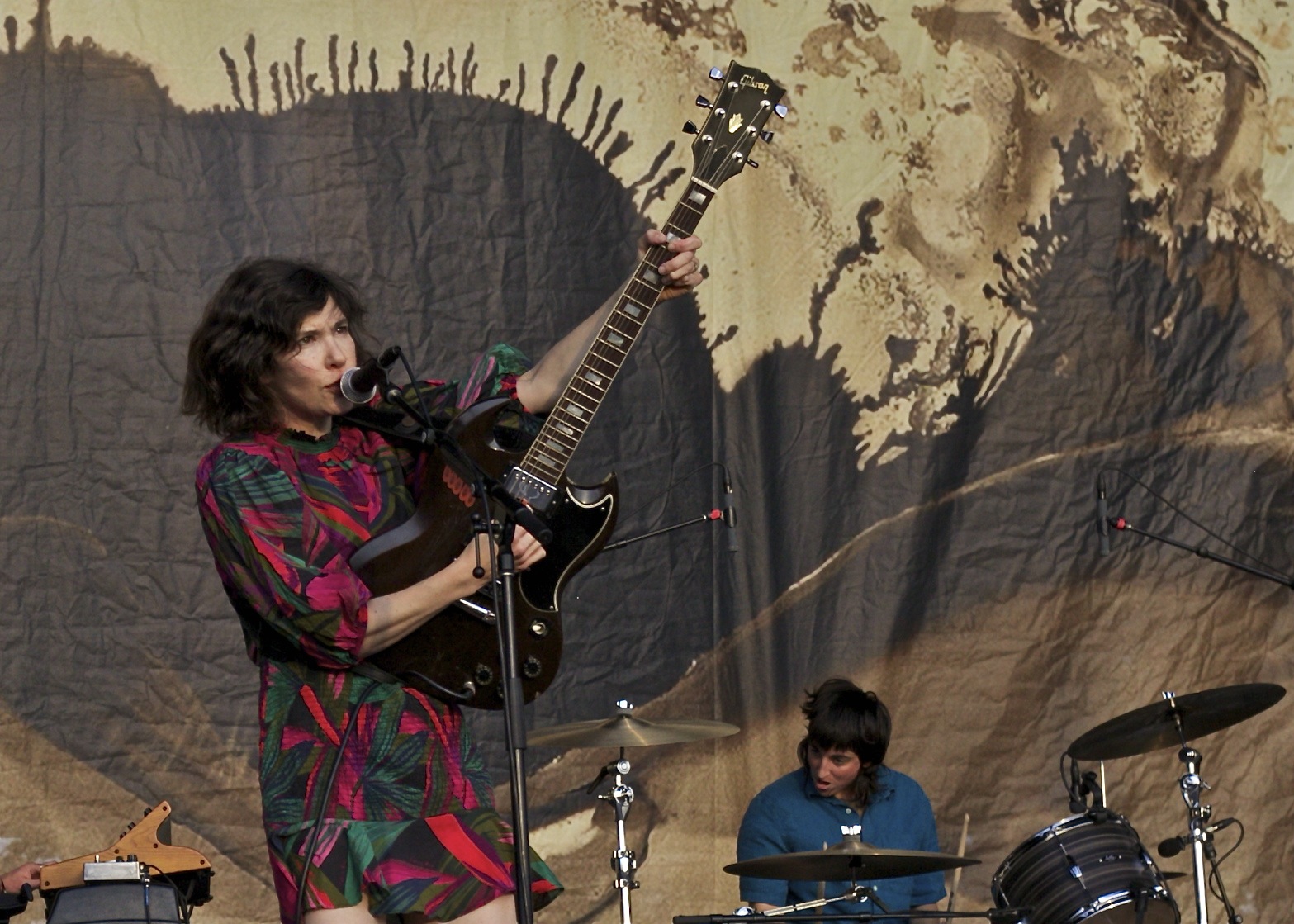 Story and photos by Jeff Elbel. Photos of the Linda Lindas by Melody Elbel.