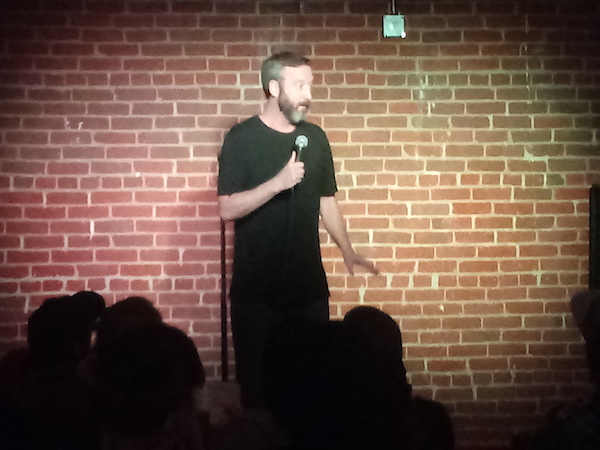 21 May 2019
Tom Green – live – Photo Credit: Kurt Orzeck
Tom Green may not have balls, but he has heart. The Canadian comedian was a ubiquitous figure from 1999 to 2003, during which time he hosted a pranks-filled MTV show, blazed new territory in shock humor and was briefly married to Drew Barrymore. He was also panned for piss-poor performances in movies like Road Trip, Freddie Got Fingered and Clone High.
But perhaps no project better sums up Green's career than his self-named cancer special that aired on MTV and provided one of the most personal glimpses ever documented about testicular cancer (surgery included). Both cringe-inducing and utterly sincere, the hour-long program revealed the humanity behind the dick-joke humorist.
On Saturday evening in Boise, the self-deprecating Green delivered a 55-minute, sweet-and-sour set at comedy club Liquid Laughs that again showed a soft exterior behind the crusty-looking 47-year-old.
The perpetually bearded Green made his entrance from the back of the club, singing "I Wanna Be Friends With Drake" — a song featured on his new, vinyl-only release The Tom Green Show — while shooting video of the audience with his phone. It was his only "prank" of the night, but it served as a social comment on our obsession with new technology, an F-you to the club's no-cameras-allowed policy — or just a juvenile distraction as he made his way to the stage.
Once he got there, Green spent most of his time lapping up applause as he name-dropped his myriad projects of yore, reminding the crowd that — indeed — someone famous had actually set foot in Boise. In Green's case, it was his first time in the City of Trees.
He also reminisced about Donald Trump unceremoniously firing him on TV's The Apprentice, pointing out, "I know the president, and the president knows me. Anyone who knows me shouldn't be president."
For good measure, he added to the red-state crowd: "I'm from Canada. This is your fucking problem."
Some of Green's material was as tired as the haggard-looking comedian appeared, like his jokes about aging, airport security and Canadian accents. Interspersed with the prepared material was an ample amount of crowd-work, which he seemed to return to whenever he got bored with his routine.
Occasionally, his jokes ventured into deeply bizarre territory, like when he riffed about dropping a deuce made out of corn.
"I get the sense dark humor doesn't play well in Idaho," he said — and he was right.
But overall, the cranky-but-not-cantankerous comedian succeeded when he circled back to his unique story.
"I can still ejaculate … well, a little," he joked at one point. Best known for his larger-than-life stunts, it was the slightly gross yet still endearing humor that made Green's set work — in Idaho, at least.