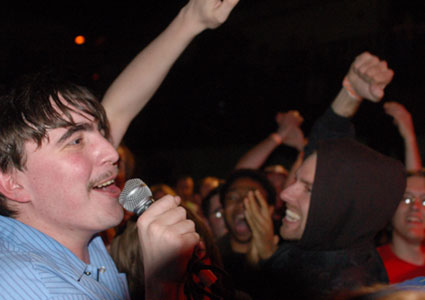 20 April 2006
Five months after playing their first American shows on four consecutive nights in the New York area, and hot on the heels of their appearance at the SXSW Music Festival in March, ART BRUT came back to New York to headline a sold-out, two-night stand at Bowery Ballroom. Since they're continuing the tour behind their sole album Bang Bang Rock and Roll, most of the material played was from that album. However, since singer EDDIE ARGOS took requests from the audience, they also played a few obscurities like the B-side "These Animal Menswear" and some newer songs as well.
From the album, the perennial favorites "Emily Kane" (in which Argos updated the story behind the song by telling the audience about when Emily herself phoned him up after she heard the song), "My Little Brother," and the opener "Formed a Band" (which they introduced with a teaser from METALLICA's "Enter Sandman") all got the crowd riled up. There was even a bit of a mosh pit up front. During "Modern Art," Argos jumped out into the audience and let the moshers sing along on the mic.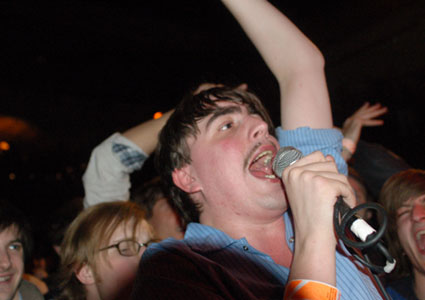 While all of this was great, it was remarkably similar to the show I saw at Tribeca Grand last November, though that one was inevitably more special for me, since it was my first time seeing them and their first trip through New York. That isn't the band's fault.
This time around, they're playing a much bigger venue, as more people have found out about them, heard the record (which is finally slated for an American release on May 23) and read about their awesome live shows. And more to the point, Art Brut is still one of the most energetic, catchiest and most enthusiastic bands out there today. It's a pleasure to watch them and I can only wish that more bands would show such enthusiasm to be able to play for their audience.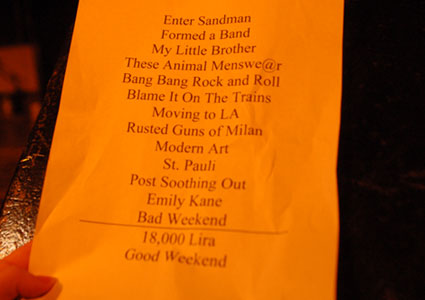 The above photos and setlist are from the show the night before (April 4, 2006) and were taken from Stereogum. You can read Amrit's full review "here": http://www.stereogum.com/archives/002465.html. Furthermore, you can see more of his pictures at his Village Indian blog.