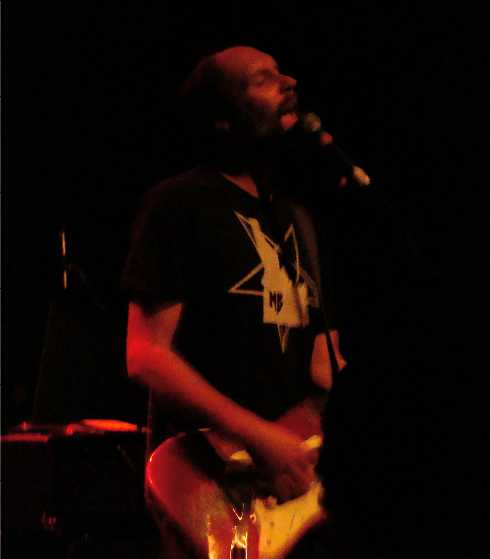 4 October 2010
The decision to move the Built To Spill show out of the Ballroom turned out to be a good one; instead of a half-filled hall they played a sold-out show in the much smaller Showcase Lounge, giving the performance a sense of excitement. But despite the crowd it was a somewhat mellow set, punctuated by occasional swells of loudness from the triple-guitar front line.
The three-guitar arrangement was not overkill at all. Each player carved out his own space within the framework of the songs, and locked together like the string section in a symphony orchestra. Occupying first chair was Doug Martsch, wielding a red, well-worn Strat at center stage. Every song began and ended with him. Martsch handled the intros and the bulk of the solos, and the other guys played around him. The second guitarist played counterpoint on his black Tele Deluxe, while guitarist number three colored outside the lines with some kind of natural finish, frankenstein Jazzmaster.
Martsch's distinctive voice was almost buried in the mix, which surprised me since it's so upfront on the records. His vocal delivery is idiosyncratic in a charming and sincere way. I say sincere because moves like that just can't be contrived. The way he enunciates every syllable with a snap of the head, as if his jaw stays still, reminds me of Johnny Depp playing Hunter S. Thompson, or The Count on Sesame Street. It felt like he was acting out every line as he sang it, and since his hands were busy on the guitar that left only his head to emphasize the words. To add to the mystery, he didn't speak to the crowd except for a brief thank you after most of the songs, leaving the stage banter to guitarist number three.
I was hoping for the guitar-heavy, extended-jam Built To Spill from Perfect From Now On and Live, but instead I got the equally great, modern, polished Built To Spill from their most recent records, with some older songs thrown in for good measure like "The Plan", "Distopian Dream Girl" and "Kicked It In The Sun". But the biggest surprise of the night came from their choice of cover: a note for note rendition of The Grateful Dead's "Ripple".