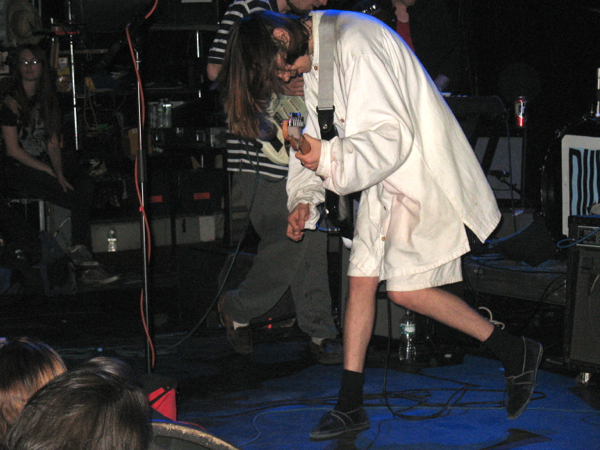 22 September 2014
Photos by Mark Suppanz
I'd seen this ethereal Brooklyn five-piece twice before, but both times were at mammoth-sized Manhattan venues watching from a distance – with Those Darlins at Terminal 5 in July 2012 opening for Best Coast and with Wild Nothing at Pier 84 a month later supporting Grimes. So it was nice to finally get to see them up close and personal at this much smaller, superb-sounding space, doing one of their own headlining shows. In fact, this sold out so fast that a second one had to be added at the same venue the previous night.
Colin Caulfield, Andrew Bailey, Zachary Cole Smith, Colby Hewitt, Devin Ruben Perez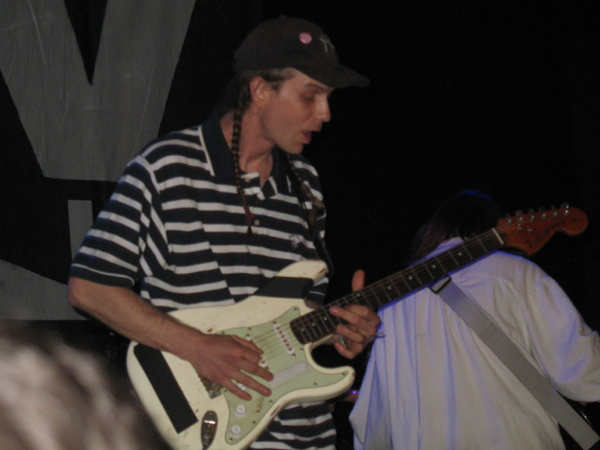 I'm guessing that floppy-haired frontman Zachary Cole Smith's loose-fitting, all-white duds – like a cross between a baggy painter's smock and Ebenezer Scrooge's nightclothes – was worn as much for comfort as fashion, given his proclivity for bounding around the stage like a boisterous bunny. Indeed, DIIV "dove" into their set with the first three glistening, glittering tunes from their excellent debut LP Oshin – "(Druun)," "Past Lives," and "Human" – as Smith's atmospheric, effects-laden guitar patterns intricately intertwined with those of his striped-shirted, pigtailed cohort Andrew Bailey. (Newer keyboardist Colin Caulfield, of now-defunct Brooklyn dreampoppers Young Man, also occasionally jumped in on third guitar.)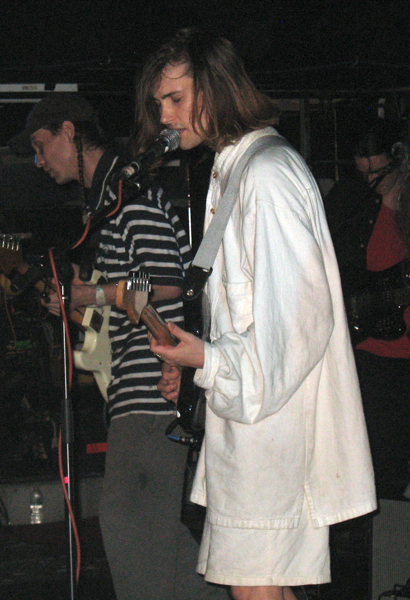 The band followed with a preview of the first of a handful of new songs, which they planned to whip into shape on this tour. Stamped with Smith's trademark wistful and repetitive lyrical phrasing, each one seamlessly slotted in with the first album's more familiar numbers. Good as they were, it was still the Oshin selections that made the most impact. Songs like the beguiling, Real Estate-like "How Long Have You Known?" and the more contemplative, Chameleons-esque "Oshin (Subsume)" converted the crowd into a horde of hypnotized head bobbers.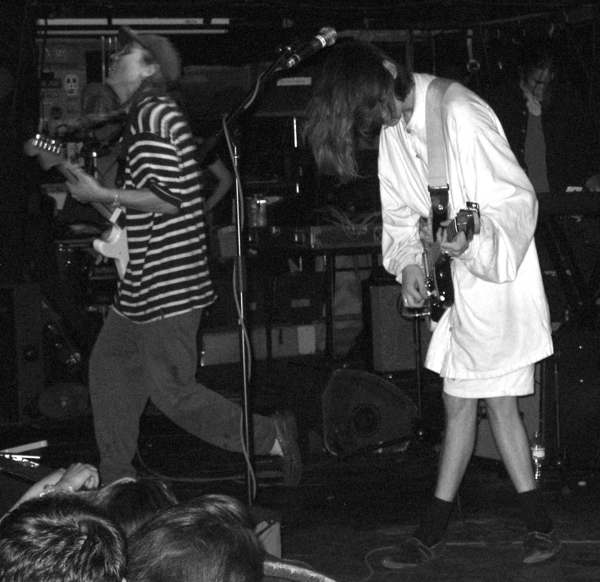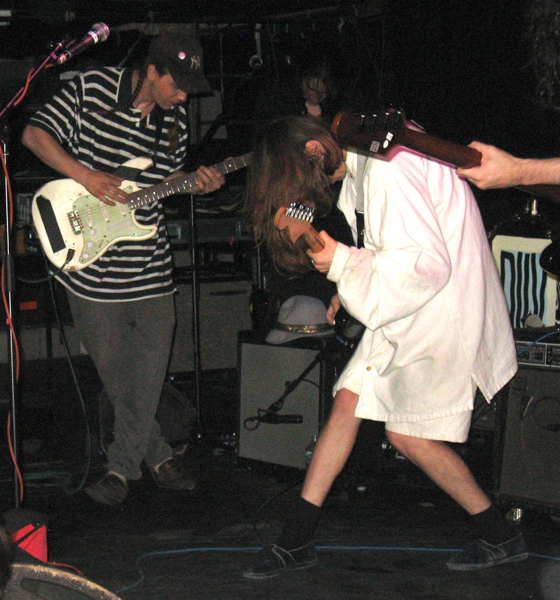 As the show progressed, locked-in bassist Devin Ruben Perez and pliable drummer Colby Hewitt dispensed more pulverizing, punk-edged power on the mesmerizing, motorik-inspired blaster "(Druun Pt. II)" – you had to listen closely to recognize Smith's recitation of Bob Dylan's 1965 #2 "Like a Rolling Stone" beneath the din – and especially the ceiling-shaking, floorboard-rattling main set closer "Doused," which was the smashing standout at all three DIIV performances I've now seen. And even if the encore's soaring, spellbinding "Wait" couldn't match its intensity, it still sent the audience spilling onto Williamsburg's hipper-than-thou North 6th Street feeling stunned and satiated.