17 September 2006
Although I was only able to make it to the second day of Drop Dead Festival IV, I still managed to catch some captivating sets. That evening it rained hard – a torrential, windy downpour that threatened to knock over mohawks and make make-up run. On my way inside I saw a few black-clad attendees scurrying across the sidewalk, umbrellas turned inside-out by the gusts that whipped their way down Leonard Street in front of the Knitting Factory. After entering the dark sanctum of the club, however, all weather woes were left at the door and an evening of deathrock, punk, goth, psychobilly, and wave was already in full swing.
My first observation was that, as ever, the decor was adorable. In the upstairs bar a cobwebby little graveyard had been erected – including one gravestone dedicated to ROZZ WILLIAMS which read "Rozz: Still Dead." In the second stage room the bar was decorated with bloody body parts hanging above it, and the dance/chill-space in the basement was heavy on the tongue-in-cheek spookiness as well. I also have to compliment POLINA Y. and the rest of the Drop Dead crew for providing pizza and vegan-friendly foods downstairs – as unsexy as it is to eat, we wouldn't want our pale and tightly corseted-friends to pass out from malnourishment, now would we?
Now on to the show. I began by wandering around, catching bits of VERONIQUE DIABOLIQUE, WRECKING DEAD and ENTERTAINMENT, but the first full show I saw was CINEMA STRANGE. Singer LUCAS LANTHIER was dressed as a 19th Century sailor-dandy, nimbly moving about the stage, hands gesticulating wildly, as the band played their brand of creepy, arty post-punk. Bassist DANIEL RIBIAT, who some describe as the hottest man alive, wore a mask fashioned from forks and spoons and a MICKEY MOUSE ears hat. If ever there was a band whose music went with their whimsical aesthetic, Cinema Strange is one.
After that I took a break and went below to drink and hear what the DJs were spinning. (I've never heard DAVID BOWIE's "Magic Dance" in a club setting before!) Then it was back to the second stage to catch AUSGANG perform a rough and raucous cover of THE STOOGES' "I Wanna Be Your Dog."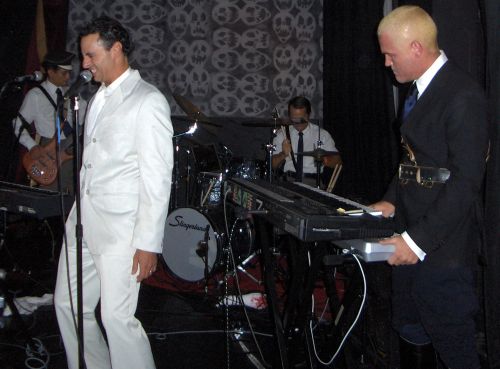 Finally the time came for the most awaited moment of the evening. Gothic cult favorites SCREAMING FOR EMILY emerged from behind the long black veil after a 20-year hiatus. Even though it was near 2:30 in the morning when they took the stage, the crowd really filled in up front in anticipation for their synth-driven songs.
Frontman PHILIP SCIORTINO was dressed in an elegant all-white suit, a single cross dangling from his neck, while the rest of the band looked quite daunting in fascistic fashions. They played "Deity," "Agony," and other choice picks from the past, and, despite the lousy sound system, filled the room with seductive synthscapes capable of bewitching even the blackest of hearts. Sciortino dedicated their underground club hit, "The Love," to New York City's longest-running goth DJ, DJ PATRICK, for keeping their music alive for all these years. While Screaming For Emily's set soon drew to a close, their reunion was met with much ecstasy and appreciation to have them back on the scene. It really was the perfect way to end yet another enjoyable night of drop-deadery.