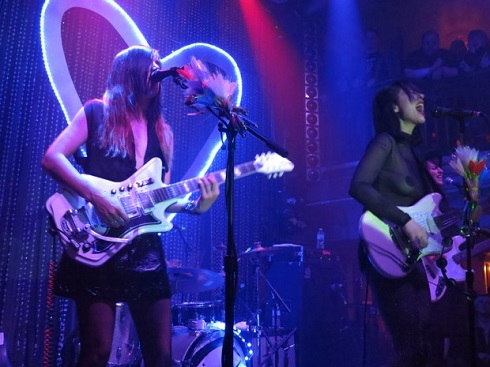 31 March 2014
Although I have been a fan of Dum Dum Girls since first hearing their debut LP I Will Be back in 2010, I had only seen them live once before. That show was in the fall of 2011 at the much bigger Union Transfer and even with the balcony closed off (and despite putting out excellent work that year with the "He Gets Me High" EP and Only in Dreams), they probably only drew as many folks as had seen them at their previous appearances here in Philadelphia at smaller clubs like Kung Fu Necktie or Johnny Brenda's, where they decided to stop again last week while touring for their new album Too True. That they sold out Johnny Brenda's weeks in advance wasn't surprising given the quality of the new record and the buzz it has been generating (including considerable airplay on WXPN), but given the energy and anticipation in the room, one could sense that perhaps this time around, they will finally gain the popularity that they have deserved for so long.
Nevertheless, this was their first Philadelphia show since their early 2012 appearance with Veronica Falls at Voyeur, so again my anticipation was high.
It should be noted that the version of Dum Dum Girls on stage is completely different from the one on record. With that said, guitarist Andrew Miller (new to the live lineup) did play on I Will Be and several other band members (including guitarist Jules, who has been with the touring lineup the longest) played on Only in Dreams. By and large, though, the recordings are Dee Dee Penny's show with some assistance from her co-producer and collaborator Sune Rose Wagner of The Raveonettes. What this means is that Dum Dum Girls sound quite different on stage from how they do on record.
For one, they are more aggressive live, particularly with playing new material from the lush, richly-produced
Too True
. While I enjoyed the first five songs, I don't think the set
REALLY
got going until they played an absolutely blistering, scorching version of "He Gets Me High" (from the 2011 EP of the same name). From then on, they were in full command of the audience with highlights including a 3-song block of songs from
I Will Be
, an incredible "Lord Knows" and their stellar cover of the
Pale Saints
classic "Sight of You."
For the encore, they closed with an incredible version of "Coming Down" which featured Dee Dee bringing down the house with her vocal acrobatics. What a treat!
There is one thing that annoyed me a bit, though, but it had more to do with a few audience members than the band. Since Dee Dee wore what is probably the most revealing stage outfit I've ever seen (shades of her childhood hero Madonna were on full display here), it unfortunately but not surprisingly attracted not just the usual "I love you" type of comments from some men in the crowd, but in one case, I heard that a guy was pleasuring himself at the bar. It's just rude, to say the least although I thankfully didn't see it as it was nowhere close to where I was standing. If you must, go to the bathroom to do that.
I had also been looking forward to seeing openers Blouse since I really like their newest LP, last year's Imperium, quite a bit. I wasn't expecting the songs from it to sound so aggressive live, though, but that was a pleasant surprise that worked really well in this environment. As I'm only really familiar with that one and not their debut, it seemed like most if not all of the songs they played were from Imperium, but I'm not 100% sure.
What a great double bill!
The above picture was taken by Kate Bracaglia and is used with permission. Thanks, Kate! Check out her review here.