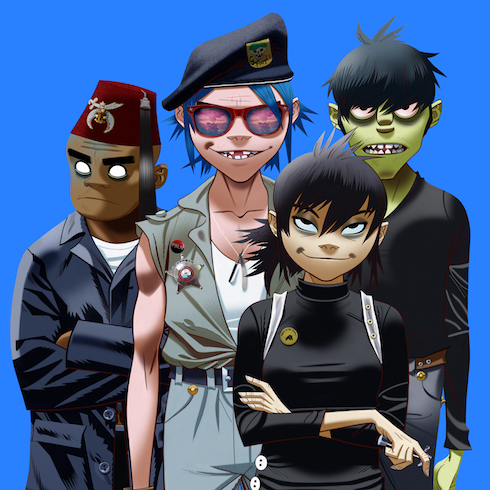 10 July 2017
Damon Albarn emerged after sundown onto the stage at Chicago's Huntington Bank Pavilion with his arms outstretched. It was Gorillaz first night in Chicago since 2010, and the opening night for a North American tour supporting new album Humanz. The beaming singer appeared ready to embrace the entire sold-out audience at Northerly Island. To his credit, he got as far as the first few rows during "Last Living Souls," climbing the barrier and leaning deeply into the crowd to grasp hands with fans mid-song.
Albarn was always in the mix, but often served more as ringleader rather than frontman. Many guests and collaborators joined the sprawling 13-piece band throughout the show. Fixtures included the six-person Gospel choir that added soulful support during "Ascension" while rapper Vince Staples prowled the stage.
Gorillaz' collaboration-intensive music meant that not every Humanz guest artist could be present in the flesh. Absence only made the hearts of the multimedia-savvy group grow fonder, however. Albarn played melodica and led his ace live band as virtual guest Popcaan sang the plaintive "all my life" chorus to single "Saturnz Barz" from an enormous video screen. Pop iconoclast Grace Jones' jarring presence loomed overhead as a digitally-glitched ghost during "Charger." Onstage, mohawked Jeff Wootton unleashed feral riffs to match with his Flying V guitar.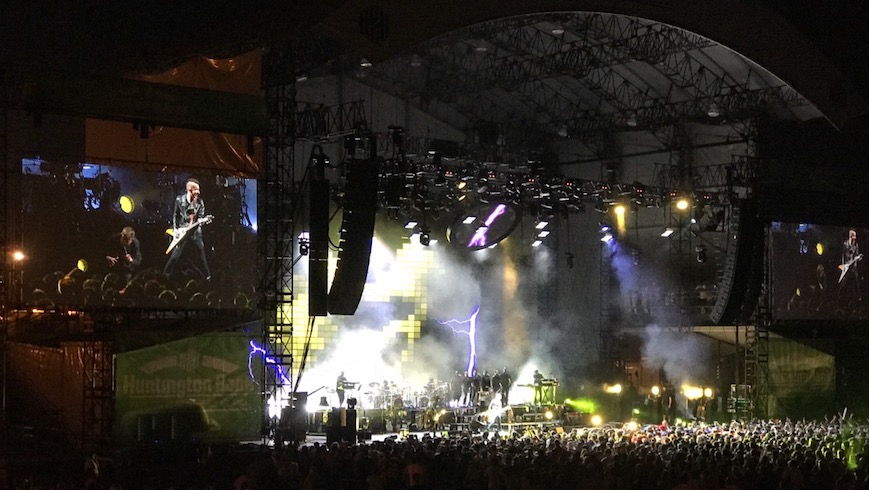 "It's a beautiful full moon," said Albarn afterward, gazing above Lake Michigan behind the crowd. Thousands of voices responded with lupine howls.
Following "Rhinestone Eyes," the show experienced a minor opening night setback during "Sex Murder Party" when silver-clad rapper Zebra Katz' mic failed to transmit via the sound system. House music pioneer Jamie Principle persevered, exhorting the audience with a message that contrasted with the song's grim lyric. "I want you to know we are all in this together," he said. "We have to start a revolution. A revolution of love!"
Albarn praised the Chicago-based producer while stoking the energy. "This is Jamie Principle," he said. "He's one of your treasures. And he wants you to jump!" The crowd complied with joyful abandon.
Other local treasures were also spotlighted, to the point that Albarn even stopped the band as they sailed into the intro for "Broken." "Whoa, whoa, whoa," he said. "In your eagerness, in your eagerness!" Albarn paused to welcome "some very old friends, who were some of the first people I met in Chicago." After Hypnotic Brass Ensemble elevated the song with their classic soul, funk and hip-hop savvy horns, Albarn added, "Follow these people wherever they go."
Albarn strapped on a keytar as guest Peven Everett sang "Strobelite," a song with a slinky R&B groove that seemed to come straight from Minneapolis in the '80s. A fireworks display was visible north of the Loop, adding to the impressive onsite light show and its atmosphere of dancefloor glitz. Guest Michelle created fireworks of her own with spine-tingling and explosive vocals during "Out of Body."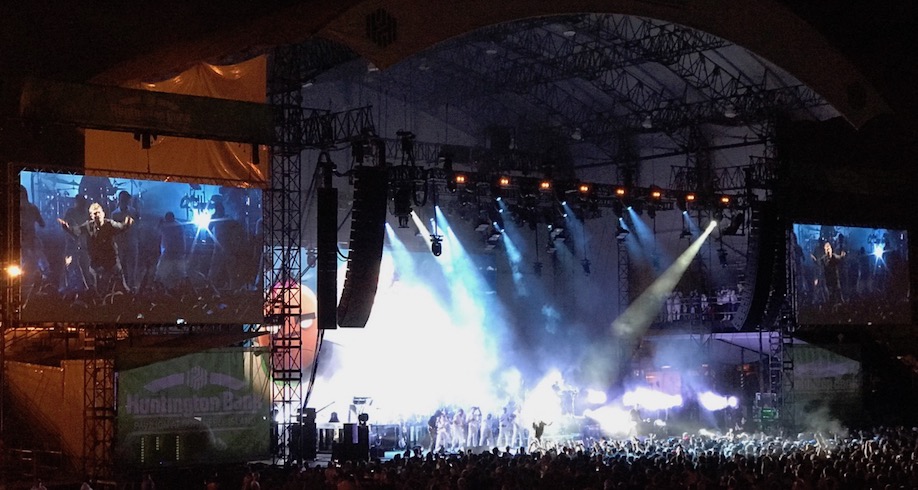 London-based rapper Little Simz joined with her rapid-fire vocals for Humanz track "We Got the Power." In his most *Blur*-like display of the evening, Albarn hunched over a Telecaster and thrashed it mercilessly while whipping the crowd into fever pitch for a singalong.
"I've been coming to America since 1990," said Albarn as he returned for a generous encore. "You never cease to bewilder and amaze me. I love you very much. Do you want some old songs?" The roar of response was interpreted as an affirmative.
Peven Everett returned for powerful vocals on "Stylo," taking the place of late soul icon Bobby Womack who had sung during Gorillaz' previous Chicago visit to UIC Pavilion in 2010. The video screen featured images of band avatars Murdoc, 2D, and Noodle, desperate and on the lam in an overstressed hot rod, pursued by bounty hunter Bruce Willis. The characters, also including drummer Russell, had been created by artist and Gorillaz co-founder Jamie Hewlitt to serve as the faces of the band in 2001. Although their images provided visual excitement through the evening, their roles were distinctly secondary to Albarn and his flesh-and-blood cohorts in the crowded cast during the show.
"Now, you don't get to see this person very often," said Albarn. "He's special. I want to hear you're still here." The crowd erupted as Albarn returned to his melodica and Del the Funky Homosapien joined for Gorillaz 2001 debut single "Clint Eastwood."
Following the shimmering Beach Boys pop of "Don't Get Lost in Heaven," Albarn sang a tender falsetto croon for closing number "Demon Days," offering a note of encouragement to persevere through modern dangers and distractions. Following the Gospel choir's refrain of "Turn yourself around into the sun," the crowd turned and headed into the night, with pockets of fans singing the chorus of the omitted "Feel Good Inc." Despite minor snags, it was an auspicious start for a cross-generational, cross-continental, multiracial and genre-blending show that showed how much fun a global jukebox can be.
SET LIST:
Ascension
Last Living Souls
Saturnz Barz
Charger
Rhinestone Eyes
Sex Murder Party
She's My Collar
Busted and Blue
El Mañana
Carnival
Broken
Andromeda
Strobelite
Out of Body
Garage Palace
We Got the Power
ENCORE:
Stylo
Kids With Guns
Clint Eastwood
Don't Get Lost In Heaven
Demon Days