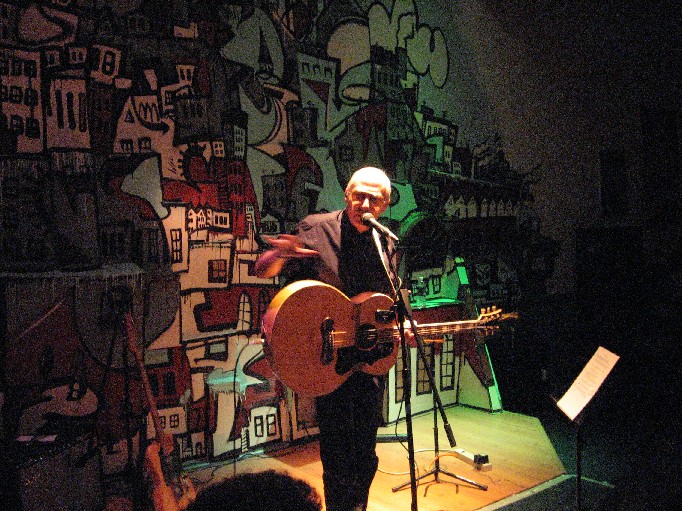 20 May 2006
As a disclaimer, I've seen GRAHAM PARKER play live more than just about any other artist, except for maybe ELVIS COSTELLO. Although I'm not old enough to have followed him throughout his 30-year career, this show was my 19th time seeing Parker play live since I first saw him play in 1996. Of these shows, most have featured Parker playing solo in small clubs, including now-defunct places like The Bottom Line, Fez Under Time Cafe, and Club Bene. However, I'd never seen him play in a coffeehouse, so this was a different experience.
Starting promptly at 8:30 pm, and playing a short set that lasted only an hour and fifteen minutes, Parker set up this show in a unique way. Instead of doing a career overview where he played at least one song from each of his 17 studio albums, or a set that focused on new and more recent material, this set had Parker playing two songs each from a few albums that he selected at random.
He opened the show with "High Horse," from 2001's Deepcut to Nowhere, and followed it with "Dark Days," that album's ominous opener. He also played two songs from 1976's Heat Treatment ("Hotel Chambermaid" and the title track) and material from 1988's The Mona Lisa's Sister ("I'm Just Your Man" and "Success"), 1991's Struck by Lightning ("Wrapping Paper" and "A Brand New Book") and 1979's Squeezing Out Sparks ("Discovering Japan" and show-closer "Passion Is No Ordinary Word").
He also played the new song "I Discovered America," which started off promising but was ultimately lackluster. Unfortunately, he left out two more recent and much better songs, the mournful "2000 Funerals" and the powerful "Harridan of Yore," which are about the Iraq war and AL FRANKEN's airplane encounter with BARBARA BUSH, respectively. Perhaps this was because in this relaxed setting Parker preferred to focus on softer, gentle songs, like "I'm Just Your Man" and "Wrapping Paper" – songs that relate to his, and presumably this older audience's, domestic life.
He may have felt that his angrier and more explicitly political songs would have been out of place at this show. Although he was in good voice, it was disappointing, because last year's Songs of No Consequence was his best album in 10 years. Between that album and the more recent, politically minded songs, he seemed to be at his most inspired in years. I just hope that the next time I see him play live, it'll more closely resemble the show I saw last October at The Tin Angel.