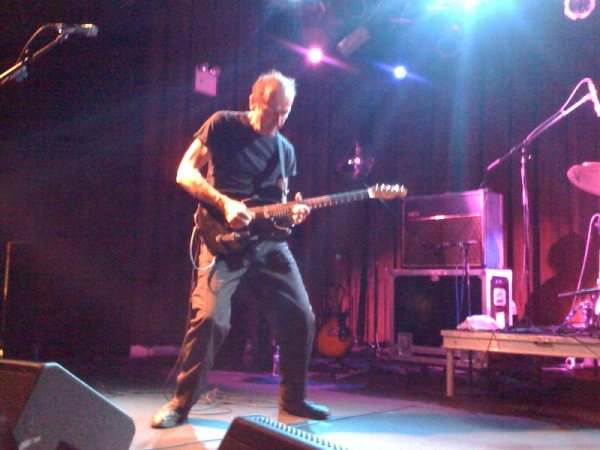 22 September 2009
(Photo courtesy of Neal Miller)


Maybe sixty is the new forty.
Ex-STRANGLERS lead singer/guitarist HUGH CORNWELL, who just turned sixty, put on one of the most spirited performances I've ever seen by him.
Last year, opening for FROM THE JAM in Manhattan, Cornwell and co. didn't seem too inspired. I had also seen Cornwell a handful of times in the past decade, and though his shows were always very good, he never astounded.
Even the one time I saw him with the Stranglers, in 1987, he didn't seem in top form. The ongoing tension between he and bassist J.J. BURNEL during that period ran high, which likely contributed to Cornwell's generally dour demeanor. Moreover, by then, the British group's most creative years were behind it.
So after sixteen years in the Stranglers and nineteen years as a solo artist, why of all times would Cornwell turn it on now?
It's hard to say, but with reduced expectations I soon couldn't believe my luck. Not only was I headed to Brooklyn to see the great NAKED RAYGUN directly after this show, but there I was standing mere feet from Cornwell with fewer than a hundred people in attendance.
It really did feel like being in someone's (spacious) living room and yet Cornwell, the consummate pro, gave it his all as part of a trio with talented bassist CAZ CAMPBELL and drumming dynamo CHRIS BELL, who slapped the skins with authority, bringing particular life to songs from Cornwell's latest solo offering, the very good Hooverdam, which can be downloaded for free here.
Cornwell, as he typically does when playing live, alternates solo tracks with Stranglers songs. Interestingly, all the Stranglers songs he played were from 1977 to 1981, arguably the group's most creatively fertile period. He also dressed as he might have back then in a black t-shirt and black pants.
The peak of the night was arguably "Hanging Around." Its rousing chorus, beefy bass lines, infectious melodies and sing-along qualities make this 1977 hit timeless. The same could be said for "No More Heroes," which went down a storm. "Tank," the magisterial opener from 1979's mostly excellent Black and White opened the show. "Nice n' Sleazy" and "Walk on By," both from that record and both incredible, soon followed.
The propulsive "Duchess" impressed and the band's mega-hit "Golden Brown," so clearly associated with the Stranglers' keyboardist DAVE GREENFIELD's harpsichord playing, still worked sans keys. Most impressively on "Golden Brown," Cornwell perfectly played the guitar solo note for note. It's well known as being very difficult to play. So hats off to Hugh!
One challenge for Cornwell when playing Stranglers material live is the keyboard issue. Because Greenfield's keyboards are so prominent and memorable, when a Stranglers song is played without keyboards your ears tend to fill in the missing parts, especially on memorable passages and solos. This puts Cornwell in a bind of sorts because to many fans' ears his renditions of Stranglers songs may sound incomplete and as such inferior.
Interestingly, Cornwell cooked up a strategy to deal with this. On songs where the focus turns sharply to where keyboards would be expected to enter, he essentially rejiggers what and how the band plays to throw you off the scent so to speak. It's a preemptive move and somewhat risky but it works. He did this on "Peaches," for example. When the keyboard solo would ordinarily have begun, he increased the tempo and threw a few curve balls into his guitar playing. He also did this in "Nice n' Sleazy" precisely when the frenetic keyboard solo would have started.
Cornwell also played "Down in the Sewer," the jaw-dropping finale from the Stranglers' 1977 legendary debut Rattus Norvegicus. If you haven't heard it, you should. If you have heard it, you should listen to it again. It has four distinct parts and showcases the band's advanced song writing skills and technical prowess. Are the Stranglers punk or not? Who cares? Listen to this and be amazed at how this band, so often lumped together with so many far less talented acts from the late seventies, could compose and play this nearly eight minute masterpiece.
Soooooo, with some regret I must say that Cornwell's guitar playing on "Down in the Sewer" strayed from the spirit of the studio version. Clearly, he didn't have to replicate the song's playing note for note, but it was as if he was playing on another axis. On some Stranglers studio recordings, such as "Shah Shah a Go Go" from 1979's The Raven, the instruments don't always mesh harmonically yet the end result works. Here, something was askew. And the absence of the keyboards – sorry – really did make you feel slightly shortchanged, even though you at the same time were invisibly clicking your heels at the gargantuan good fortune to be so close to a storming Cornwell thirty-five years (and one day to be precise) after the Stranglers' inception.
As for Cornwell's solo material, he played six of Hooverdam's ten songs, including the upbeat and winning "Wrong Side of the Tracks," which is highly evocative of JIMI HENDRIX's "Crosstown Traffic." "Delightful Nightmare," a dark and fiendishly tasty treat, also was a winner. The rest of the songs played from Hooverdam sounded even fresher and more alive than on the album. I was happiest though to hear "Lay Back on Me Pal," a poignant and little heralded song from 2001's recommended Hi-Fi. The homage to BOB DYLAN, "24/7," from Beyond Elysian Fields, however, bored me to tears as it does when I hear it on the album.
Cornwell was very considerate to his fans, appearing mere minutes after the show at the merchandise table to sign autographs and pose for pictures. He also looked as healthy and fit as could be. Time certainly has treated him well despite his less than healthy lifestyle with the Stranglers decades earlier.
I won't soon forget the show or the two twenty-something guys who wore scowls of skepticism when they first arrived. However, as the show progressed, overt approval replaced skepticism. And at that point it was easy to imagine them going straight home after the show to buy or download a slew of Stranglers and Cornwell albums, then imploring their friends to do the same. Although I loved the show, I also loved knowing that I might have borne witness to the creation of a new generation of evangelists.