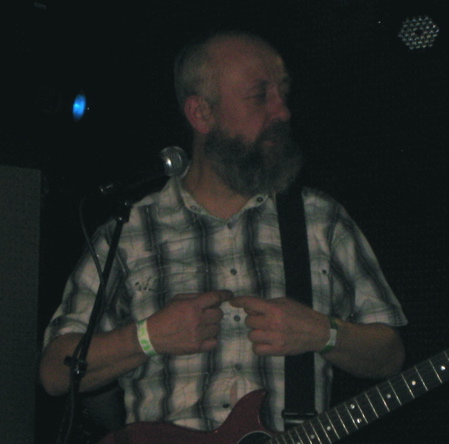 20 March 2010
Frankie Stubbs


LEATHERFACE, in the midst of playing a staggering 21 shows in 21 days, blew the doors off a sold out — and then some — performance at Brooklyn's Knitting Factory.
If you're not familiar with the group (and many certainly aren't), note that Big Takeover founder, editor and publisher JACK RABID considers it "the greatest punk rock band of the last 20 years."
Hailing from Sunderland, England, Leatherface is promoting "The Stormy Petrel," a winning album and the ninth in the group's history.
Formed in 1988, Leatherface is fronted by the inimitable singer and guitarist FRANKIE STUBBS. He is joined by guitarist DICKIE HAMMOND, whose intricate and accomplished guitar work is a signature part of Leatherface's sound, bassist GRAEME PHILLISKIRK and drummer STEFAN MUSCH.
Stubbs, with his incredibly raspy voice and passionate delivery, exudes an aura that demands and gets respect. He wins admiration, in part, for his distinct lack of trying to be something he's not. He is utterly devoid of pretense and flash.
While performing, Stubbs is prone to breaking into spontaneous quasi-jigs, darting from the mic, as if he were a pinball bouncing violently from a high-point locus, to a place where he rotates, guitar in hand, like a cat finishing its last ritual twirl before settling down.
The crowd, far younger than I expected, was filled with fans in their twenties and thirties who were fully supportive of Stubbs & Co. (Check out some great shots here.) Stubbs, looking near 50, probably seemed far more fascinating to this crowd of young'uns precisely because he was not another twenty-something from Brooklyn. He was exotic.
Stubbs belted out songs like "Springtime" (arguably the group's best song), "I Want the Moon" (the one that made the venue positively erupt) and "Never Say Goodbye" (the "single" and a superb one at that from the new album) with conviction and pathos.
The group also played, among others, "Isn't Life Just Sweet?," "Broken," and "Diego Garcia" from Stormy Petrel. Leatherface's epochal Mush (1992) also gained plenty of attention with the spine-tingling "Not Superstitious," "Dead Industrial Atmosphere," "Not a Day Goes By," "How Lonely" and "Message in a Bottle," by THE POLICE, all getting a hearing.
To cap an extraordinary evening, I learned that Leatherface would return to the Knitting Factory for another show on May 12th. Hurray!
I also found another reason to offer a fond hurray to Stubbs. After the show, as the crowd thinned and revelers dispersed into the night, there he was in front of the venue, standing shoulder to shoulder with a handful of fans, earnestly carrying on a conversation while characteristically not offering the slightest hint that he was a crucial reason why this giant crowd had turned out.
Hurray indeed.