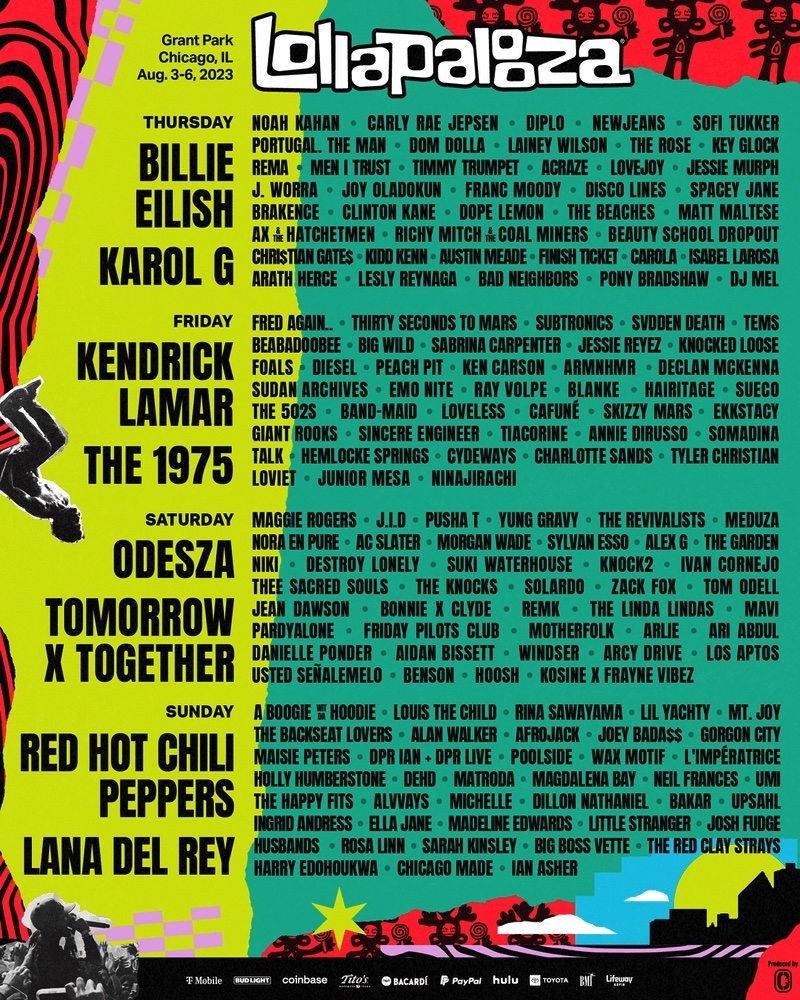 2 August 2023
"It feels like we're back to the good old days"
Amidst the throngs of commuters, adolescents and eyes-up tourists, I was struck by the musings shared in a group hailing from Kansas City who had braved the treacherously dull roadtrip to arrive in the Windy City this week. It's been a kind week for the city – the weather has been remarkably pleasant despite the lateness of the summer, the familiar humidity that we've come to dread has kept its distance. The lake is clear, the streets are filled with giddy faces, and in a couple days of reflection, I've realized that he's right.
Lollapalooza 2023 comes on the heels of a remarkably unremarkable summer for Chicago, the city having gone through a series of tremendous trials and growth in the last 3 summers. To the locals, however, Perry Farrell's 4-day spectacle of music has cemented itself an optimistic cornerstone of the metropolis's triumphant summer season, and this year's lineup certainly promises to deliver as strong as years' past. You can find a synopsis of acts that we're excited to see below.
Thursday
The opening salvo of Lollapalooza includes some remarkable middle-card talent, and we're kicking off our weekend with Lollapalooza freshmen Men I Trust, Montreal natives who broke deep into the public consciousness with their recently releases of Hard to Let Go, Billie Toppy and Girl, followed by a recent performance of Show Me with Joey Badass in late 2022 on The Tonight Show with Jimmy Fallon. Festival favorites Portugal. The Man will be back on the T-Mobile stage later in the evening, presenting our first major conflict of the weekend as Carly Rae Jepsen will be gracing the main stage opposite them just 15 minutes later. The night will close with performances by both Karol G and Billie Eilish as headliners, wrapping up the first day of the festival.
Friday
The start of the official 'Lollapalooza Weekend' will kick off first with a set from Junior Mesa, followed quickly by an appearance from TikTok sensation hemlocke springs, who's bedroom-pop anthem Girlfriend rocketed her to stardom almost overnight. Big Wild will take the Bud Light stage at 5pm, followed shortly by what will no doubt again be a weekend-defining performance by Foals just an hour later. Perhaps the biggest performance of the weekend will come from none other than Kendrick Lamar, who, after releasing Mr. Morale & the Big Steppers and following it with a massive world tour, has once again proven himself as a defining voice of a generation and a performer that will set the standard for decades to come
Saturday
In comparing the four days, Saturday's lineup promises a bit of a slower day, with our coverage starting with Suki Waterhouse making her Lollapalooza debut after releasing her freshman LP, I Can't Let Go in 2022. After a quick run to catch Sylvan Esso at the Bud Light stage at 4:45, we're incredibly excited to stay and see Maggie Rogers, having gained considerable acclaim and fanfare after seeing her last in 2017. Fans will be hard-pressed to pick between the evening's headliners, but we'll be watching Odesza at the T-Mobile stage, with the duo having been on a roll of incredible releases and performances in the last couple of years, most notably the release of their latest LP, The Last Goodbye. It would be remiss of us, however, not to give ample attention to Tomorrow X Together (TXT), the KPop boyband that's brought superfans from around the globe for the past two years. Both performances will be well worth the journey for their loyal followings.
Sunday
Lollapalooza's final day seems to harken back to Perry's original vision, leaning primarily on alternative groups to carry this year's installment to a successful conclusion. We'll be catching Poolside at 6:30 on the Bacardi stage, followed by a highly anticipated performance by The Backseat Lovers, who rose to critical acclaim following the massive popularity of their 2019 single Kilby Girl, which has since amassed over 250 million streams on Spotify and other platforms. LA native Ian Asher will kick off our evening at 7:45, after which fans will be treated to performances by two Lollapalooza veterans to close out the weekend. There's little doubt that the hardest headlining choice of the weekend is between Red Hot Chili Peppers and Lana Del Rey, and we're inclined here to simply go with where the weekend takes us.
While critics will no doubt wax on about how repeat headliners diminish a festival, there's little doubt that this year's installment of Lollapalooza while not revolutionary, does offer a sense of familiarity that we've lacked since the music world was shaken to its core in 2020. To all the naysayers that bemoan the packed trains, the hordes of anxious teens and some minor changes in traffic, I say let them have their fun. Few events in the city of Chicago carry the ability to unite those across so many barriers quite as well as Lollapalooza does.
We may not be able to fully turn back the clock, but we can continue to revel in this tradition of all things music and briefly, if just for a moment, be back in those good old days.