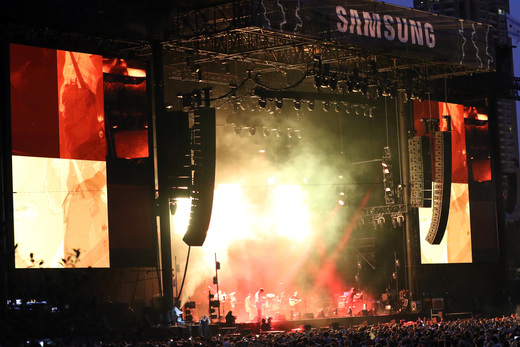 30 July 2016
Despite continued weather worries, Friday offered little threat of a repeat of 2015's evacuation. The sunny noontime skies nonetheless gave way to persistent rain until midway through Foals' 4pm set on the Samsung stage. The remainder of the day was damp and humid, but moderate temperatures meant than no one really had to suffer terribly for their waterlogged rock and roll.
Foals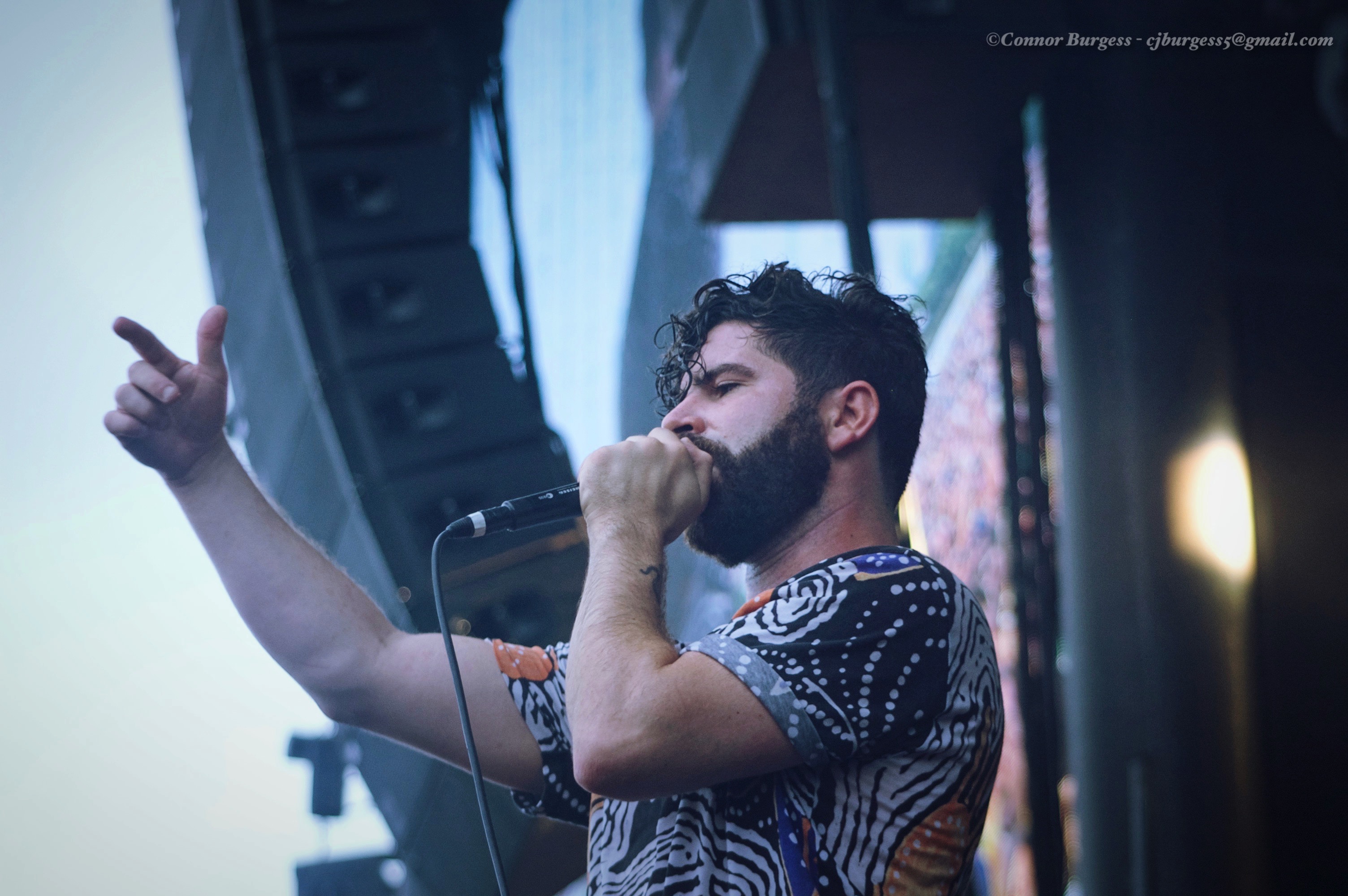 Photo by Connor Burgess
Foals finished their set under gray skies. Singer Yannis Philippakis howled "I can't get enough space!" over the driving riff of "Inhaler," raising an unexpected comparison to Rage Against the Machine. The chugging rhythm and sharp chop of set closer "What Went Down" was a Twilight Zone fusion of Deep Purple's "Highway Star" classic rock and Interpol's urbane post-wave economy. The song built to a cathartic frenzy as Philippakis sang the song's "give it away" mantra.
Frightened Rabbit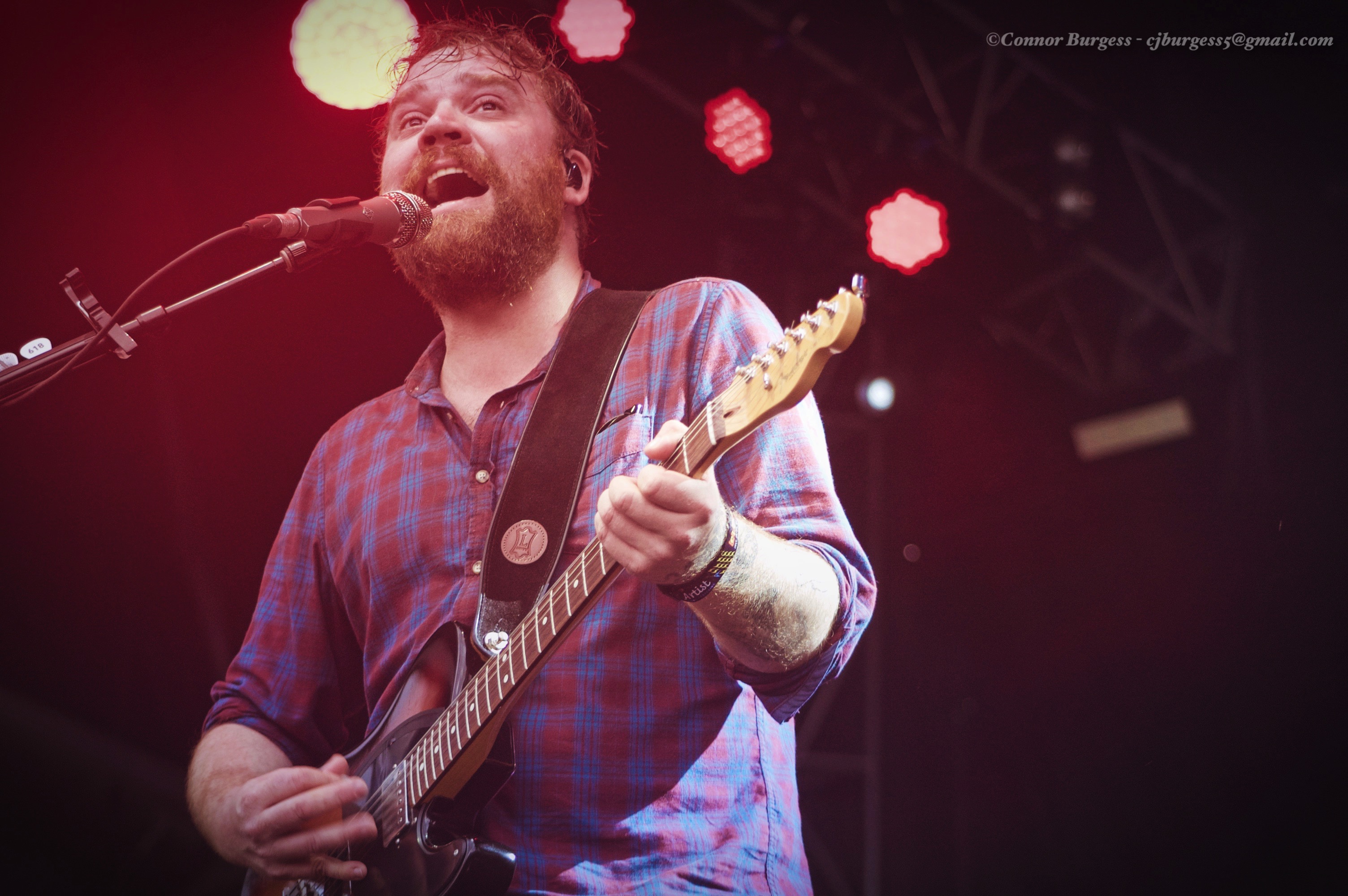 Photo by Connor Burgess
Before beginning the clattering and propulsive "Holy," singer Scott Hutchison of Scotland's Frightened Rabbit rallied the crowd to join the fun. "If you don't know it, please sing the words to 'American Pie,'" he suggested.

The waiting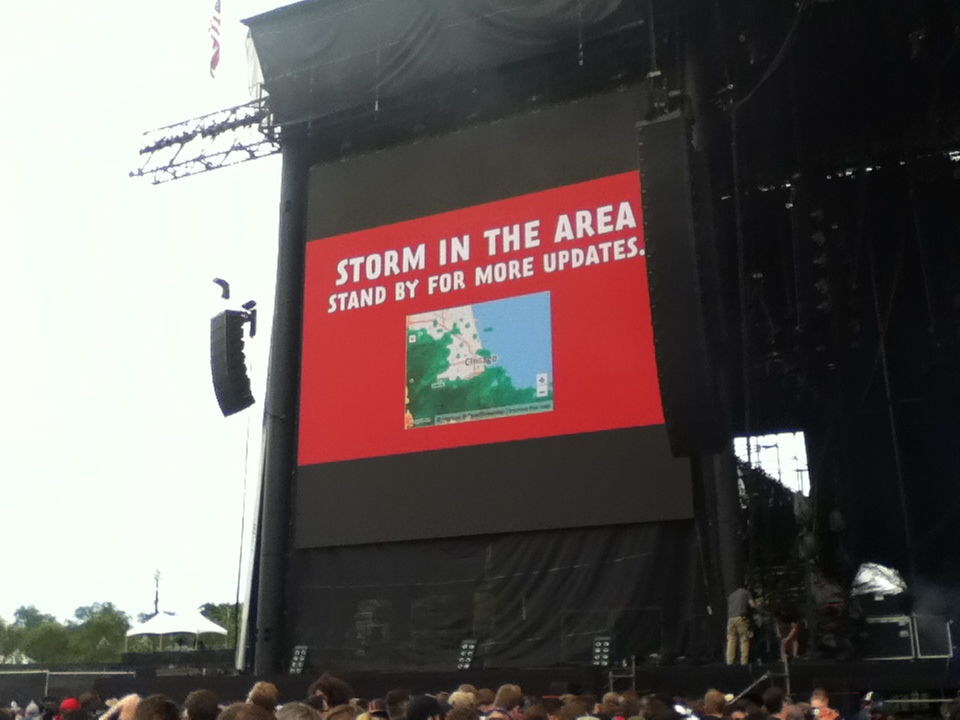 Lousy iPod photo by Jeff Elbel
The crowd at the Samsung stage was heavy and building steadily an hour in advance of M83's penultimate set. Security and stage crew roamed in front of the barrier, frequently handing water and tossing lollipops to the crowd. The jumbotron screens flashed candid crowd shots, interspersed with a dire weather map that showed a dark green blob gradually approaching Grant Park. "Storm in the area. Stand by for more updates." Spoiler: There was occasional sprinkling, but no storm materialized. The big screen also flashed trivia games to keep the crowd engaged. There was even a video game called Flappy Crowd, in which an animated, coin-collecting bird's altitude was controlled by the crowd's noise level.
As a fan up front raised a large scare-bear logo scrawled on cardboard, a cheer rose that made it clear M83 would be sharing their crowd with those who were waiting for the headliner.
M83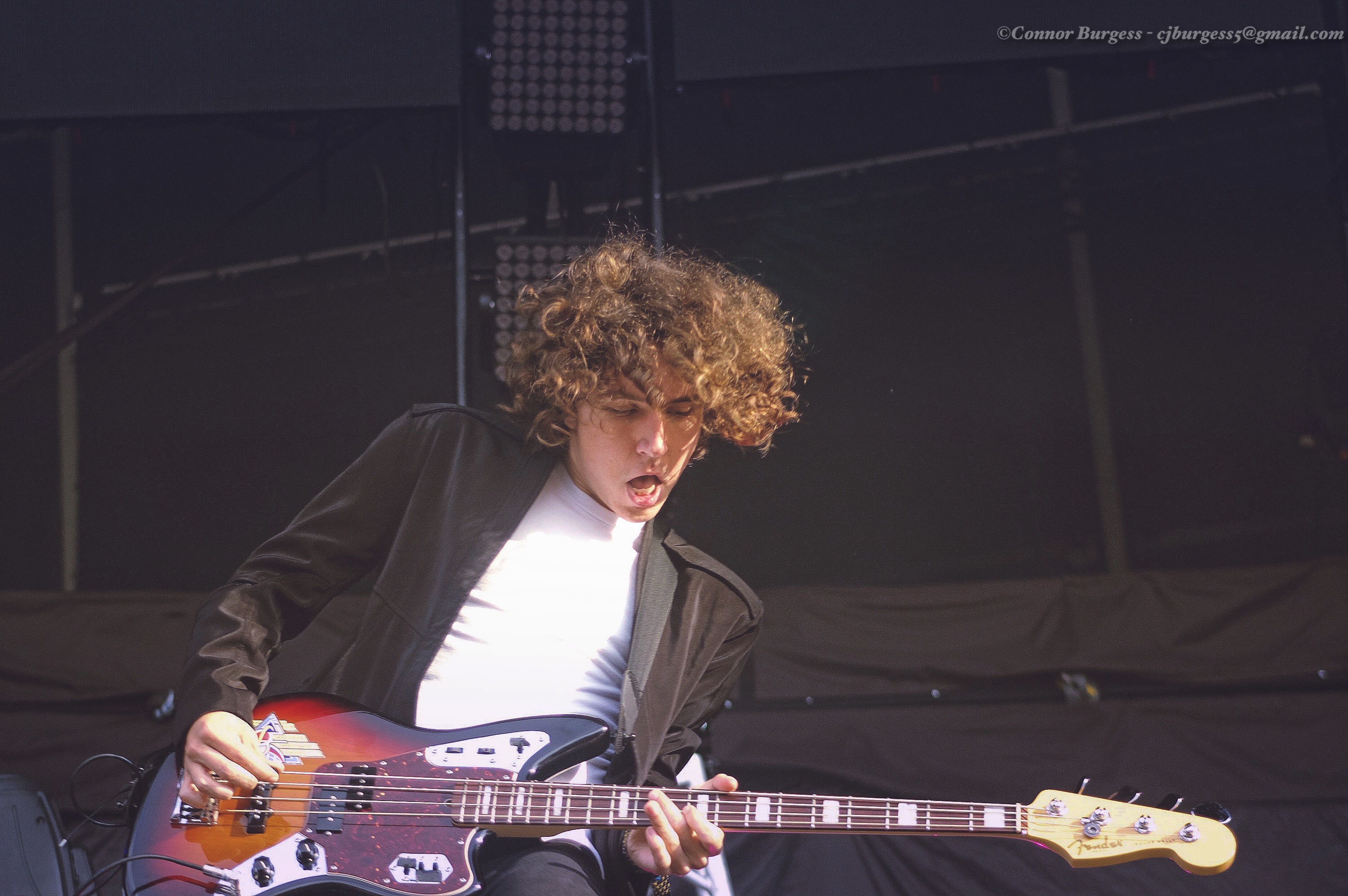 Photo by Connor Burgess
The sun peeked through at 6pm, just in time for M83's set. Dressed in black, the band cast striking figures in the newly-arrived light. Singer Anthony Gonzalez was beaming himself, effusively telling the crowd how thrilled M83 was to be in front of such a massive Chicago crowd. The first song was "Reunion," and it grabbed the crowd immediately with its wordless singalong hook. With Gonzalez' slashing guitar chords ringing behind Kaela Sinclair's majestic synthesizer swells, the band struck a balance between progressive 80s pop and dance party-starting club beats.
Sinclair's painted purple and red hair was a shock of vibrant color on the monochromatic stage. The animated light rigging danced in time to "Intro," offering a hint at how captivating the combination of passionate sound and dazzling spectacle must look in a darkened arena. Gonzalez and Jordan Lawlor swapped guitar and bass roles for the song.
Lawlor added a slapping bass pulse to Sinclair's new-romantic keys on "Do It, Try It." Gonzalez sang the optimistic line "listen to the sound of a new tomorrow" while leading the crowd in raising an endless sea of hands.
Gonzalez and Sinclair joined their voices in harmony during "We Own the Sky." The song featured dizzying solos on an electronic wind controller by Joe Berry. The instrument appeared to be an updated version of the lyricon played by Dan Michaels of 80s space-rock band the Choir. With saxophone hooks and Gonzalez' smooth croon, M83's urbane blend occasionally recalled Avalon-era Roxy Music.
During a throbbing rave instrumental, Lawlor beat the daylights out of a cowbell while dancing around in circles around it and waving at a Theremin. After the song's peak, Lawlor and Gonzalez collapsed to the stage in mock exhaustion.
Mai Lan joined the group to reprise her role from M83's new album Junk, adding slinky, breathy vocals to "Bibi the Dog" and to duet with Sinclair on "Go!" Lawlor added a heroic arena-rock guitar solo to the latter.
Countless iPhones were raised as a four-note synthesizer riff heralded "Midnight City." Gonzalez sang the lyrics to the striking Chicago cityscape behind the crowd. "Looking at the milky skyline, the city is my church," he sang, giving voice to the euphoria of the moment. Although M83 had a few songs remaining, it was the set's peak.
Still, there was fun to be had in the remaining songs. Gonzalez held his black Telecaster to the sky in triumph as the last notes of "Outro" rang out. Lawlor stood on Loïc Maurin's kick drum to rally the crowd during another dance-friendly instrumental, before returning to punish his hapless cowbell. Gonzalez punctuated the song with echoing shouts of "Chicago!"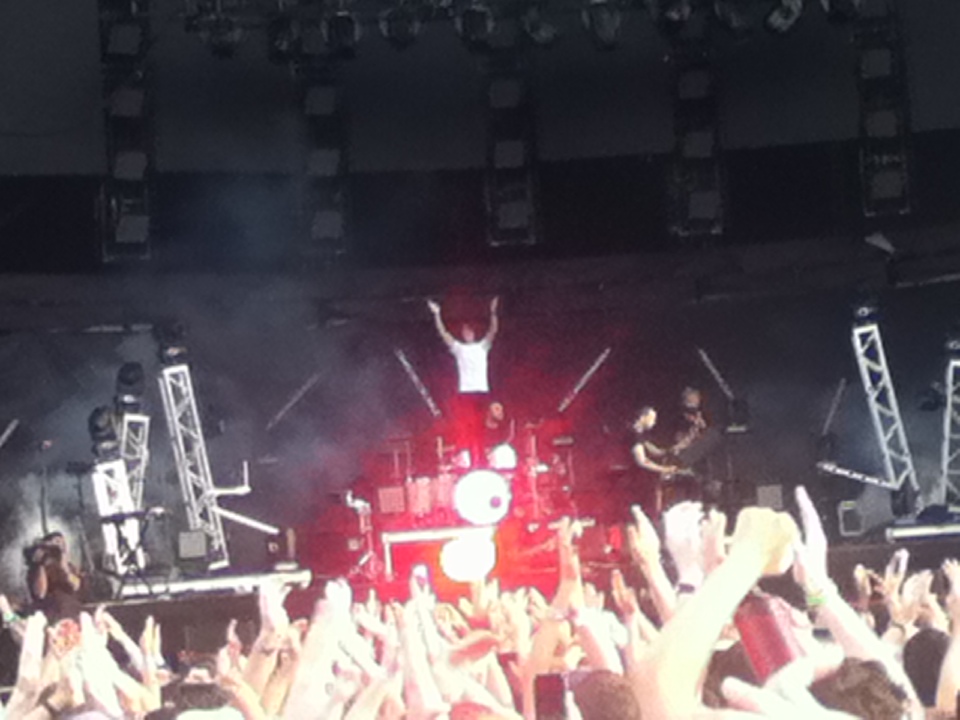 Lousy iPod photo by Jeff Elbel
Radiohead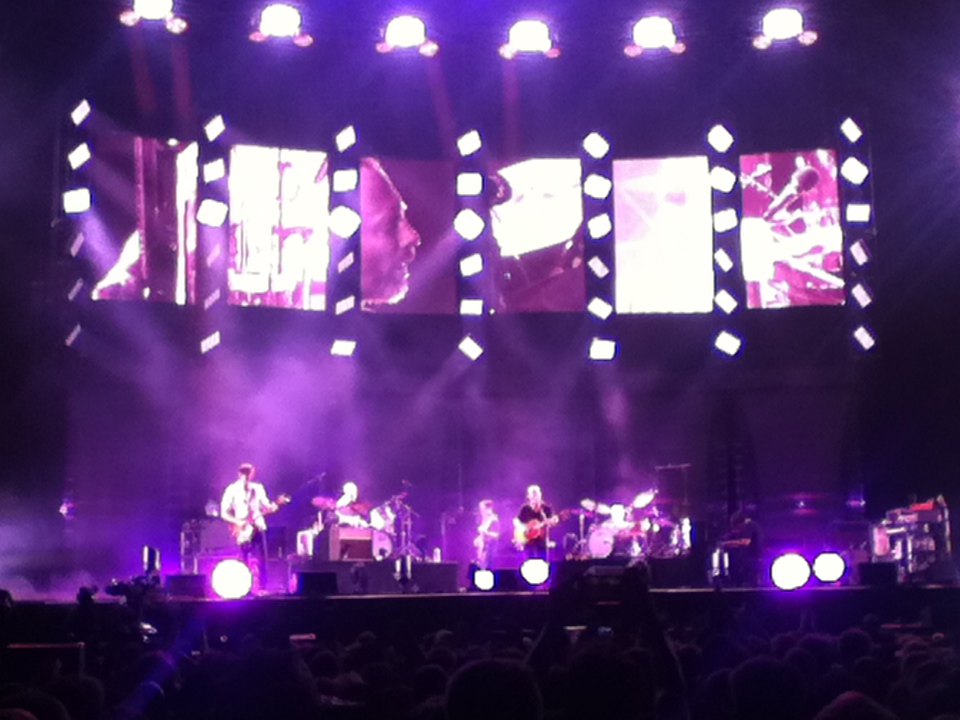 Lousy iPod photo by Jeff Elbel
The sounds of Miike Snow's "Animals" drifted to the south end of Grant Park as daylight faded and a restless crowd awaited Radiohead. Thom Yorke and company led with a three-song introduction to the A Moon-Shaped Pool album released in May. As with the material from The King of Limbs, the band's live arrangements brought the material out of cyberspace and focused them into visceral life.
"I'll tell you what freedom is for me, no fear," said a woman's voice in a pre-recorded soundbyte as the band began "Burn the Witch." Many in the crowd were clearly prepared for the new material, singing joyfully to the nervous line, "This is a low flying panic attack."
Drummers Phil Selway and Clive Deamer left the stage as guitarist Johnny Greenwood transition to piano for the gently thrumming arpeggios that underpinned "Daydreaming." Greenwood sat hunched over with his hair hanging onto the keys, accompanied by his brother on syncopated, pulsing bass. Thom Yorke intoned the line, "The damage is done," in an introspective lyric seeming to mourn the death of a long-term relationship.
Guitarist Ed O'Brien crafted a sonic wash for "Ful Stop" as a terse and driving and rock groove from Selway and Deamer faded in. Yorke strutted and twitched with a handheld keyboard while singing the line "The truth will mess you up" like a paranoid mantra.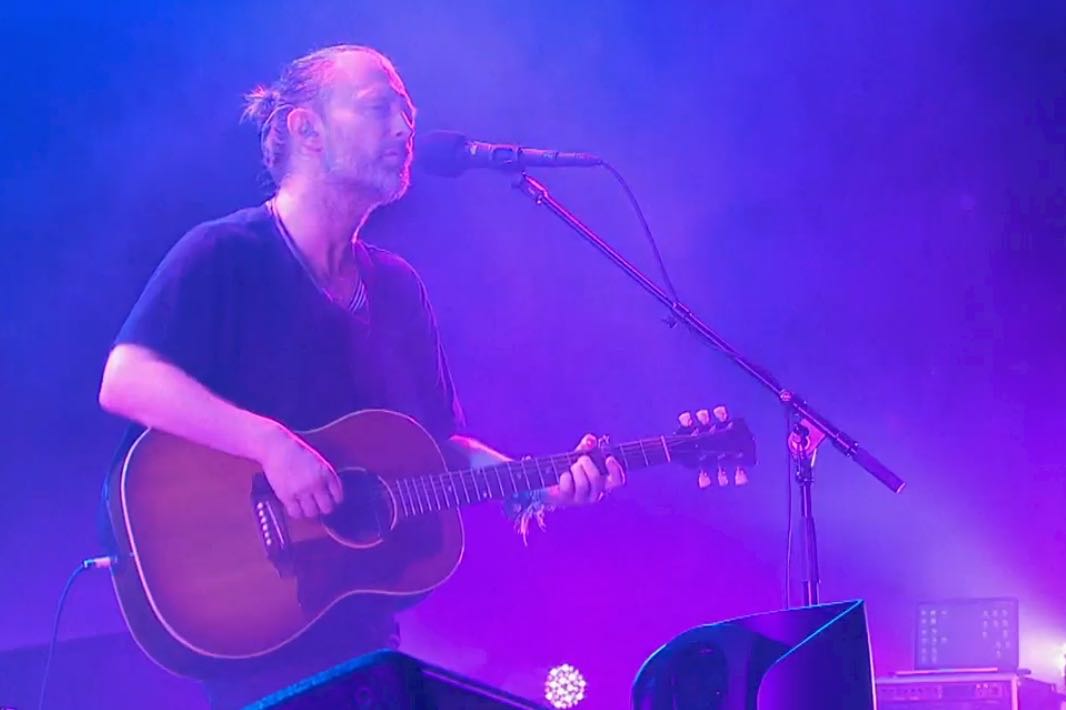 Screen capture from Lollapalooza's Red Bull TV webcast

"Wassup," said Yorke afterward, greeting the crowd as the band began "2+2=5" from 2003's Hail to the Thief. The crowd gave an enthusiastic singalong as energy built toward the song's post-punk freakout.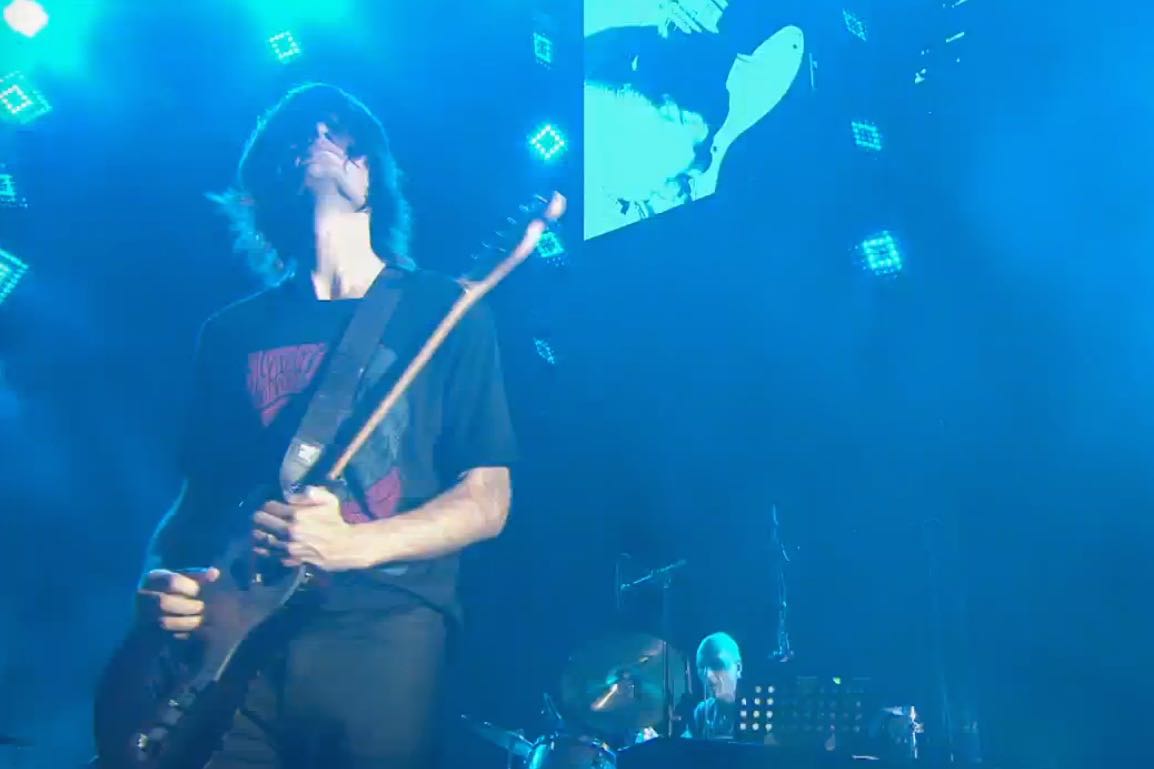 Screen capture from Lollapalooza's Red Bull TV webcast

Yorke clowned around afterward. "You all right? You all right?" he asked in an affected accent. "Let's have a bit of surprise there, Clive," he added, cracking up with laughter as the band began "Myxomatosis." As Yorke sang the "they were cheering and waving" line, he got the crowd waving its arms in unison. "It's good to get angry sometimes," he said as the song concluded.
Greenwood played the spidery arpeggios introducing "My Iron Lung" as the towering O'Brien played the song's moaning e-bow figure. Yorke changed the lyrics of the song's coda from "If you're frightened, you can be frightened, it's okay" to "If you're frightened, you should be frightened." It was the first of a couple of veiled political statements from the stage. The gentle music box textures of "No Surprises" provided another, as the crowd responded to the declaration, "they don't speak for us."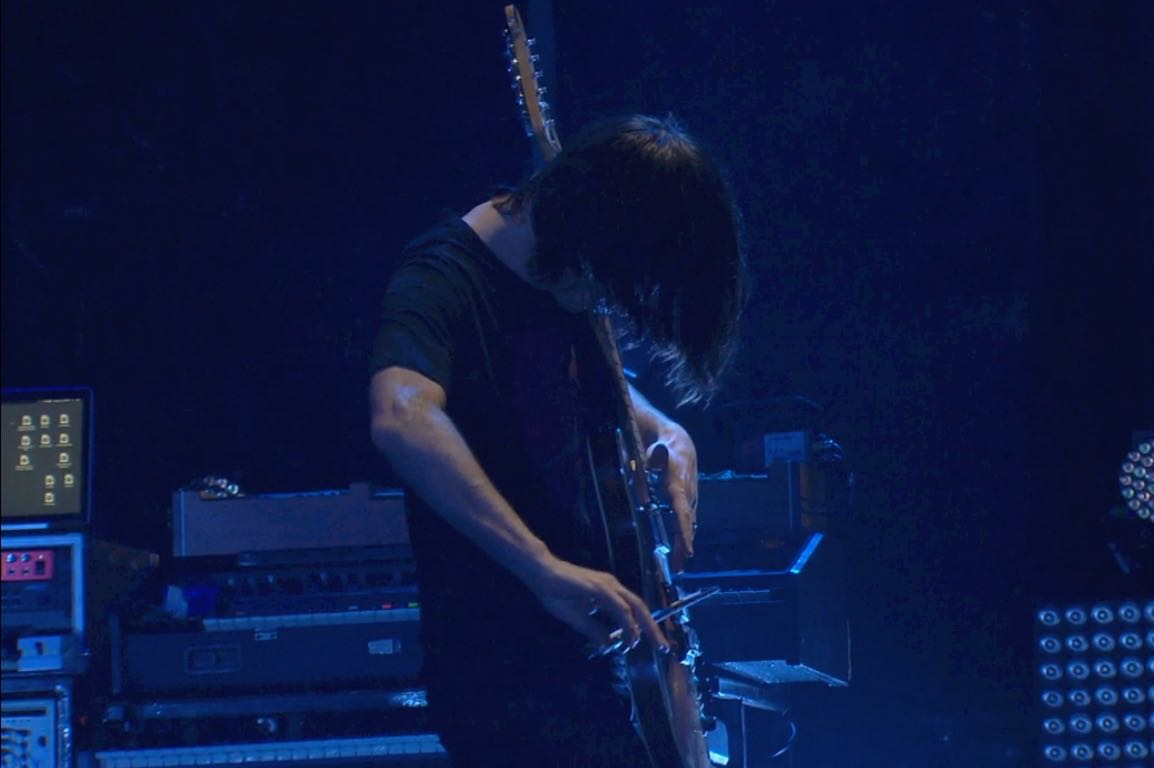 Screen capture from Lollapalooza's Red Bull TV webcast

Spooky green light and fog enhanced the menacing mood of the clattering "Climbing Up the Walls." Greenwood crouched over his portable radio and manipulated samples created in real-time from local stations. Yorke howled into his acoustic guitar pickup, sounded as if he was trapped in another dimension and trying to deliver a cry for help back home. Greenwood played his guitar with a violin bow during "Pyramid Song" as Yorke sat at the piano.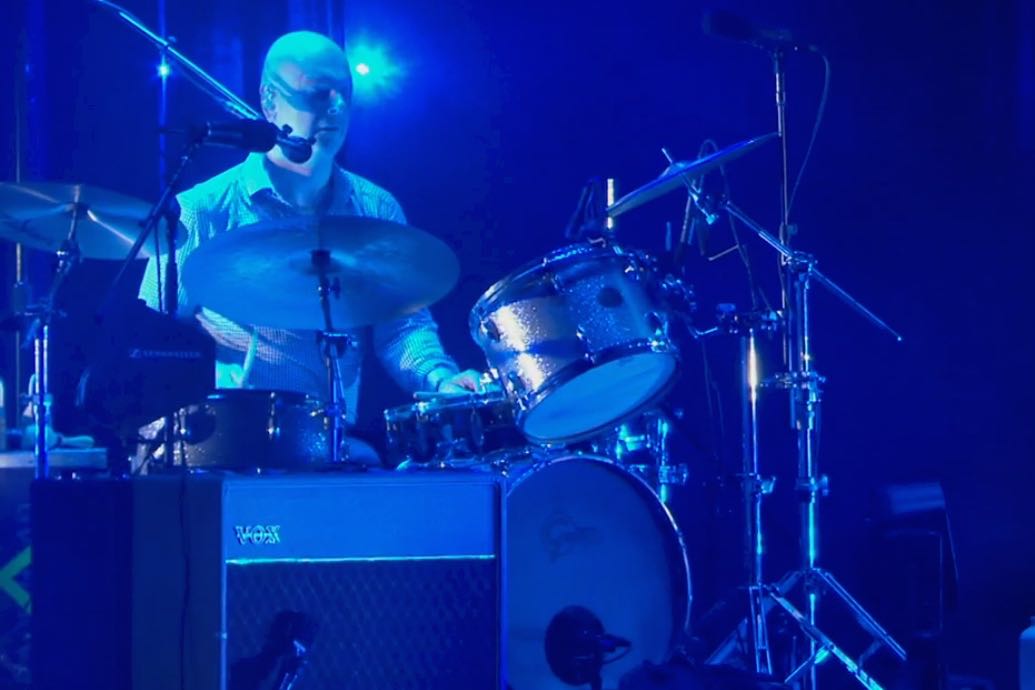 Screen capture from Lollapalooza's Red Bull TV webcast

"How is your weekend going," asked Yorke before beginning The King of Limbs' "Bloom." Greenwood sat at a small drum set and joined Selway and Deamer in manic counter-rhythm that gave humanity and life to what seemed more cold and artificial on record. Yorke's range and expressiveness during the song were reminders that as celebrated as Radiohead is, he doesn't often get full credit for his pure talent as a vocalist.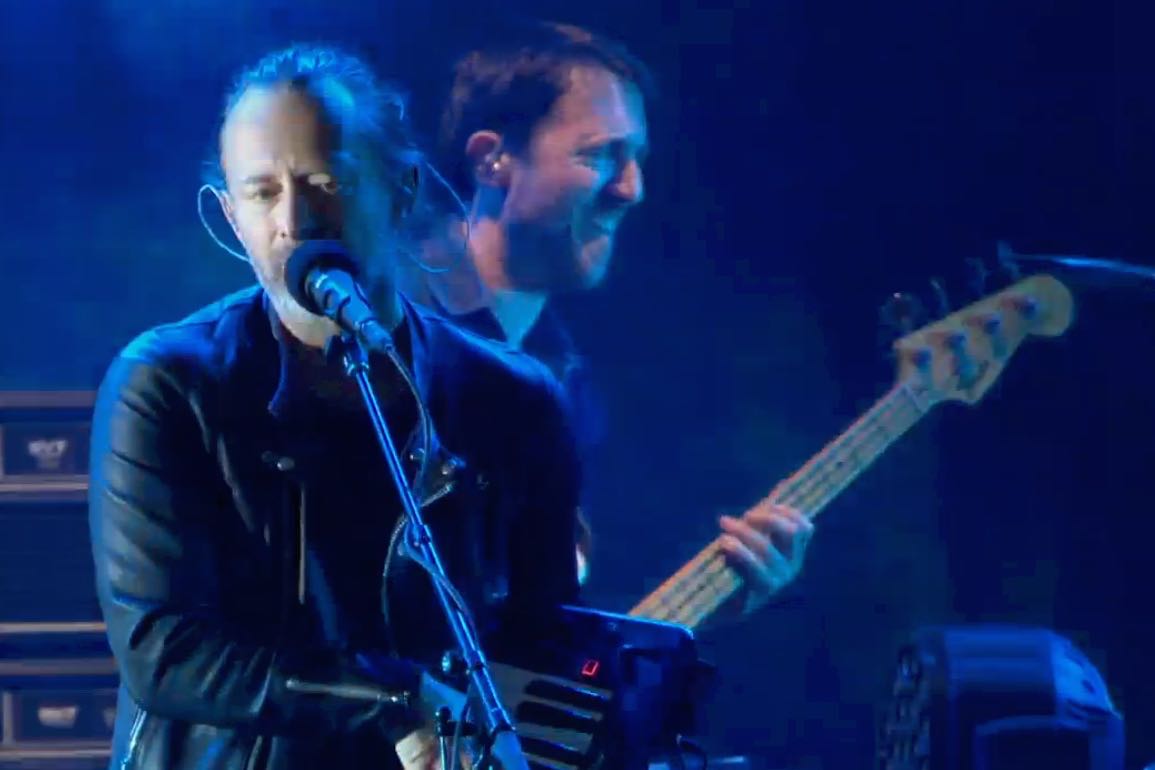 Screen capture from Lollapalooza's Red Bull TV webcast

A pair of A Moon Shaped Pool songs followed, with "Identikit" followed by "The Numbers." The latter was reminiscent of Traffic's "The Low Spark of High Heeled Boys," featuring the grooviest of Colin Greenwood bass lines. Greenwood's piano struck a balance between Joe Jackson's "Look Sharp" and George Gershwin's "Rhapsody in Blue."
"Weird Fishes/Arpeggi" received some of the strongest crowd response of the night, making an impression that such strange (and in some ways anti-commercial) music could find its way to such a large audience. It was otherworldly to hear a crowd of 100,000 sing along to O'Brien's pealing, wordless background vocal. "Pay what you want" may have helped the In Rainbows material reach more people, but it's a lucky and wonderful thing in any case. It's also an indicator of the goodwill that Radiohead cultivated with OK Computer's massive success in 1997, and has nurtured in decades since.
Representing Kid A, "Everything in its Right Place" and "Idioteque" brought the fever pitch even higher. Both were once considered synth-heavy aberrations from what was considered to be the great hope for the future of guitar bands. They also served as reminders of the risks taken with Kid A and Amnesiac, when Radiohead dared to make itself something much more unpredictable and interesting. People clapped straight through "Right Place," despite the fact that it's not in common time. Radiohead proves that music doesn't have to be dumbed down to the lowest common denominator to be popular. Or catchy.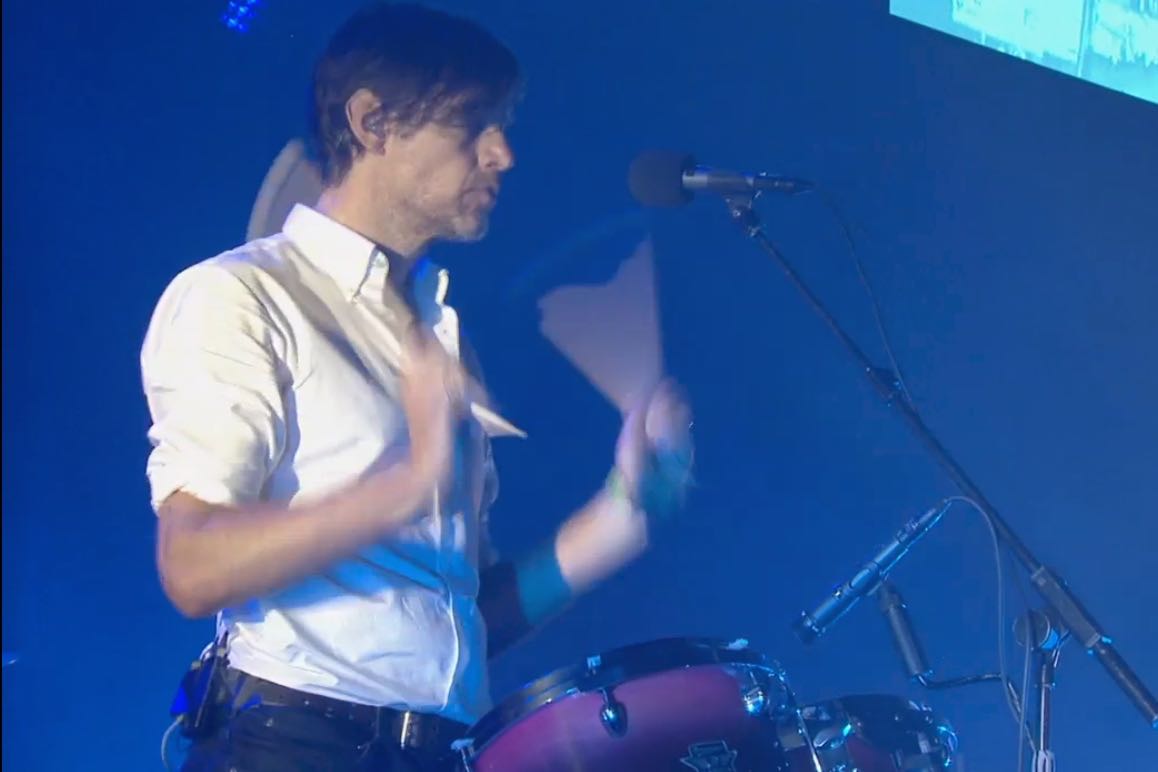 Screen capture from Lollapalooza's Red Bull TV webcast

The propulsive "There There" ended the main set, with guitarists O'Brien and Johnny Greenwood joining Selway on the song's hypnotic tom-tom beat.
A generous encore including the weary but beautiful "Let Down," "Nude" and new "Present Tense" brought the show to two full hours. "Paranoid Android," the 90s successor to Queen's "Bohemian Rhapsody," drove the crowd completely mental. There was no denying the visceral thrill of watching Greenwood lash into his cathartic solo, no matter how many times Radiohead fans may have seen it performed over nearly twenty years. Afterward, Greenwood threatened to snap the strings off his guitar by raking them furiously during "Bodysnatchers."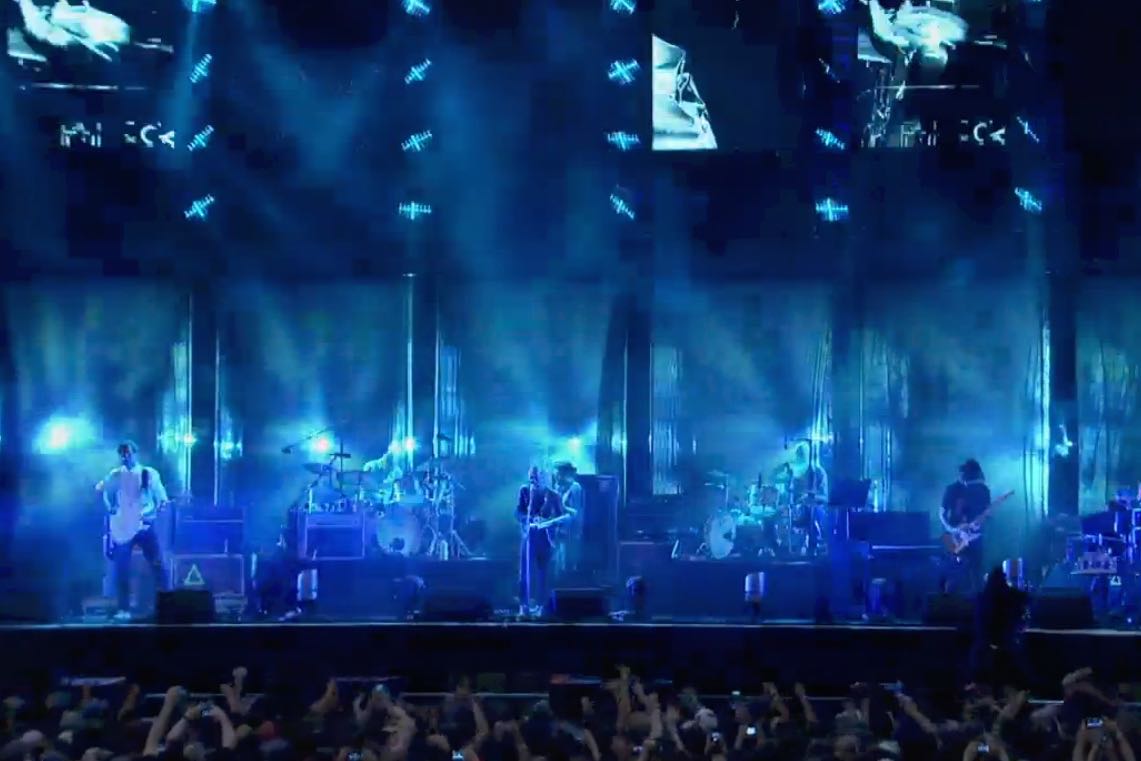 Screen capture from Lollapalooza's Red Bull TV webcast

Radiohead left the stage just before their 10pm curfew, but the lights remained out. Embattled Chicago mayor Rahm Emannuel had been spotted walking out of the backstage area into the crowd as the show had begun, so it was hoped that if he was a fan and enjoying himself, he might put in a good word and greenlight a rare extension.
Indeed, at 10pm exactly, Yorke returned to the stage making deep bows of thanks and miming his mind being blown by the cheering, massive crowd. Thanks, Rahm.
The band broke into "Street Spirit (Fade Out)" from 1995's The Bends, joining "My Iron Lung" as the oldest songs to appear in the set. "Enjoy the rest of your weekend," said Yorke. "Don't mix your drugs. Have a good time." As Radiohead finished the night with "Karma Police," they raised their 100,000 voice choir a final time to sing the empowering but threatening line "this is what you'll get when you mess with us."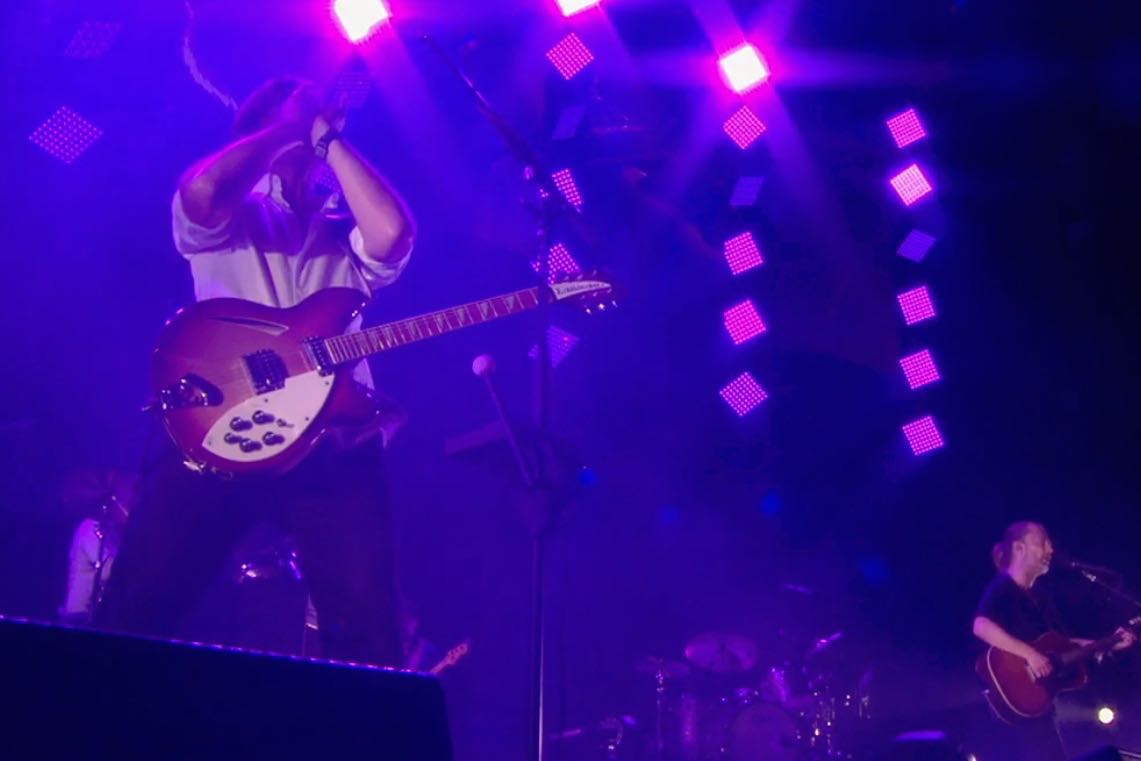 Screen capture from Lollapalooza's Red Bull TV webcast

Main photo of Radiohead on stage by Gabriel Grams/Getty Images for Samsung. Friday favorites that I hated to miss included The Struts and Lettuce. Be sure to see Connor Burgess' photo gallery for images of other sets on Lollapalooza Day 2.