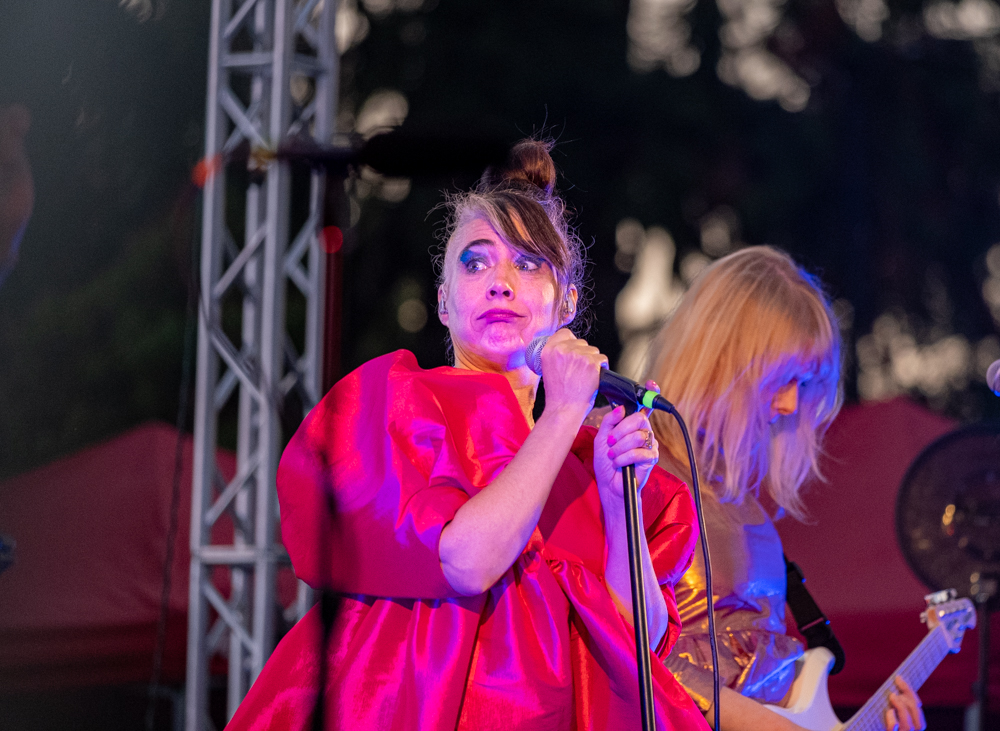 4 July 2023
Photos by Sammy Haney
Last year Mosswood Meltdown, Oakland's two-day punk rock hemorrhage hosted by kink king John Waters, felt like it had something to prove. It was the first year with the Mosswood moniker, rising out of the ashes of both the pandemic and the disastrous demise of Burger Records, long associates with Burger Boogaloo, the festival's former name.
This year, Mosswood really seems to be out of the proverbial shadow of Burger, coming into its own. The lineup over the years had gotten progressively more non-straight, white, cis-male forward, seeming to actual focus more and more on the communities by whom the punk rock ethos probably built.
Oddly, if you check the Wikipedia pages for many of the bands playing you'll find they are written out in the past tense, having broken up or simply fallen out of the public eye for so many years they were presumed dead. This was a "reunion show" for many of the bands including second-night headliners Gravy Train!!!! However, unlike most lineups where the bands are not regularly touring, Mosswood still had that electric spark of life to it . . . for the most part.
Lots of people told me that I was in for a treat with the 5.6.7.8.'s, but I found their set to be wooden and canned. I was in the minority as there were several happy dancers tearing up the turf in front of the stage.
Tina and the Total Babes, , and Twompsax absolutely slaughtered with their performances. This was the penultimate show for Twompsax, and they sure did give us plenty of reasons to miss them. Another band that's going to be in the past tense from now on.
The brightest gem of day one, though, was headliners Le Tigre. Cutting into their set with the noise panic that is "The the Empty," Le Tigre shook a sun-dizzy, day-drunk audience back to life. Highlights of their set included the powerhouse "TKO" and cheerleader-esque anthem "Deceptacon." Blissfully, their on-stage banter was free of the "Oh, man, we're so old now!" yucks that seem to plague a lot of bands for whom popularity crested in the late nineties or before. They were cheerful as ever in their absolute hatred of the oppressive patriarchy and focused all their energy and music in that direction. Loved it.
If day one was campy, day two was absolute camp. Like, put up your tents and apply your bug spray because we are now in the deep wilderness known as Camp Campy. The crowd even seemed to take the assignment to be outrageous more seriously with a notable insurgence in coordinated outfits among friend groups, most of which had some delightful political bend to them. There were plenty of people like me dressed in tired old jeans, a band shirt, and Target sneakers, but there was also a healthy wave of people who had dressed to be seen.
The bands of the day matched the mood of the crowd. Snooper played a short but energetic set that started off with "Music for Spies," one of their tightest songs. On the amphitheater stage, Mika Miko was also well-loved by the audience, getting plenty of feedback in the form of energetic crowd members clapping and snapping along. For a bunch of outcasts, they sure to join in when these bands put out the call.
Speaking of outsiders, I thought the weirdest thing I would see at Mosswood was the Teddy Bear Orchestra, I name that surprisingly held no irony. Large teddy puppets "played" instruments in the style of Chuck E. Cheese's Pizza Players. High on antics, the show featured the release of a large Santa-hatted bear that seemed to practically crush some members of the crowd under its comically large size. However, this was, in fact, not the strangest part of the day.
J.J. FAD played a set that was mostly talk and very little music. They started off strong with "Blame it on the Muzik," but they then lead the crowd into a strange dance party featuring only other people's music. They did not interact with these songs at all, but simply replayed them. Things were looking up when they picked it back up and sang "Way Out." However, they followed with "Supersonic," and then just sort of ended the set. All in all, the set consisted surprisingly of very little J. J.J. FAD. It was still fun, but left me and I imagine others who were there to see them wanting more.
Earlier that day on the dame stage, The Avengers had played a fast set which kicked off with "Teenage Rebel." The Linda Lindas joined them on stage for this for their first surprise appearance of the day. The Avengers were focused and lived up to their reputation. Houston sounded stronger than I'd heard her at some past performances, her voice definitely had more continuity this time.
The Lindas second appearance would come only one set later when they hopped on stage with Bratmobile to give a charmingly fangirl rendition of The Runaways' "Cherry Bomb." Bratmobile, a staple band for any 90s girl who wished she could afford to shop at Delia*s, was as snot-nosed an insufferably charming as ever. Can you outgrow being a brat? Well, I guess anti-tyranny does tend to keep a girl young at heart.
Again, though, the star of the lineup was the headliner. Gravy Train!!!! took the stage like a hurricane takes a coastline. They sucked us all up into this whirlwind of psycho-sexual queer panic joy that even I couldn't deny felt good. I have a steadfast no-audience-participation rule and though I didn't fully give into actual dancing, I did drop my absolute stoicism for a moment or two to tap my foot. Lead singer Chunx, a.k.a. Heather Jewett has this I'm-too-cute-for-planet-Earth thing going on, a real Tracy Tracy appeal. Everything she says and does seems to come with a little nudge-nudge and wink-wink to let you know she knows that she's on a different plane of existence than the rest of us, too. Mosswood and its former incarnation Burger Boogaloo seem to have been building up to this adorable, big, gay dance party for years with Hunx and his Punx (members of Gravy Train!!!!) and Brontez Purnell (also of Gravy Train!!!!) performing in past years. It was worth the wait as their performance was explosive.
Mosswood didn't have the same exact feel as in years past, but it remains true as ever to those living in the fringe that love it. See you next year, freaks.