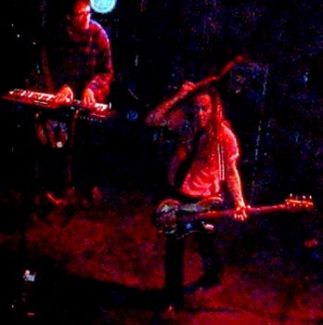 19 March 2006
ROGUE WAVE could arguably have headlined this tour. The fact that it didn't, however, meant little because it put on as good a show as NADA SURF even if it played to a smaller, less vocal crowd.
ZACH ROGUE, lead singer and guitarist of Oakland-based Rogue Wave, wore a simple white t-shirt, which served as the perfect metaphor for his lack of pretense and attitude. In fact, the relaxed and down to earth vibe applied to all four band members who looked sincerely happy to be in each other's presence and even swapped instruments for various songs.
Leaning heavily on their 2005 hit Descended Like Vultures, Rogue Wave masterfully blended, folk-pop and rock with psychedelic flourishes. The inclusion of a keyboard rounded out the band's ambitious sound as it remained relatively faithful to studio versions of its songs. Live, however, there was more spit and bite thanks to drummer PAT STURGEON's assertive drumming.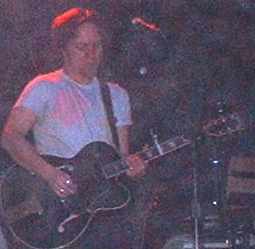 The show, like Descended Like Vultures, kicked off with "Bird on a Wire." But the two stand-outs of the evening, both also from Vultures, were "Publish My Love" and "Love's Lost Guarantee."
On "Publish My Love" the heavy and insistent drumming propelled the bright and uplifting song skyward. The ascending four notes that repeatedly followed the infectious "You can never publish my love…." chorus seemed to expand infinitely like ripples cascading from a boulder tumbling into a pond.
Although "Love's Lost Guarantee" was a highlight my only minor quibble was that the band failed to recreate the amazing tension captured on record when the band pulls back and pauses before launching headlong into the gleefully bratty "da da da da, da da da da" near the end of the song.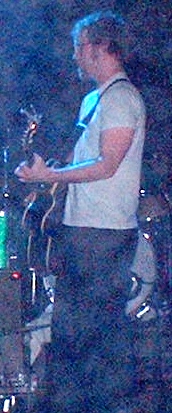 INARA GEORGE, who preceded Rogue Wave, was well worth seeing. The singer/songwriter, whose father was LOWELL GEORGE of LITTLE FEAT, exuded tasteful self-confidence and poise while showing off her great voice and original compositions.
The headliner, Nada Surf, after playing for a decade, released last year perhaps its best album—The Weight is a Gift. Not surprisingly, the group leaned heavily on it playing songs like "What is Your Secret?," "Concrete Bed" "Do it Again" and also did a powerful version of "Inside of Love" from 2002's Let Go.
Nada Surf excel, both on record and live, in creating power-pop in the very best sense of the word. Their songs are catchy, memorable, and tuneful yet have enough music chops and sophistication to warrant repeated listens.
If, on a scale of 1-10, 1 represents commercialism without musical substance and 10 represents extreme artistry and technique without regard for presentation, Nada Surf lands at 5, perfectly straddling the world of accessible and accomplished music. A great many musicians try to achieve this balance but usually fall towards one side or the other of the spectrum.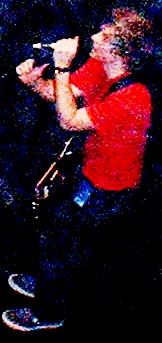 MATTHEW CAWS, the lead singer and guitarist, was also an amiable if more chatty frontman, regaling the crowd with quips and tales that never felt forced and went far in further endearing himself and the band to the audience.
The dreadlocked bassist DANIEL LORCA had the most dynamic stage presence of the night actively waving and spinning his cascading hair while prowling over large parts of the stage like an agitated cat keeping any and all would be invaders from encroaching on his turf. Lorca also provided back up vocals while smoking cigarettes (something that no doubt required some practice). Fortunately for fans, the show smoked, too.