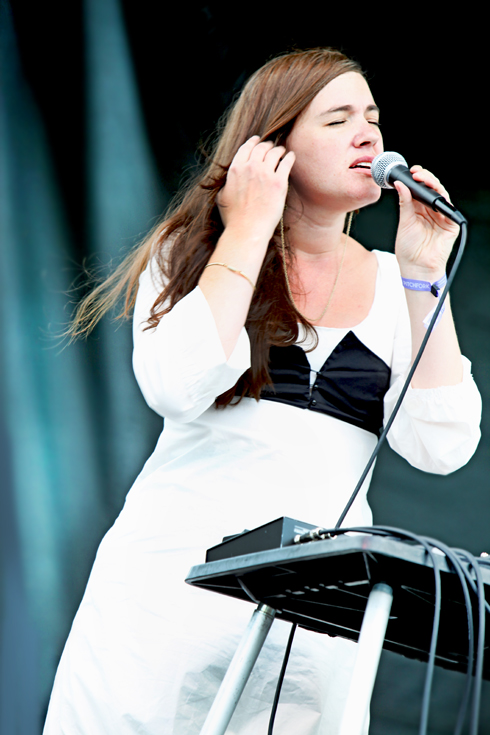 17 July 2011
Saturday's offerings at Pfork included a wide range of eclectic styles from the more experimental but deeply enriching music of Julianna Barwick and woods to the dream pop of Wild Nothing, the angular rock of The Dismemberment Plan, the gothy synth pop of Cold Cave, the punk rock of OFF! the dj stylings of DJ Shadow, and the folk music of Fleet Foxes. It would be impossible not to love a couple of bands from that kind of lineup and it seems many people were able to see bands they hadn't listened to before and found it an enjoyable experience.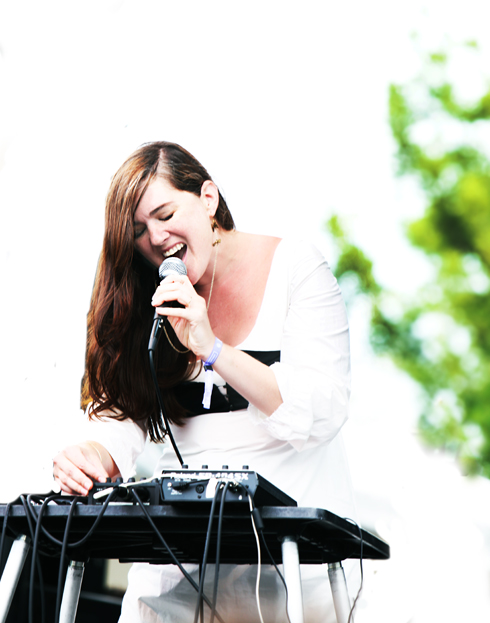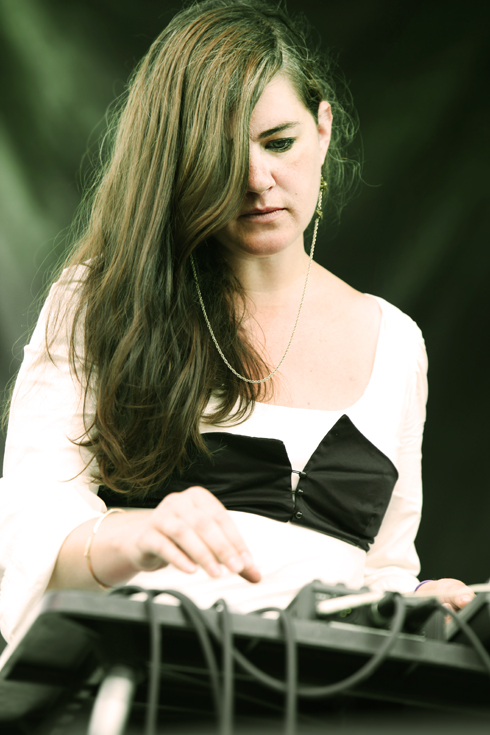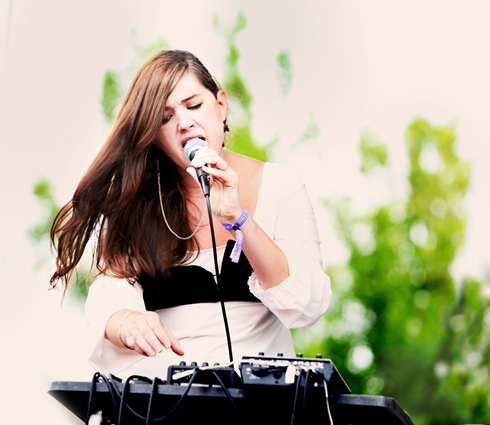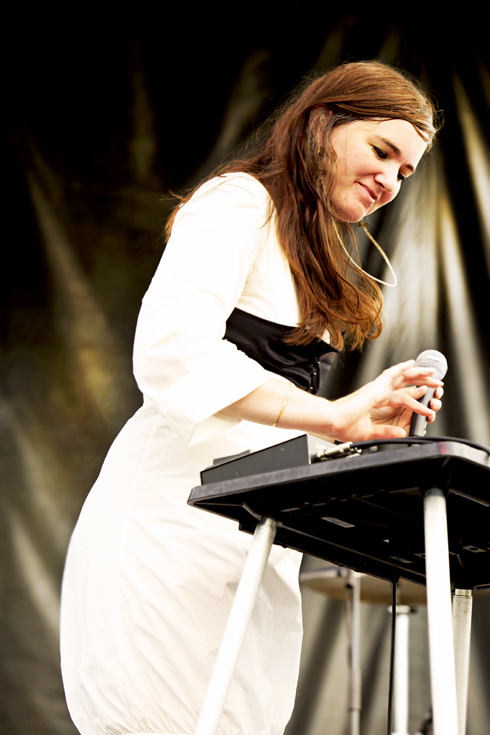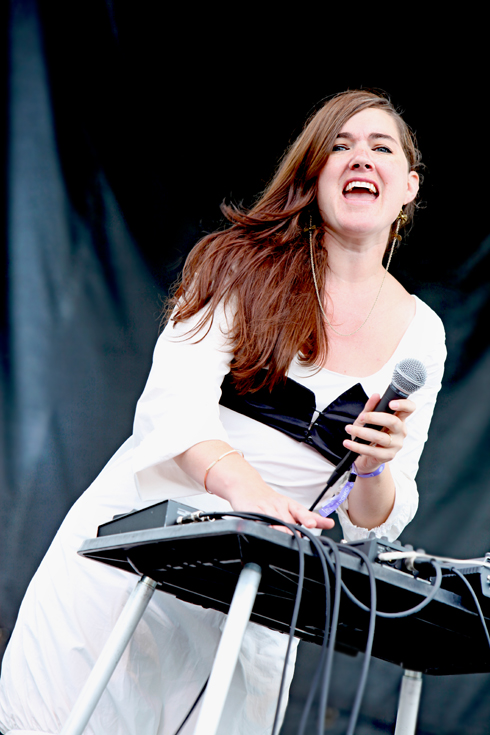 Julianna Barwick emerged on the stage dressed almost completely in white, creating the sense that she was an indie rock angel. She mixed deep resounding beats and ethereal vocals looped and floating all around us. It was astounding to hear her voice climb to the same swooning octaves that it does on both Florine and The Magic Place. In some ways, it recalled what a very feminine one woman Arvo Part symphony might sound like.
Barwick was soft spoken during a 45 minute long set, though she seemed very thankful. However, her vocals, providing layers that bordered on that fine line between anguished and reassuring certainly provided enough of a stage presence for her. Barwick's vocals are much like their own instrument. Yet, it goes farther beyond that. They seem far too flawless to emerge from a human being and instead seem to have more of an otherworldy character. It was mainly these layered vocals that made every song feel like a revelation. Imagine every hair of her fans standing on end as she harmonized with herself time and time again. The melodies themselves are certainly haunting to say the least and end up staying with you for long periods of time. After a few songs, there was almost a sense of release and forgiveness in the air for, no matter how cruel this world can be, it has Julianna Barwick as part of it and that surely is something that redeems our collective consciousness.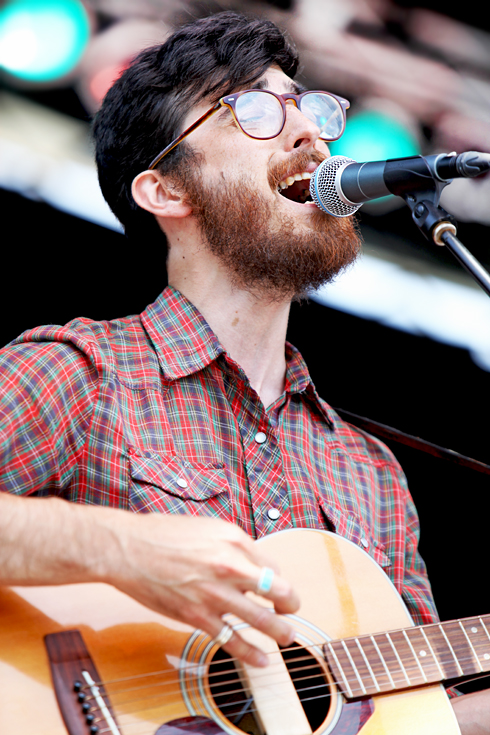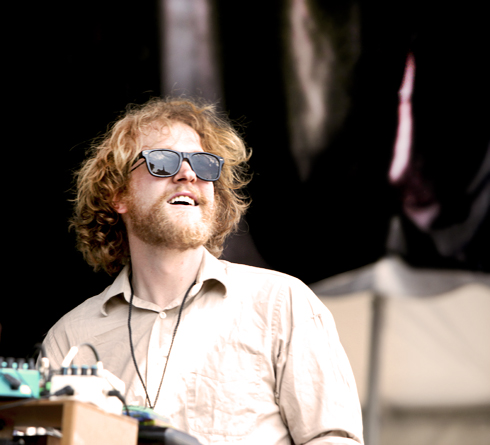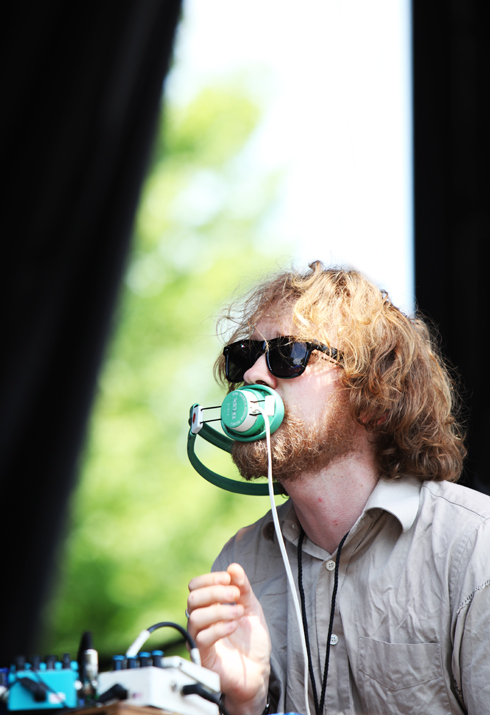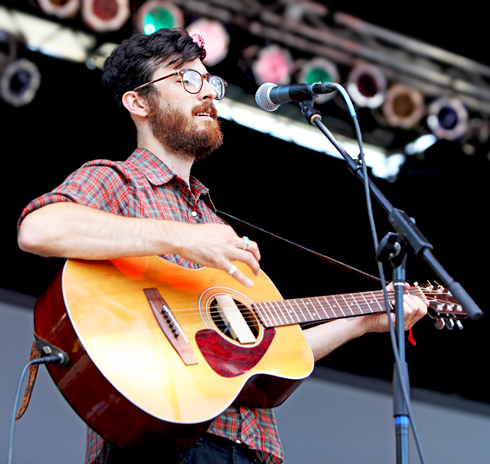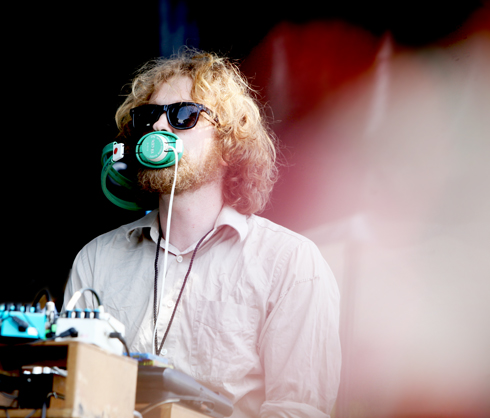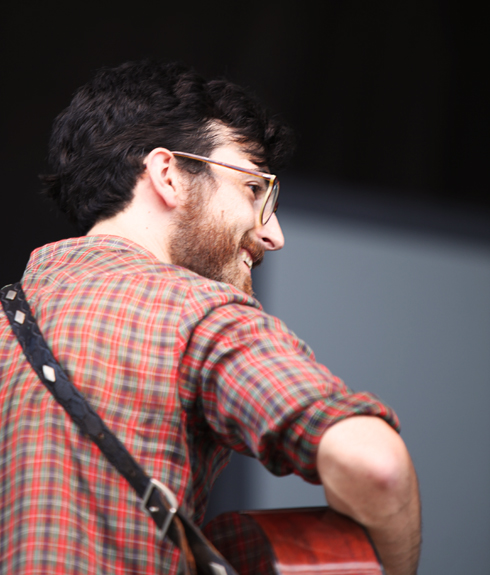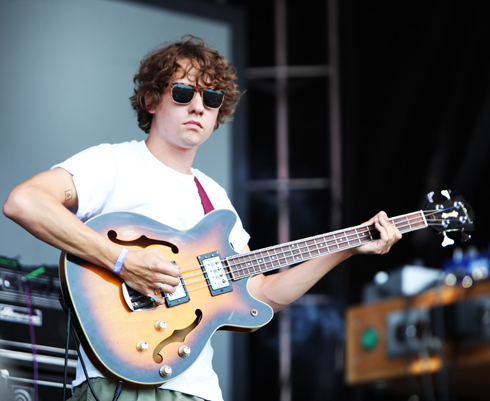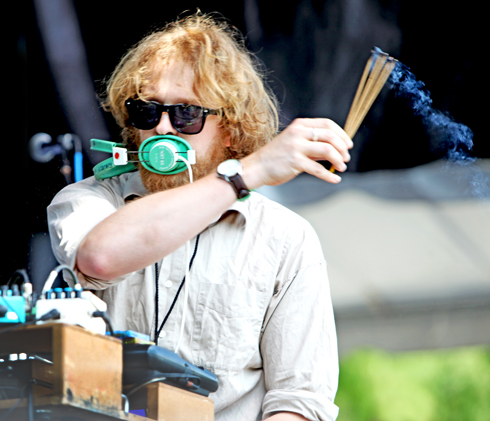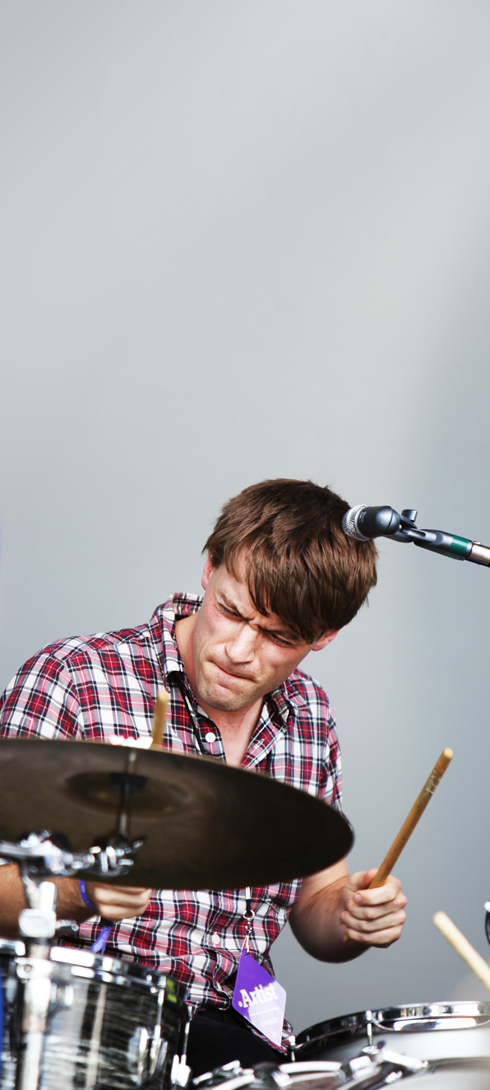 Woods may be an enigma to those looking for more straight ahead indie rock, especially with their transcendental freak outs complete with pedal effects and some vocals sung into headphones. They began their set by lighting incense and ended it by channeling all sort of interesting sounds with often eerie distortion.
Not all songs by Woods are without vocal structure, however, and usually the vocals are filled with such a sweet longing that may cause the devoted fan's stomach to hurt and knees to buckle (in a good way!) It should also be said that the Brooklyn four piece continues to get better at balancing these two sides of their music in a live setting. The sound was also mixed perfectly with just the right volume. Highlights of their set included "Suffering Season" and "Rain On"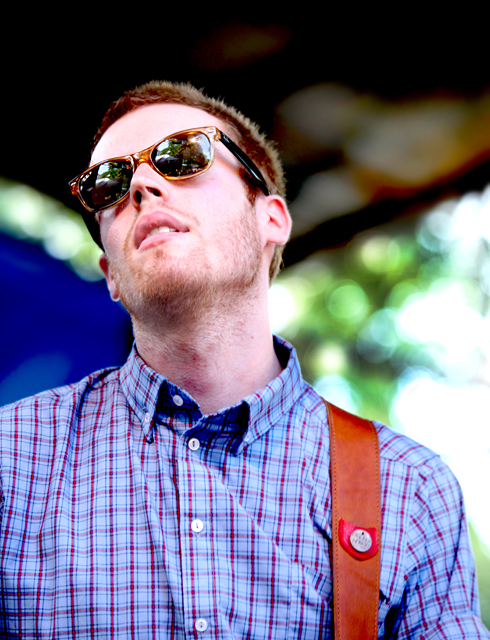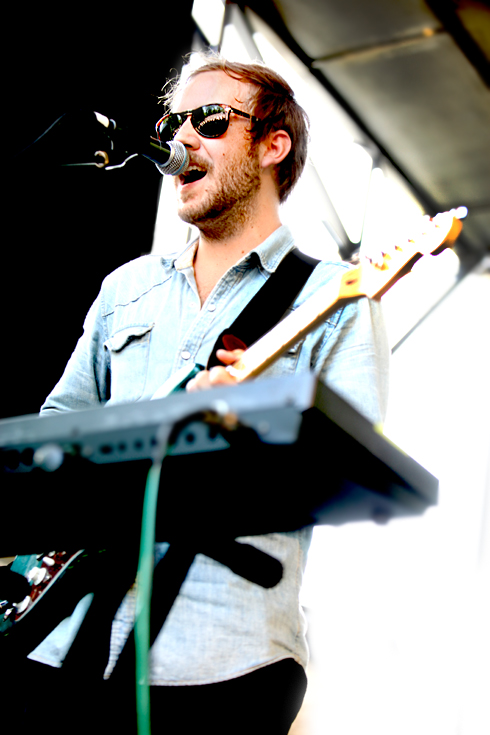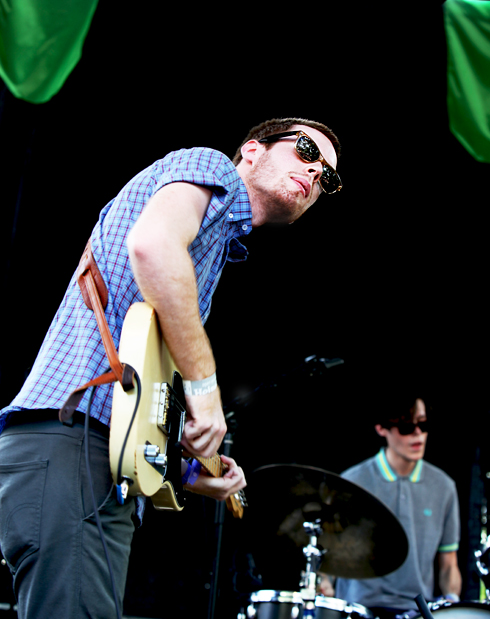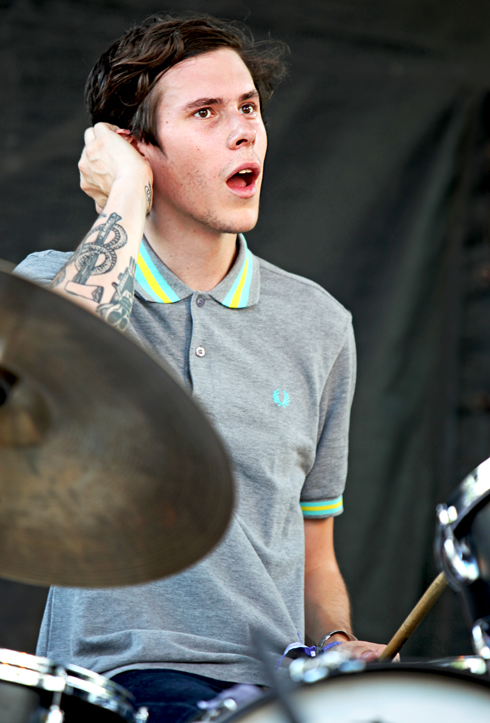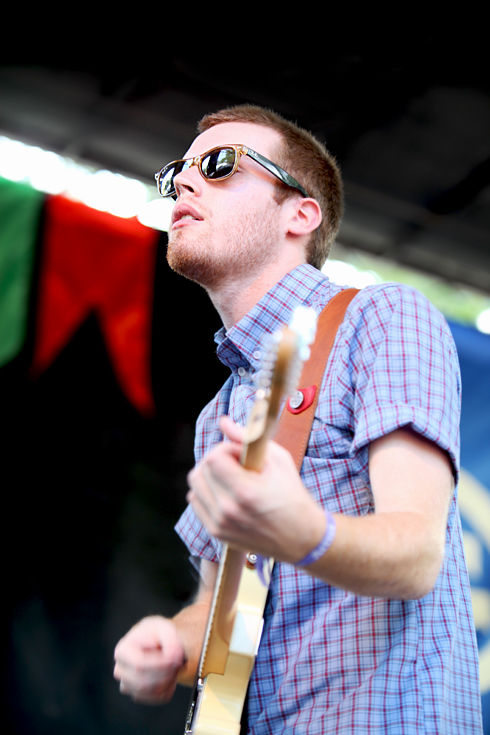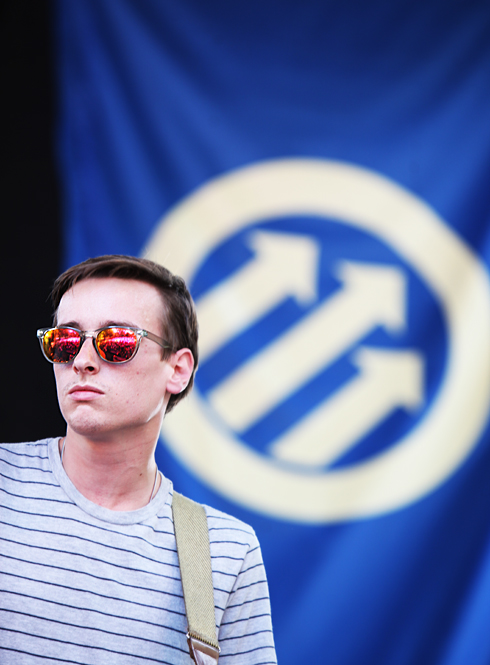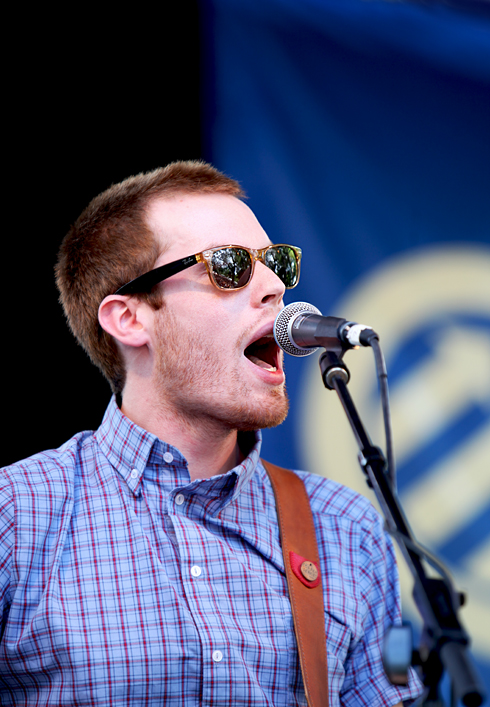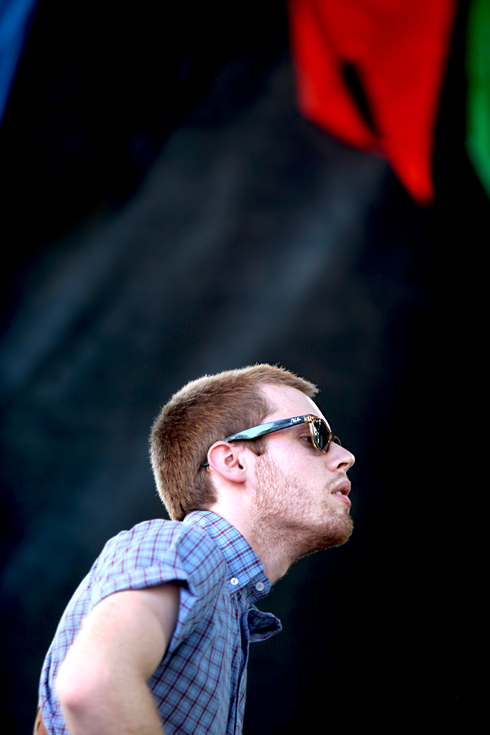 Unlike some dream pop, Jack Tatum and Wild Nothing crew do have a stage presence and Tatum, master composer of the songs moved around a bit whilst singing his usual luscious vocals. Playing songs off their debut album Gemini, the melodies were stronger than ever, causing one to cherish a little whilst dancing. Highlights included "Live in Dreams" "Confirmation," and "Bored Games"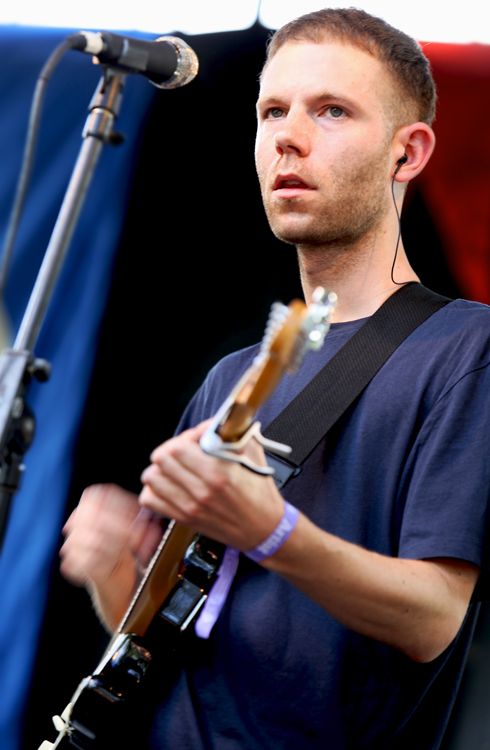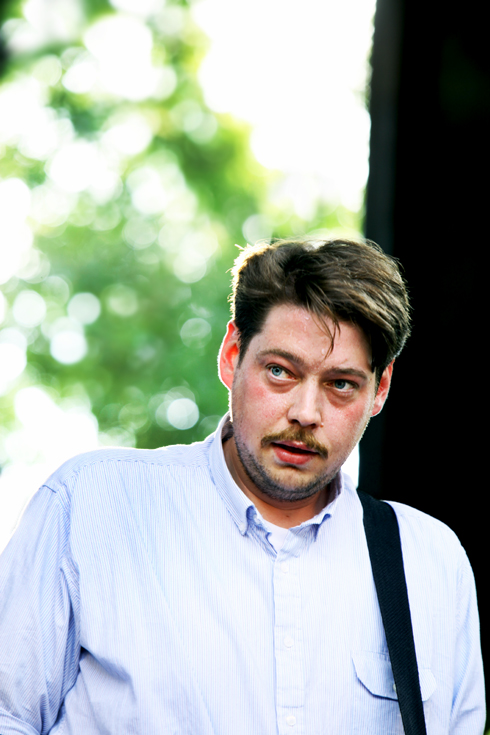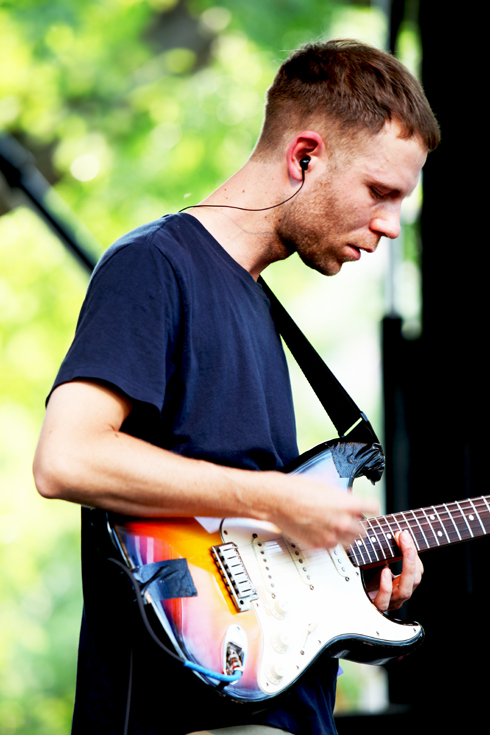 It's almost disarming how gentle these Swedes can be. Their songs are sometimes even more memorable for how tender than can be. Unfortunately, the band is a little subdued live and were quite difficult to hear unless one was right up against the stage or barricades. If you spent your time in the right location, you were probably cherishing every moment but even fans as close as 20 feet back had trouble making out distinctions in songs and, rather disappointingly, the vocals and instrumentation together ended up sounding muddy for this farther back crowd, some of whom may have been a rather captive audience otherwise.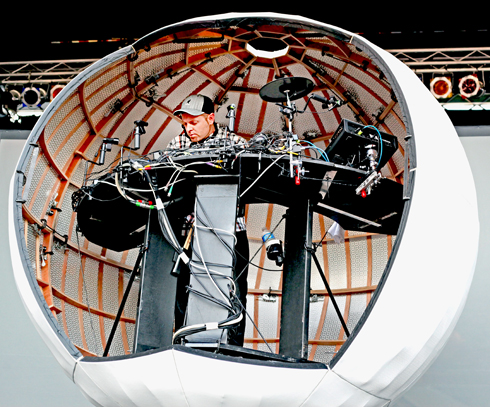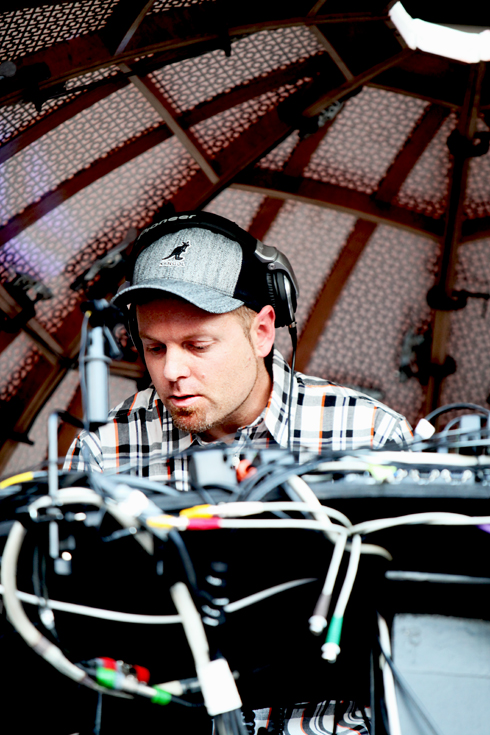 Out of anyone playing the festival, DJ Shadow acted the most appreciative and modest. He acted very thankful to be there. He came out and voiced his gratitude beforehand and explained to anyone who might not know that he wasn't the kind of DJ in the sense of playing the music of others but that the audience should realize everything they were hearing was his.
It was unfortunate that it was still a little too far from proper dusk when DJ Shadow began as his giant egg usually shows off the projections occurring from the screens behind it while Shadow plays inside. It was difficult to see the projections, which was frustrating to him and the audience. After about twenty minutes, he finally turned it around and opened it up so that he could be seen by his fans at his turntablist stylings at the top.
However, one should not overlook the fact of the matter here, which is that very few people go to a festival to see a huge spinning egg. They go (or atleast they should go to hear the music and DJ Shadow's sound was impeccable to help fulfill his impressive timing and sense of the evolution of his songs. Highlights included songs from Endtroducing.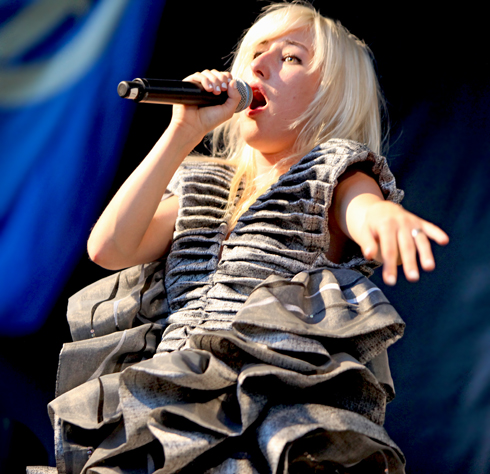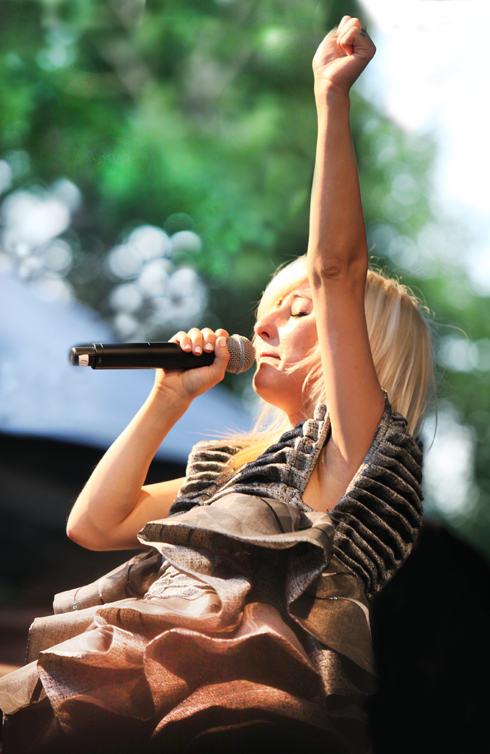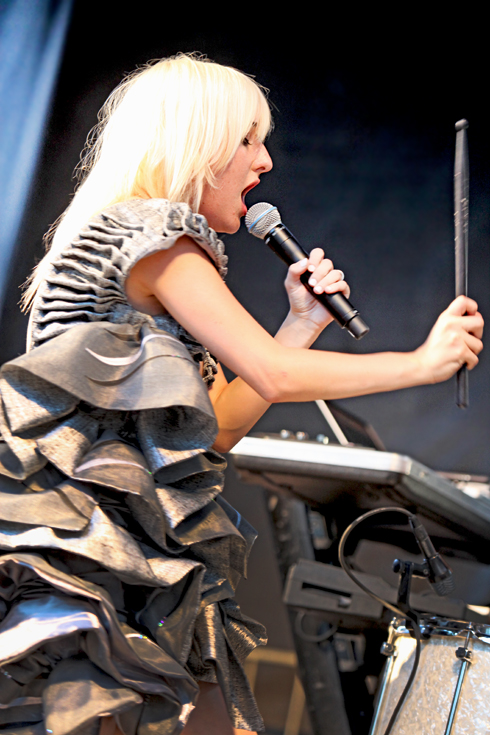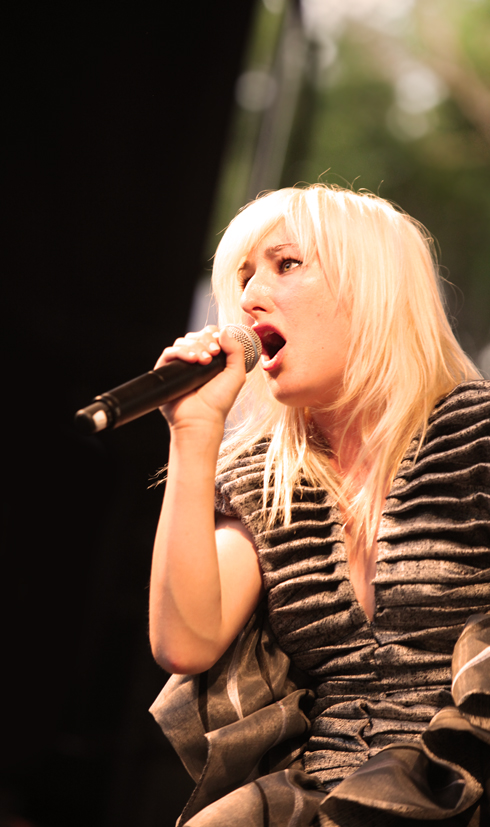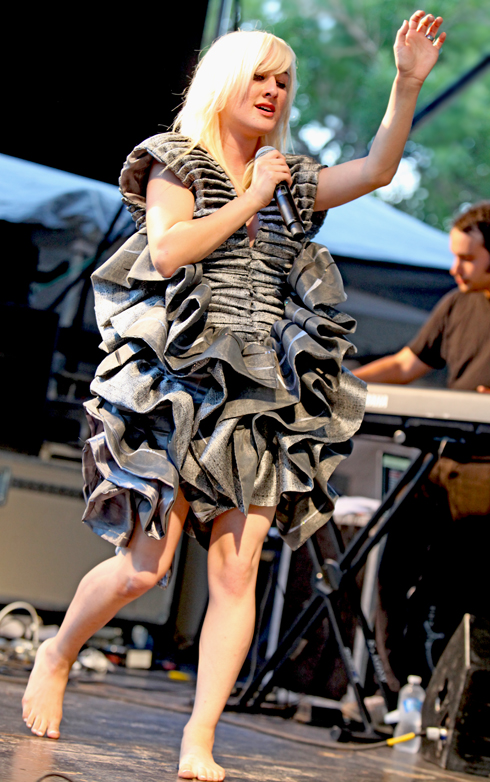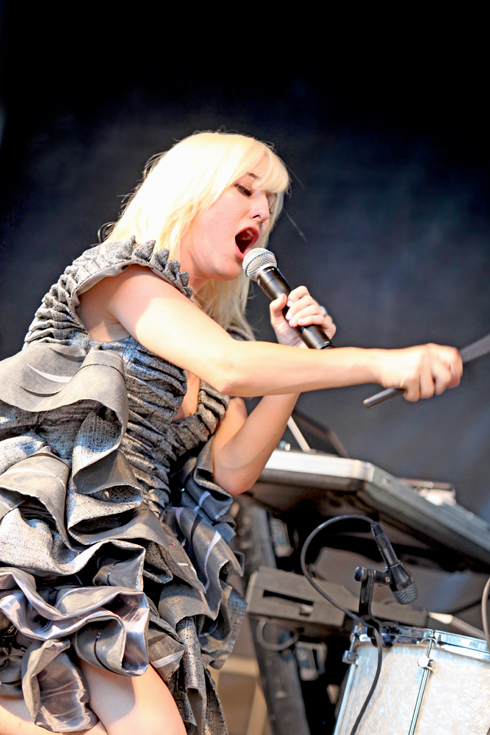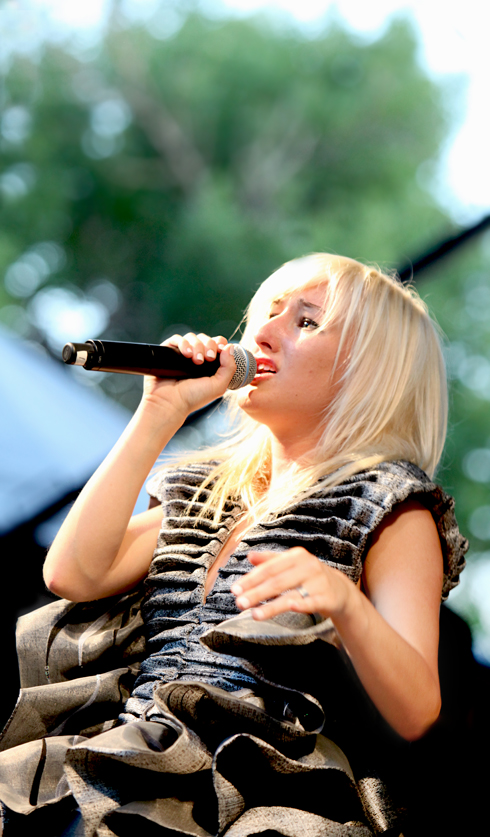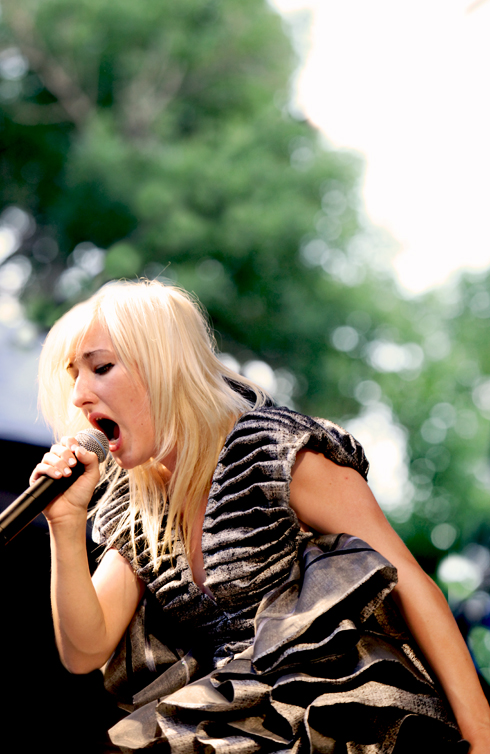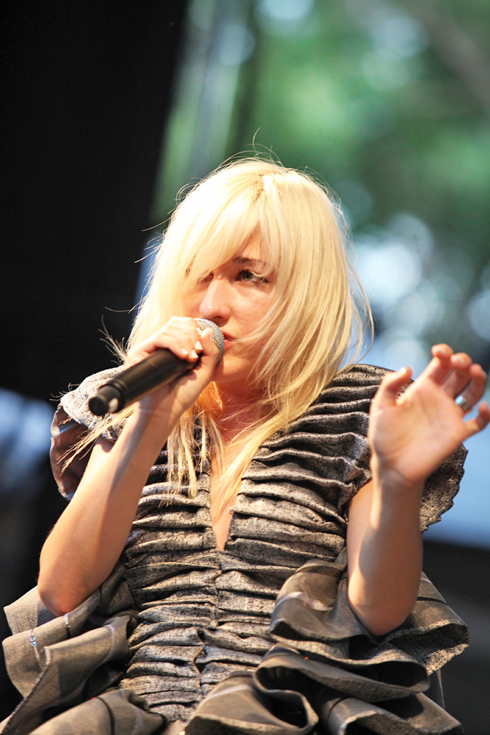 When Nika Roza Danilova AKA Zola Jesus emerged from the stage wearing an outfit that Lady Gaga might pull off if she had any class and talent, one wasn't sure what to expect next. There was no mistaking Danilova's own talent, though, as she belted out lyrics while drumming and dancing around barefoot on stage. One might not guess that vocals so deep and anguished could emerge from such a petite frame but Danilova was capable of inspiring some definite awe.
More photos: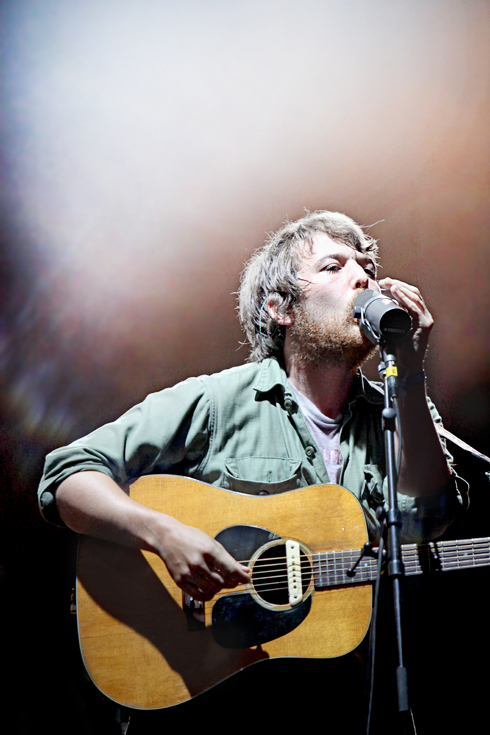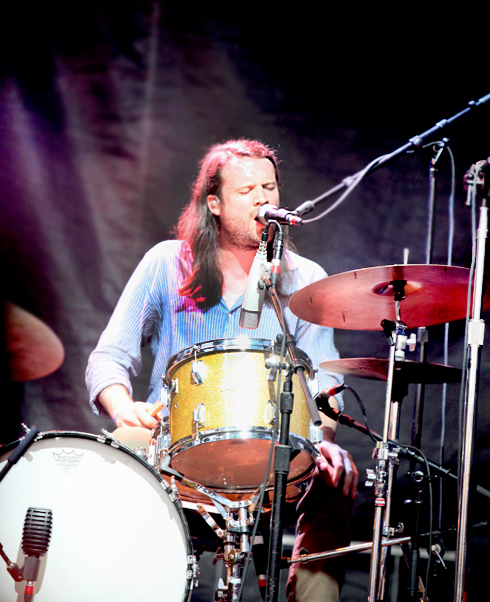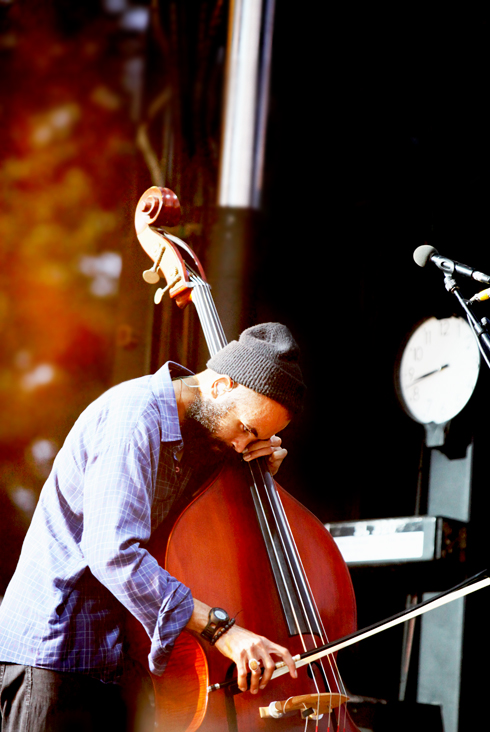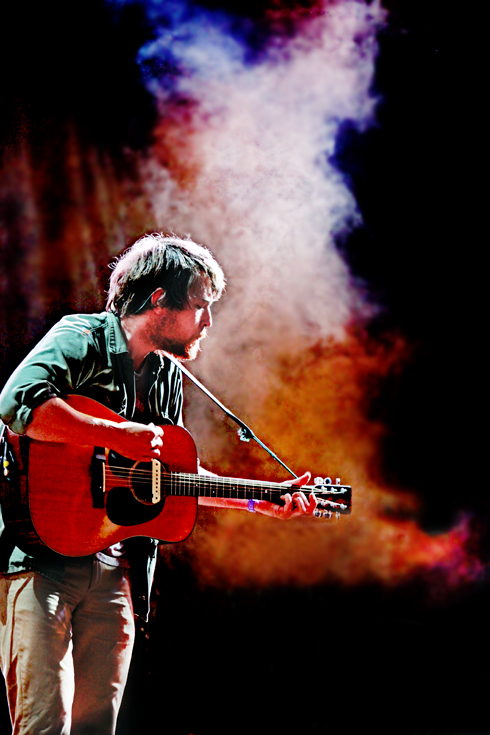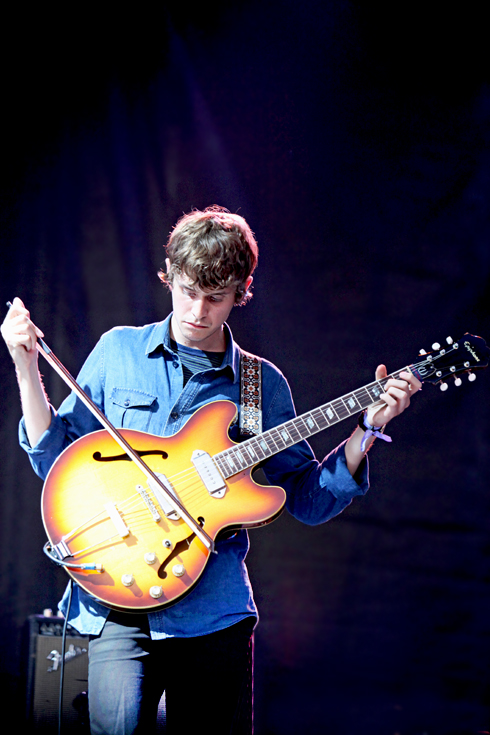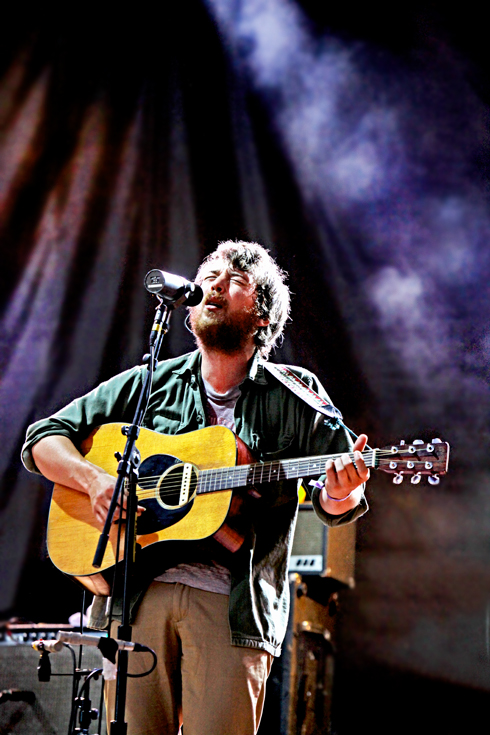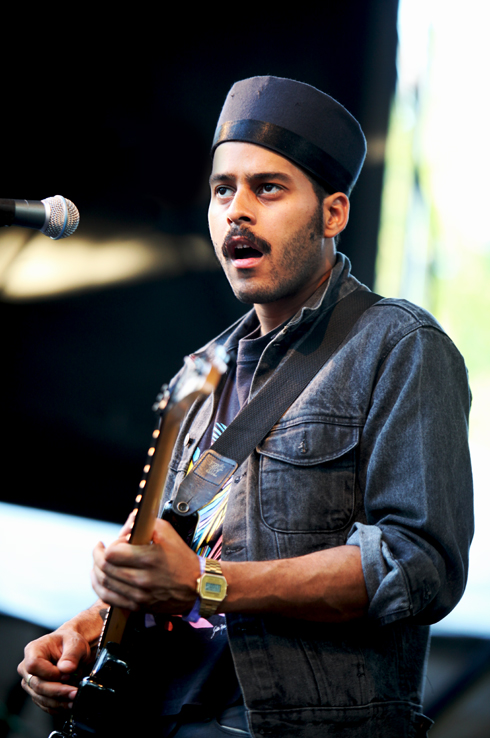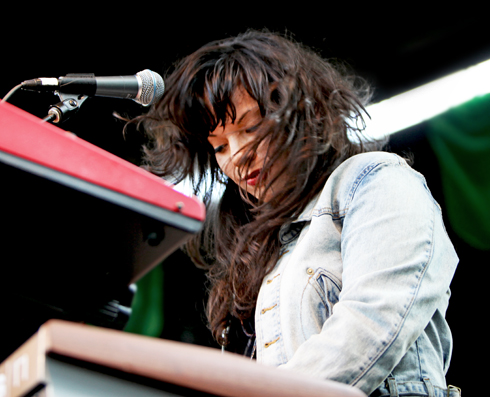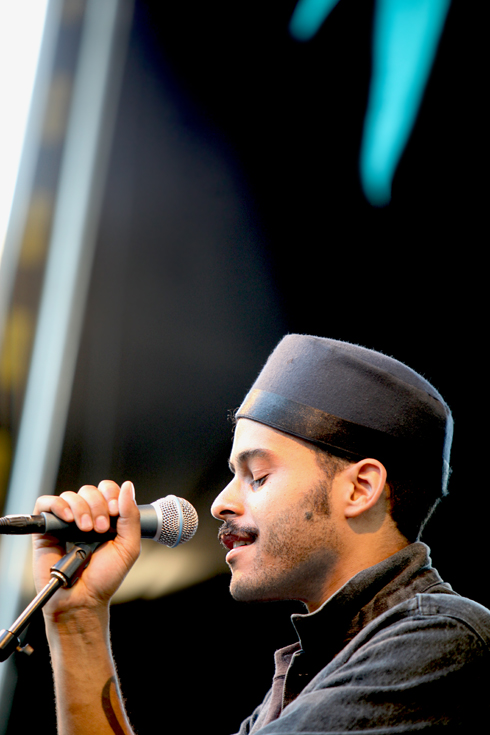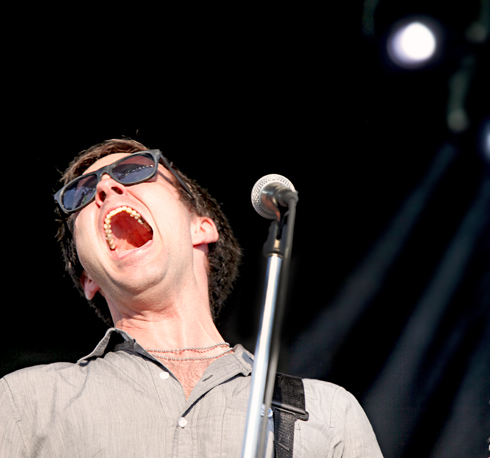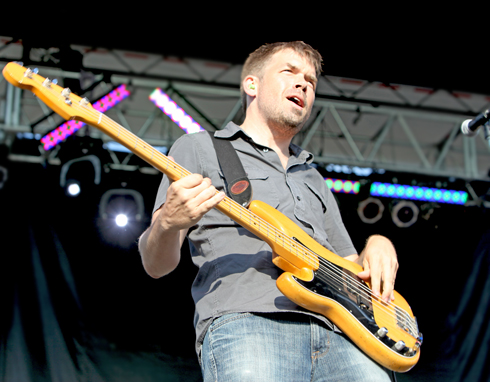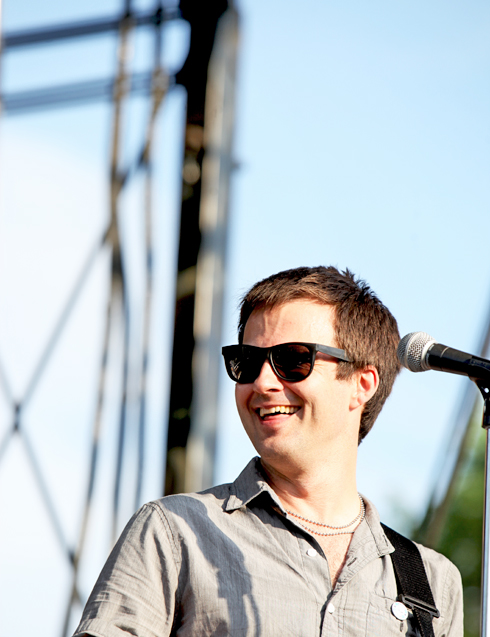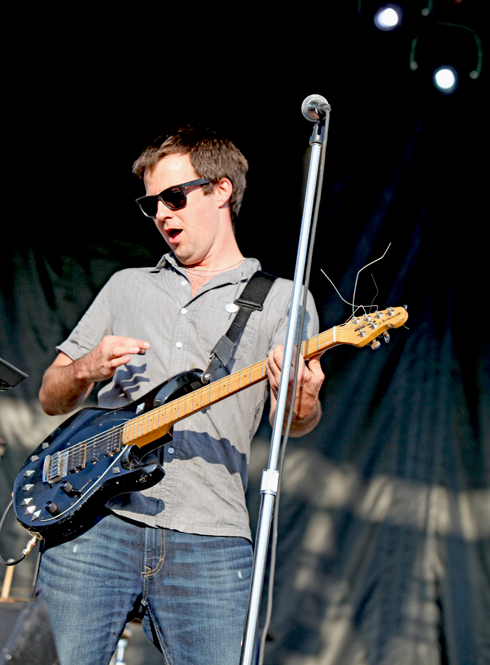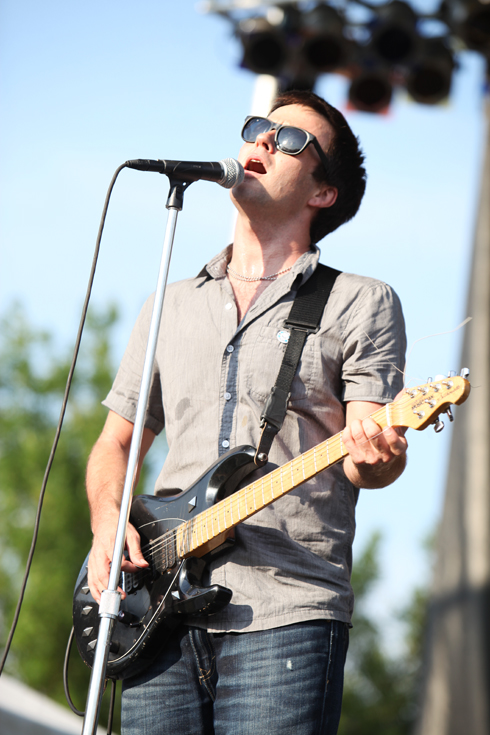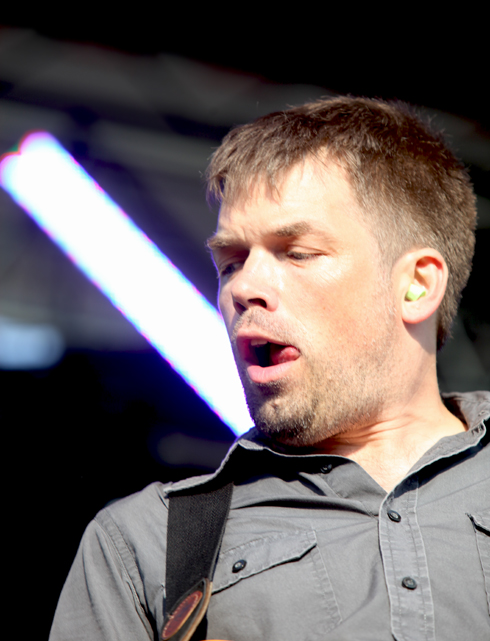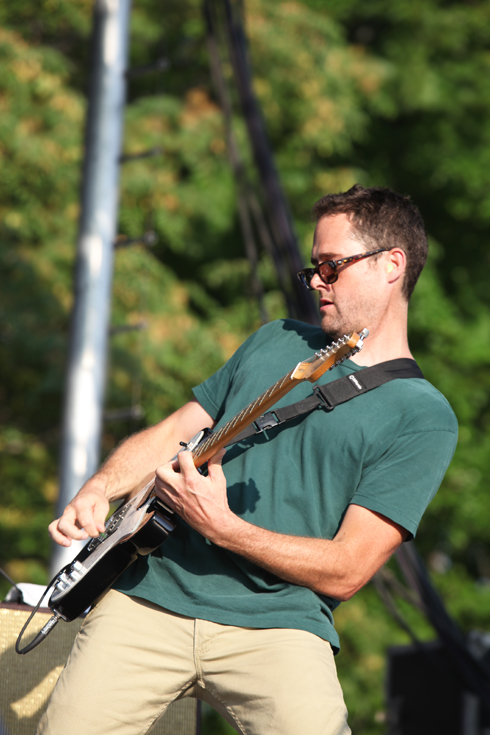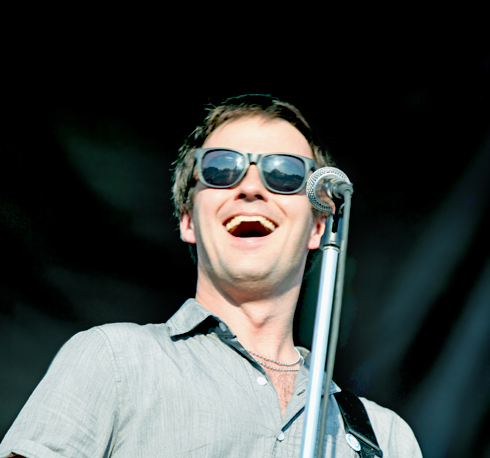 It has been nearly a decade since the Death and Dismemberment Tour where The Dismemberment Plan toured with Death Cab For Cutie. It's possible fans may have been worried how their live performance of this band would hold up but it was obvious that nostalgia won over the majority by song three when The Dismemberment Plan played "What Do You Want Me to Say?"http://www.youtube.com/watch?v=7ge5BoOOhCo and the crowd went wild. The good news is that their live performance of all of these old favorite songs is solid.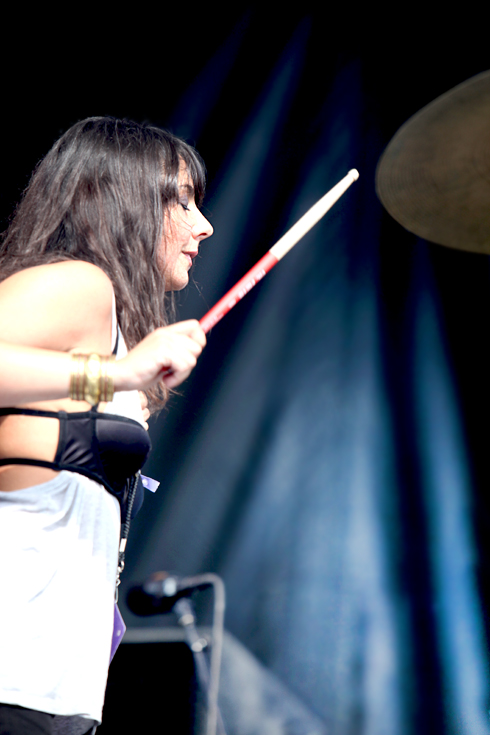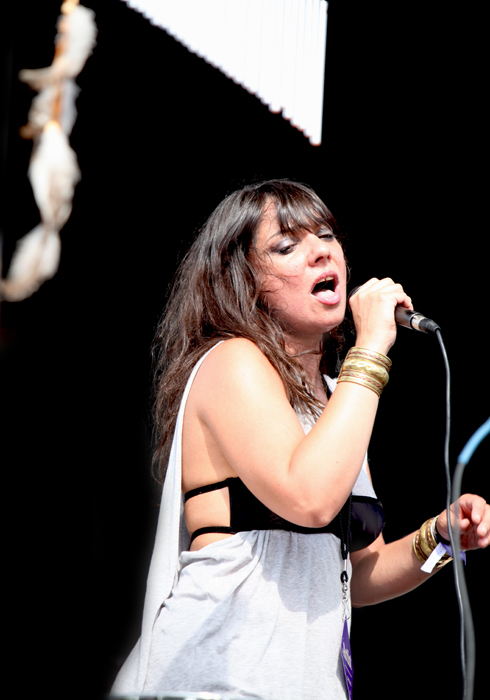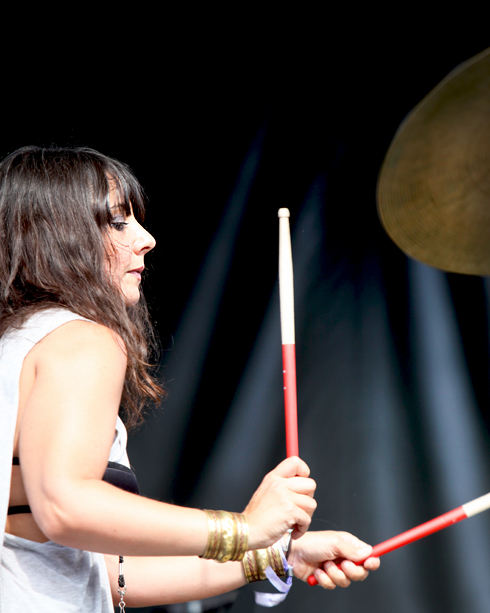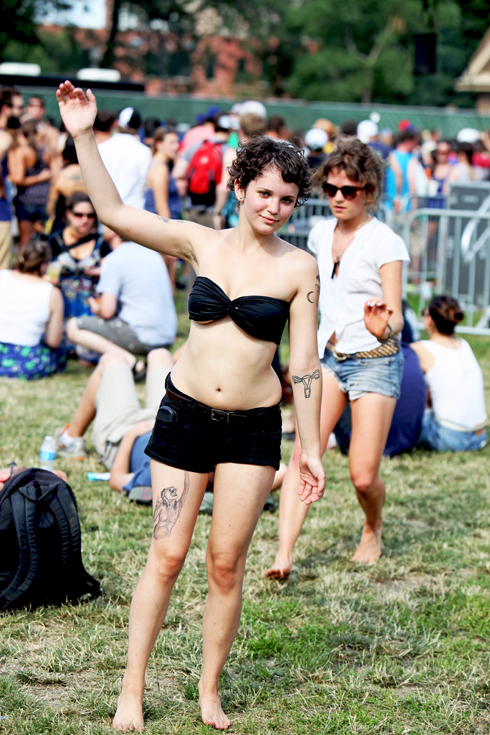 Lead singer Lizzi Bougatsos certainly has a sort of bewitching stage presence whether she's singing, banging on the drums, or playing her wind chimes. The band has some interesting tribal rhythms going on but also seems reminiscent of some new age music. Some of the fans were really digging it though. A small group of girls had a great time dancing to it as the crowd around them grew.
More photos of Gang Gang Dance by this reviewer can be viewed here
OFF! won the award for fastest playing and a furious sort of energy with an incredibly engaged crowd,. though No Age surely did give them a run for their money in the latter department.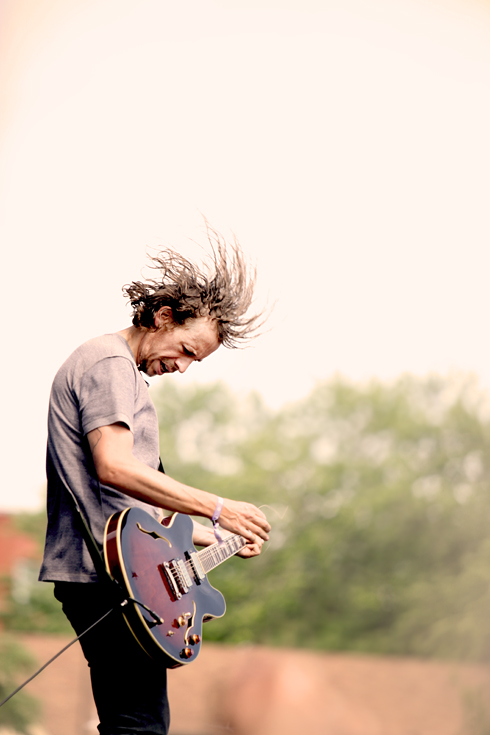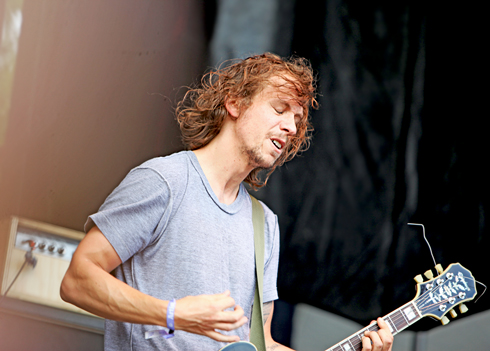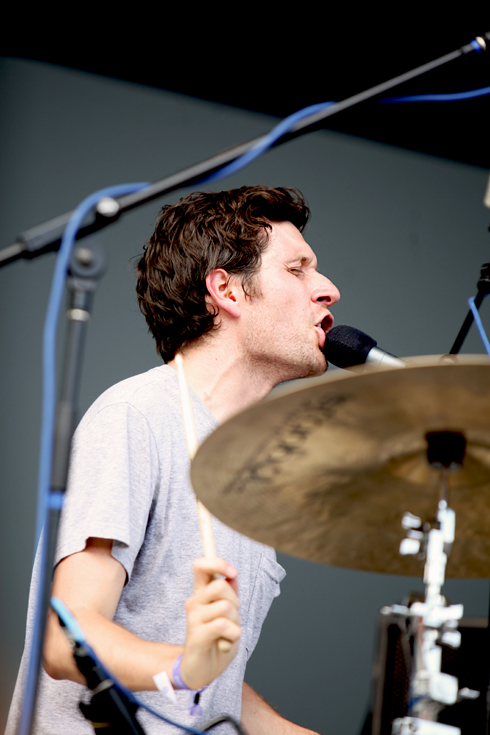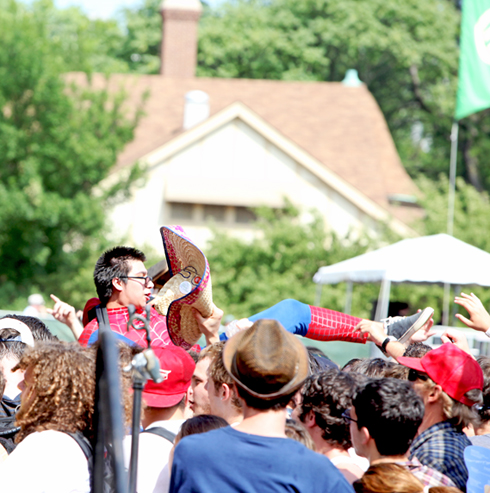 It seems like just yesterday when Randy Randall was playing shows with his arm in a cast after fracturing it. Their set at Pfork was a fine example of a return to form for the band with Randall demonstrating his ability to engage a crowd and cause them to climb on top of eachother almost continuously. It's a tough call between OFF! and No Age who had the most crowd surfers.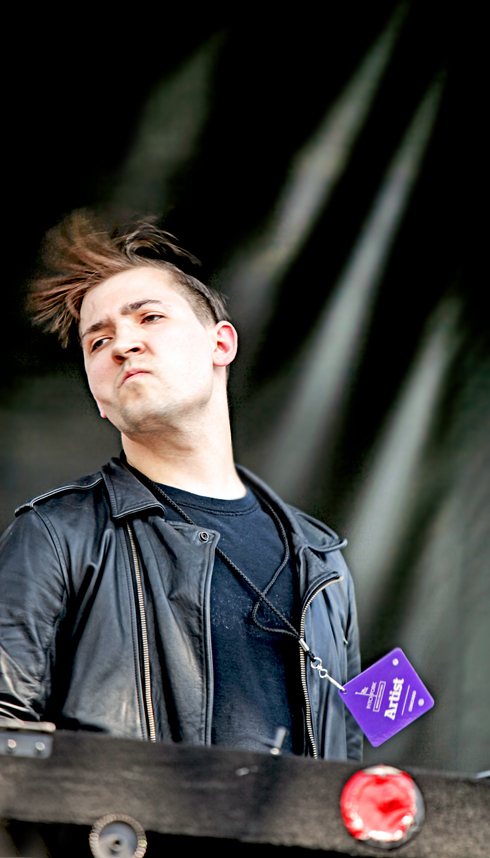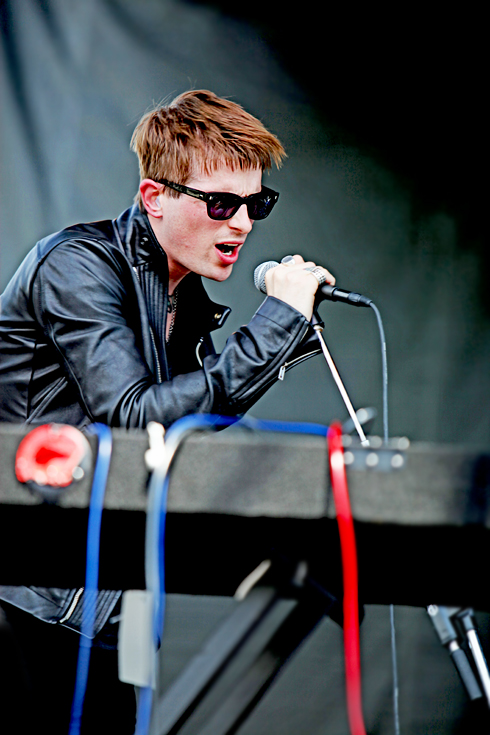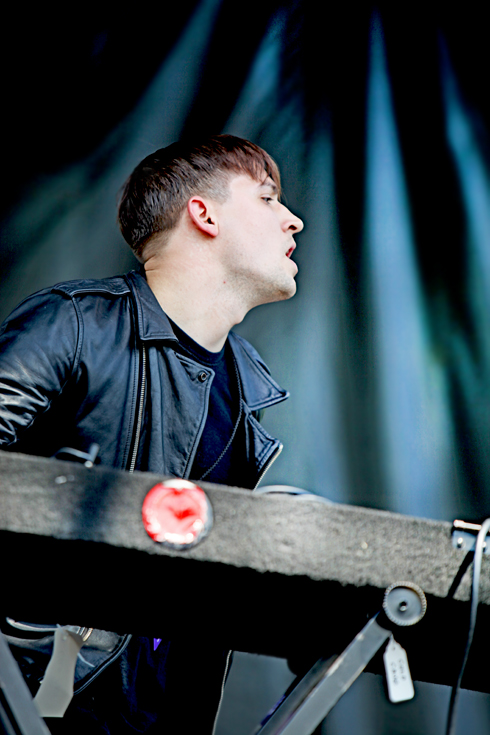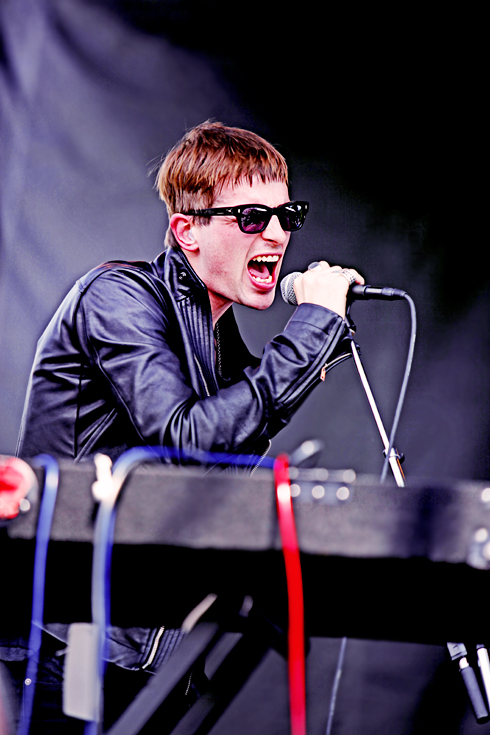 If gothy synth pop is your thing, Cold Cave was the band for you!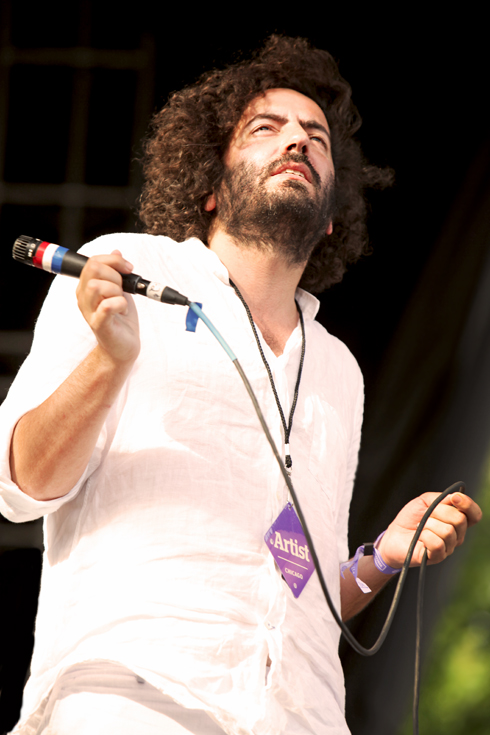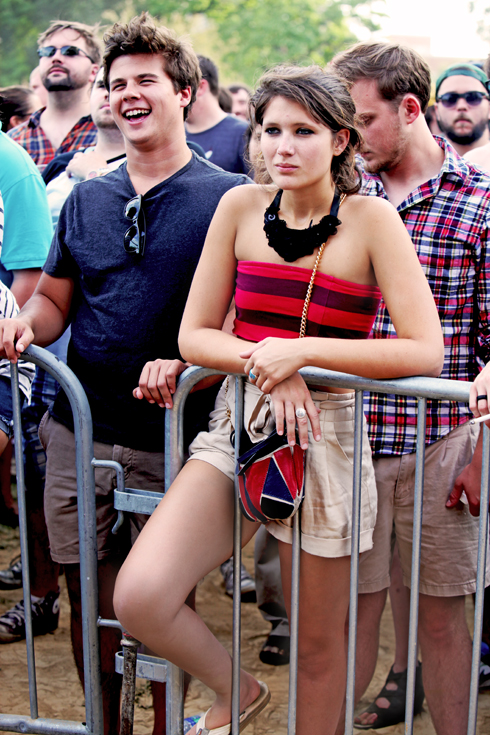 Reactions were somewhat mixed on Destroyer or Dan Bejar and his smooth jazz sax gang. The lead singer is clearly somewhat of a poet in terms of his lyrics but ended up spending as much time drinking he did singing them. Unlike Robert Pollard from yesterday's Guided by Voices set, Destroyer was much less active on stage. If one connected with the songs, it was a pleasant and calm performance. If you weren't as familiar, you may have had to do some scrutinizing to see what dear Bejar was really all about. Half the audience seemed intrigued, the other half a little perplexed. Others found him and his consistent drinking downright witty, however. More photos by this reviewer/photographer here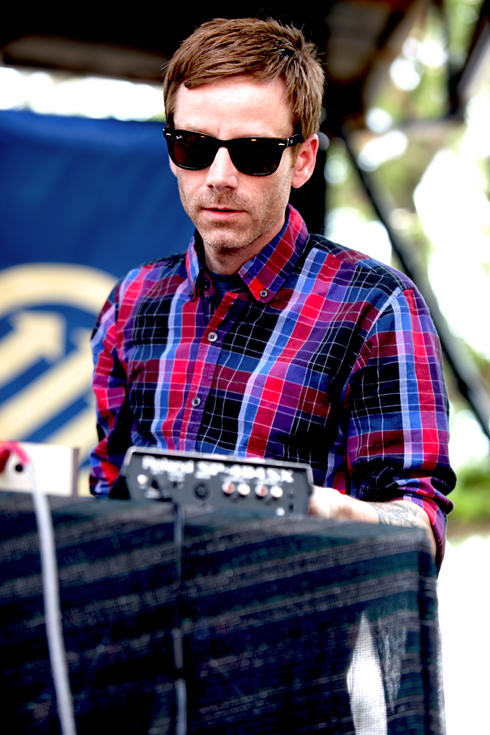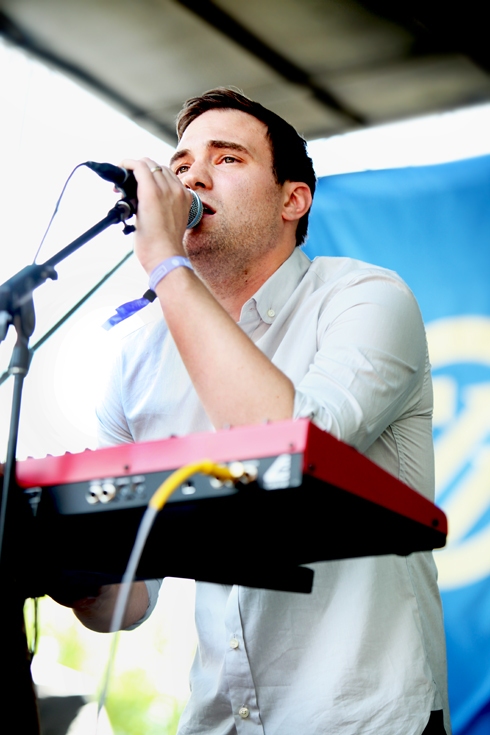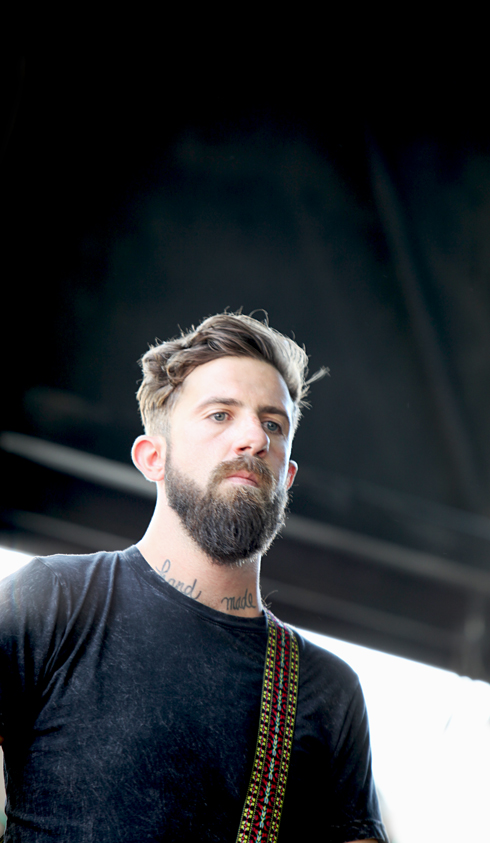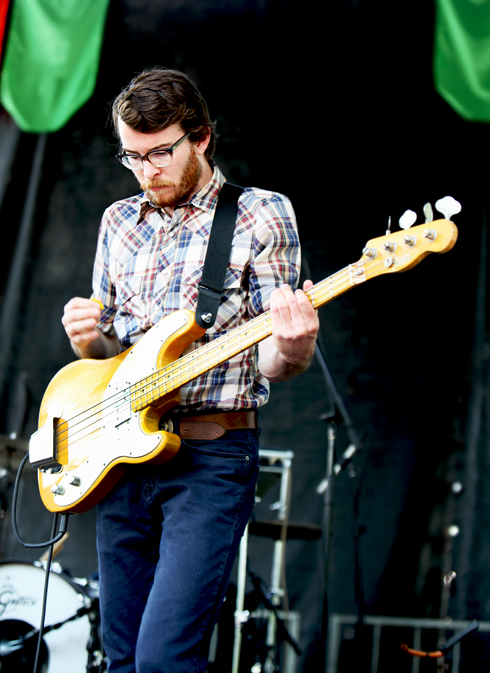 A couple more photos of The Pitchfork Crowd/Audience: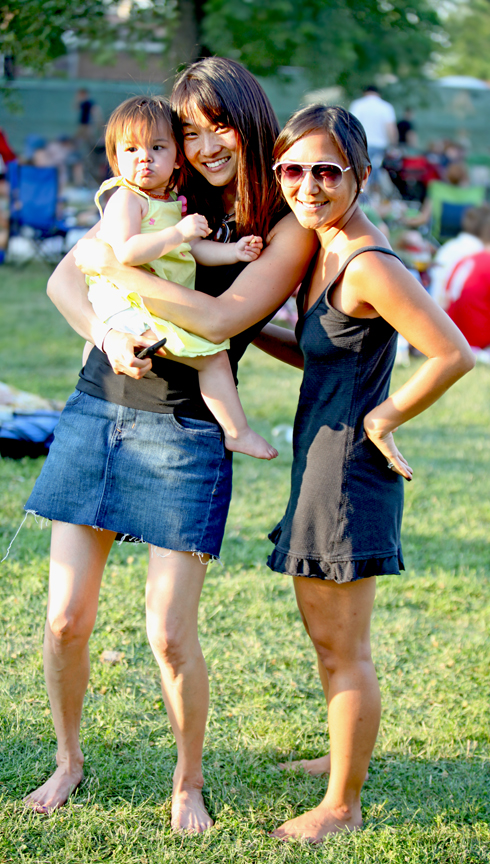 One is never too young to attend Pfork but don't forget the baby headphones while the bands are playing! Friday night at James Blake seemed almost like a mass toddler playdate and many of those little ears weren't protected.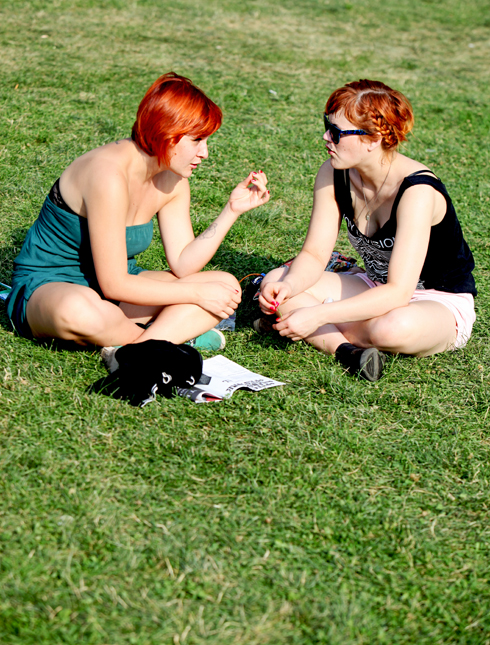 I think we all can relate to sharing some time with a good friend outside in the summer with great music playing all around us…doesn't happen too often and we must cherish it!