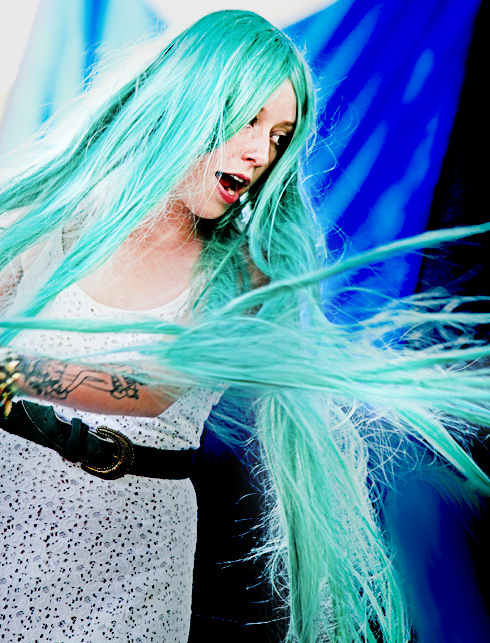 19 July 2011
Sunday's Pitchfork offerings seemed a little diametrically opposed between the fans who came for the more aggressive bands and those who came for a relatively gentler indie rock. Regardless of what group you happened to be in, there were plenty of good choices in order to make your own lineup. Perhaps often spoke of how they were overheating with the day's high temperatures in the 90s but you have to hand it to Pitchfork for providing both cooling stations , an available first aid station, and free water. At the end of the whole festival on Sunday night when the weary returned home, we were filled with our usual mix of emotions. Those that stayed open until close all three days might certainly feel exhausted but there's also a sense of loss that something great Chicagoans looked forward to all year is over again and it will be another 365 days until we are able to return to experience that greatness. Fans of independent music look forward to Pitchfork Music Festival through the long months of icy cold and snow of the winter and it pulls us out of our gloom to anticipate something so wonderful.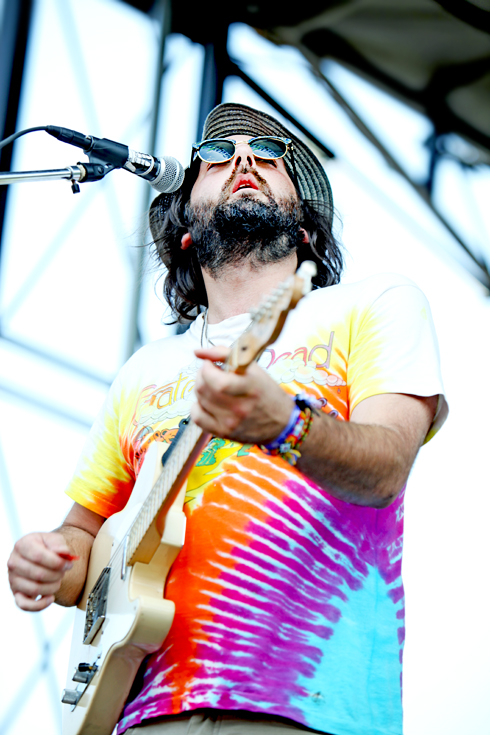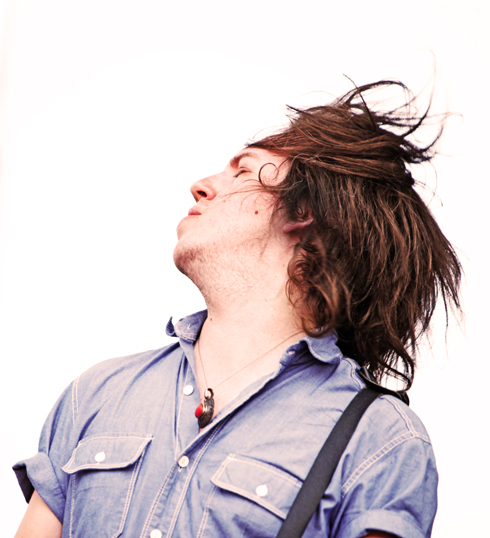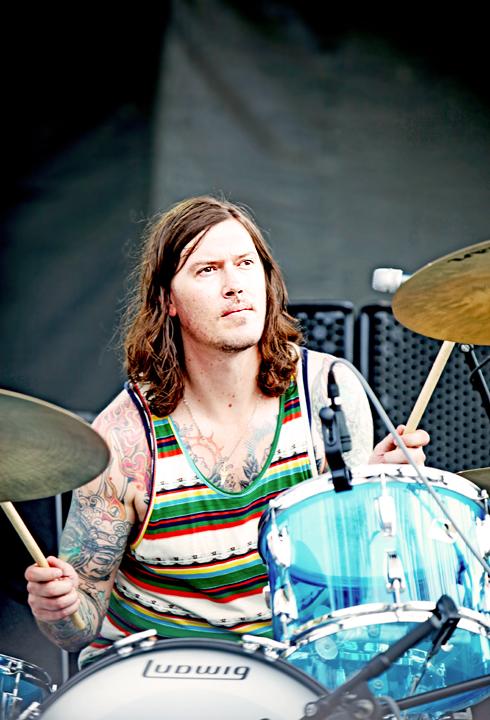 The Fresh & Onlys are quite an interesting band. Unlike many of the garage revivalists of today, especially out of California, this band seems to have a broader influence base they pull from. Some songs had the pluckiness of even an old school country song (Think Cash or Hazlewood) in its rhythms. But there was also a sense of pop music informing the songs amidst the deep male vocals and some guitar chords were held out to soaring degrees to make them more prominent. There was also a hint of Springsteen at times in the lead vocals.
Another thing that was fantastic about the band was their sense of humor. At one point, they joked, "Stick around. There are some other bands playing" and later on "You guys knows this is just our sound check, right?" Their jovial spirit and energy made their songs even more enjoyable and set the day rolling on a positive note for many fans.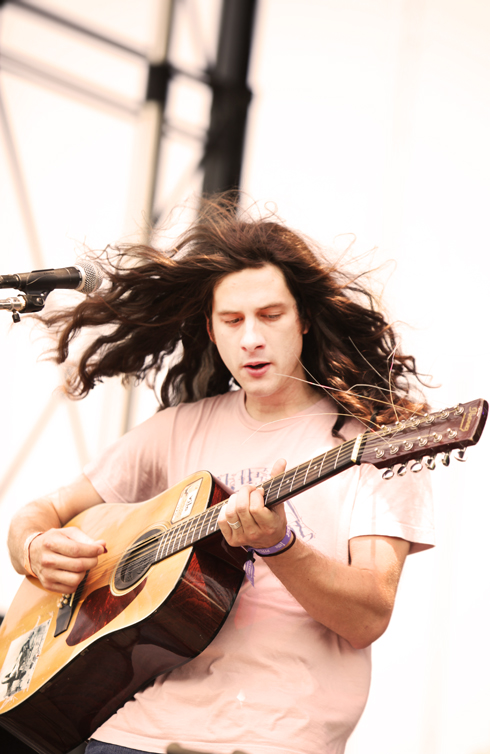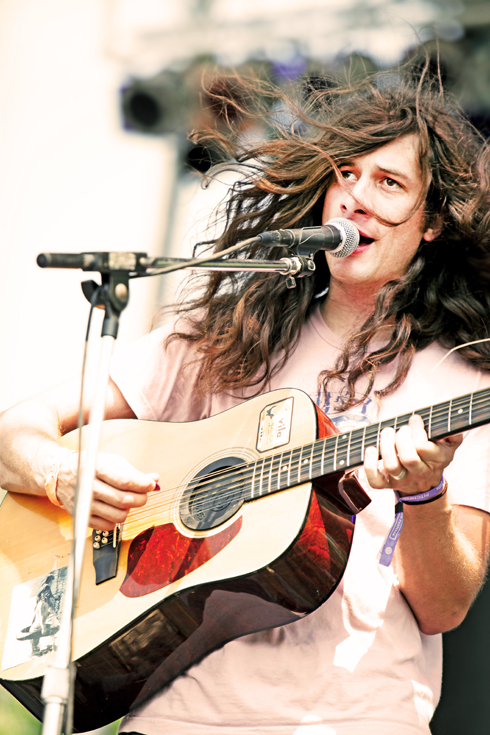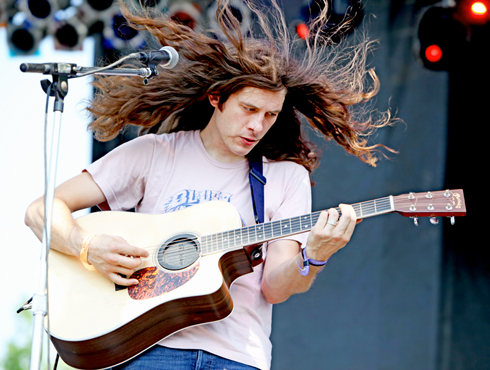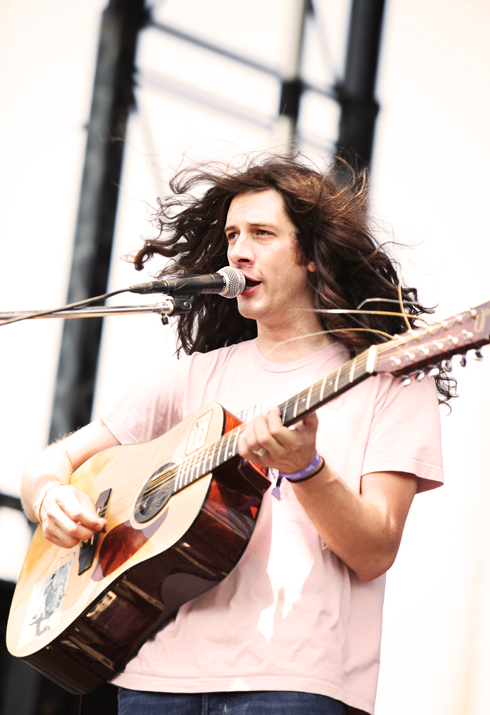 Usually, when Kurt Vile devotees go to see him live, they leave wondering what his face actually looks like as it's usually buried behind gorgeous tresses of hair. Sunday's set was very different visually if only for the fact of the wind fan to keep him cool. The effect of this was very much like seeing Mark Linkous play in Sparklehorse when he was still alive only even more cinematic, for Vile's hair is flows even longer.
Kurt Vile returned to Pitchfork after playing 2010's lineup on the smaller stage. You never know quite what he'll bring to the stage in terms of the dynamics of his performances as they tend to vary in terms of how stripped down they are. This set was overall interesting in terms of the dynamics of Vile and his backing band but much more mellow than when he played a Pfork aftershow at SubT with the band Woods the previous night. It might have just been the heat index at that point which made this really work but those who knew his material especially were really into it. In general, it's also always great to see the very talented yet incredibly modest and soft spoken Vile get the attention he deserves.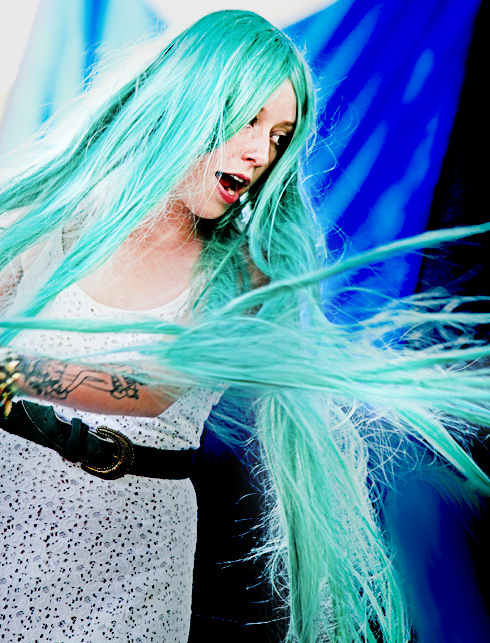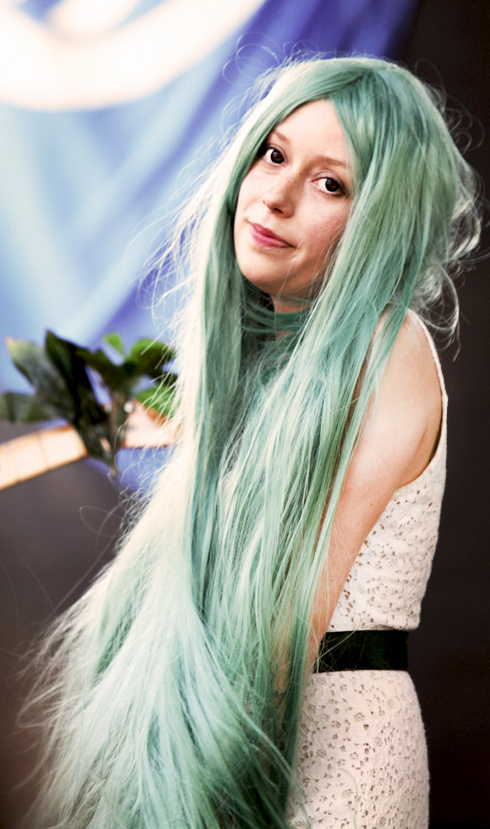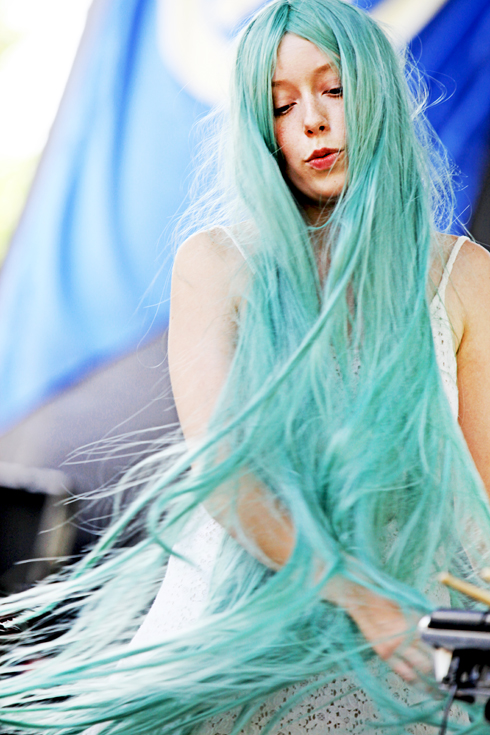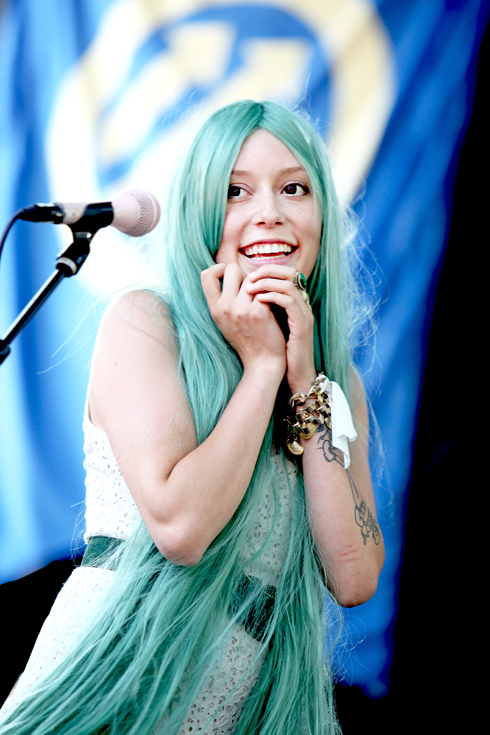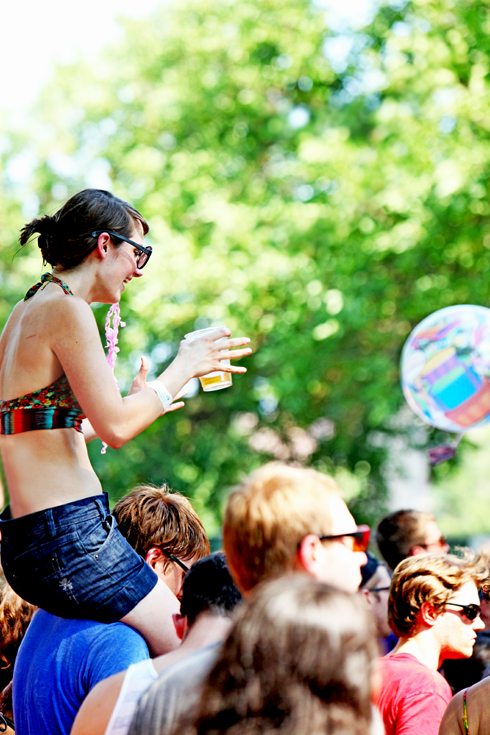 When lead singer Andrea Estella emerged onto the stage in a flowy white dress with a floor/stage length green wig, she could have told this reviewer and others she was a woodland nymph or a distant cousin of Bjork and we'd all have believed her. She was spritely with a mischievous twinkle in her eye and one couldn't turn away from her enchanted presence with her mannerisms that were also quirky and wonderful.
Twin Sister had great beats which made for sugar coated chill wave dance music (if such a genre exists..perhaps it's starting to now!) There was a peaceful lo fi sound but the crowd, some even wearing Twin Sister glasses in support, were happily dancing. Best of all, Estrella's vocals were a little bit wispy and bewitching to make the songs quite lush. She also had a great vibe to her message. When another band on the red stage started heating up with their soundcheck, a Twin Sister fan became incensed that he couldn't hear Estrella as well and ushered out an angry expletive over the matter. Estrella stopped him, saying "Show love!" Surely, some of the audience was definitely in love with her by the end of their set, making Twin Sister a definite highlight of the day.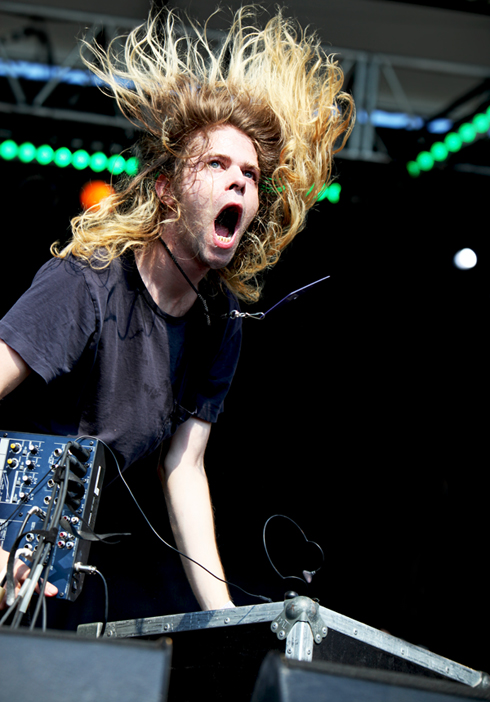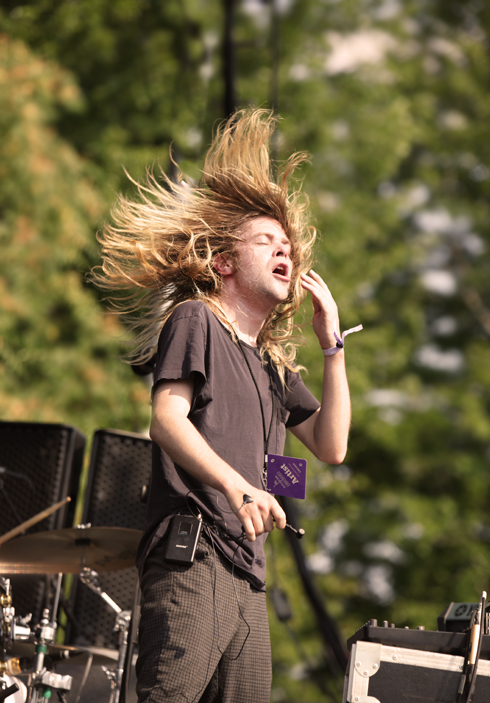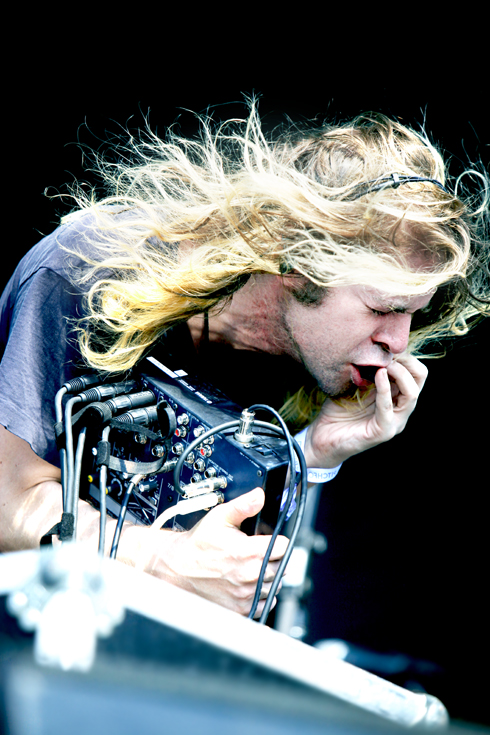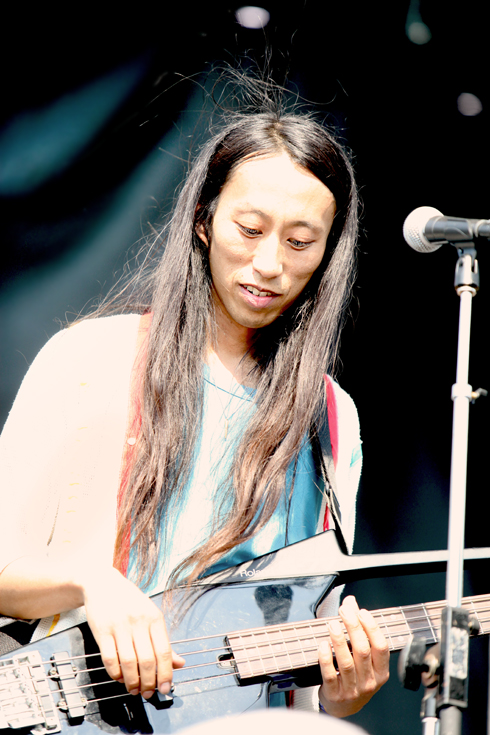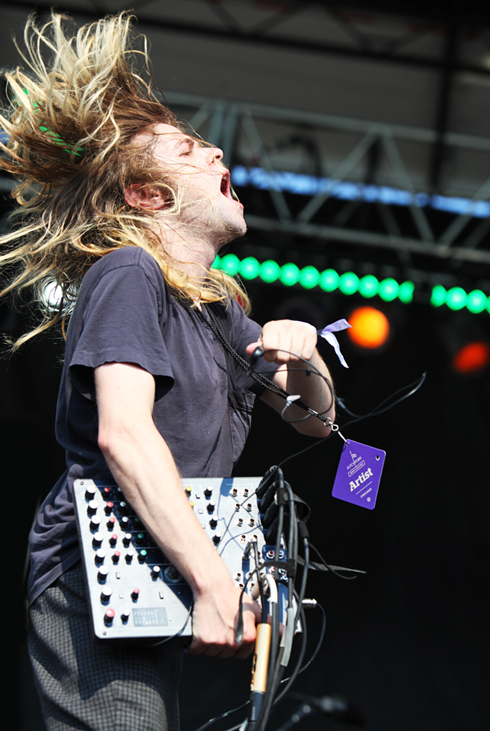 Lead singer Ariel Marcus Rosenberg was not without his temper over sound issues but let's not overlook the songs the band played that sounded fantastic. He seemed possessed with a glam pop weirdness and, though the set may have ended earlier than the band and fans would have liked, watching and hearing them play during their time was quite captivating for awhile and one wondered if we'd ever quite be the same again as witness to Rosenberg's memorable oddities.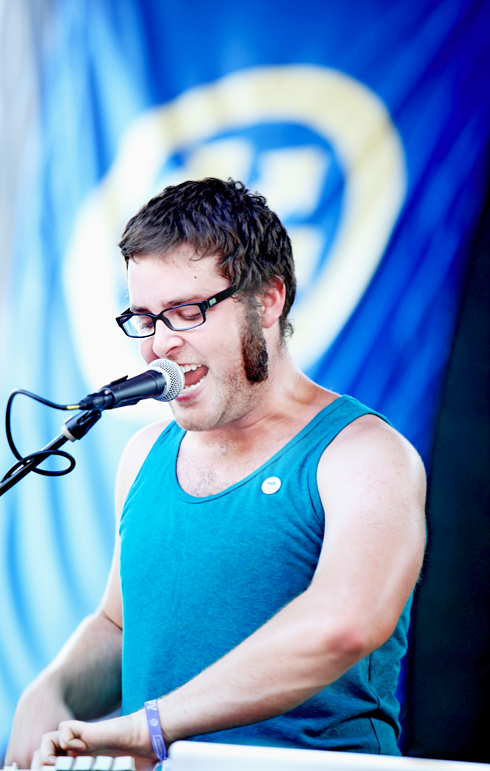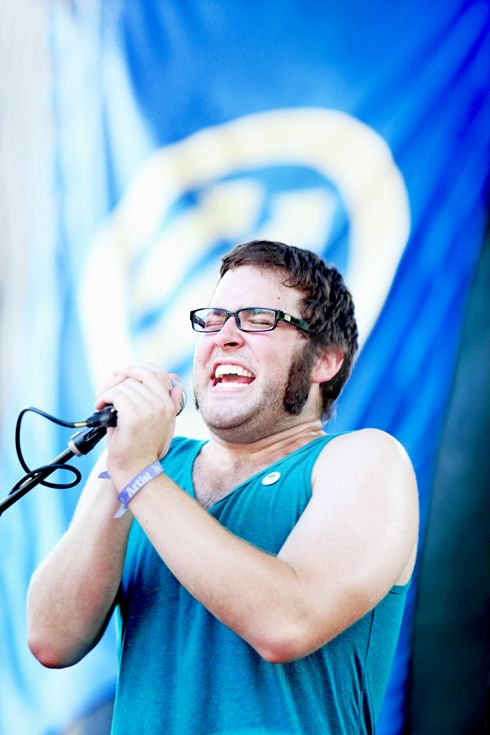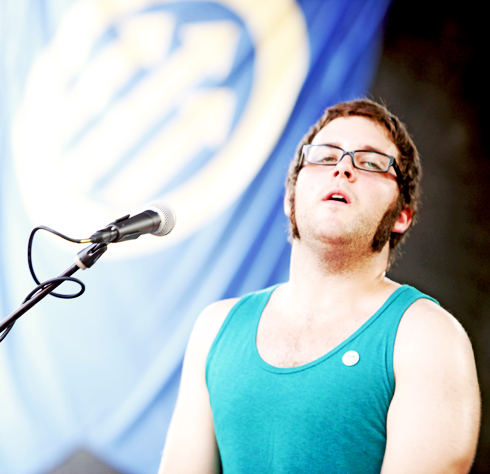 For a one man band, Baths was able to really make his music rather complex and interesting and looked like he was having the time of his life doing so. He was fun to watch and the music was great to get down to, despite the heat of the day…besides, a little bit of sweat makes the summer sweeter.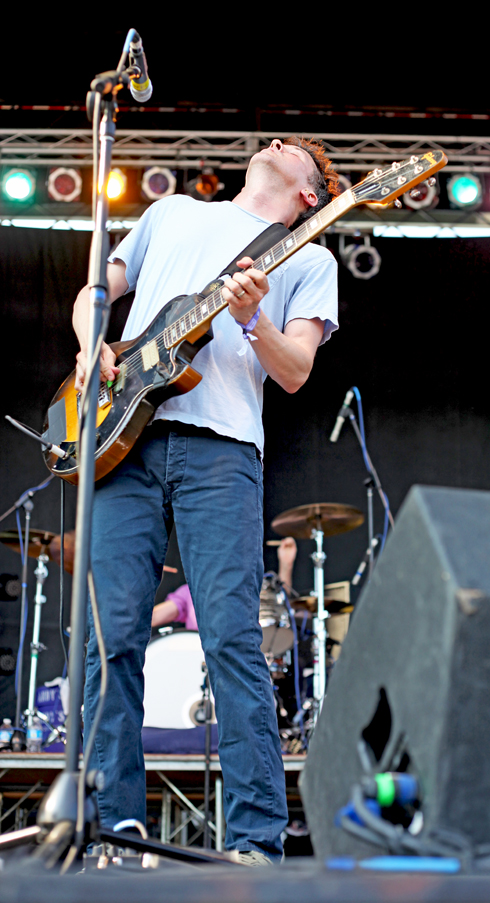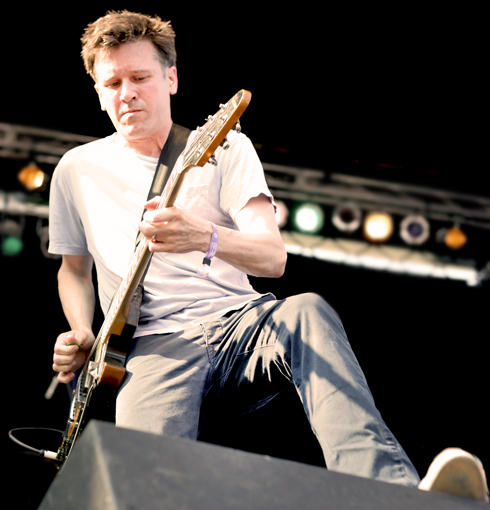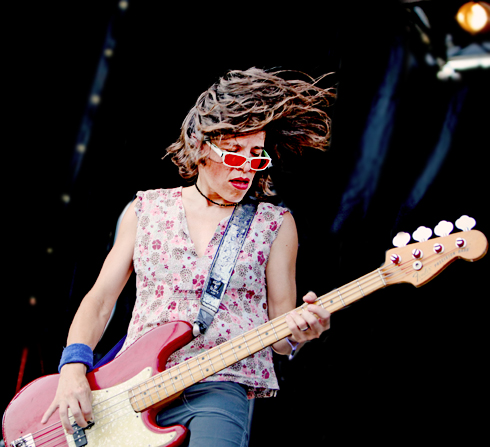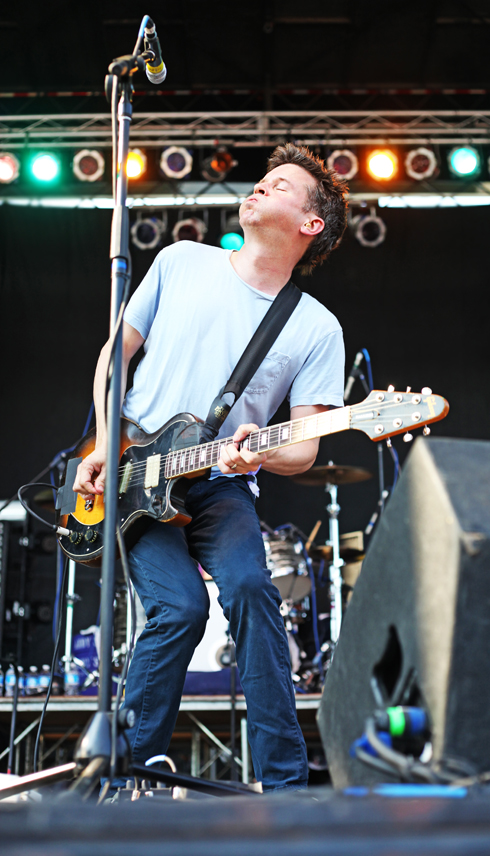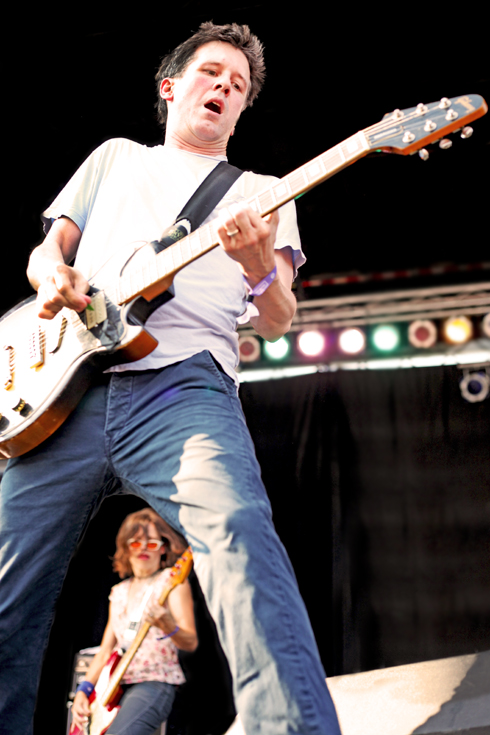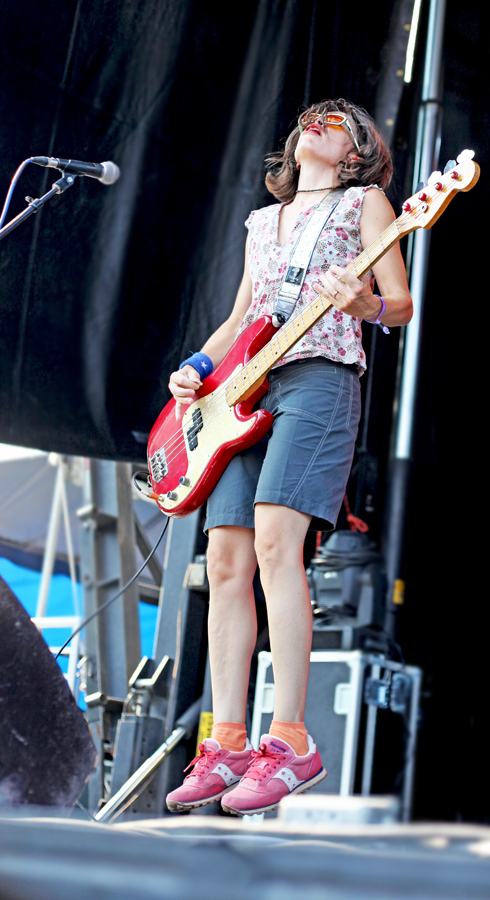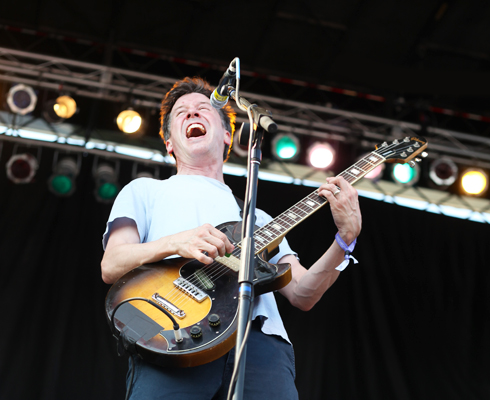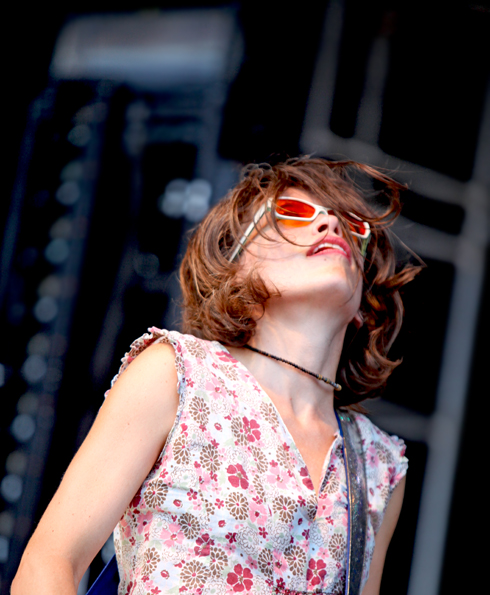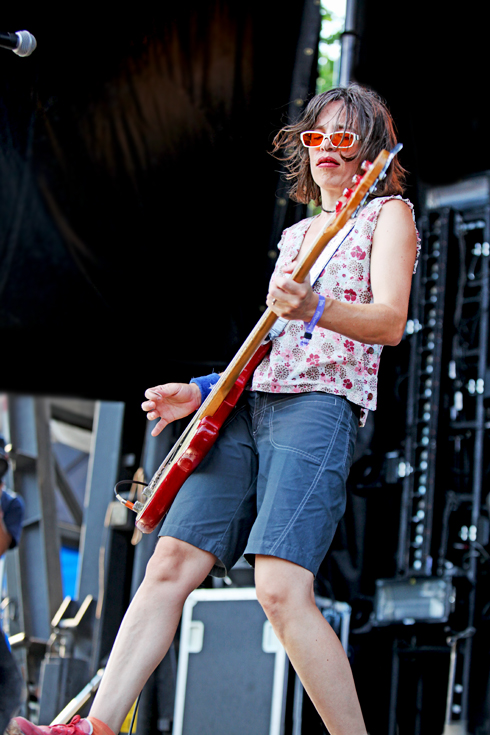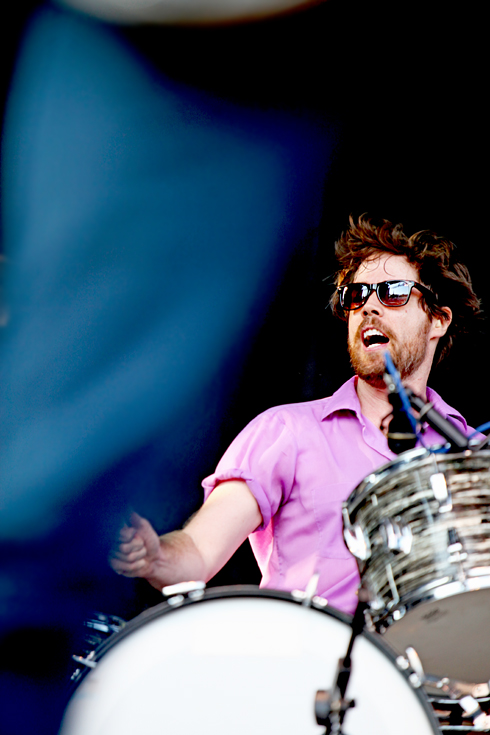 (Drummer Jon Wurster as captured between lead male singer and guitarist Mac McCaughan's legs)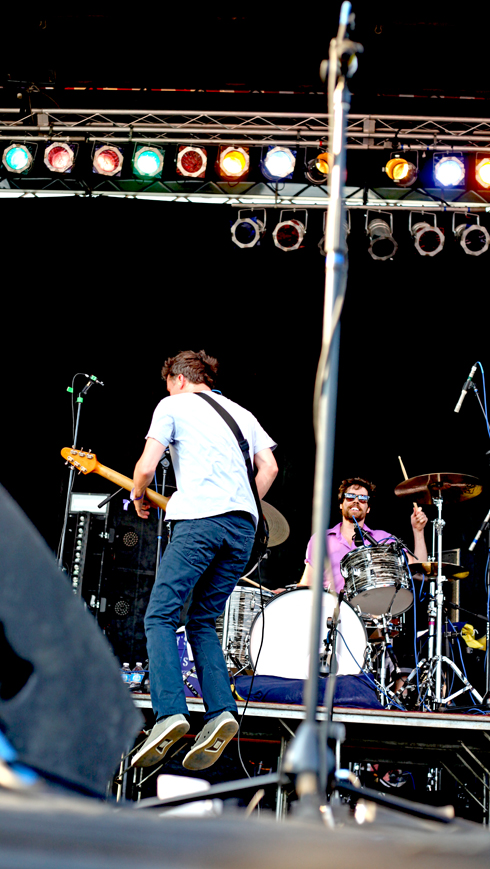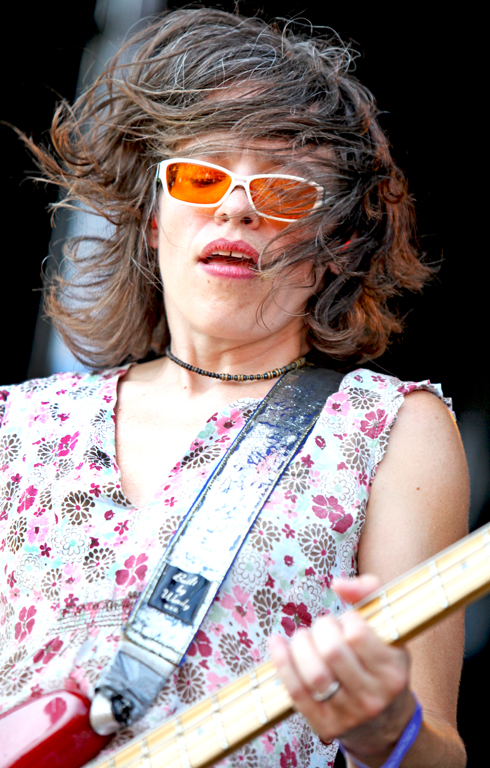 Many Superchunk fans were delighted that they could crowd up close after the angry mess of the previous band playing the red stage had departed. In contrast to this former band, Superchunk have nothing but positive energy. They are a band one could easily see touring and playing their sugary indie rock goodies when they are in their sixties and seventies. They just never quit in their energy levels and always seem so on top of their game both musically and in terms of their engaging stage presence. Out of all the bands that played, they were the most active and seemed to be having the best fun. It would be difficult to pick out highlights as the entire set seemed to be stellar. The band tweeted their setlist to fans as well: "Throwing/Gap/Wires/Detroit/Popular/Fool/Digging/Driveway/FirstPart/EverythingAtOnce/Hyper/Slack/heatstroke"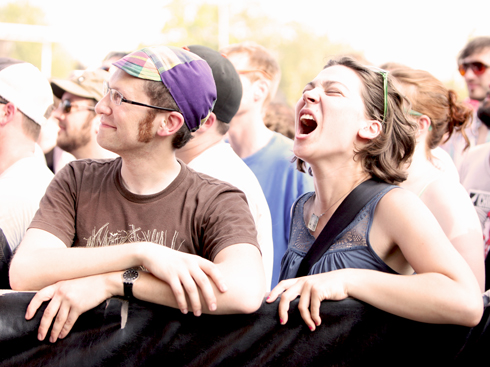 As you can tell, Superchunk has fantastic fans. They also wished her a Happy Birthday!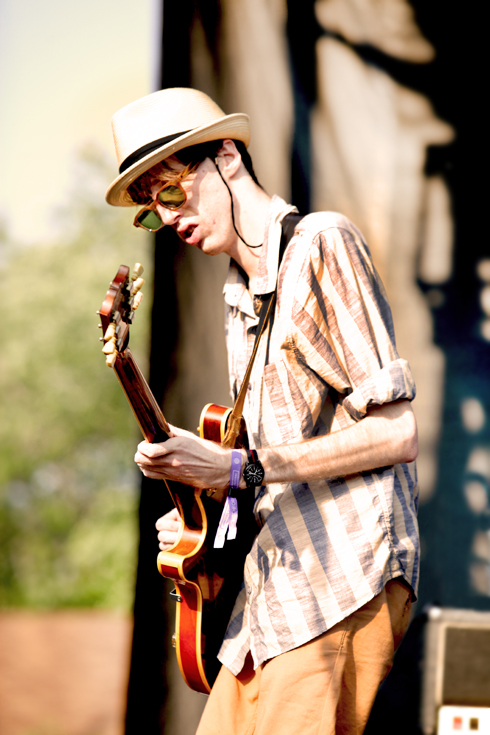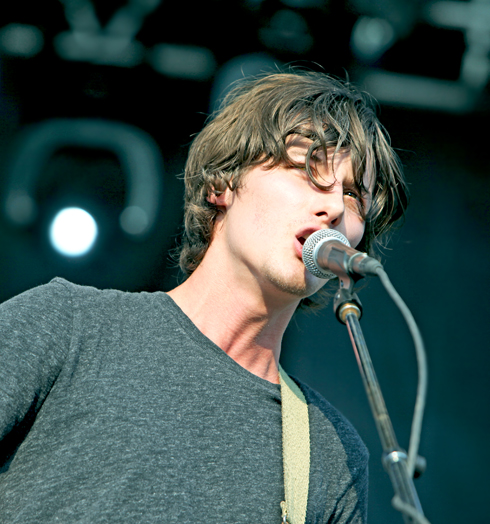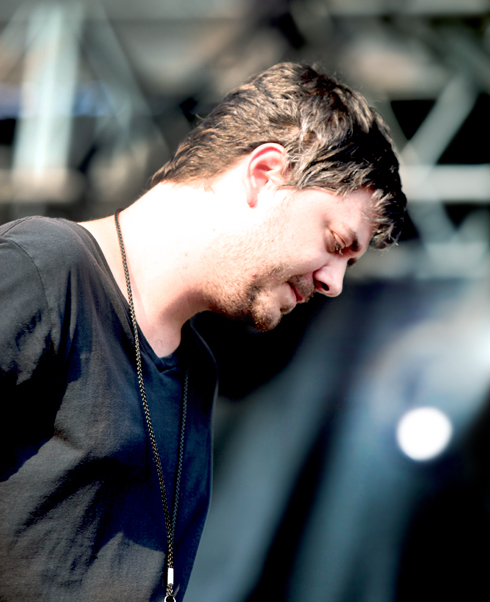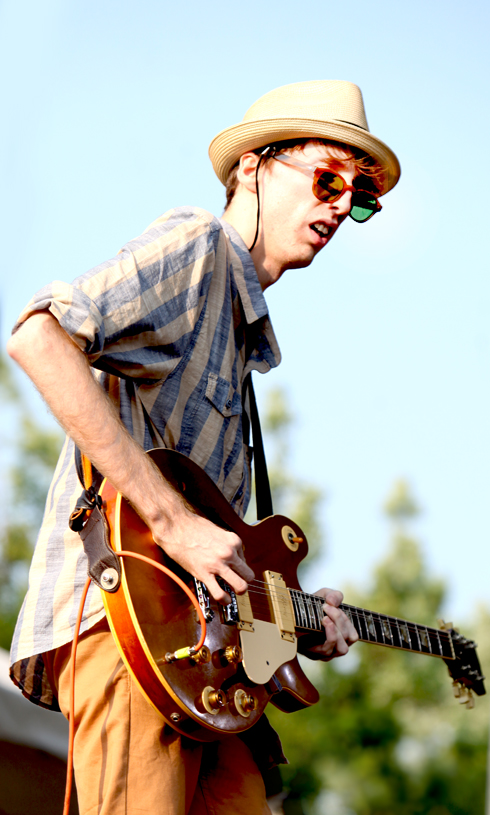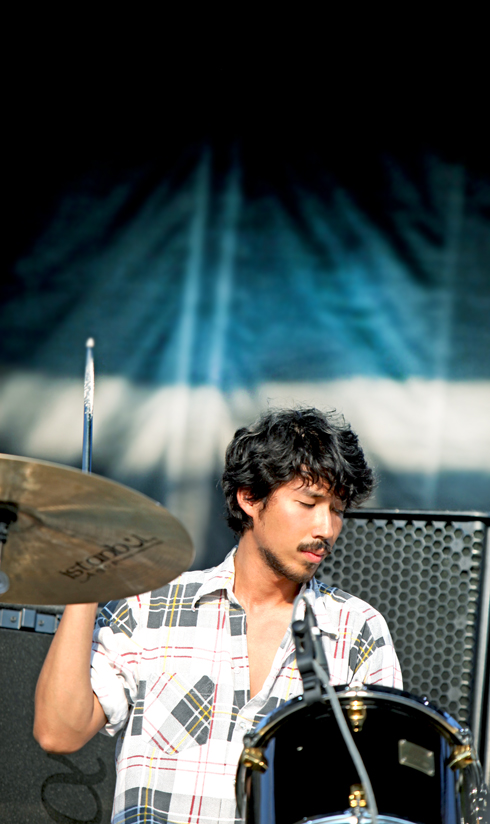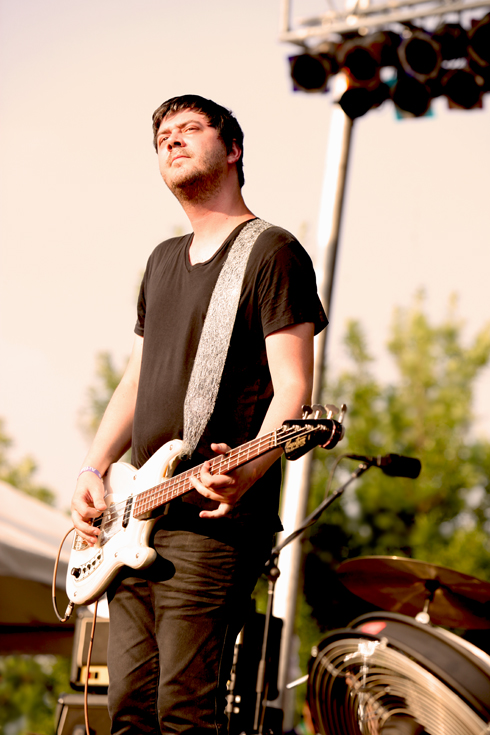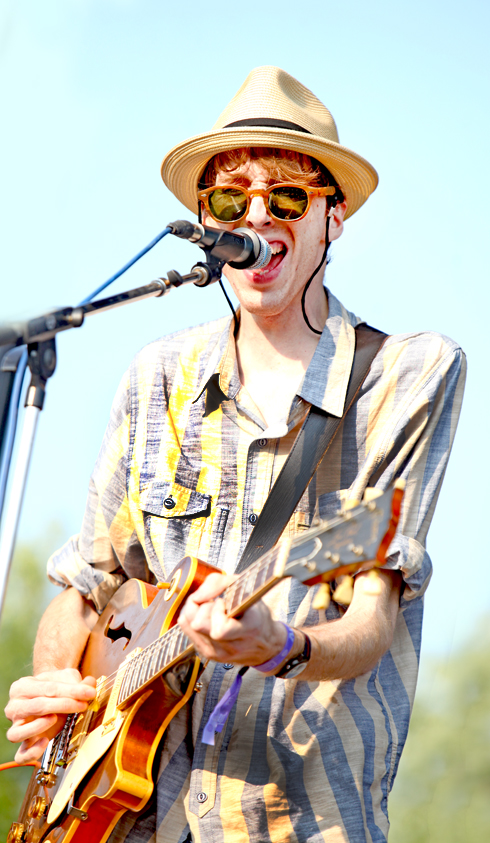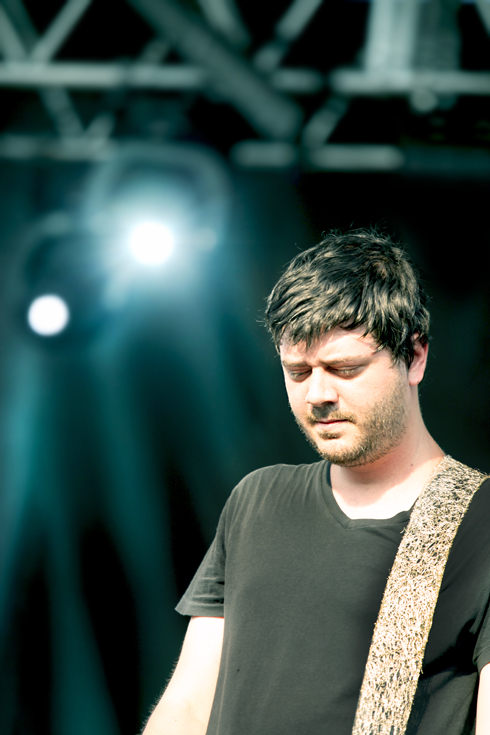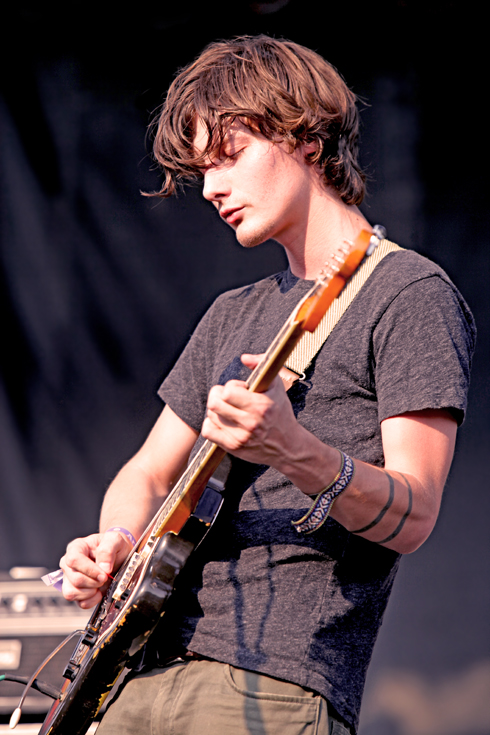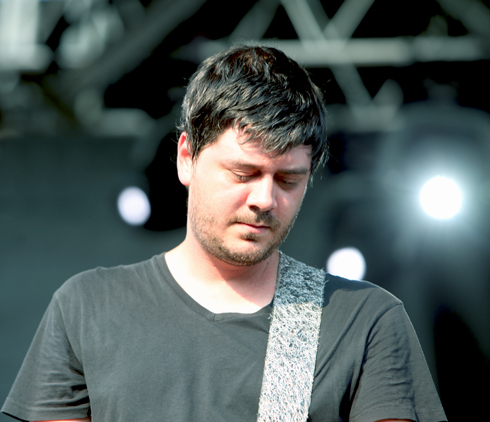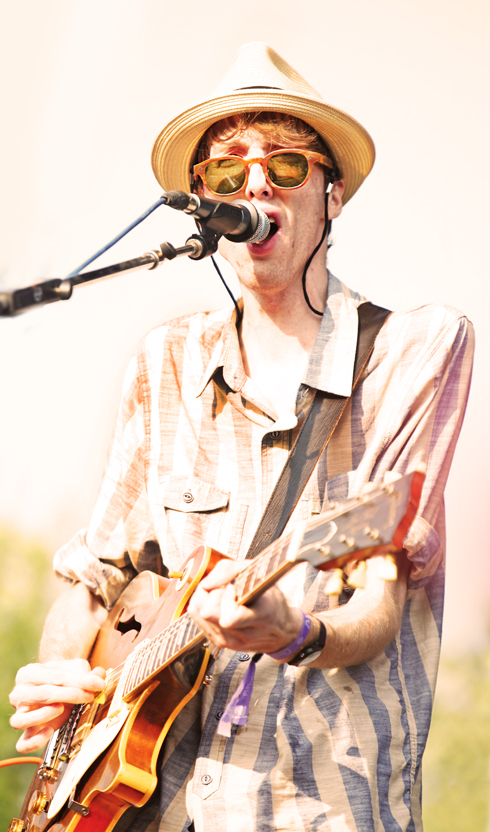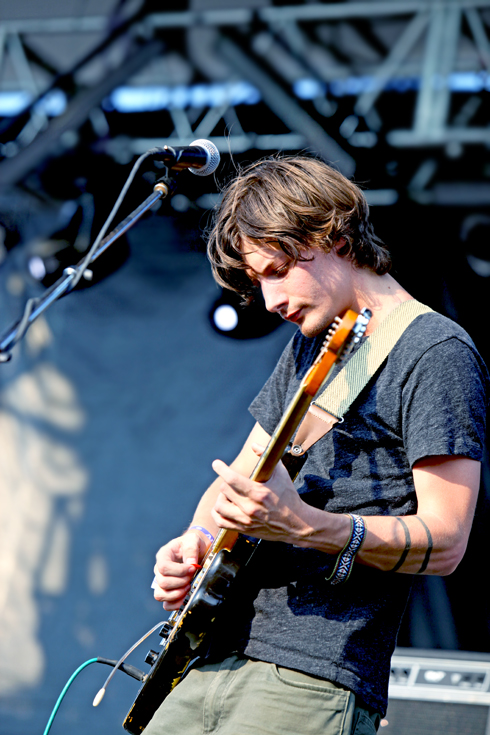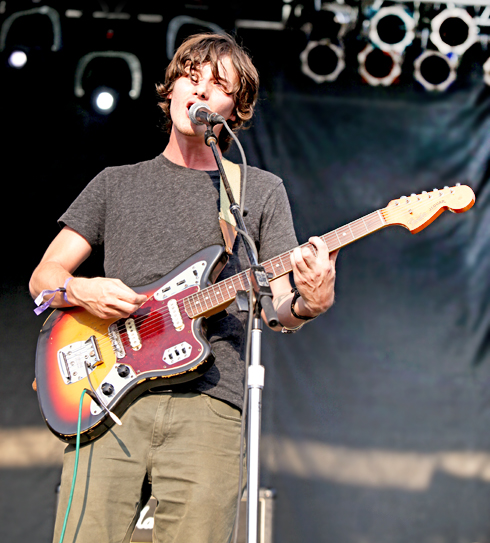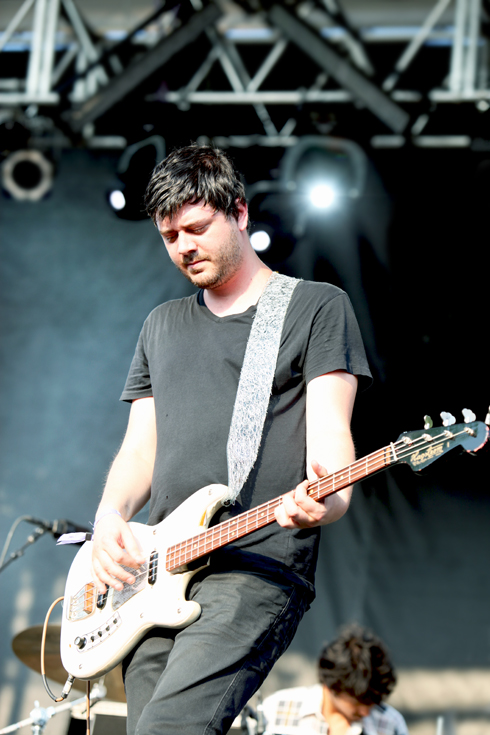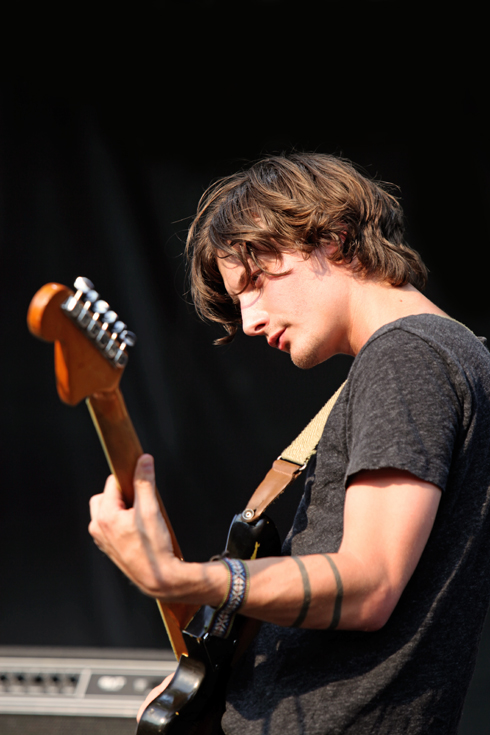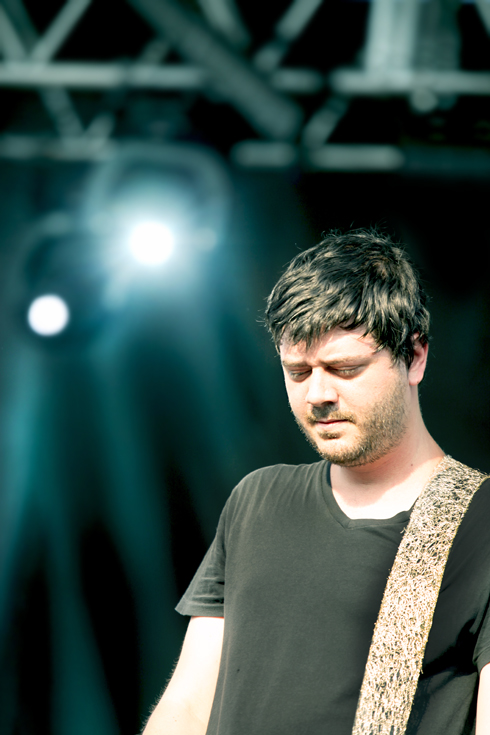 Deerhunter are another previous Pfork performing band who have really come into their own, particularly with their release of Halcyon Digest. They played the best of this album, particularly "Desire Lines" and "Revival" and sounded strong, heavy hitting but with both wondrous guitar effects to make their dynamics intriguing to newcomers. This reviewer has been seeing the band play for the last five years and it's astounding to see how their live presence as well as their albums have progressed into something astounding that one treasures hearing and bearing witness to again and again.
More photos: