5 July 2011
It's that time of year again, Chicago. We're all recovering from that epic BBQ holiday weekend wondering what we have to look forward to next…well, here it is! Whether you snagged one of the sold out three day passes early on or are trying to decide which days would be best to buy tickets for right now, Pitchfork Music Festival 2011 has a plethora of great bands. Let's face it, though, with set times being what they are, unless you are a timelord or have the amazing ability to clone yourself, you probably won't get to see every single band. (As a Doctor Who fan myself, I'm busily working on a tardis to take myself and my camera back in time to see The Kinks in London in 1973.) Many bands are going on at the exact same time or nearly the same time and you know what that means…you will have to make a choice!!! Here are some ideas of bands that this review/photographer would recommend based on having seen many of these bands and/or reading and listening to live concerts. The full lineup can be found here Remember, the names of the stages have changed this year to colors.
Friday, July 15 (gates at 3 p.m.):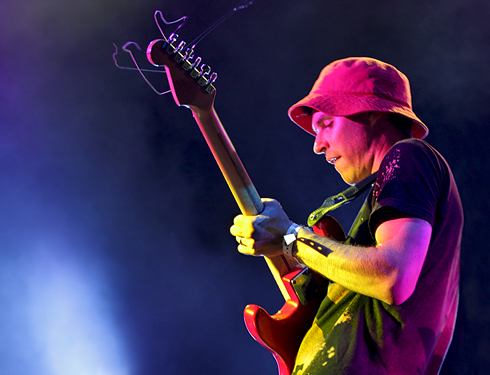 8:30 Animal Collective (GREEN)
There is no one that quite sounds like Animal Collective. It's almost as if they found a way to make experimental and outsider music sound catchy and fun instead of jarring. While there are still some unpredictable waves of sound and interesting textures of sound, Animal Collective have delved farther into the realms of warm music that just feels good to listen to, especially outside on a summer night feeling the radiance of the day turn into evening and basking in the glow of indie rock. Animal Collective has headlined Pitchfork Music Festival in the past (2008) and they carried it off adeptly, proving that they could handle a larger stage and outside venue and still entrance an audience.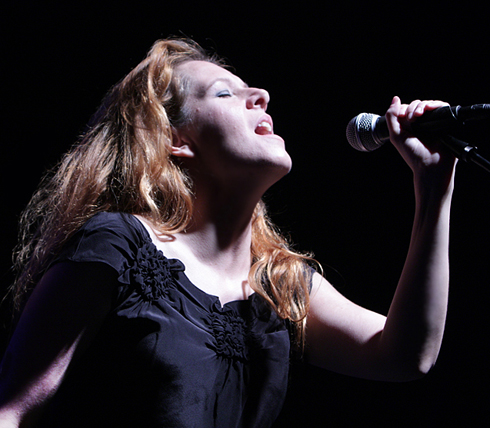 7:20 Neko Case (RED)
Neko Case solo is a real treat to see live. There is still a bit of pop in her songs but even more so therein lies a country soul. Further, the depth of the range of her voice is incredibly stunning to behold and quite awe inspiring as well. Very few women (or men) are as talented as this fiery redhead. Whether you enjoy her album recordings or aren't yet a fan, her live set is recommended based on her ability to belt out her lyrics and leave an audience gaping with surprise and admiration.

6:25 Guided By Voices (GREEN)
Robert Pollard is one of the most prolific songwriters out there today and within each lyric lies a sense of wit and insight. He knows his way around topics both common and obscure and has a way of telling a story that is both unexpected and original. Guided By Voices have a huge back catalog spanning well over twenty years as well as 15 albums so it's likely that, even if you have seen them in the past, you will hear a different setlist at this show. In addition, Pollard is a dynamic frontman who still kicks and jumps like the best of them!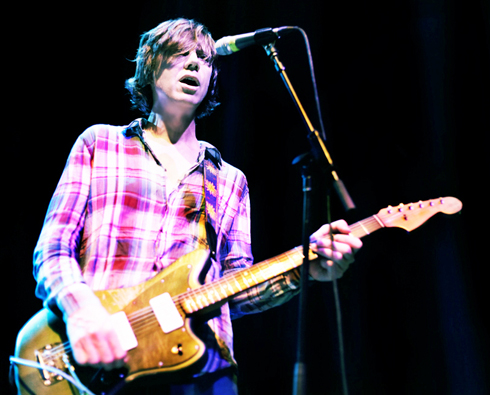 5:30 Thurston Moore (RED)
At this point, it seems unlikely that anyone attending Pitchfork Music Festival would be unfamiliar with the work of Thurston Moore. He's been a pioneer in music for decades with Sonic Youth and this year saw the release of solo record Demolished Thoughts. He's a music pioneer who both finds new creative music to support and seems to have the ability to invent new sounds all on his own with his multiple guitar pedal effects and altered tunings. Some may describe his solo material as perhaps tamer and it's not certain if he will bring a backing band/musicians but it's always a treat to behold a visionary musician such as him at work and is therefore highly recommended.
Saturday, July 16 (gates at 12 p.m.):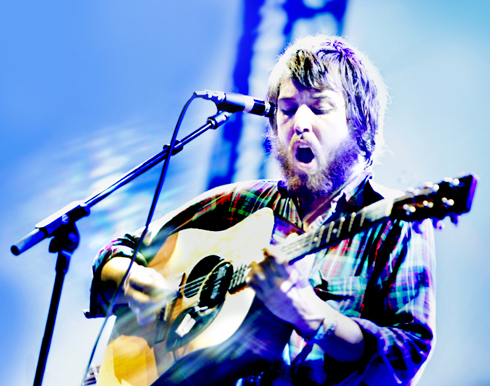 8:30 Fleet Foxes (GREEN)
The world was enriched long ago by the powerful melodies of Crosby, Stills, and Nash and this perhaps inspired a generation of kids who grew up with their vinyl spinning on the record players belonging to their parents. If you happened to be one of these children who is now grown up and happily attending concerts, Fleet Foxes are probably a band you'll like. Their best feature is their ability to channel these kinds of deluxe harmonies in a way that feels sincere and pure. It's nearly spell binding to witness this kind of thing live. It makes you realize what your parents might have felt hearing Suite-Judy Blue Eyes the first time.
7:40 Zola Jesus (BLUE)
Zola Jesus is fast becoming known as a band who can put out albums that are experimental but spellbinding. In addition, news has spread quickly about the intense and unpredictable stage presence of lead singer Nika Roza Danilova who seems to have a way of captivating an audience to the effect of a lasting impression. This is a set this reviewer is greatly looking forward to!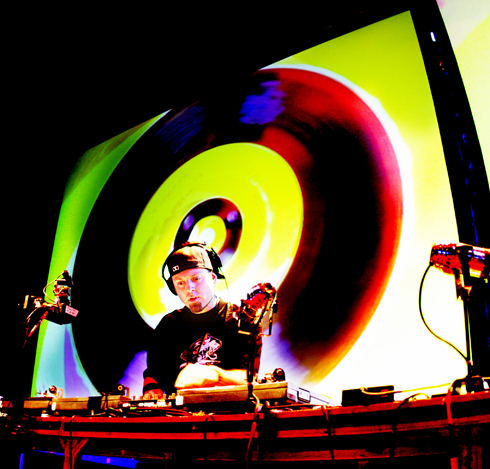 7:25 DJ Shadow (RED)
It is going to be difficult to catch all of DJ Shadow and some of Zola Jesus so this might have to be one time where you have to try to catch a little bit of both sets if they each strike your fancy. DJ Shadow has proven himself to be somewhat of a mastermind since 1996's Entroducing and his work has resounded across the music industry. He continues to demonstrate his vast skills in using beats and samples in new and intriguing ways and is quite fun and engaging to watch in a live setting as a turntablist as well.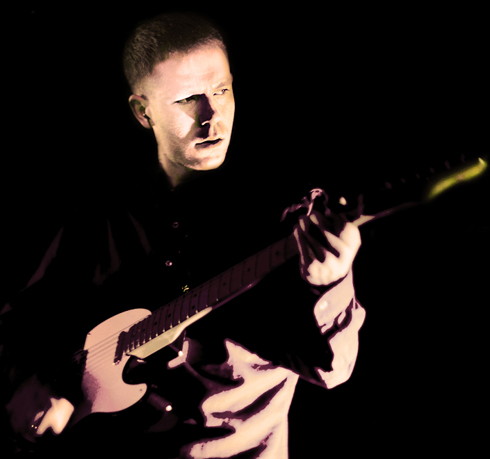 5:45 The Radio Dept. (BLUE)
To be honest, Sweden's The Radio Dept. does not typically have an animated stage presence. They tend towards more of an Interpol seriousness when facing a live audience. However, the strength in this band is truly their wondrous songs and they are worth seeing because of this and the fact that their live performances in this country are quite limited. In fact, this is only the second time the band has played in Chicago (after playing at The Empty Bottle earlier this year)! Due to their live appearance rarity, it is recommended that even the casual fan of their recorded tracks check out their live set at least for a few songs. It's possible you might not get another chance for a long time..or ever if you don't!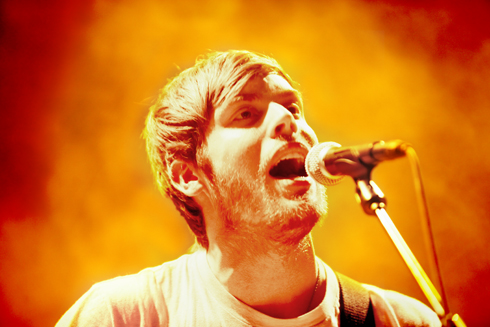 3:45 Wild Nothing (BLUE)
Glorious and lush, Wild Nothing plays songs one can easily get lost in with such cascading pedal effects. It's perhaps the most perfect set to makeout to, if that's what strikes your fancy, but it will also be a great set to dance to. Lead singer and songwriter Jack Tatum's 2010 album Gemini still remains to be a favorite of this reviewer's of last year. It's easy to anticipate how amazing these songs will come off in an outdoor setting with hopefully the waves of sound emanating from the stage in a way that swirls around longingly amongst the listeners.
1:55 Sun Airway (BLUE)
Though the music is much dancier and quirkier, the vocals of Sun Airway recall that of U2's Bono when he was much younger just starting out his career. Their 2010 album American West succeeds in a great balance between the creative and the accessible. There's a sense of an elevated and soaring spirit that encourages you to dance and rejoice in the music itself. This is another set that this reviewer is looking forward to seeing live, especially outdoors.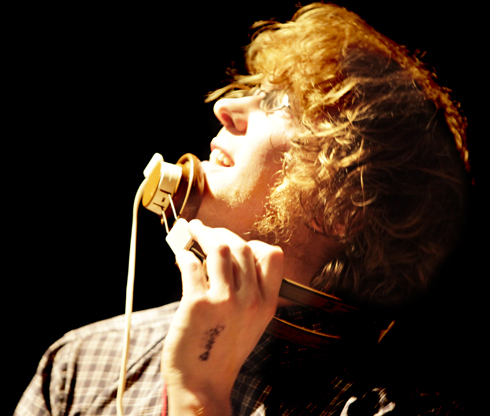 1:45 Woods (RED)
Harking back to the idea of growing up with certain sounds, if you prefer Neil Young or CSNY to Crosby Stills Nash, Woods may be more your thing. Singer Jeremy Earl certainly has a similar vocal style with an acquired taste nasal quality recommended for those who experience a sense of yearning every time they put Everybody Knows This is Nowhere onto their turntable. In Woods, you find a slightly more modern take with an indie garage feel present as well as pedal and tape effects but there's a keen sense of vulnerability and honesty to the vocals which is what this reviewer always loved best about Neil Young anyhow. Woods music takes on a great energy live as well, with the songs seeming even more poignant.
1:00 Julianna Barwick (GREEN)
Perhaps more highly anticipated than any other set at Pfork Music Festival this year by this reviewer is that of Julianna Barwick's. Both Florine and The Magic Place are absolutely incredible releases with the power to reassure you and help you forget about all of life's difficulties. Her music is ultra feminine with a sweeping etherealism. Her voice itself often becomes a glorious instrumental entity that enhances the music even more, taking it to even greater heights. While it's true she's playing first at the very start of the day, plan accordingly to get there early for her and you won't be disappointed!
Sunday, July 17 (gates at 12 p.m.):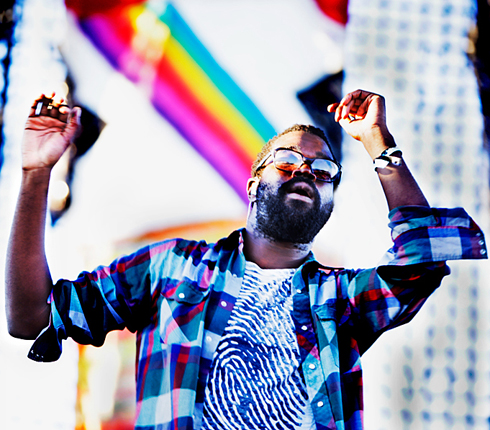 8:30 TV on the Radio (GREEN)
TV on the Radio are clearly a festival favorite as they are headliners and are another band that have worked on defining a certain sound over time. They've successfully pulled off other major festival dates as well, such as Lollapalooza and Coachella in 2009. The band has a really interesting energy on stage with each member a very talented instrumentalist in his own right and with a great sense of flow and ease of playing that makes it seem as if they are having fun and pulling off a great live set. They've also proved themselves consistently as being capable of bringing their recorded songs to a live setting with enough energy and power to prove captivating and worthwhile for fans.
6:45 Toro Y Moi (BLUE)
It will be interesting to see what Toro Y Moi deliver live. Fans of the recordings seem to enjoy them and it might just really work in an outdoor festival setting. Some of their songs are almost dub style jams whereas others have a lighter garage rock jangly feel that seems downright whimsical. Either way, they have a certain flexibility and it will be interesting to see which one they choose to emphasize at the festival. Personally, this reviewer is a fan of the light hearted indie garage rock songs like "Leave Everywhere" and "109" but the jams might work for fans of slow chilled out dancing in the audience.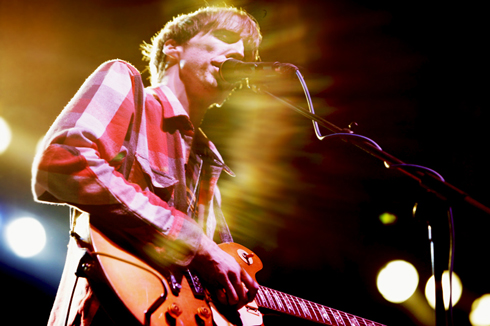 6:15 Deerhunter (GREEN)
Who could possibly forget the performance by Deerhunter in 2007 where Bradford Cox wore a wedding dress and seemed to go completely wild on stage? The band has toned down some of their stage presence since then and in the meantime have been successful and solidifying their own sound which is a complex mix of spooky garage rock that has the ability to literally knock you over the head with the wonder of it. It was no surprise when the band secured a spot opening up for Spoon and proved to be their equals on the tour. 2010's Halcyon Digest also showed a great deal of growth for the band, with a slight jangle counter-balanced by driving edge for so many memorable points on the record. Whether you are a casual or more rabid fan of Deerhunter, seeing them live has been a continuous joy for this reviewer and it is expected that their performance at Pfork will be no exception and, of course, expect the unexpected.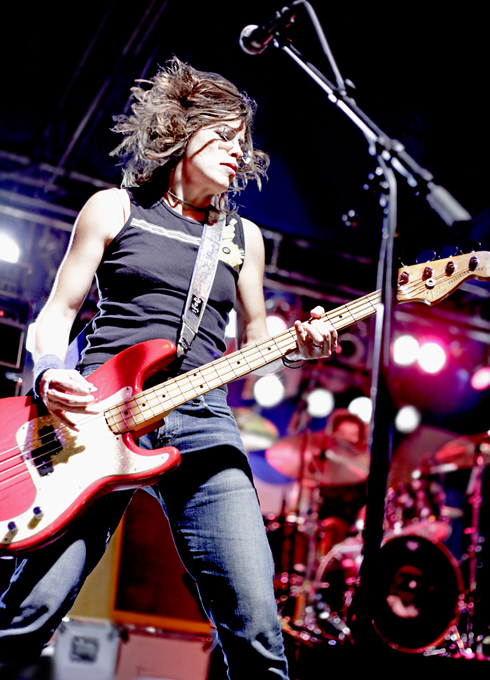 5:15 Superchunk (RED)
Superchunk are definitely one of the more experienced and older bands of the festival but with that comes a deft and powerful talent. The band's sets are usually on the more energetic end of things with plenty of jumping to make one wonder if Mac McCaughan and Laura Ballance actually have pogo sticks and trampolines with them on stage. The songs have a fun energy that only seem to match perfectly with their stage presence, combining the best of bubbly pop music with more powerful rock that delivers in a way that inspires the listener to want to join the band in their triumphant glee. Superchunk sets always promise to be a good time and are highly recommended whether in a festival setting or at a club. They did a fine job at Coachella in 2009 as well as headlining the Randolph Street Festival in 2010. For those fans who have not seen them recently, it will also be interesting to hear songs from 2010's Majesty Shredding in a live setting.
4:45 Baths (BLUE)
On the more ambient chill wave end of the festival is a band called Baths. This is the work of Will Wiesenfeld and it's electronic music at its best because it still manages to sound somewhat organic and filled with enough life and interesting dynamic progressions within the flow of the songs to maintain active listening. For instance, the beats at times as in "Apologetic Shoulder Blades" are a little off kilter and unpredictable but somehow work in a beautifully orchestrated electronic symphony that seems to represent the modern age well.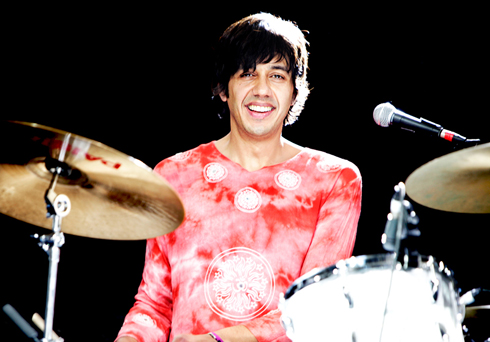 4:15 Ariel Pink's Haunted Graffiti (GREEN)
Ariel Pink's Haunted Graffiti used to possess a much more pronounced bizarre sound, branding them with what some described as outsider indie rock/pop sound. Their creations often led to a really unpredictable stage presence for lead singer Ariel Marcus Rosenberg as well. It's possible this may have changed as the band's sound seemed to have evolved somewhat with the release of 2010's Before Today which contains much more in the way of classic sounds from the 60s and 70s that have their own strange spins but also seem more easily accessible. Many tracks off this album sound downright glorious and fans have relished in their live performances of them, which makes this a highly recommended set to attend.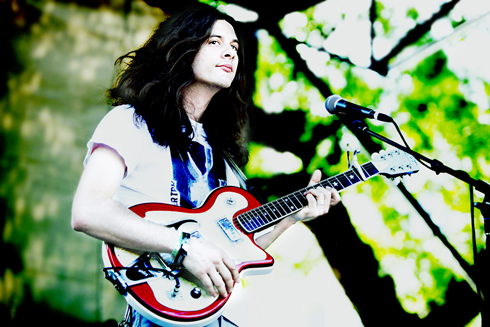 2:30 Kurt Vile & the Violators (GREEN)
Taking a quick look at Kurt Vile, you'd never guess he had all the makings of a guitar rock legend to inspire psych-garage rockers everywhere. Vile plays with his face mostly covered with hair in the style of many shoegazers but he does a great job letting the music do the talking for him. For all his modesty and unassuming nature that one might easily find quite endearing actually, he wields a sense of talented power in each chord he strikes. Many have witnessed his live sets both in clubs in Chicago and at Pitchfork Music Festival last year and found his music to be quite striking and fulfilling. You won't be disappointed if you like music of this style and you choose to attend!
1:00 The Fresh & Onlys (GREEN)
What better way is there to start off one's festival day with a band as fun and lovable as The Fresh & Onlys? They pull of indie garage rock throwing back to some great 60s influences as one of the best bands of this awesome revivalist genre. They are a band that has a great sense of jangly melody and isn't afraid to enjoy themselves while playing songs either. Get there early on Sun. to see this band and they are sure to put a smile on your face and leave you in a good mood for the remainder of the day!