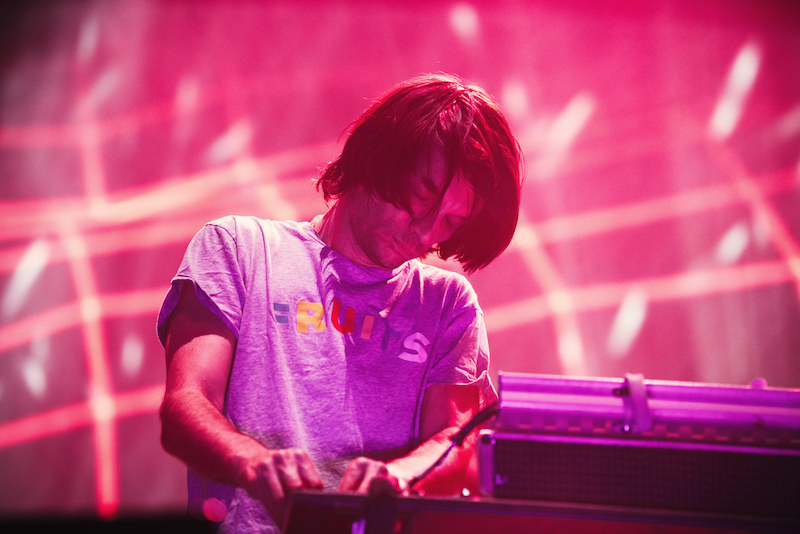 23 July 2018
Radiohead in 2018 continues its decades-long campaign of confounding expectations and challenging the norms of conventional rock bands. An adventurous crowd in Detroit offered strong support on Sunday. If anyone was disappointed that the British band didn't play its outgrown 1993 hit "Creep," that unlikely dissent was overcome by cheers for deeper cuts like full-tilt rocker "Bodycount" and new-math anthem "2+2=5." Chances are, Radiohead could have omitted the set-closing "Karma Police" and gotten away with it, too. It was nice that they didn't, because the sold-out audience's singalong was a thrilling display of community – both for those in the room and those on stage. Frontman Thom Yorke lingered at the rim of the stage with his acoustic guitar to strum a few spare choruses and bask in the sound before waving goodbye.
But that was the end of the show. The audience was engaged from the start, with one clever fan deploying a fleet of balloons during "Airbag" (get it?). Yorke drew one of the night's biggest reactions by poking at political tensions during OK Computer favorite "No Surprises." The arena's left-leaning contingent erupted at the line, "Bring down the government, they don't speak for us."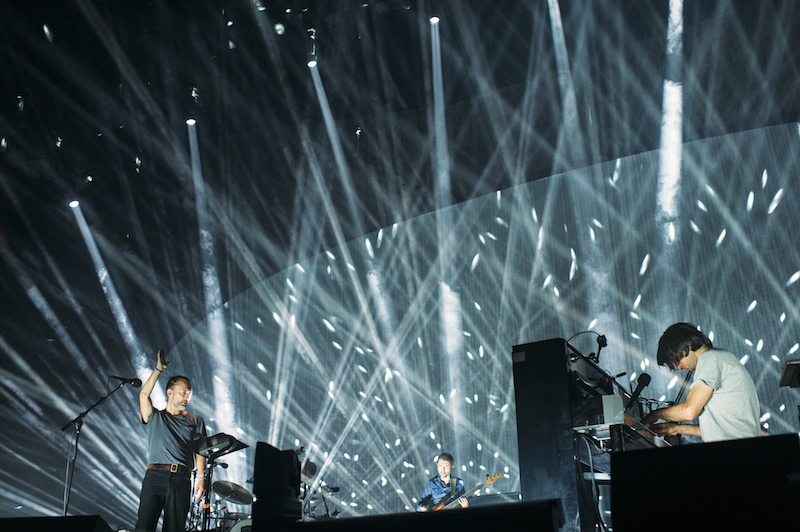 Photo by Andrew Potter
Jonny Greenwood spent his time during the aforementioned "No Surprises" (among many other songs) subverting his position as the band's resident guitar hero. His glockenspiel became the lead instrument for the song's glasslike textures. He led "Daydreaming" from piano under twinkling mirrorball light, and returned for the lovely standout "All I Need." Greenwood spent the duration of the icy, apocalyptic disco "Idioteque" changing patches on a bank of Moog synthesizer modules as Yorke twitched nearby. True, Greenwood was a slashing dervish on guitar during the glorious climax of "Fake Plastic Trees." He played the repeating guitar riff of "Ful Stop" as if it were a full-body nervous tic, twisting hard to the left at the end of each phrase. During "Street Spirit (Fade Out)," however, he couldn't avoid his other toys. While unfurling hymnal arpeggios on guitar, Greenwood played the song's keyboard countermelody simultaneously with his guitar's headstock.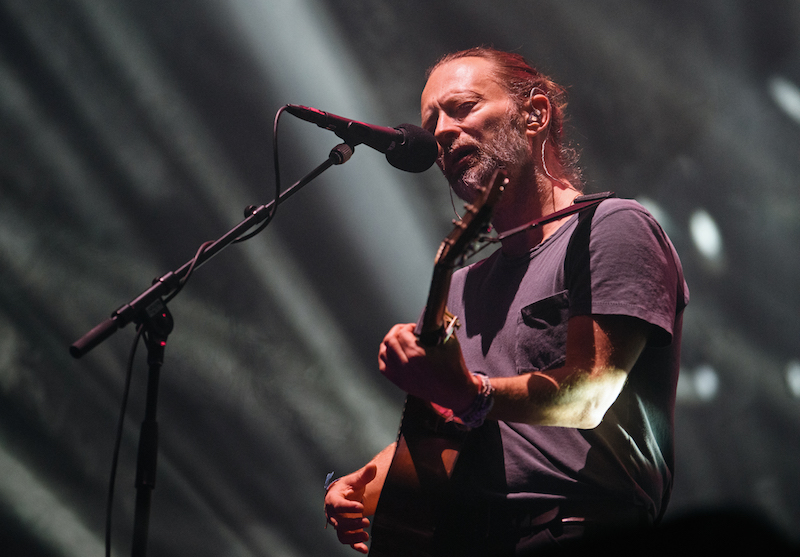 Photo by Andrew Potter
The core quintet was augmented by percussionist Clive Deamer, who paired with founding drummer Phil Selway for a double drum set arrangement during songs from 2011's The King of Limbs and 2016's A Moon Shaped Pool. For "Bloom," Greenwood moved to a third kit, creating a skittering cacophony while Yorke and guitarist Ed O'Brien created undulating waves of guitar with a sonic connection to Talking Heads' burbling "Once in a Lifetime." O'Brien joined Greenwood on tom-toms for "There There," leaving just Yorke and bassist Colin Greenwood on the stringed instruments.
Selway and Colin Greenwood provided structural support while the remaining bandmembers traced delicately around the edges of the understated and chastising "Nude." The song's gentle tension belied an undercurrent of deep resentment. "Don't get any big ideas," sang Yorke, in indignant character. "You'll go to hell for what your dirty mind is thinking."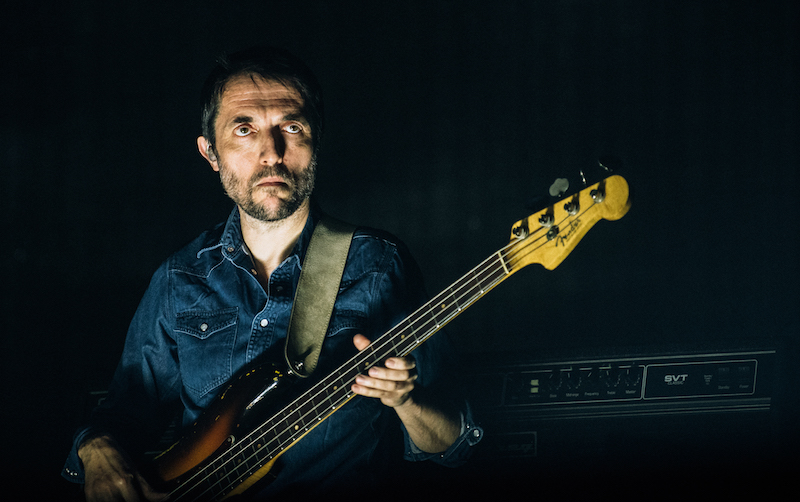 Photo by Andrew Potter
Yorke was beaming with smiles and animated throughout the set, but spoke primarily through his melancholy lyrics and the occasional thank you. He bounced and shadowboxed through "Myxomatosis." Yorke did pause before playing The King of Limbs B-side "The Daily Mail," wryly claiming that the publication subverted the higher calling of the press by tearing lives apart in his home territory. "Do you have the equivalent here?," he wondered, rhetorically. "On that note, I thought, 'What a good idea for a song.'"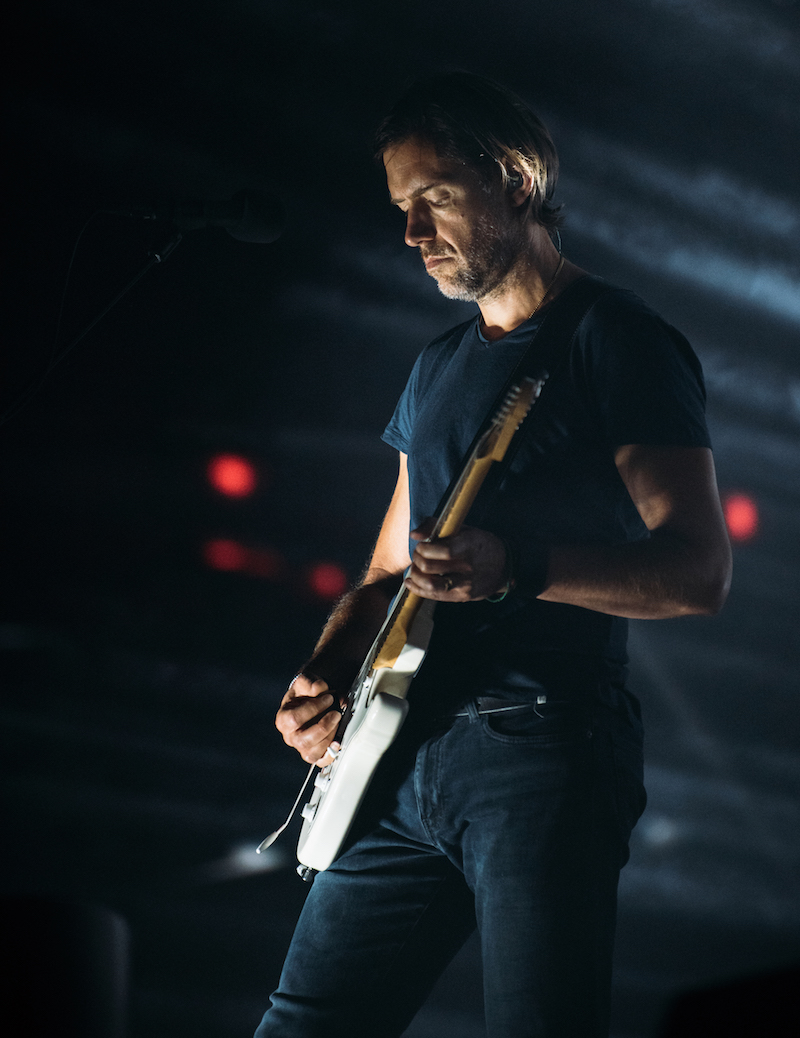 Photo by Andrew Potter
The generous show stretched beyond two hours with a pair of lengthy encores. The only notable glitch occurred during the title track for "The Bends." Although Johnny Greenwood attacked his guitar ferociously throughout, his part remained inaudible. All was restored for the propulsive and hypnotic "Weird Fishes," heightened by the plaintive echo of O'Brien's background vocals. Afterward, Yorke extended the band's blessing and thanks to the crowd. "All right, Detroit, thanks for having us," he said. "Look after yourselves."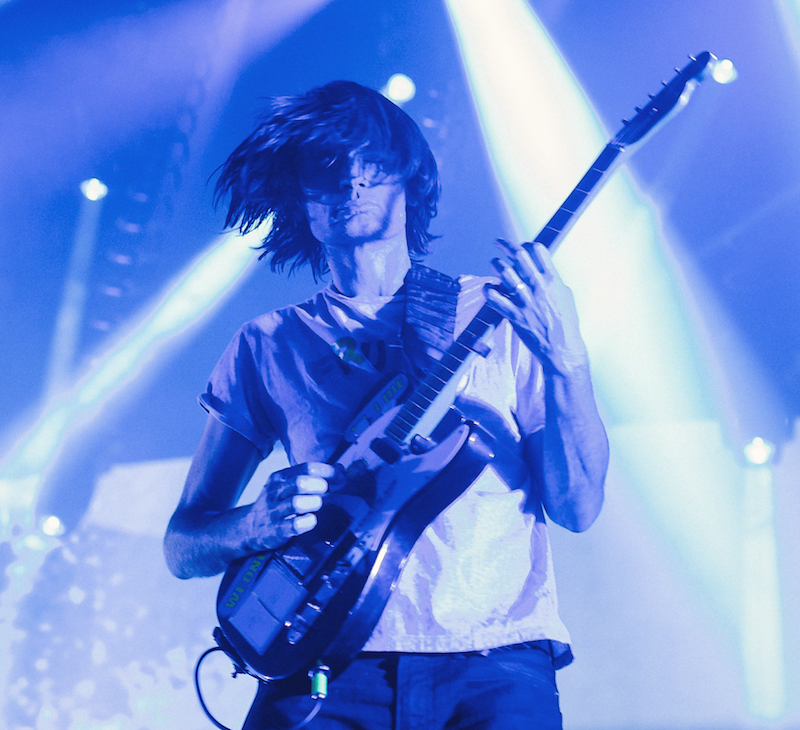 Photo by Andrew Potter
Opening the show was the ebullient Israeli musician Shye Ben-Tzur, performing material from the 2015 Johnny Greenwood-produced album Junun. Fronting the set on guitar and vocal, Tzur's seven-piece group included Indian ensemble Rajasthan Express and no less than headlining bandmember Greenwood himself on bass. The Indian musicians performed in matching black frock coats and bright blue turbans, highlighting their exotic mixture of frame and hand drums, harmonium, brass and spirited call-to-prayer vocals. The engaging Tzur stoked the crowd and players alike during joyful songs including "Modeh" and "Duma Dum Mast Kalandar." The Rajasthan vocalists overcame the language barrier in another of the evening's moments of communion by leading the crowd in singing a simple scale followed by a lilting melody.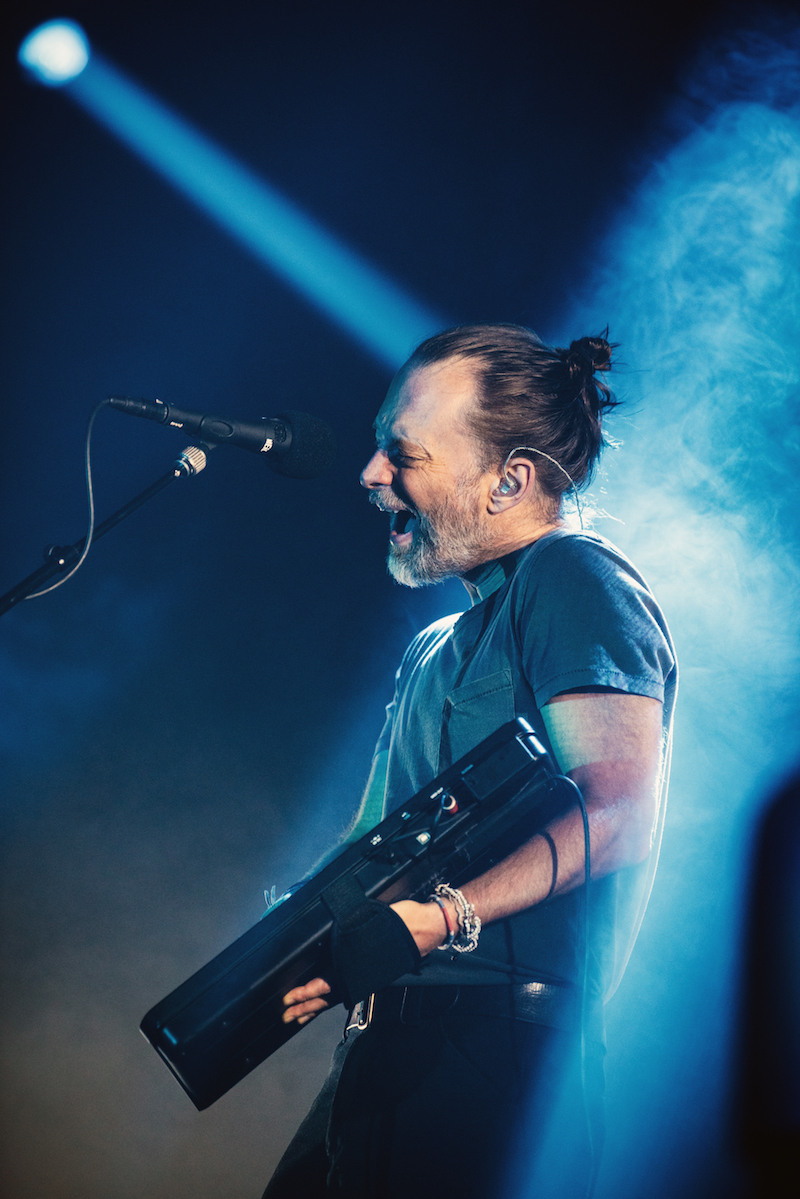 Photo by Andrew Potter