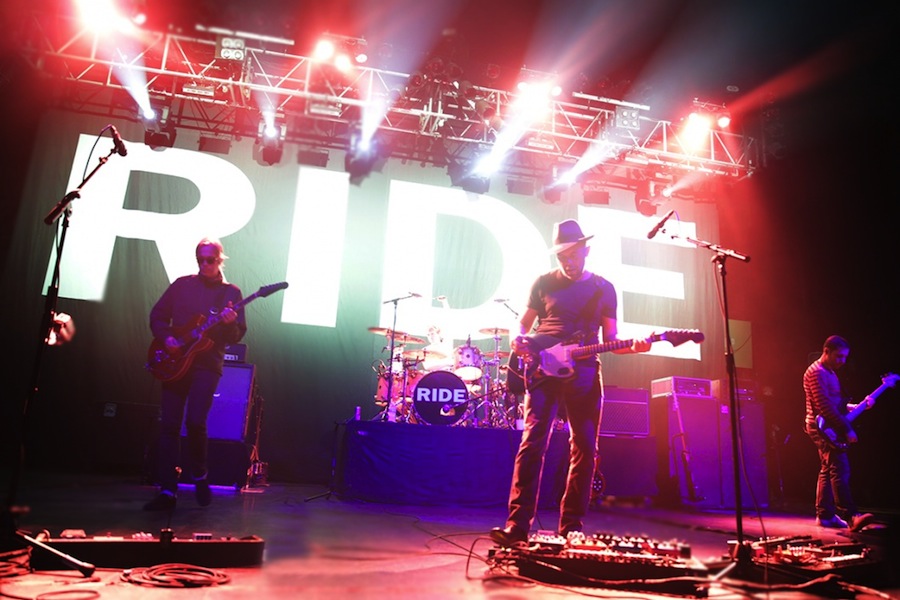 28 September 2015
photo by Kirstie Shanley
Ride is both a band and a concept again. The British shoegaze pioneers are back on the road for the first time in 20 years, and while this might initially conjure up images of boney, balding, middle-aged Englishmen reluctantly reuniting to cash in their rock n' roll pensions, the reality beats the cliché in at least one sense. The comeback of Ride isn't just a return from a long hiatus, it's an acknowledgement and rejection of their mid '90s transgressions, and a full embrace of a more narrow, but ultimately triumphant moment for a band and a genre.
"Career-spanning" is not a term that would apply to this particular evening of 120 Minutes-ian nostalgia. Across a two-hour set at Chicago's beautifully decaying Riviera Theatre, there was nary a hint nor an echo of the much maligned second half of the Ride canon—1994's Carnival of Light and 1996's Tarantula. Aside from a brief glimpse of both CDs at the merch table, their existence was otherwise burned out of the memories of everyone in the sold-out venue, including the band members themselves. Those albums—the ones in which Ride clumsily tried to foray into Britpop and self-indulgent '60s rock—were also the ones that eventually severed the relationship between singer/guitarists Mark Gardener and Andy Bell (Bell actually became the bassist for Oasis shortly afterwards). So on this night, right from the opening keyboard notes of the appropriately titled "Leave Them All Behind," Gardener and Bell dedicated their efforts exclusively to their band's heyday—tracks from Ride's three extra-noisy 1990 EPs, their celebrated debut LP Nowhere (also 1990), and the excellent Going Blank Again (1992). It was essentially a focused celebration and re-creation of a three-year time period—shoegazing at its absolute finest.
Maybe it was the black-and-white, 20-foot tall "RIDE" banner looming awesomely behind the stage—featuring the same bold, sans-serif font as the cover of that first self-titled EP—that set the right mood. Maybe it was Mark Gardener's new Indie Jones fedora, which never left his skull despite some wonky air-conditioning on an unseasonably warm night in the Windy City. Or it might have just been the swirling, marvelous demon mating calls of "Drive Blind" coming out of actual guitars instead of dorm-room walkman headphones. Whatever the magic ingredient was, the result was thoroughly satisfying and unstuck in time. "I've seen Ride now," a girl behind me said. "All that's left now is Van Morrison." Van isn't going to pretend it's 1965 and break into a rollicking version of "Gloria." He might wear a fedora, though. Maybe that's this girl's thing?
Since the full line-up of Gardener, Bell, bassist Steve Queralt and drummer Loz Colbert have been playing gigs throughout the year, the rust was pretty well kicked off already. Songs that generally required a tighter, pop sensibility, like "Twisterella" (a minor modern rock hit in the U.S. back in 1992) had a new looseness and thump to them—maybe because it was easier that way, but no complaints. "Polar Bear"—a classic off Nowhere—was particularly pleasing to two enthusiastic fans dressed in bear costumes in the first row. And a lovely rendition of the anthemic "OX4" was re-introduced, for those who weren't already aware, as an ode to the band's old Oxford stomping grounds.
The night's encore concluded, appropriately enough, with one of Ride's very first singles, "Chelsea Girl," followed by a very content-looking Gardener assuring the Chicago crowd he'd be "seeing them again soon." Will he return with new material—a creative outburst fueled by a successful world tour? I suppose we'd be okay with that. But then again, Gardener wrote "Chelsea Girl" as a hat-free, floppy-haired 20 year-old and is closing shows with it 25 years later. There is no imminent pressure to give the retro-minded masses something new to chew on. Ride, for now, means just one thing again.