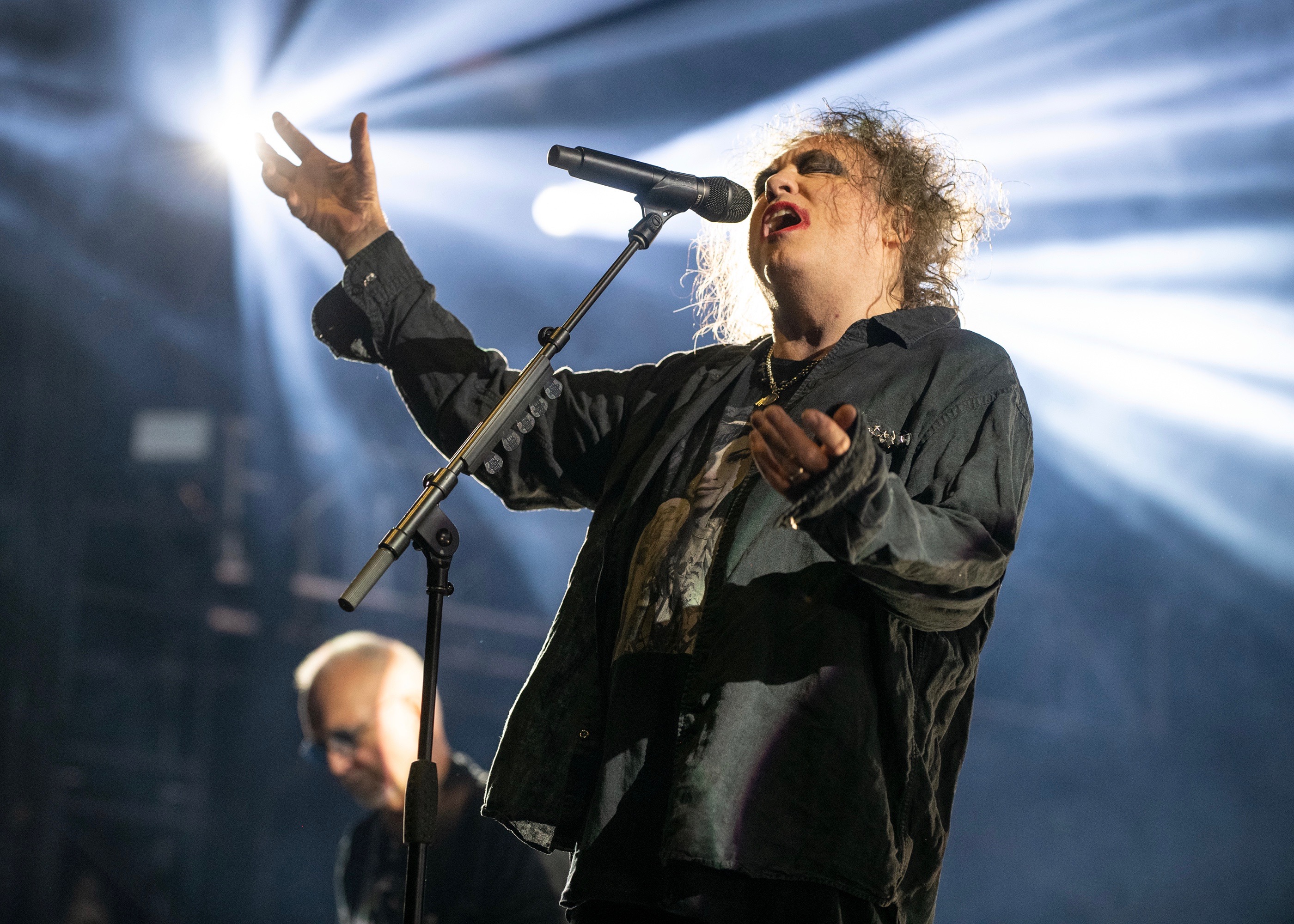 20 September 2023
Photo of The Cure's Robert Smith by Timothy Hiatt.
Morning rain prompted a delay at the Riot Fest gate on Sunday, keeping ticketholders away from the grounds until two hours after the planned starting time. Bands with early time slots including Chicago's Smoking Popes were cancelled. Sets with start times after 2PM proceeded as scheduled. After the late start, the final day of this year's Riot Fest moved swiftly toward its eagerly-anticipated headlining set by The Cure.


Cults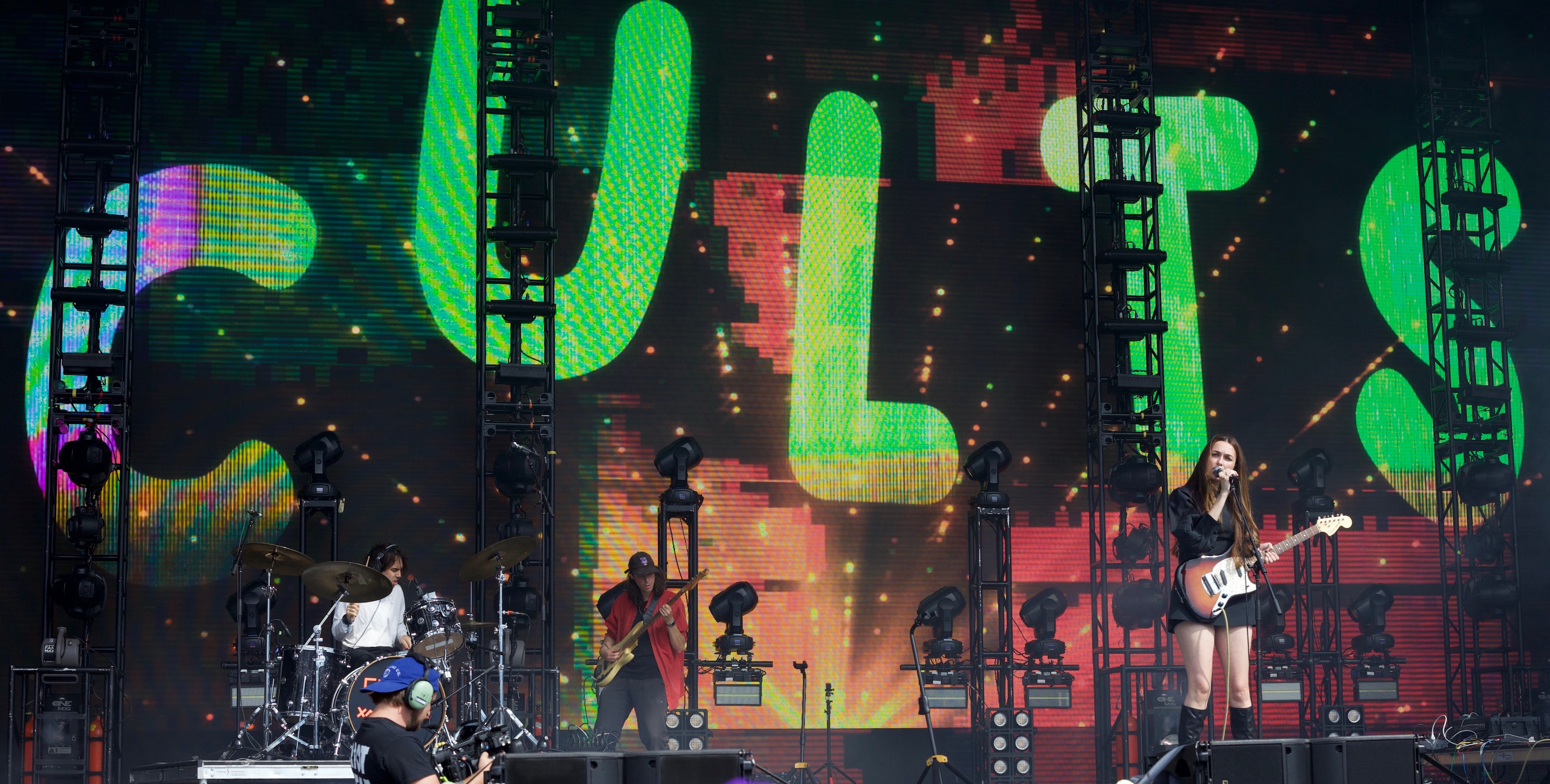 Photo by Jeff Elbel.
Despite forecasts of mid-afternoon rain, the gloomy clouds parted and allowed sunshine into the middle of Cults' set. "I'm glad this happened and you got inside," said singer Madeline Follin. Highlights of the band's set included "You Know What I Mean" from the band's 2011 self-titled debut. Follin's sweet soprano was joined by Brian Oblivion's shimmering organ during the lovestruck "Always Forever" from 2013's Static.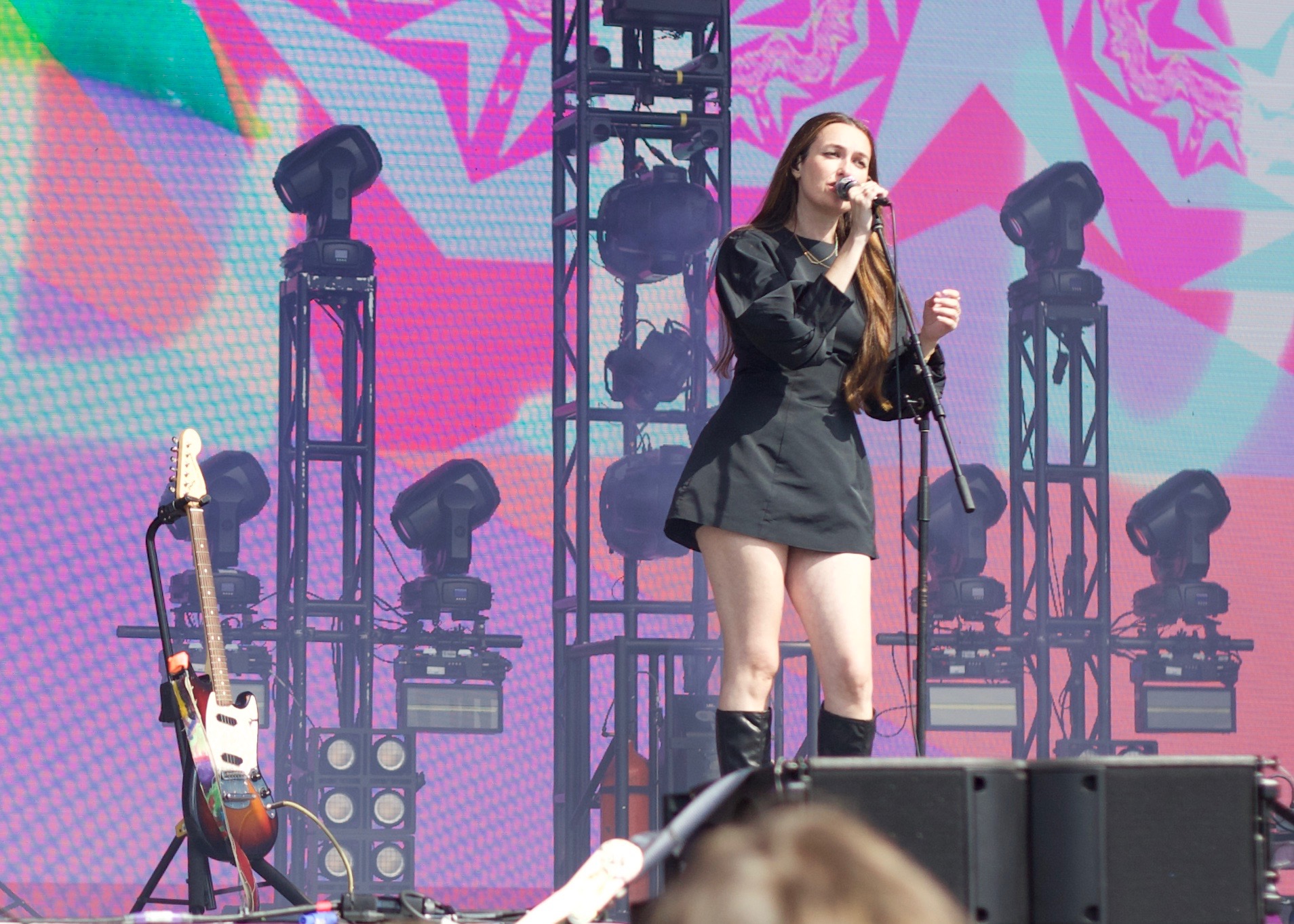 Photo by Jeff Elbel.
The Black Angels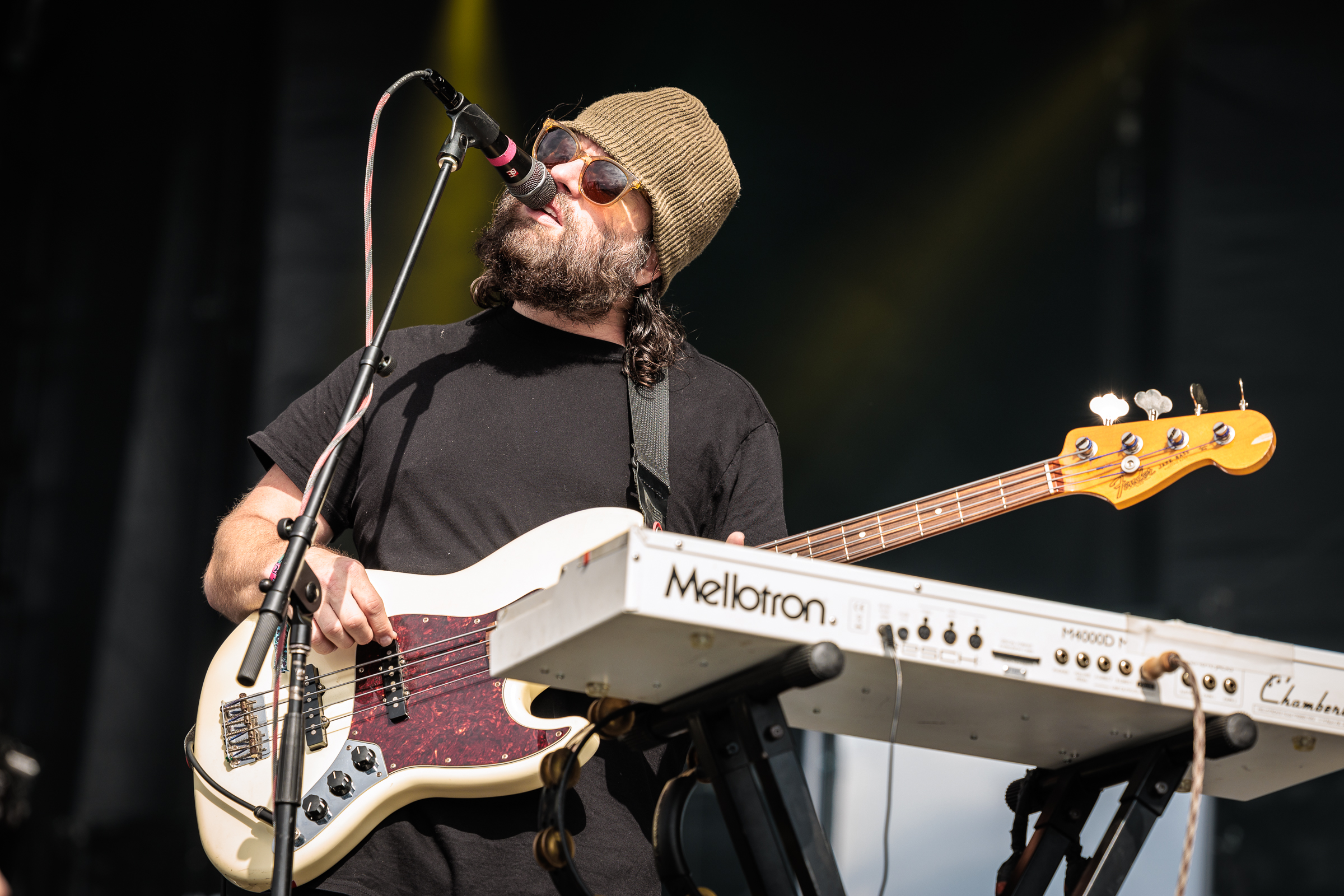 Photo by Anthony Linh Nguyen.
Texas psych-rockers The Black Angels played a powerful and hypnotic set bookended by "El Jardin" and "Empires Falling" from 2022 album Wilderness of Mirrors. Alex Maas sang and created an enveloping organ drone while his bandmates played the cosmic blues of "A Walk on the Outside."
Ride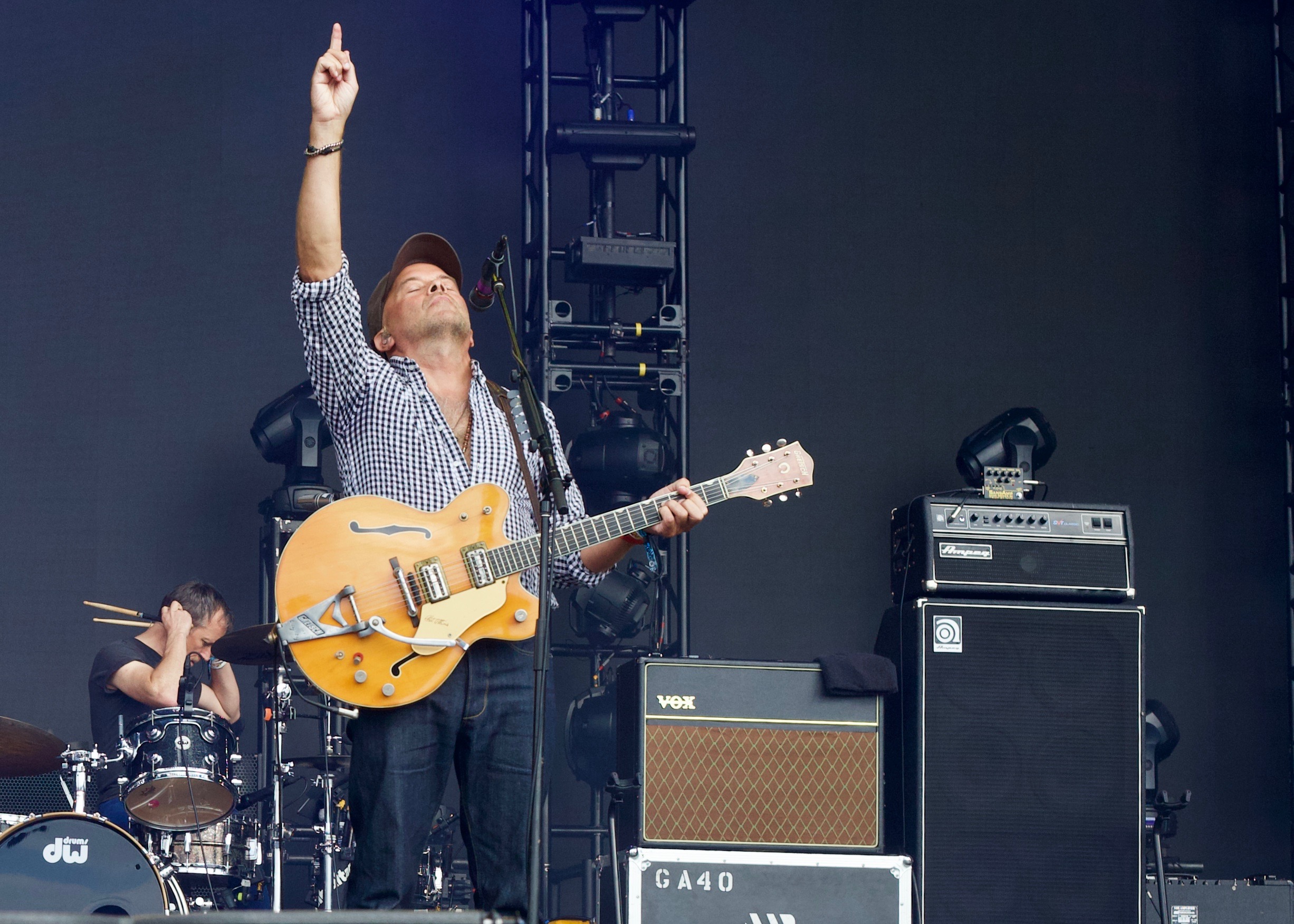 Photo by Jeff Elbel.
After giving shoegaze fans a heavy dose of Going Blank Again at Bottom Lounge on Friday night, Oxford, England's Ride gave the Riot Fest crowd a compact afternoon set full of lush and intertwining guitar. The sublime vocal harmonies of Mark Gardener and Andy Bell cut through and sailed above the band's jet engine roar. The set opened with "Leave Them All Behind," featuring an extended solo by Bell. Bell's left pinky finger remained wrapped and taped to his ring finger following a serious injury a couple of months ago, but the veteran guitarist wasn't audibly hampered.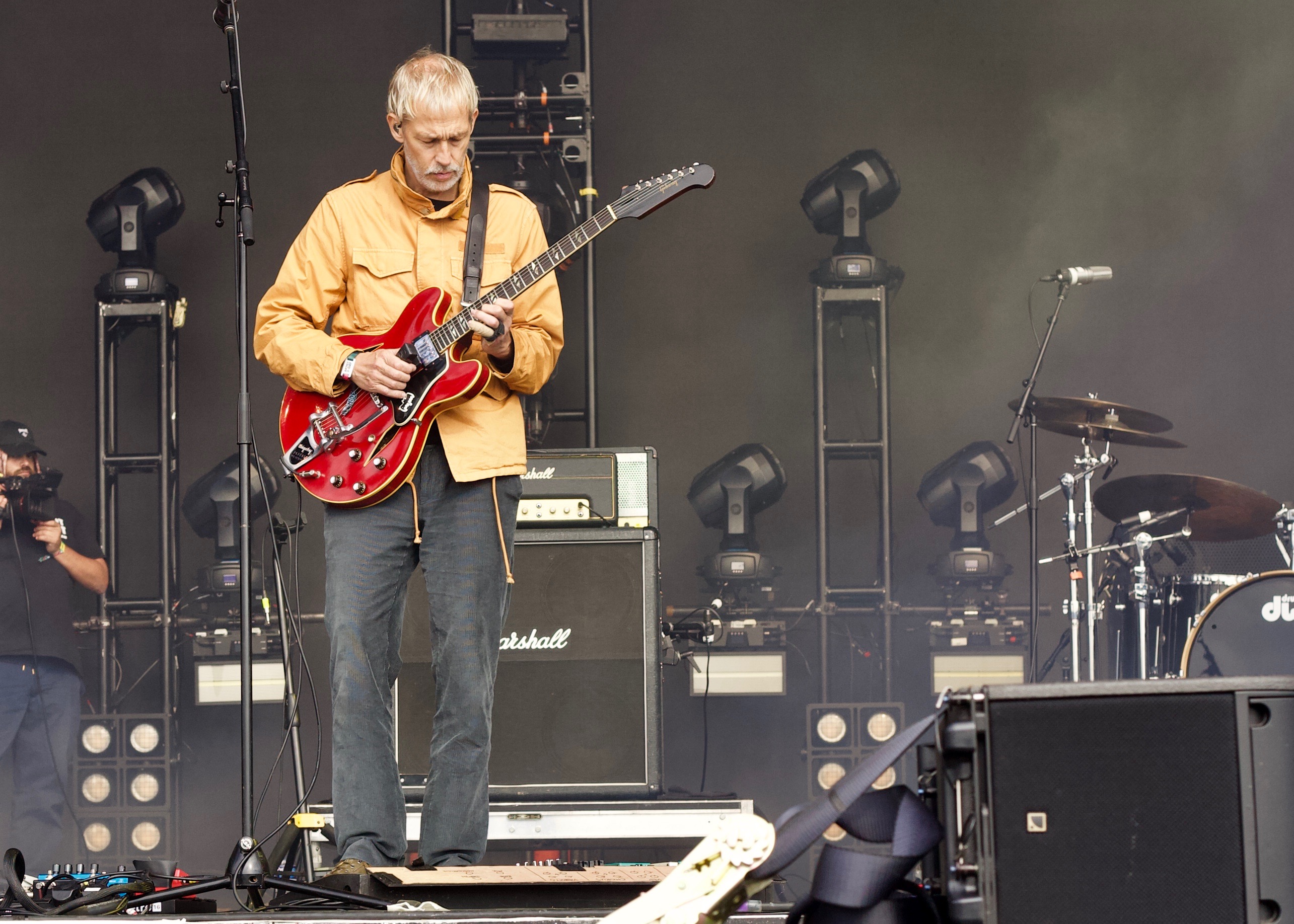 Photo by Jeff Elbel.
Following the jangle and drone of "Future Love," Gardener addressed the crowd. "You're looking pretty good from here," he said. "Very beautiful!"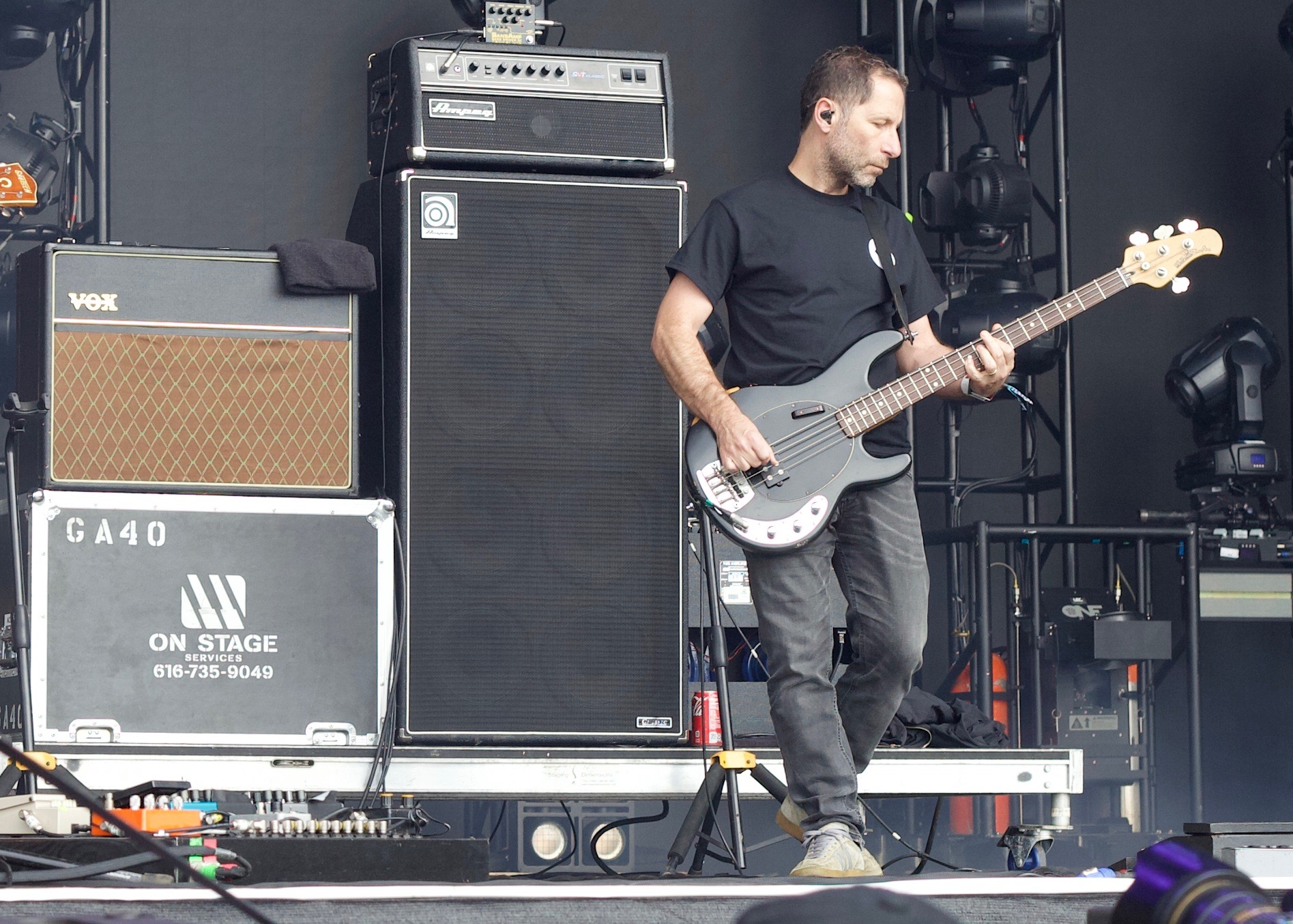 Photo by Jeff Elbel.
"Lannoy Point" from 2017 comeback album Weather Diaries began with an undulating synthesizer line, rooted by Loz Colbert's urgent rhythm and Steve Queralt's bedrock bass. "When we've swept ourselves away, a better sense can start again," sang Gardener, repeating the last half of the phrase like a mantra as the song climbed toward its climax.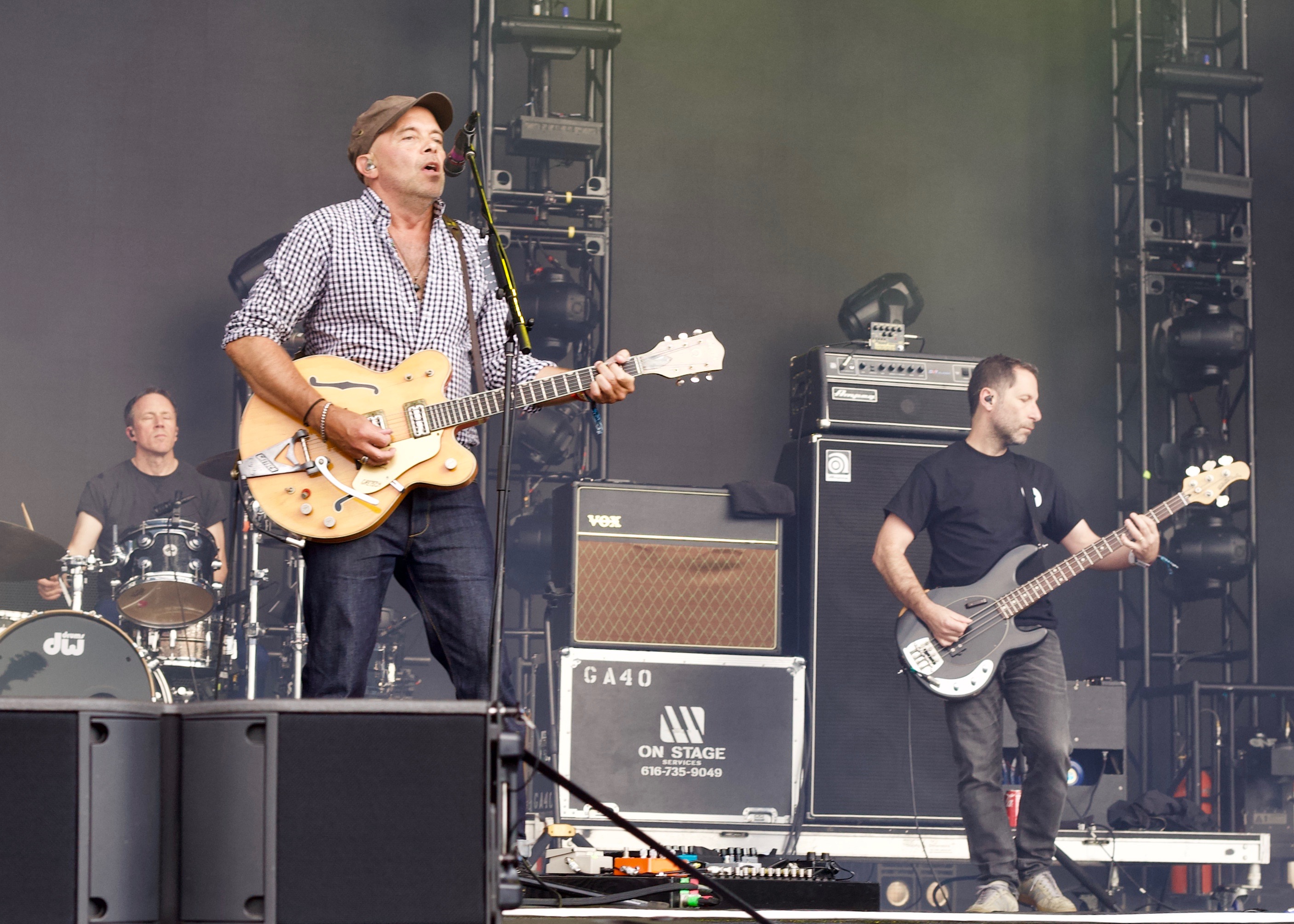 Photo by Jeff Elbel.
Gardener announced "Monaco" as a fresh song to be released on a new album in 2024. Beginning with an electropop beat, the song featured a steady pulse and chugging rhythm. Bell played a snaky lead beneath Gardener's vocal melody. "This is the life I owe," sang Gardener in the song's chorus.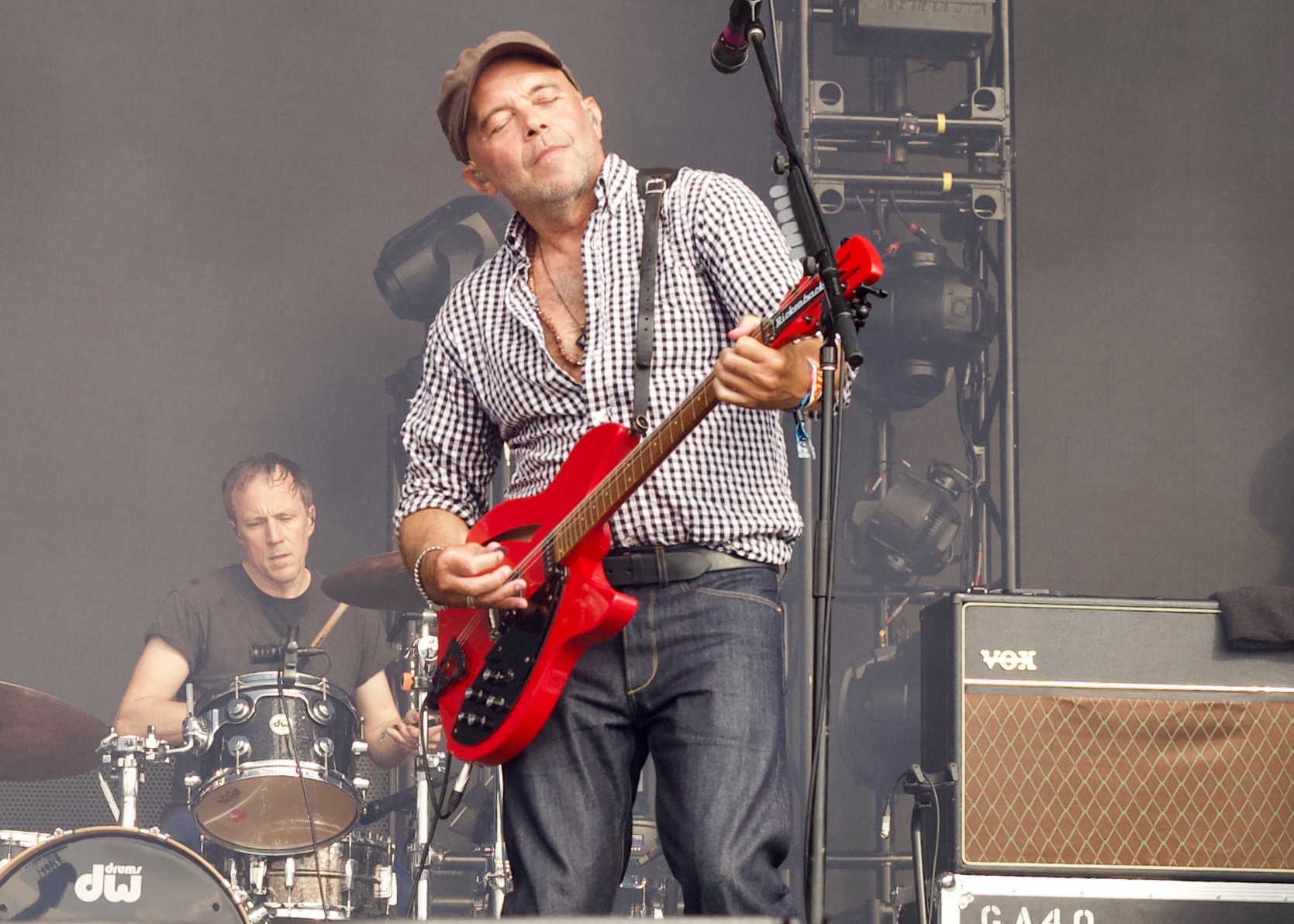 Photo by Jeff Elbel.
Guttural bass and crashing drums fueled "Taste" from Ride's 1990 debut album Nowhere. Bell's guitar slashed while Gardener's guitar chimed against an effervescent melody. Gardener gave thanks to the crowd, Riot Fest, headliners the Cure, and Bell's mending finger for allowing Ride's performance. The set continued as Bell sang audience favorite "Vapour Trail."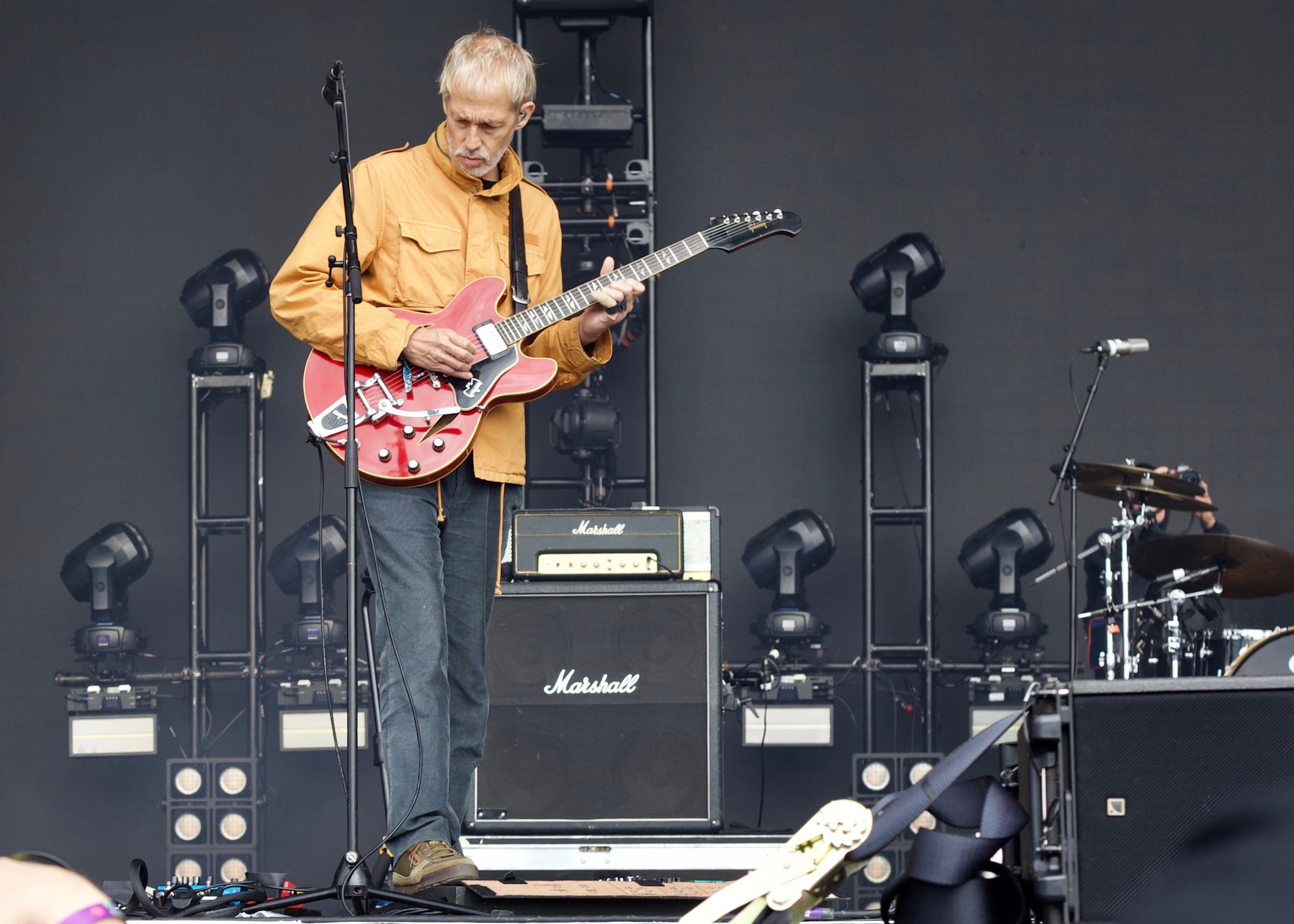 Photo by Jeff Elbel.
Ride finished as "Seagull" coalesced into a swirling cloud of sonic bliss. Colbert played a muscular and intricate rhythm joined by Queralt's hypnotic bass figure. Bell played a sinewy sitar-like solo as the sound built to a frenzied state. "We'd love to play all night, but we're not allowed," said Gardener. "You're going to enjoy the Cure anyway!"


AFI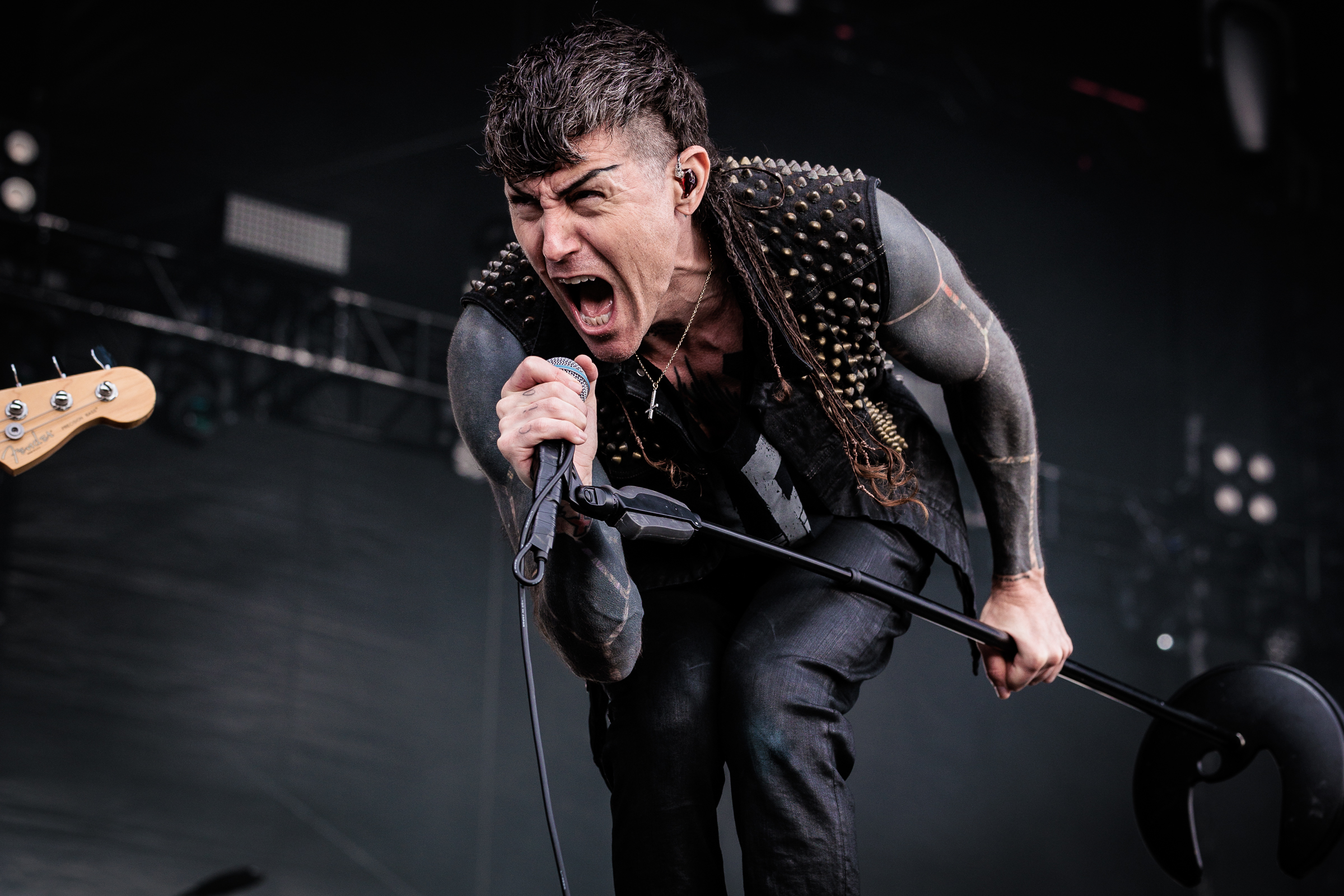 Photo by Anthony Linh Nguyen.
AFI singer Davey Havok added praise for the Cure. "If you encounter any band member who has played here this weekend, they've been influenced by the Cure," he said. The band from Northern California gave thanks for its fans in Chicago, who supported Havok as he walked from the stage into the crowd across people's hands and shoulders during "I Hope You Suffer." The set featured the hard-charging "Escape from Los Angeles" and frenetic "Begging for Trouble" from the band's most recent album Bodies. The audience joined as a choir with the strength of tens of thousands of voices for "Silver and Cold" and the heavy swing of set closer "Miss Murder."


The Dresden Dolls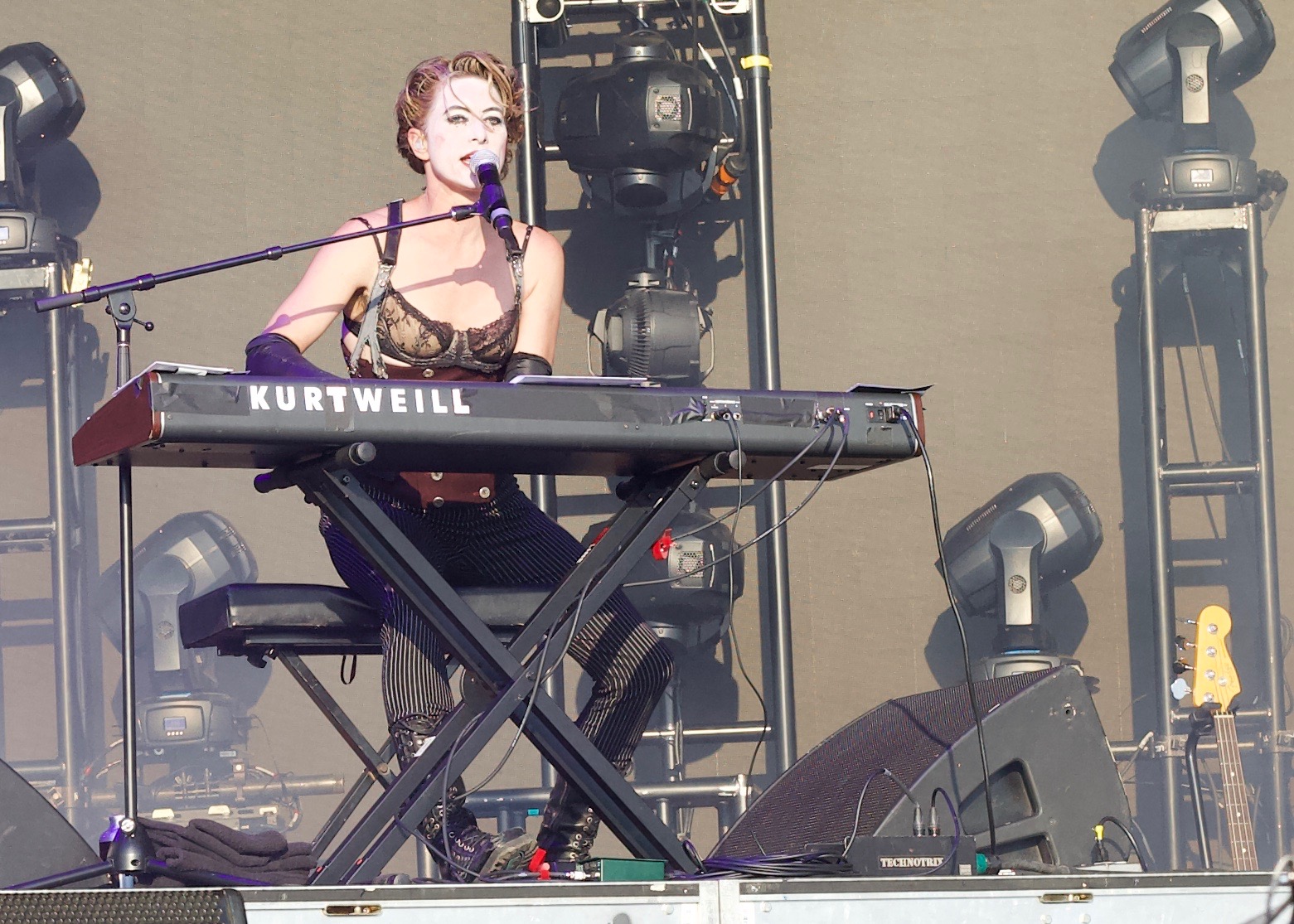 Photo by Jeff Elbel.
The duo of singer/pianist Amanda Palmer and drummer Brian Viglione arrived in gothic-steampunk-mime regalia for their set as the Dresden Dolls. The pair's energy was set to a ferocious energy from the start and never flagged. Palmer hammered her piano with fists and elbows while Viglione bashed his drums and cymbals mercilessly during the confrontational exploration of gender politics "Sex Changes."
The pair added drama and cabaret to "Modern Moonlight" and its observations about universal mania for technology and social media. "God, I love communicating," sang Palmer with wild eyes. "I just hate the s*** we're missing."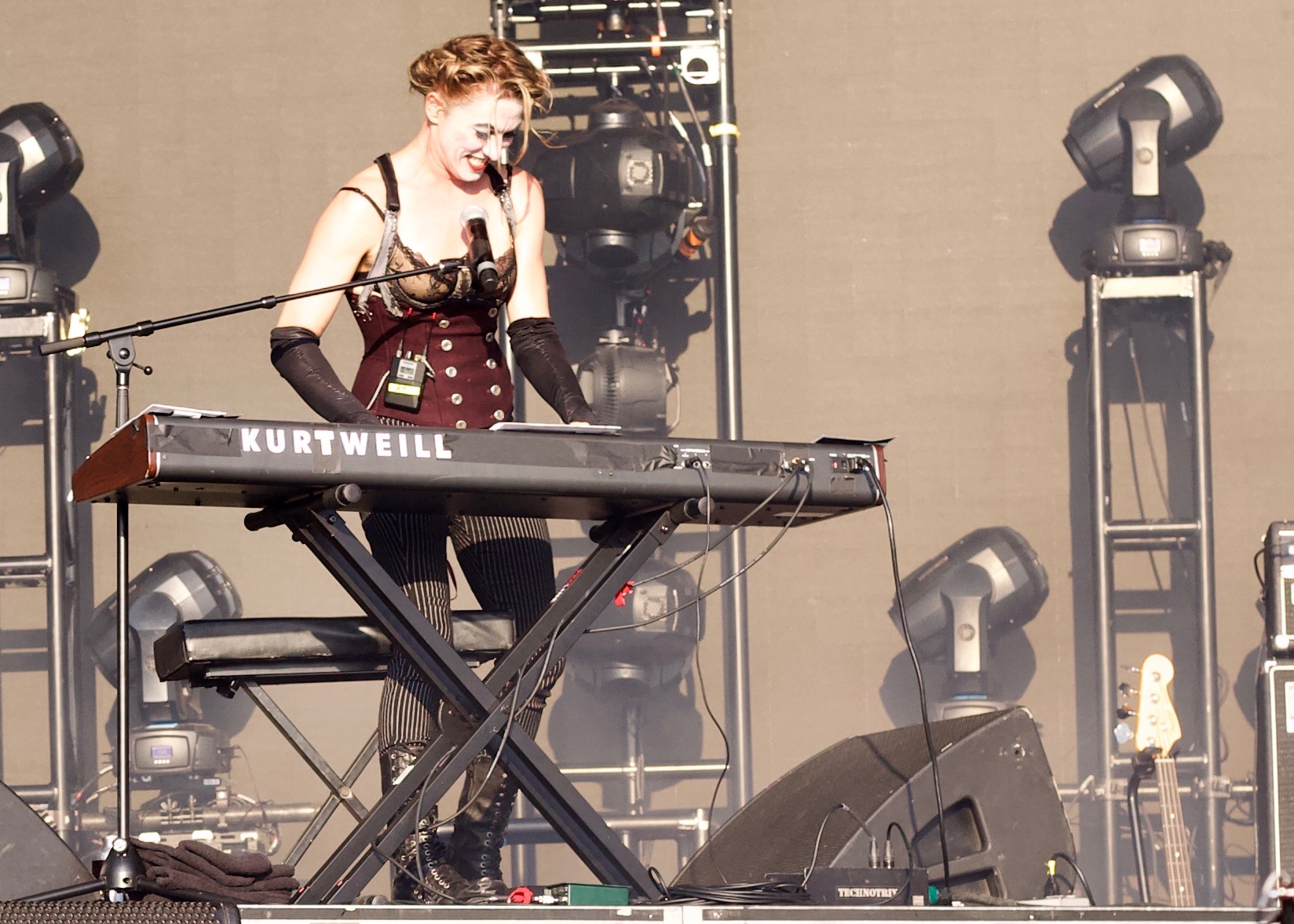 Photo by Jeff Elbel.
"This is a drinking song," said Palmer before launching the numbed and confessional "My Alcoholic Friends." Afterward, Palmer addressed the crowd with thanks for the day. "I'm already as happy as I'm possibly going to get, because I just met Robert Smith," she said. Palmer explained that she and Viglione had bonded over bands including the Cure and P.J. Harvey. "We became a band because they were a band," she said of the Cure.
Former Hole and Smashing Pumpkins bassist Melissa Auf Der Maur joined a no-holds-barred cover of Beastie Boys "Fight for Your Right." Viglione left his drum throne to play guitar and sing with delight and abandon at center stage, while Palmer pummeled the drums.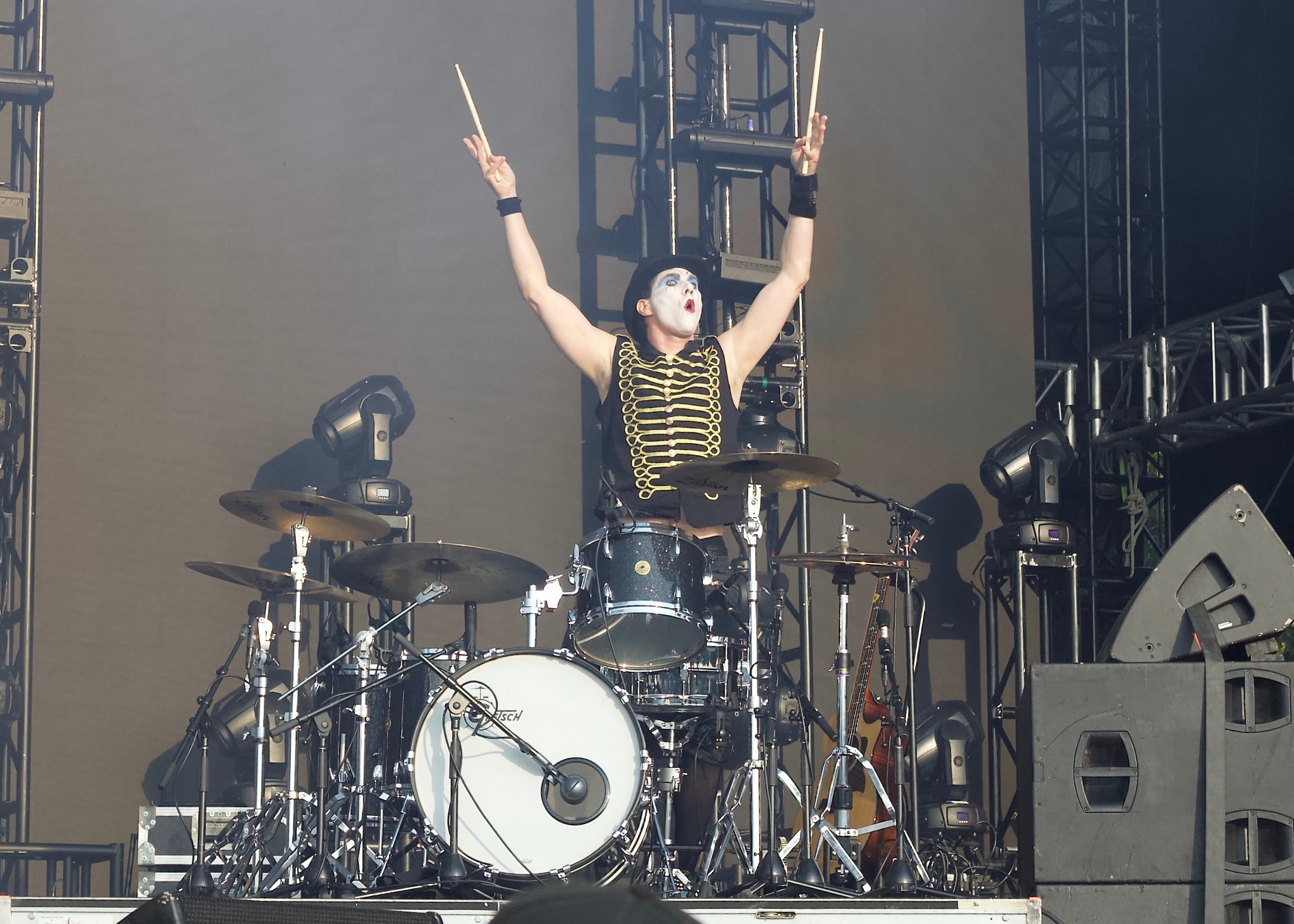 Photo by Jeff Elbel.
"This next song is about the fear of intimacy," announced Viglione, returning to his drum riser. "I thought it was about a vibrator," quipped Palmer as the pair began "Coin-Operated Boy." The song mimicked its subject's malfunction as the pair skillfully played a fractured song segment like a skipping record.
After a shout-out to charity partner Punk Rock Saves Lives, the band played a stately intro that evolved into a thundering cover of Black Sabbath's "War Pigs." Viglione played hammering drum fills while Palmer anchored the song's indelible riff on piano and led a cathartic singalong. Palmer threw a quote of the Cure's "Love Song" into "Half Jack" before Dresden Dolls concluded with the anarchic whirlwind of "Girl Anachronism."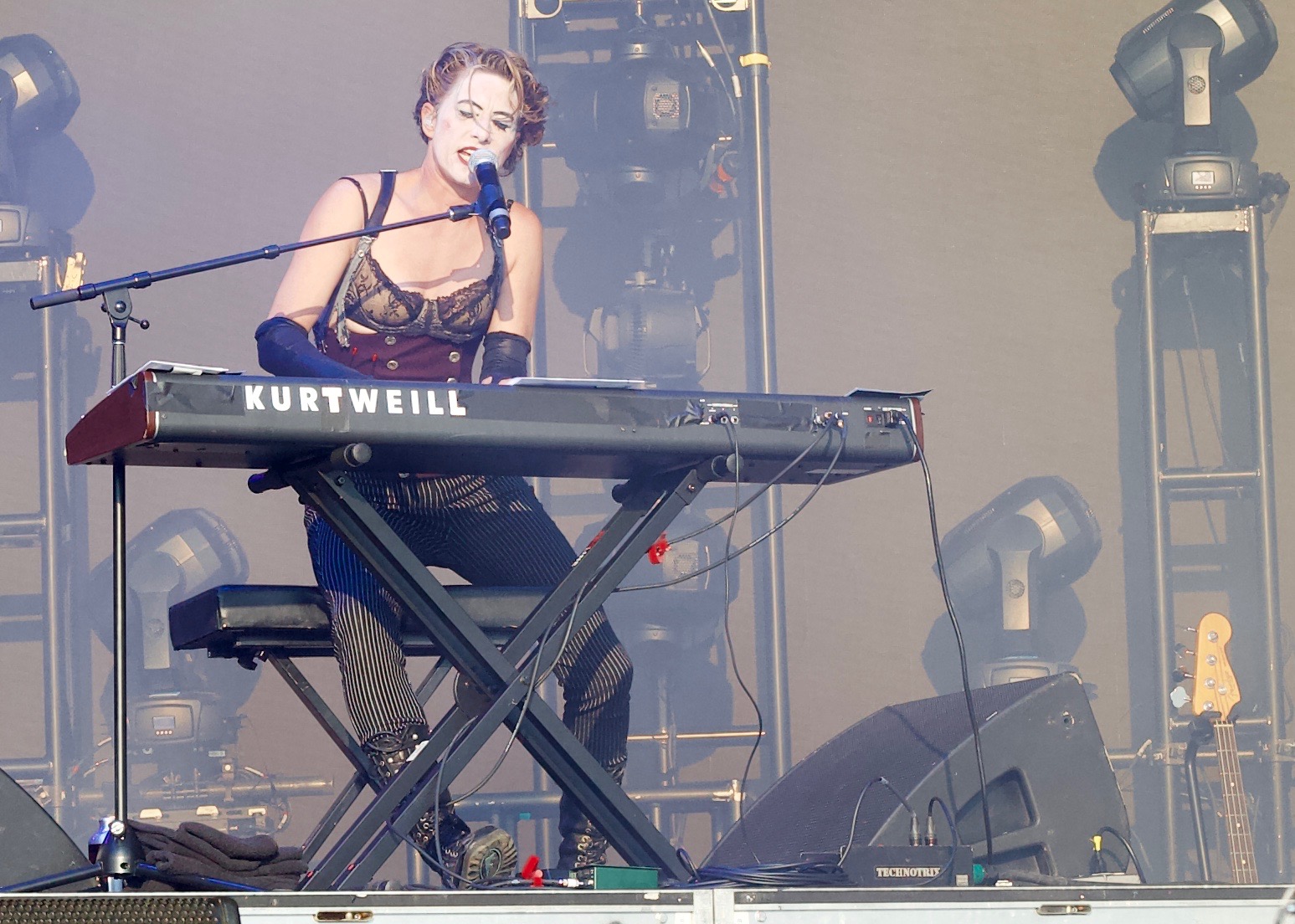 Photo by Jeff Elbel.
Palmer promised new songs upon the duo's return to Chicago. She also remembered the Cure's Disintegration tour as her first big rock show at age 15, describing how she broke down in joyful tears at the sound of "Plainsong" in concert. "It's what happens when you get together with a massive crowd of people to hear music that you love," she said.


The Mars Volta

Photo courtesy of the Mars Volta.
The recently revitalized Mars Volta presented a master class in psychedelic progressive rock, infused with Latin American spice and searing blues. "Graveyard Love" was performed to represent 2022's self-titled return. Singer Cedric Bixler-Zavala and guitarist Omar Rodriguez-Lopez led the band through an epic version of "Cicatriz ESP." Following Rodriguez-Lopez' spine-tingling and furious improvisations on guitar, the eye of the song's hurricane featured a lengthy and mesmerizing soprano saxophone solo that entered a musical dream state before erupting into a fiery finish.
The Cure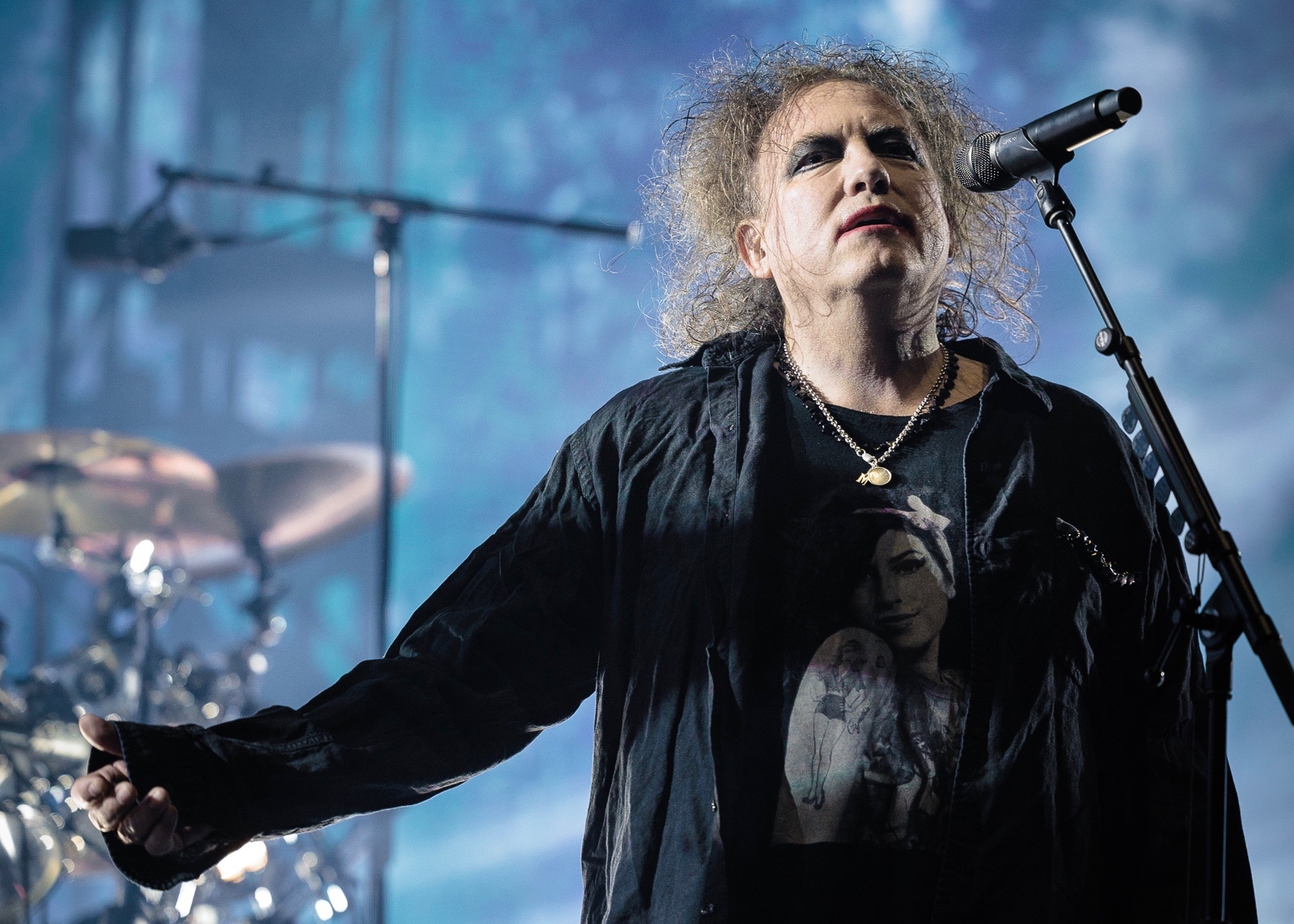 Photo by Anthony Linh Nguyen.
The most celebrated band at this year's Riot Fest was uncontestably the Cure, who closed the festival on Sunday night. Before taking the stage, the reigning monarchs of moody and gothic pop established their dolorous vibe with a twinkling starlit backdrop and the recorded sounds of a stormy night. It was like impatiently waiting for an entree at the gloomiest Rainforest Café ever.
The six-piece band arrived to intensify the feeling with the desolate "Alone," one of three songs drawn from forthcoming album Songs of a Lost World. Robert Smith has promised that the Cure's first collection of new music since 2008's 4:13 Dream will steer directly toward "doom and gloom." The main set closed with the project's somber "Endsong." In between, the adventurous 26-song set was strewn with deep cuts and popular favorites alike.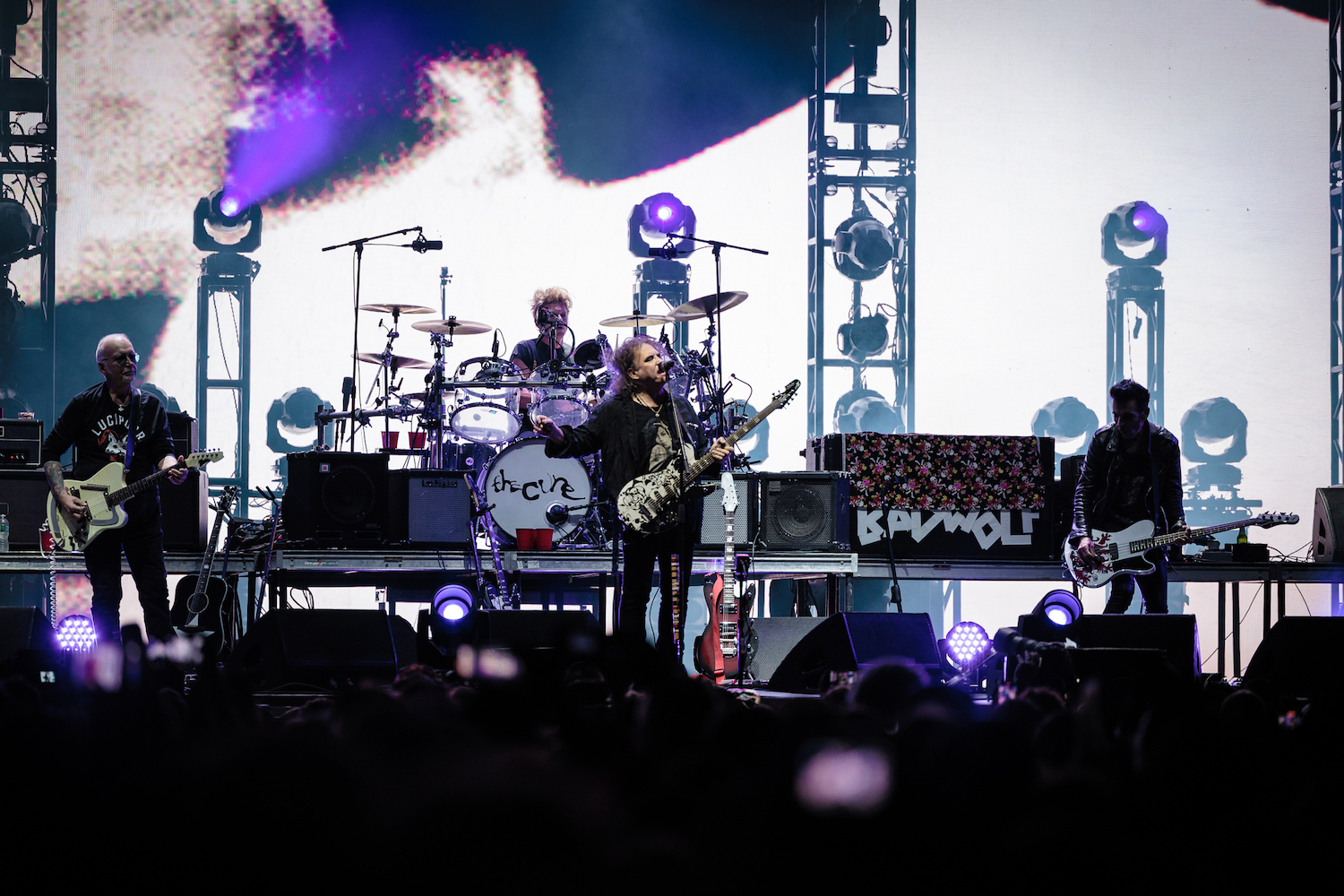 Photo by Anthony Linh Nguyen.
Chicago was the rare city that the band visited twice during this year's Shows of a Lost World tour. Fans who saw the Cure in June were treated to a handful of songs at Riot Fest that hadn't been performed at United Center. Newly dusted gems included the buzzing and rumbling "At Night" from 1980's Seventeen Seconds, "Cold" from 1982's Pornography, and "High" from 1992's Wish. When bassist Simon Gallup dug into the guttural hook to Disintegration single "Fascination Street," the crowd erupted.
The assortment was fan-pleasing, even while omitting songs as popular as "Hot Hot Hot!!!" and "Let's Go to Bed." The audience sang favorites including the plaintive "Lovesong," euphoric "Just Like Heaven," and the shimmering "In Between Days" with gusto.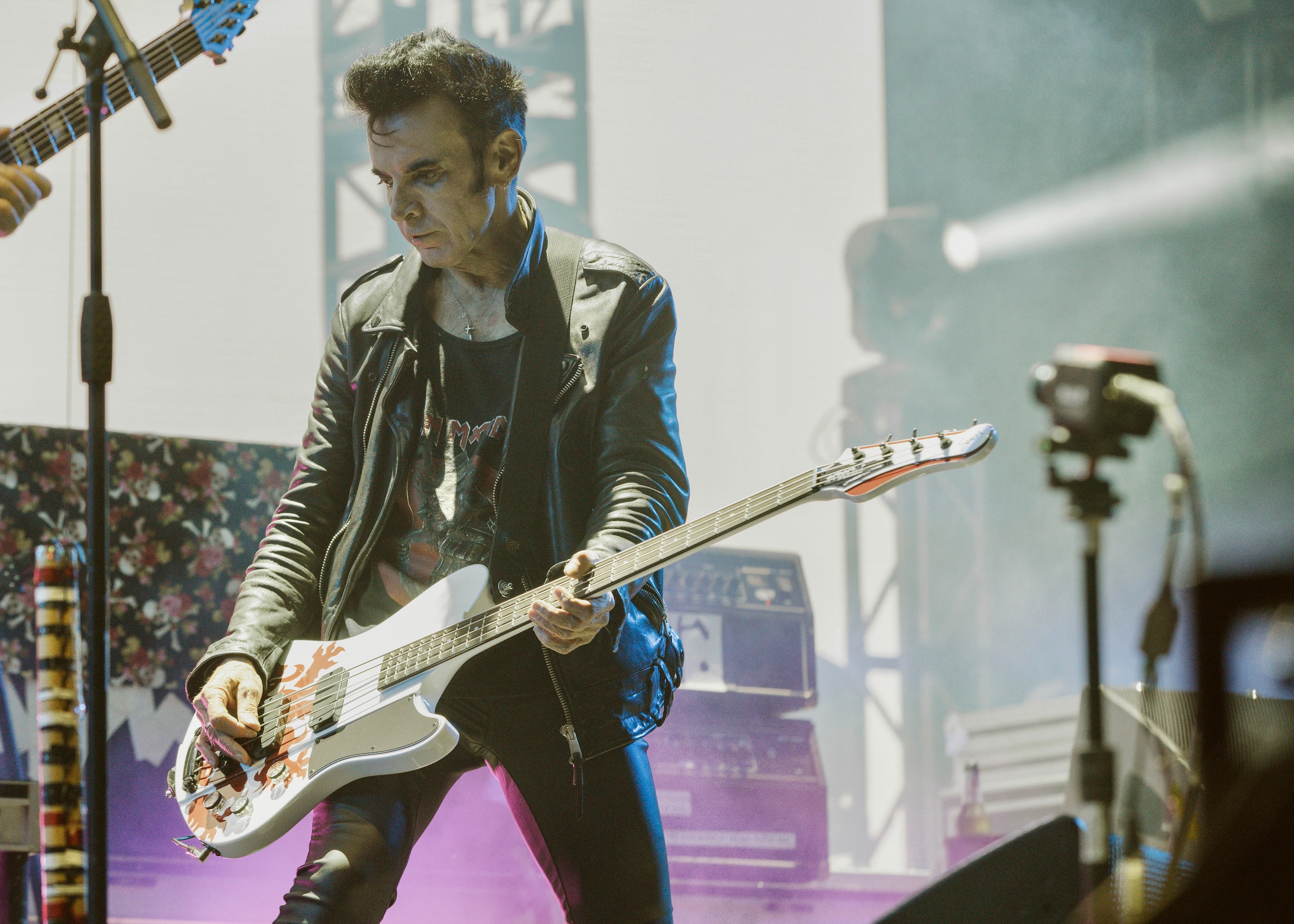 Photo by Jason Pendleton.
Vintage material included the cinematic and shadowy "A Forest." Smith's lyric about the deceptive allure of a siren song was propelled by longtime songwriting partner Gallup's urgent triplet pulse. The pair faced off at center stage under eerie green light as the song concluded. Gallup upended the band's alternative pop image with an Iron Maiden t-shirt under his leather jacket.
Smith roamed the stage in his black Amy Winehouse t-shirt, playing many of his songs' recognizable guitar melodies himself. However, he had high-octane support from lead guitarist Reeves Gabrels. Gabrels played electric sitar during "Pictures of You" and unleashed dazzling displays of "stunt guitar" during "A Night Like This" and a virtuosic solo during "From the Edge of the Deep Green Sea." Gabrels and Smith frequently met head-to-head to share riffs and smiles.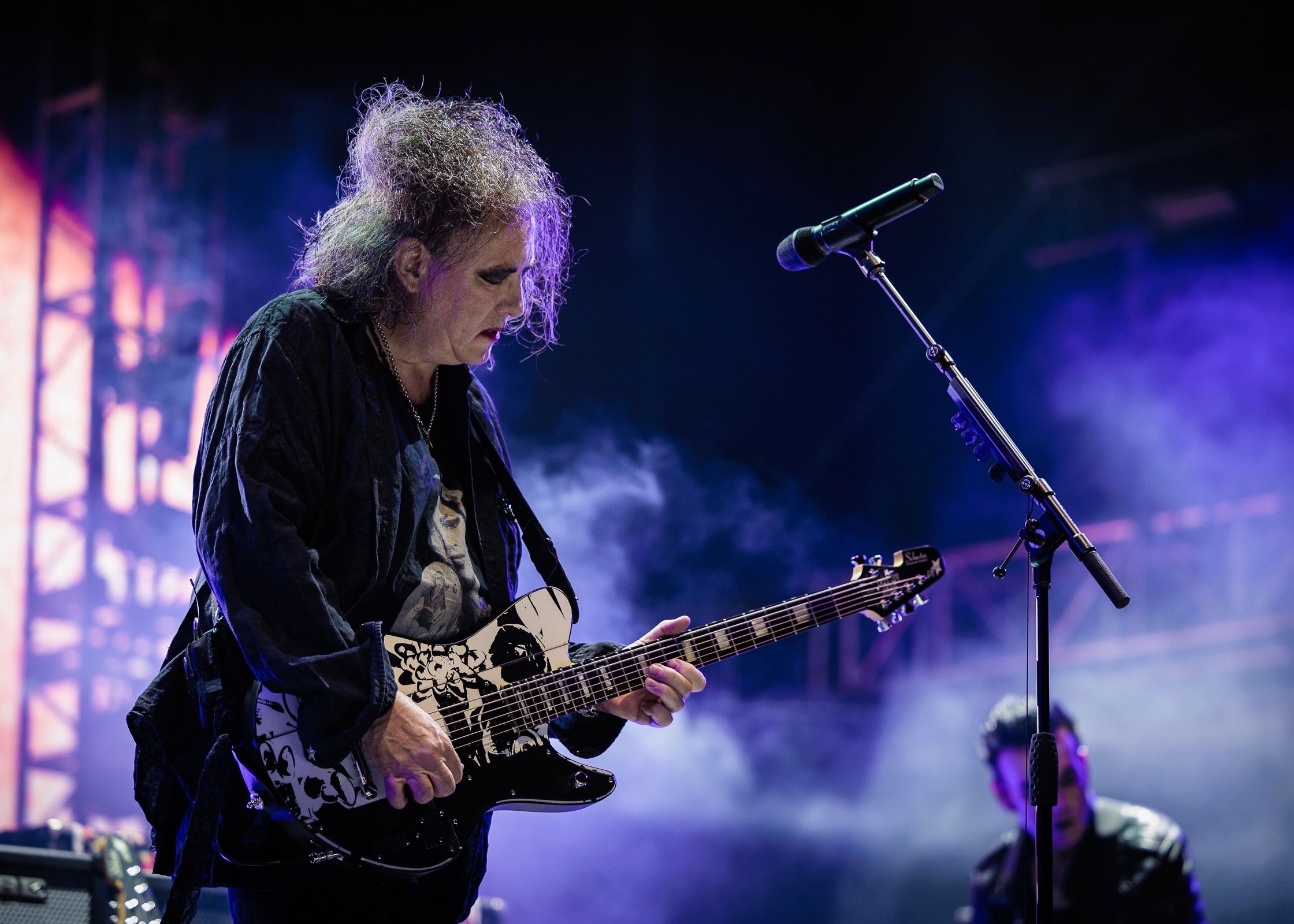 Photo by Anthony Linh Nguyen.
Jason Cooper's tom-toms thundered throughout "Burn." The drummer crashed headlong through the ecstatic "Push." Fans sang along to Roger O'Donnell's synthesizer melody during "Play for Today."
After the main set dominated by deliciously depressing fare, the Cure returned for an encore that highlighted its whimsical and upbeat side. The skewed and nightmarish "Lullaby" led a string of thrills including the nervous and wary "Close to Me" and a delirious "Why Can't I Be You?" "Wrong day, but …," Smith said before launching the sunny "Friday I'm in Love."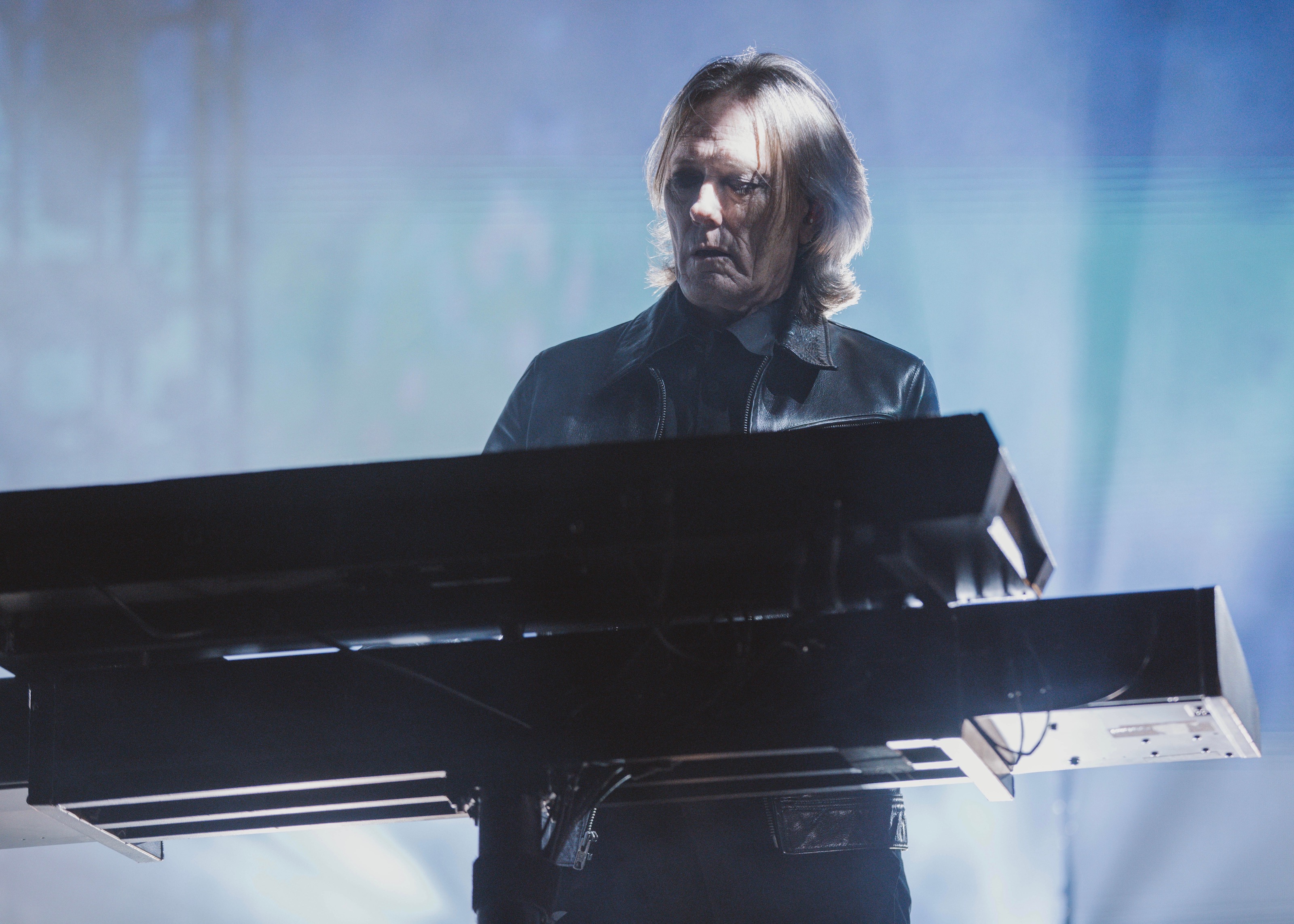 Photo by Jason Pendleton.
The concert closed with a trio of the Cure's earliest songs. "I was just thinking – it's 45 years ago," said Smith when introducing the spiky punk-pop of 1979 single "Boys Don't Cry." "Ouch," he added with a warm smile. The terse and swinging "10:15 Saturday Night" was followed by the often-misunderstood debut single "Killing an Arab."
As his bandmates departed, Smith stepped forward to thank the crowd for its warm reception. He paced the stage one last time, gazing deep into the crowd with a beatific smile and his hands held over his heart in gratitude. Afterward, Riot Fest attendees carried the feeling into the streets surrounding Douglass Park.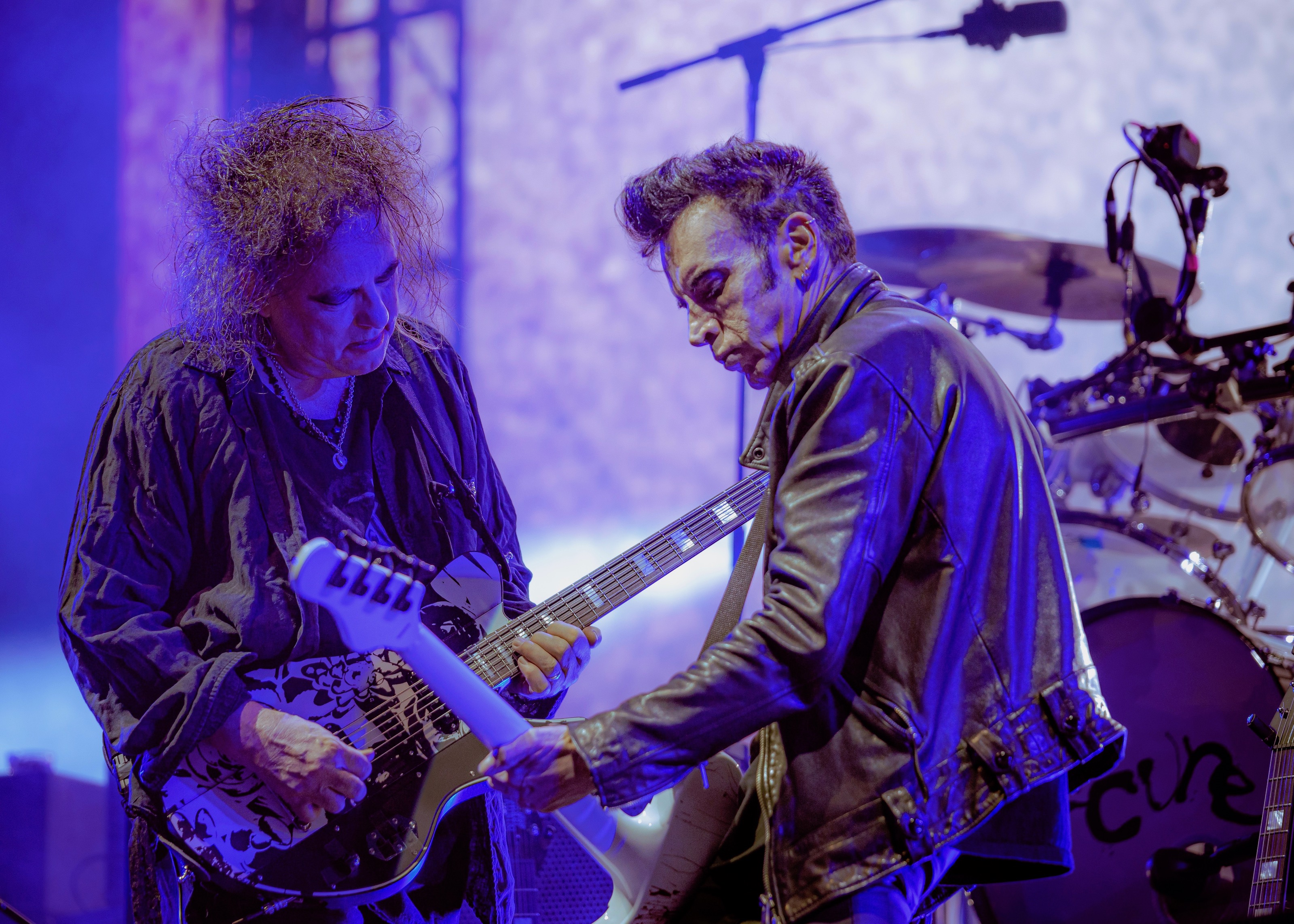 Photo by Rachel Zyzda.