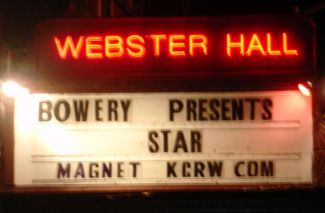 2 March 2006
The aptly named STARS were treated like stars when they took the stage at this sold-out show. [Judging from the facing photo of the Webster Hall marquee, where the venue didn't even get its name right, the band may yet wish for a higher level of 'star treatment.' -ed.] And well they should be.
Set Yourself on Fire, which the band released last year, is an excellent slice of orchestral-pop that has helped the group garner much deserved praise and added to the buzz surrounding Canada's fledgling indie music scene.
With lead singer TORQUIL CAMPBELL and rhythm guitarist AMY MILLAN alternating vocals, their bittersweet lyrics and wholly-sweet melodies kept the crowd, including my wife, Myra, and me, on Stars' side throughout the show.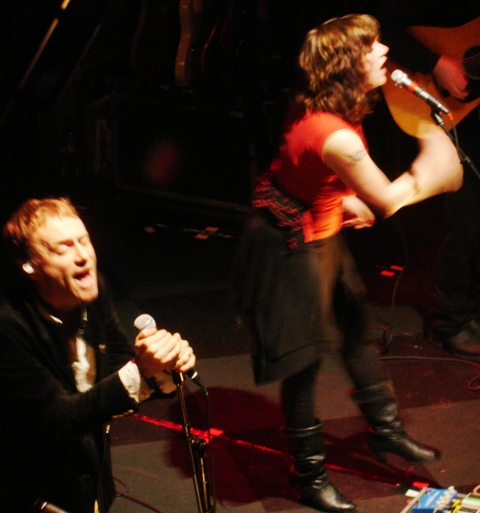 Unlike some bands that live or die on the strength of their lead singer, Stars' talents truly transcend any one person largely because Millan's vocal contributions are crucial both live and on record. Whereas many bands' duets often sound perfunctory, Stars manage to make them sound truly organic.
And the intimacy between musician and audience was all the warmer on this cold winter night as this was a homecoming of sorts for the band, which was previously based in the Williamsburg neighborhood of Brooklyn.
That said, things were a little unsteady in the first half of the set when Campbell's singing and posturing seemed slightly affected. [His background as a former child actor is likely the source of such dramatic flourishes. -ed.] However, the second half of the show delivered many more moments of magic when he found his groove. (Campbell played a mean trumpet too.)
As much as I ultimately enjoyed the show and am an avowed fan of Set Yourself on Fire, I wasn't blown away by the performance.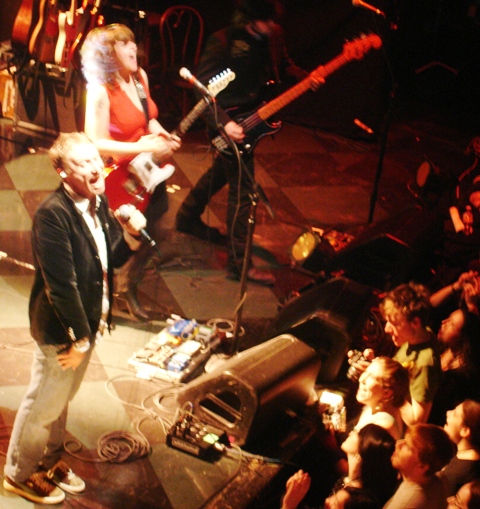 Still, the standout songs were mesmerizing, including "He Lied About Death," ignominiously dedicated to DICK CHENEY (not a love song, in case you were wondering), the gorgeous "Your Ex-Lover is Dead," "Ageless Beauty," and "One More Night."
The opening act was Norway's MAGNET, an earnest and talented one-man act in the form of EVEN JOHANSEN. His first few songs were engaging due, in part, to his sincerity and technical ability.
Johansen's soulful croon contained real feeling and was slightly evocative of RADIOHEAD's THOM YORKE. But as each song flowed into the next, a noticeable lack of variety and risk-taking made Magnet slowly lose its pull.