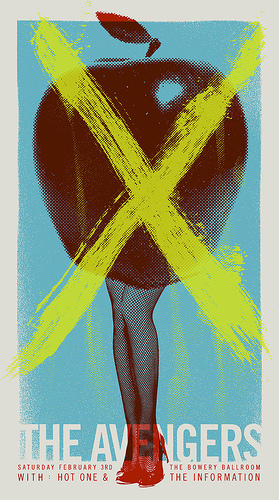 13 February 2007
When I heard that THE AVENGERS were playing a "warm-up" show for their upcoming European tour at Bowery Ballroom and that the show was on a Saturday night, I knew that a road trip was in order. Sure, they just played here in Philadelphia back in September, but given that they rarely seem to play on the East Coast, I jumped at another chance to hear classics like "We are the One," "Car Crash," "I Believe in Me," "Open Your Eyes" and many others live. And sure enough, they delivered all those classics and then some in spades. Opening with "We are the One", they hurled one grenade after another in the forms of late '70s punk stompers like the ones I mentioned above as well as "Teenage Rebel", their great version of "Paint it Black," "Corpus Christi" and many others. So how was this show different from the one back in September then? Well for starters the band seemed a lot tighter than they were in September. I don't know why that is other than that they must have been playing out more than they usually do, perhaps in preparation for this upcoming European tour. Original guitarist GREG INGRAHAM plays as lightning fast as he did in his teens and new bassist JOEL READER is fun to watch, as he hops around the stage, obviously madly in love with the very thought that he's playing with The Avengers and original singer PENELOPE HOUSTON (who he kissed on the mouth at one point when they shared the mic).
To add even more excitement to this evening, I heard that their long out-of-print late '70s material (which was issued by the CD Presents in the early '80s) is finally coming out again in April, this time as part of a box set (!) complete with archival footage on DVD. Of course, I can't wait! Furthermore, that means that hopefully they will be back on the East Coast in May. If so, I'll be there!
I was looking forward to seeing opening band HOT ONE since they feature former SWIZ and SHUDDER TO THINK guitarist NATHAN LARSON on guitar and vocals. Unfortunately, though, their lame, derivative glam rock (complete with matching outfits) really disappointed me. At least they capped off their set by covering the T REX (an obvious influence) classic "Children of the Revolution". However, it just reminded me of how inferior their own material is to some of the greats from that era.
The above poster was designed by Brad Kayal and was used with permission. It can also be found in his flickr account. I bought a copy at the show and there were only 50 made.