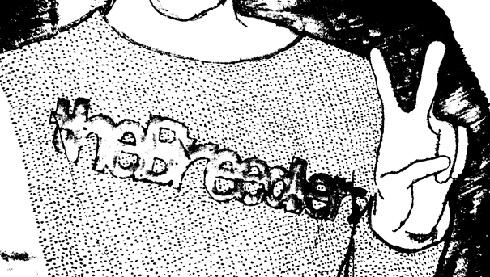 30 December 2013
I walked in calculating how many times I might cry. I believe in these classic album reunion shows with a kind of religious conviction (depending on the album), and this is the third great one I've seen in as many years, for an album to which I have an unusually strong historical connection. There were important parameters for the live success of The Breeders' Last Splash, of course: Unlike Doolittle, it wouldn't have survived an arena, and unlike It's A Shame About Ray, it wouldn't endure session men playing it. It's an album perfectly matched to the size of First Avenue and the idiosyncrasies of its performers, and the original lineup recreated it with astonishing opulence and precision for at least the first five songs (all the more so, after testing their sound with a somewhat murky cover of "Shocker in Gloomtown," by fellow Ohioans Guided by Voices), then with forgivably less precision after that.
So "New Year" bled into "Cannonball" with all the momentum of the album, and for those two songs in particular the band paid gleeful attention to every original sound, often with the help of unofficial fifth member Carrie Bradley (violin, backing vocals, noises), though it was Kim Deal who blew the whistle on "Cannonball." The night's excitement, determined by the array of sounds and all their corresponding trinkets, and thus already considerably heightened after Deal's conspicuous use of a second microphone for the song's muffled intro part, hit fever pitch. Later, before "Roi" (awesome), Deal pointed to an object (synthesizer?) and announced it was the same one used during the album's recording sessions. It was that kind of show, with almost unnecessary but, given the event, highly welcome deference to the artifact.
Later still, mistakes were made: Kim Deal dropped some words during "Do You Love Me Now," Kelley Deal, on lead guitar, dropped some notes during one or both of the instrumental tracks, delivered the detached, unnerving verses of "I Just Wanna Get Along" with screeching enthusiasm (does that count?). None of this mattered (except for a technically accurate yet stalling version of "Mad Lucas," drifting away on waves of quiet, crackling energy, never quite hypnotizing), but some of Kelley Deal's earned imprecision started to make me aware of what seemed like a silent clash of personalities with impeccable bassist Josephine Wiggs. The Breeders and Pixies have become shorthand for the bass line as single note tug, when in fact Wiggs plays all kinds of interesting parts, to the success of which her exquisite, immovable performances are as essential as Kelley Deal's more spontaneously felt approach to guitar solos and occasional vocals. So let's just say that this tension adds to the music, whether it's simply in the music or between the people, too.
And then there was Kim Deal, with enough good humor to smooth over any real or imagined rupture. I didn't end up crying even once (however I imagine them in my mind, concerts are always too close, too exciting for that, it's impossible to get the appropriate distance), but if anyone had caused me to, it would've been her, one of the women of my life, registering in an almost familial way but not fitting any available category. She seemed unreasonably pleased to be touring the album again, impossibly more so (or maybe it's just that I was closer) than she was a few years ago when Doolittle rolled through town. But I'd be living a constant high if I could create melodies like hers.
An encore set featured a half dozen songs from 1990's Pod (made by a different lineup, but played in full at some recent shows), which has some of the same melodic fun as Last Splash and might be called a better album, but could never be as popular. The difference of a mere few years puts it in an infinitely more distant, darker epoch – it's a less illusory experience than Last Splash, perhaps somewhat less friendly to modern ears, i.e. no one's suffering the delusion that we can own the Pod era again. Or that's how it seemed when they ended with "Iris," a great shout from the past. Before that, I found "Walking With A Killer," from Kim Deal's excellent 2013 singles series (but a Breeders song, after all?), to be a nice addition to the encore, but Deal, sensing the general reaction, appeared to almost apologize for having played anything new. It must sound like a lure-less groove to the uninitiated but I swear it's good.
For such a show, I might've liked to see Waxahatchee or Swearin' as the opening act (an idea reinforced when their excellent songs "Dixie Cups and Jars" and "Watered Down" played between sets, the implicit Deal stamp of approval I've long assumed, anyway), but Speedy Ortiz of "I got a boy likes to fuck to Can" fame made a fine substitution. Lines like that one, from "Taylor Swift," enliven sometimes monochromatic songs, as does the hyperactive drumming – sometimes a bad sign in new bands, overcompensation for still developing musicianship, but in this case only initially distracting from the other members' considerable chops.