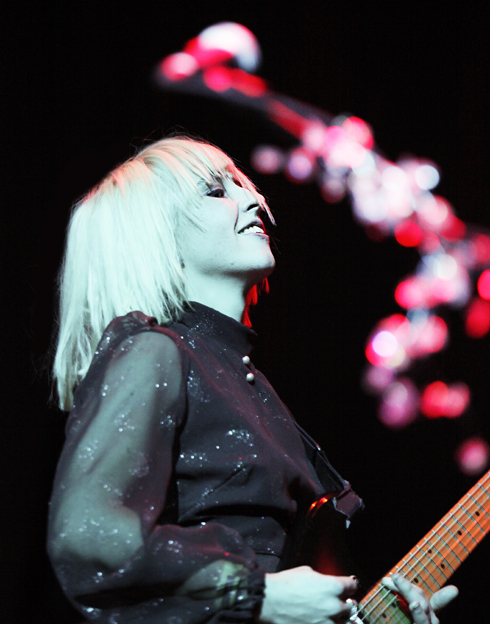 6 April 2011
The Joy Formidable may look to have a simple more bare-bones set up compared to a great deal of indie bands today. The three piece is comprised only of drums, guitar, and bass and while some of their guitar pedals create a sense of spiraling near shoegaze effect for some of the songs, the structure seems first and foremost and a clear sense of a very accessible and strong sounding rock band emerges.
The stage is split into thirds with each band member up front, which increases the visual appeal as it is. However, it's clearly the presence of lead female singer and guitarist Ritzy Bryan who elevates the live show from a mere set with solid songs to an inherently memorable experience. She is the essential element of the band and despite her youth seems to own the stage in a way that suggests she's a possessed rock idol. She dances and flails about unpredictably as if she's a gorgeous blonde haired fish out of water. At the same time, she clearly is having a great deal of fun and hams up her shows as if it was the easiest thing to do in the world. There's also a great deal of chemistry and interaction between her and the other bandmates, which the stage set up makes easier. It would be remiss to not mention their talents as well, especially drummer Matt Thomas who keeps a beat with the kind of fury that suggests he's racing towards a goal.
It's important to emphasize how stellar their debut 2010 (US) release, A Balloon Called Moaning is and it's these songs that help elevate the live performance to the glory that it is. In fact, many of the songs live seem played quite accurate to the album. It's rare that a band with only one album out has such gems already in their catalog and the pounding capacity to deliver them to an audience as if they've been playing them for multiple years. Though the US has been no stranger to Welsh bands in recent years, The Joy Formidable is also quite distinctive with much less of the quirky left of center appeal of The Super Furry Animals and more of a foundation in rock than Los Campesinos! While all three bands are well worth listening to and experiencing live, it's interesting to compare them musically and wonder about where The Joy Formidable will go with their second release.
In terms of their overall 60 minute long set, there was never a dull moment. "Austere" was a song that was catchy with enough of a driving energy that separates it from a mere radio friendly hit. "Cradle" and "I Don't Want to See You Like This" were also focal points. "Whirring" was a clear peak in the set and the best song to end on for the main set with the pedal effects growing increasingly extreme the more the song went on and all Ritzy Bryan giving her guitar all her might against the amps. By the end of the evening, it seemed as if nothing could come between The Joy Formidable and future greatness both in terms of critically and gaining a larger audience.